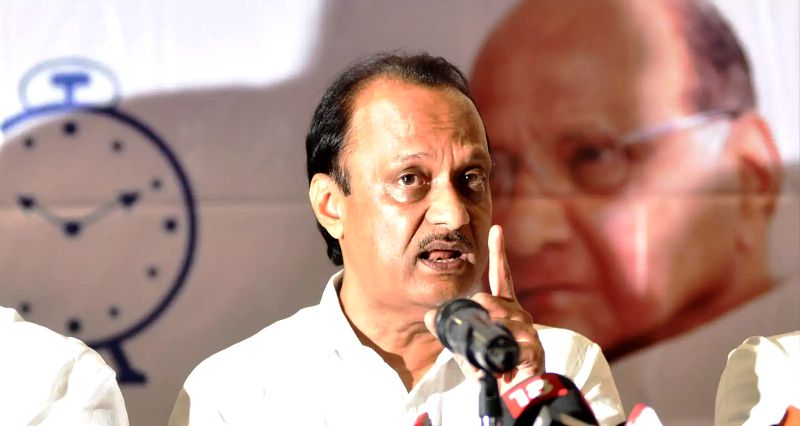 Ajit Pawar is an Indian politician from the Nationalist Congress Party (NCP). He is an MLA from Maharashtra and the nephew of Sharad Pawar.
Wiki/Biography
Ajit Pawar was born on Wednesday, 22 July 1959 (age 62 years; as of 2021) in Deolali Pravara, Bombay State, India. His zodiac sign is Cancer. His full name is Ajit Anantrao Pawar. He did his schooling at the Maharashtra Education Society High School in Baramati, Maharashtra. He holds a Secondary School Certificate (SSC) from the Maharashtra State Board, and he is also a college dropout [1]Wikipedia. He moved to Mumbai to pursue graduation, but his father passed away while he was in college, so he had to quit his studies and move back home to take care of his family.
Physical Appearance
Height (approx.): 5′ 9″
Eye Colour: Black
Hair Colour: Black
Family, Caste & Wife
Ajit Pawar is of Maratha Ethnicity [2]Wikipedia and belongs to the Other Backwards Caste (OBC) [3]The Gazette of India (Note: According to the Gazette of India, those who have surnames like 'Powar' or 'Pawar' but don't belong to this community, should not be included in the aforementioned community). His father, Anantrao Pawar worked for the prominent filmmaker, V. Shantaram in the "Rajkamal Studios" in Bombay. His mother's name is not known. His grandparents' name is Govind Pawar and Sharda Pawar. His elder brother, Shriniwas is a businessman. His sister, Vijaya Patel (Media Person) passed away on 22 January 2017.
Ajit Pawar is married to Sunetra Pawar, daughter of the former Minister of Maharashtra, Padamsinh Bajirao Patil. They have two sons, Jay Pawar and Parth Pawar. While Jay is a businessman, Parth is a politician who contested the 2019 Lok Sabha Elections from the Maval Constituency of Maharashtra, but he lost by a huge margin of 2,15,193 votes.
Career
In 1982, Ajit Pawar came into active politics after being elected to the board of a cooperative sugar factory in Pune. In 1991, he was elected to the Lok Sabha for the first time from the Baramati Constituency of Maharashtra. However, when Sharad Pawar was appointed as the Defence Minister in the PV Narasimha Rao government, he wasn't a Member of Parliament at that time, and within a period of six months, he had to become a Member of Parliament, so, Ajit vacated his seat for Sharad Pawar.
In the same year, Ajit contested and won the Maharashtra Assembly Elections from the Baramati seat. He retained his seat and was re-elected from the same constituency in 1995, 1999, 2004, 2009, 2014, and 2019. Over the years, he has handled many portfolios such as agriculture, finance, irrigation, power, and the Deputy Chief Minister of Maharashtra.
Ajit is popularly known as Dada (elder brother) among his close ones and his followers. He is very popular among the NCP's Youth Wing, and they often chant the slogan "Ekach Dada Ajit Dada" to address him. He won the 2019 Maharashtra Assembly Elections from the Baramati Assembly seat by 1,66,000 votes; which was the highest in the state. However, on 23 November 2019, Ajit supported the BJP without the consent of Sharad Pawar, and he took oath as the Deputy Chief Minister of Maharashtra with Devendra Fadnavis as the CM. However, on 26 November 2019, he resigned as the Deputy CM. Reportedly, the support letter of the 54 MLA's he claimed was just an attendance sheet of 54 NCP legislators, which he had handed to the Maharashtra Governor, Bhagat Singh Koshiyari.
On 30 December 2019, he was sworn in as the Deputy Chief Minister of Maharashtra for the fourth time.
Controversies
In August 2002, when he was the Minister of Water Resources, he allegedly leased 141.15 ha (348.8 acres) of land from the Maharashtra Krishna Valley Development Corporation (MKVDC) to Lavasa, which was a dream project of Sharad Pawar. Reportedly, the land deal which took place between MKVDC and Lavasa was executed at rates that were very less than the market rate. [4]

Down To Earth
In September 2012, he was named in a scam amounting to 70,000 crores INR. Vijay Pandhaare, a former Maharashtra bureaucrat made these allegations against Ajit. Following these allegations, Ajit had to resign as the Deputy CM of Maharashtra. However, he was reinstated after getting a clean chit. [5]

Business Standard
In April 2013, during a major drought in Maharashtra, he gave a controversial statement at a function in Indore saying-


If there is no water in the dam, should we urinate in it?"

Later, Ajit said that the statement was the biggest mistake of his life. [6]The Times of India
In April 2013, while speaking on power cuts and load-shedding, he said- [7]

Outlook India
I have noticed that more children are being born, now that the lights are going off in the night. There is no other work left then."
On 16 April 2014, Ajit was campaigning for his cousin, Supriya Sule for the 2014 General Elections. They were in the Masalwadi Village in Baramati, and he threatened the farmers that if they did not vote for Sule, he would have them punished by cutting off the water supply to their village. [8]

The Times of India
On 2 November 2021, Pawar's assets worth Rs. 1,000 crore, which include a sugar factory, a residential property in South Delhi, an office in Mumbai's upmarket area (believed to be Nirmal Tower in Nariman Point), a resort in Goa, and land in different parts of the State, were provisionally attached by the Income Tax Department. Earlier, in October 2021, the departed had conducted multiple raids on businesses and properties belonging to Mr. Pawar's relatives and aides. [9]

The Hindu
Address
Pawar Bungalow, Katewadi, Baramati, Pune -413102
Car/Vehicle Collection
Assets/Properties
Bank Deposits: 65.66 lacs INR
Bonds & Debentures: 9.66 lacs INR
Jewellery: 391 gm Gold & other jewellery worth 12.34 lacs INR and 30 kg silver worth 11.85 lacs INR
Agricultural Land: worth 2.78 crores INR in Baramati
Non-Agricultural Land: worth 47.95 lacs INR in Baramati
Residential Building: Bungalow worth 16.42 crores INR in Shivajinagar, Pune
Salary & Net Worth
Facts/Trivia
Ajit has no interest in art, culture, and movies. However, he has a liking for expensive watches and pens.
While Ajit was in school, his uncle, Sharad Pawar had become a renowned politician of Maharashtra. Sharad Pawar was with the Indian National Congress (INC) at that time.
He is a very private person, and he rarely attends any parties or functions. He never brings his wife or his sons to his political rallies or campaigns. However, Ajit Pawar is known for his punctuality and decisiveness.
He is a staunch Marathi speaker, and he is not comfortable with speaking other languages. [13]

Outlook India
Ajit Pawar is considered to be a mix of ambition, arrogance, and aggression.
Reportedly, he wanted to split with the NCP after his son, Parth, lost in the 2019 General Elections. It was the first time that someone from the Pawar family had lost an election.
According to a source, Ajit Pawar's power-hungry nature and his controversial statements made Sharad Pawar have doubts over Ajit's leadership qualities and his ability to take on bigger roles in the party. This was substantiated when Sharad started focusing and bringing his daughter, Supriya Sule into the limelight.