Bobby Kinnar is an Indian transgender politician and a member of the Aam Aadmi Party. In December 2022, she became the first member of the transgender community to represent a ward in the Municipal Corporation of Delhi (MCD). [1]Zee News
Wiki/Biography
Bobby Kinnar was born in 1984 (age 38 years; as of 2022) in Sultanpur, New Delhi. As soon as Bobby was born, her parents knew that she was different from other children. As she grew older, people started noticing changes in her and began treating her differently. She had to drop out of school after passing class 9 as she was bullied and harassed at school. When Bobby was 15 years old, her family was forced by society to give her away to the transgender community; Bobby was thus adopted by a transgender guruji. Thereafter, she started living with the transgender community in Sultan Majra, where she came to be known as 'Bobby Darling.' [2]Dainik Bhaskar
Physical Appearance
Height (approx.): 5′ 8″
Hair Colour: Black
Eye Colour: Black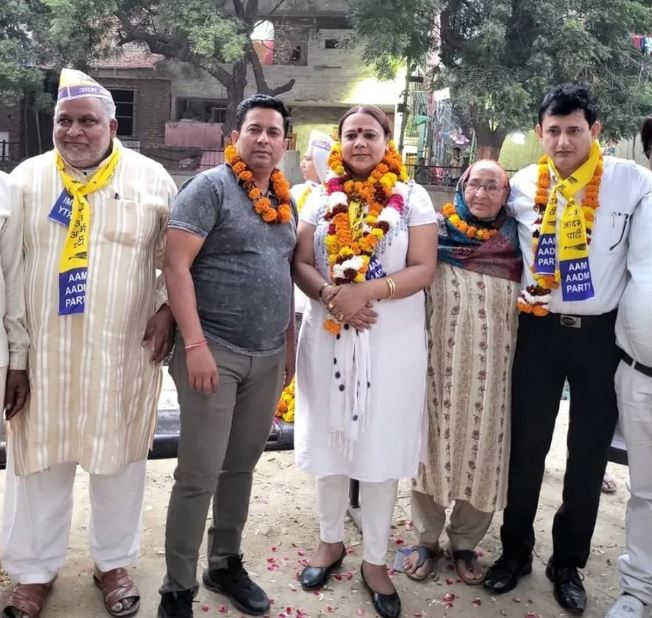 Family
Parents & Siblings
Bobby's father, Om Prakash, used to run a small Dhaba in the Sultanpur area of Delhi. He passed away when Bobby was a child. She has a younger brother who works at a private firm in Delhi. She also has a sister. She and her siblings were raised by their mother, who did odd jobs to support her family. When Bobby was 15 years old, she was adopted by a transgender guru (deceased). In an interview, Bobby shared that her biological mother loves her very much and she was still in touch with her family and visits them every month.
Caste
Bobby Kinnar was born into a Jatav family of the Chamar caste (now termed as Dalit). [3]Dainik Bhaskar
Career
As per the transgenders' traditions, Bobby initially visited houses in her locality, dancing and singing on occasions like weddings and baby births and asking for the token money (Badhai). However, she disliked doing it and soon stopped following it.
Social Worker
At the age of 21, Bobby got associated with an NGO and she learned to read and write there. As a part of the NGO, she got involved in social work like helping needy people and providing education to underprivileged children. Bobby has also worked to get around 15 girls married at her own expense. In 2011, she took part in the Anna Hazare anti-corruption movement. As of 2022, Bobby is the president of the Delhi unit of the Hindu Yuva Samaj Ekta Awam Anti-Terrorism Committee and has been associated with the firm for around 15 years. Bobby also runs a primary school in her area to educate the less fortunate children.
Politician
After being a part of the Anna Hazare anti-corruption movement, Bobby associated herself with the Aam Aadmi Party. Thereafter, she actively worked for the party. In 2017, she desired to contest the municipal corporation election in Delhi on a ticket from the Aam Aadmi Party. However, she had to contest the elections as an independent candidate as she was denied the ticket by AAP. During the election campaign, she accused all the parties of corruption and said that the parties were demanding Rs. 50 lakh in exchange for the ticket. She lost the elections. In 2022, the Aam Aadmi Party announced Bobby Kinnar as a candidate for the Municipal Corporation elections of Delhi from Sultanpuri A Ward-43, making the Aam Aadmi Party the first political party in India to give a ticket to a transgender. After receiving the ticket, she addressed the media and said that she had entered politics for public welfare and would empower the transgender community if she won the elections. She said,
If I win the polls, it will send a strong message and also encourage transgenders to come forward and make their mark like before. Now the people of our society are moving away from politics. There are many educated people in our society. I want all such people to come into politics and do social service so that our name also increases in society."
Further, referring to the problems faced by common people in her area, Bobby said that people have to pay bribes to get small work done and documents made. She said,
If I become a councillor, I will work to end corruption. I will not allow officials to take bribes and will get public works done for free."
While campaigning for the polls, she promised to provide funding for the education of less fortunate kids and take the Kejriwal government's work to the public. In December 2022, Bobby Kinnar won the MCD elections, defeating the Indian National Congress candidate Varuna Dhaka by a margin of 6,714 votes. During a media conversation following her win, Bobby thanked the people who worked hard for her. She said,
I want to dedicate my victory to the people who worked so hard for me. I would like to thank everyone. Now I just have to work for development in my area."
Controversy
In May 2011, a complaint was registered against Bobby Kinnar in the Mangol Puri police station by a man named Ramesh. In his complaint, Ramesh alleged that Bobby entered into a criminal conspiracy with other transgenders including Khalibuddin, Ram Babu, Lakshmi, and Shobha to chop off the private parts of Ramesh. Later, Ramesh moved to Rohini court to sue all the accused. In its final judgement, the court held that Ramesh opted for a voluntary castration for monetary gain. [4]Indian Kanoon