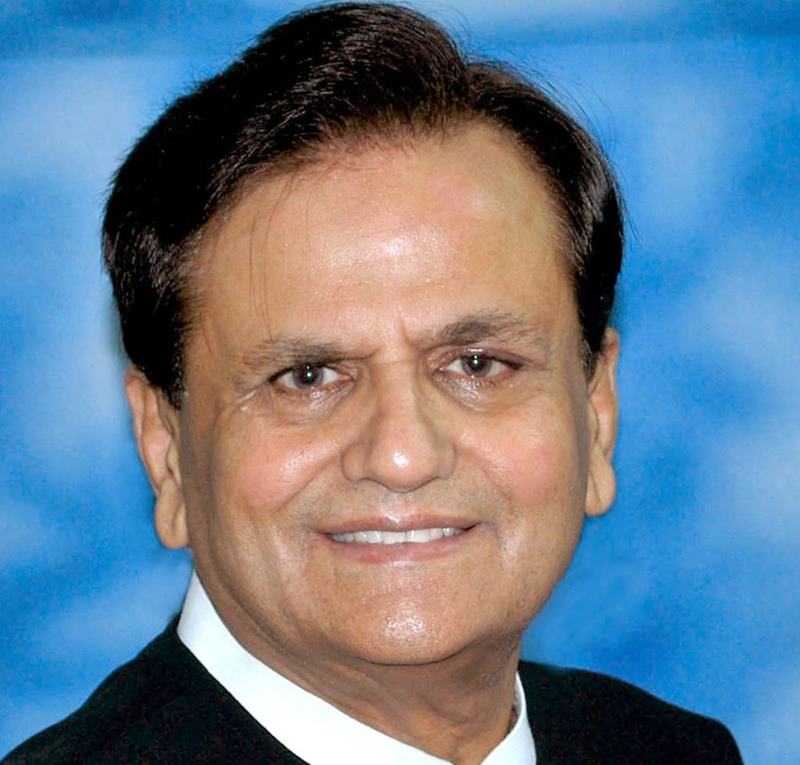 Ahmed Patel was a prominent senior politician of the Indian National Congress (INC) who was known for his backroom political strategy and management skills. He served as a Member of Parliament for eight terms – three times in Rajya Sabha and five times in Lok Sabha. His political legacy came to an end on 25 November 2020 as he passed away due to multi-organ failure after a month-long battle with COVID-19.
Wiki/Biography
Ahmed Patel was born on Sunday, 21 August 1949 (age 71 years; at the time of death), in Piraman village, located in Bharuch district of Gujarat. His full name was Ahmedbhai Mohammedbhai Patel. He completed Bachelor of Science (BSc) from Bharuch's Shree Jayendrapuri Puri Arts and Science College, South Gujarat University, Surat in 1976. Once, during his college life, he went along with his father in a cooperative bank movement. It was after this that he got involved with public service. Later, he joined the Indian youth congress. He rose from the grassroots and his skillset along with his loyalty to the party helped him become one of the top politicians of the Indian National Congress (INC).
Family & Caste
Ahmed Patel was born into an agriculturist family.
Parents & Siblings
Patel was born to Mohammed Ishikji Patel (father) and Hawaben Mohammedbhai (mother). He was the third child of his parents. His father, Mohammed Ishakji, was one of the pioneers of South Gujarat's cooperative union movement in the 1960s, which raised its voice against exploitation of small borrowers by private financiers.
Wife & Children
He got married to Memoona Ahmed Patel in 1976. Memoona belonged to a family of freedom strugglers who worked closely with Netaji Subhash Chandra Bose. He had two children, Faisal Patel (son) & Mumtaz Patel (daughter). Both of his children are far away from politics. Faisal Patel, a Harvard-alumnus, is an entrepreneur, while there is no information available about his daughter Mumtaz Patel.
Political Career
In 1976, at the age of 27, Ahmed Patel embarked on his political career, by successfully contesting the local body elections from his village Piraman, on the ticket of Indian National Congress. Impressed by Patel's work, in 1977, after the Internal Emergency was called off, the Indian National Congress (INC) fielded him from Bharuch Lok Sabha constituency ahead of the 1977 Lok Sabha election. As a result, he won his maiden Lok Sabha Election by defeating Janata Party's Unia Suleman Essuf by a huge margin of more than 63 thousand votes. He then retained the seat for another two consecutive terms by winning subsequent Lok Sabha elections in 1980 and 1984. In 1984, he, along with Arun Singh and Oscar Fernandes, become the first parliamentary secretary of the newly elected Prime Minister Rajiv Gandhi.
During the Rajiv Gandhi's government in 1986, he was given the responsibility to head INC's Gujarat unit, the post which he held for the next two years. In 1995, he was elected to the Rajya Sabha for the first time and later went on to hold the post for another four terms. In 2001, he was appointed as the secretary to the Indian National Congress (INC) president Sonia Gandhi, the post which he held till 2017.
He was the treasurer of the All India Congress Committee from 2018 until his death in November 2020.
Death
On Wednesday, 25 November 2020, Ahmed Patel died due to multiple organ failure at Medanta Hospital, Gurugram more than a month after he was tested positive for COVID-19. The mortal remains of Ahmed Patel were laid to rest next to the grave of his parents in his ancestral village, Piraman. [1]The Quint
Net Worth
His net worth at the time of his death was Rs. 5.3 crores.  [2]My Neta
Facts/Trivia
During his early days, Ahmed Patel was an avid sportsperson. He also captained his college's cricket and badminton teams.
Apart from politics, he was largely engaged in philanthropic and charitable works, especially in his home district, Bharuch. He had also adopted Vandari village under Sansad Adarsh Gram Yojna.
Three times MP from Bharuch, Ahmed Patel was one of the two Muslim MPs to be elected from Gujarat in Lok Sabha till date. The first one was INC's Ehsan Jafri, who was killed during the 2002 Gujarat riots.
Ahmed Patel was known to be a low-key person who stayed away from controversies.
He believed that there are only two pillars of modern society; universal healthcare & quality education.
 He maintained that the maturity of a society can simply be interpreted by the way it treats the elderly and differently-abled children.
He was a firm believer in women's empowerment. According to him, women were the backbone of this nation, and if the women are weak, the nation is weak.
He believed in unity in diversity and considered it as a major strength of the country.
Ahmed always wanted the youth to join the politics and take it up as a serious profession, as he believed that it was only the youth that could bring a decisive change in the system of a country.