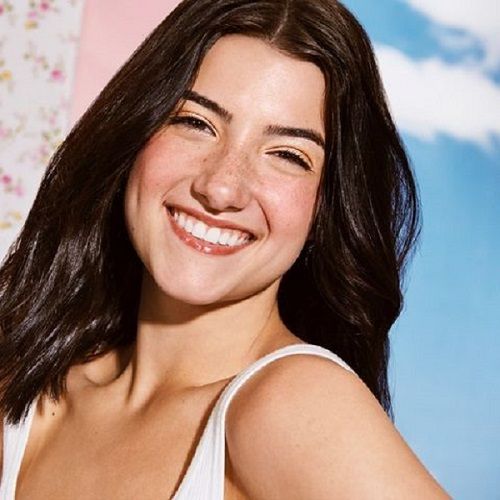 Charli D'Amelio is an American dancer and social media personality. She is regarded as 'TikTok's Biggest Star.'
Wiki/Biography
Charli Grace D'Amelio was born on Saturday, May 1, 2004 (age 18 years; as of 2022), in Norwalk, Connecticut, US. Her zodiac sign is Taurus.
At the age of three, she started learning dancing and was trained for 10 years before starting her TikTok career. She went to King School but later switched to virtual schooling after her TikTok success. She has studied dance at Just Dance Studios, a dance school in Norwalk, Connecticut.
Physical Appearance
Eye Color: Green
Hair Color: Brown
Family
&
Ethnicity
Charli D'Amelio's father, Marc D'Amelio, is a former Republican Connecticut Senate candidate, a clothing business owner, and a TikToker. Her mother, Heidi D'Amelio, is a photographer, TikToker, and former model. She has an elder sister named Dixie who is also a social media personality.
Relationships
In January 2020, she started dating fellow TikTok star and Hype House co-founder Chase Hudson. In April of 2020, Charli and Chase broke up.
Career
TikTok & YouTube
On March 3, 2019, Charli D'Amelio began posting on TikTok with a lip-syncing video alongside her friend.
Her first video that gained momentum was a duet with a user called 'Move With Joy', posted in July 2019.
Ever since then, her TikTok videos consisted of her dances in trending songs on the platform. In October same year, she began posting dance videos of 'Renegade,' which popularized the dance on social media. In November 2019, she joined 'The Hype House,' a TikTok collaborative content house, with her sister, Dixie.
The same month, she was invited by Bebe Rexha to perform alongside her during her opening performance for the Jonas Brothers' concert after which she held her first meet-and-greet, which attracted a crowd of about 400 people. The same year, she signed with the management company Outshine Talent; her whole family is signed with the agency. In January 2020, she signed with the United Talent Agency. In May 2020, she left The Hype House. When there was news of the US ban on TikTok, she joined Triller, a rival video-making platform of TikTok, in September 2020. In November 2020, D'Amelio became the first person to earn 100 million followers on TikTok. In 2019, she started posting on her YouTube vlog channel; the first video she put on was of her first meet-and-greet. As of 2020, more than 8.5 million people have subscribed to her YouTube channel.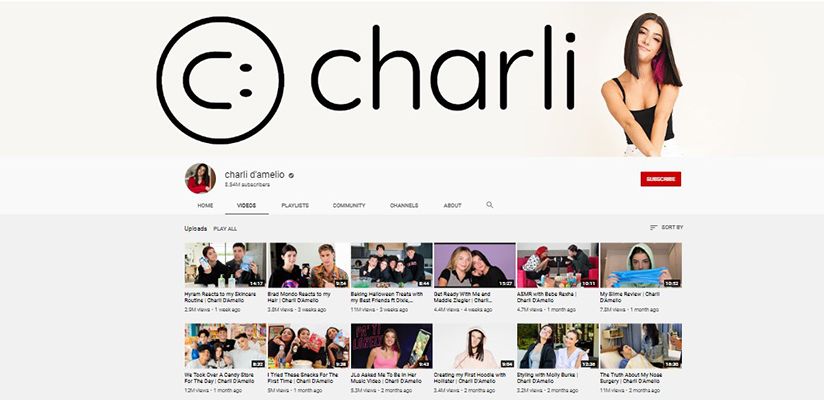 She is also a part of her family YouTube channel 'The D'amelio Family,' which has more than 1.2 million followers. In May 2020, she and her sister announced a podcast deal with Ramble Podcast Network. On October 15, 2020, the first episode of their podcast 'Charlie & Dixie: 2 Chix' aired.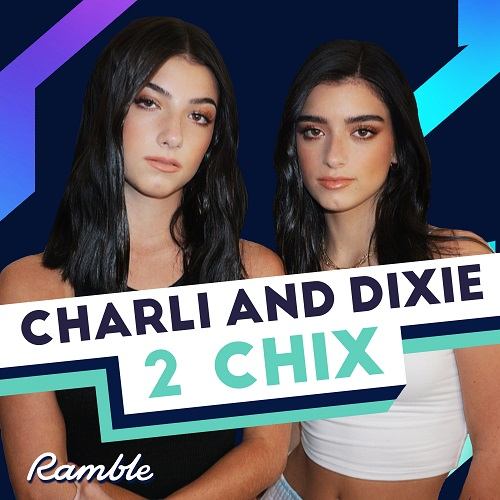 Endorsements
She has appeared in Super Bowl Advertisement for Sabra Hummus, a food company.
In July 2020, Charli and Dixie (her sister) became the face of Hollister's 'Jean Lab' campaign; they also created a TikTok dance to promote the campaign.
That same month, she became the brand ambassador of Invisalign, a braces brand, and she and her sister also promoted the makeup line 'Morphe 2' by Morphe cosmetics. In October 2020, she partnered with mobile banking service 'Step' for a promotional campaign shortly after its launch.
Other Works
In August 2020, she and her sister launched their nail polish collection called 'Coastal Craze' with Orosa Beauty.
In September 2020, Charli and her sister also designed limited-edition fleece sweatshirts for Hollister.
She has appeared in the music videos of 'Pa' Ti + Lonely' by Jennifer Lopez and Maluma and 'Baby I'm Jealous' by Baby Rexha.
She has also partnered with UNICEF for their anti-bullying campaign, and Procter & Gamble (P & G) for their initiative to encourage social distancing during the COVID-19 pandemic (to create the #DistanceDance challenge on TikTok).
D'Amelio released her first book 'Essentially Charli: The Ultimate Guide to Keeping It Real' in December 2020.
Films & Television
In April 2020, she appeared in ABC's television special 'The Disney Family Singalong' in which she was cast in "We're All In This Together" from High School Musical, alongside the original cast of the film.
She then appeared in the television special 'Graduate Together: America Honors the High School Class of 2020,' hosted by LeBron James. In June 2020, she made her film debut as 'Tinker' (the mouse) in the British animated film 'StarDog and TurboCat.'
In a July 2020 interview with Dixie, Dixie confirmed that Industrial Media was producing a reality show of the D'Amelio family.
Awards & Achievements
Dunkin' Donuts created a menu-drink 'The Charli' dedicated to her in 2020
Fortune included D'Amelio on their annual 40 Under 40 list, making her the youngest person on the list at 16 years old in 2020
First Person to earn over 100 million followers on TikTok
Fashion search engine Lyst placed her 8th on their annual Power Dressers list in 2020
Fashion search engine Lyst placed her on their Next 20 list with Highsnobiety in 2020
Won Diva Dance Competition in 2019
Won Beyond The Stars Competition
Controversies
In October 2019, she posted a video of her performing the 'Renegade' dance to the K Camp song "Lottery" and was credited to popularise the dance on social media. In February 2020, a newspaper published an article stating that the original creator of the dance was 'Jalaiah Harmon,' a 14-year-old Black girl from Fayetteville, Georgia, who watched her dance go viral without her getting any credits. This led to Charli facing internet backlash for not crediting Harmon. To defuse the situation, Charli went to Harmon and they both made a video together. Since then, Charli had made sure to credit those who created the dances she performs. [2]

Vanity Fair
In March 2020, blogger Perez Hilton commented on Charli's TikTok video that her dancing was "inappropriate" for a girl of her age. To which, Charli replied that she was sorry and was just having fun. Later, a lot of Charli's fans began attacking Perez on Twitter to which Perez made a YouTube video talking about Charli's father's January 2014 DUI charge and also talked about Charli being with her father at that time. Later, Perez also talked about Charli's relationship with Chase Hudson. This led to her fans creating a Change.org petition asking TikTok to ban him from their platform, which gained over 188,000 signatures. [3]

Insider
In November 2020, her family posted a YouTube video featuring the YouTuber and beauty guru James Charles in which the family and James Charles eat dinner prepared by personal chef Aaron May. In the video, Charli and her sister acted rudely to the chef and made faces as the chef described the meal. She also expressed that she wished she had received 100 million followers. Following this, she faced a huge backlash for her behavior and lost over one million followers on TikTok in less than one day. Later, she addressed the issue in an Instagram Live video and said,


You can hate on me for whatever I've done, but the fact that all of this is happening because of a misunderstanding…I just feel like that's not okay."

Later, the chef also defended the sisters in an interview, stating, [4]Vanity Fair

Those girls are the greatest, I love them. It was all fun and games."
Favorite Things
Net Worth
According to Forbes, as of 2020, she is the second highest-earning TikTokers with a net worth of $4 million. [5]Forbes
Facts/Trivia
Growing up, she participated in regional and national dance events such as Tremaine Dance Conventions & Competitions, NYC Dance Alliance, Beyond The Stars Dance competitions, Starpower National Talent, Diva Dance Competition, Turn It Up Dance Challenge, and Ultimate Dance Academy Dance Competition.
Charli has once revealed that she suffers from an eating disorder and has also been vocal about her experience with body shaming. While campaigning for UNICEF, she shared,


Some of the most hurtful comments that I read about myself online are…about my body shape, my body type, which hits close to home because I struggled a lot with body image, body dysmorphia, [and] bad eating habits."
She is also fighting against her sexualization by adult men online.
She has also supported the Black Lives Matter movements openly, and also posted a TikTok video, condemning George Floyd's murder during the George Floyd protests.
She is also an active philanthropist. She donated the money earned from ticket sales of her meet-and-greet in November 2019 to a special needs fundraiser. In April 2020, she donated $50,000 to Norwalk Hospital to help secure critical supplies for the hospital's staff amid the COVID-19 pandemic.
She even brought fame to other TikTokers; Lisa Beverly and Ellie Zeiler became popular on TikTok because of their resemblance to Charli D'Amelio.
She is an avid dog lover and often posts pictures with dogs on her social media accounts.