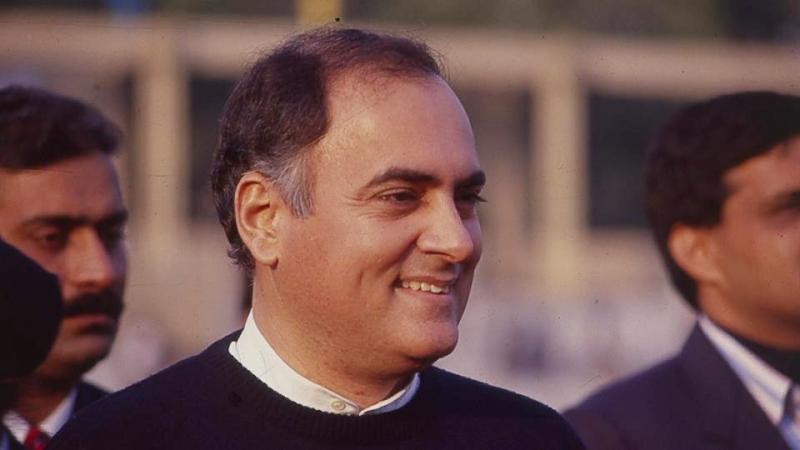 Rajiv Gandhi was an Indian politician and the 7th Prime Minister of India. He was Indira Gandhi's son and Sonia Gandhi's husband. He was also assassinated like his mother, while he was the Prime Minister.
Wiki/Biography
Rajiv Gandhi was born on Sunday, 20 August 1944 (age 46 years; at the time of death) in Bombay, Bombay Presidency. His zodiac sign is Leo. He received his primary education from the Shiv Niketan School in New Delhi, the Welham Boys' School in Dehradun, and the Doon School, Dehradun. He pursued B.Tech from the Trinity College, Cambridge in 1965, but did not obtain a degree. He took admission in Imperial College, London in 1966 to study Mechanical Engineering, but did not complete that either. Rajiv Gandhi was not very studious; a fact which he had admitted himself.
In 1966, Rajiv returned to India. He went to Delhi and joined the Delhi Flying Club, where he got trained as a pilot. He trained for 4 years and in 1970, he was recruited as a pilot by Air India. He had no interest in joining politics, and hence, he chose a career in aviation.
While he was in college in Cambridge, he met Sonia Gandhi. They had an affair for 3 years, and they got married in 1968. Sonia's real name is Edvige Antonia Albina Màino; which she changed to Sonia after getting married.
Physical Appearance
Height (approx.): 5′ 10″
Weight (approx.): 70 kg
Eye Colour: Black
Hair Colour: Black
Family, Wife & Caste
Rajiv Gandhi belongs to a Brahmin Family. His father, Feroze Gandhi, was an Indian politician. His mother, Indira Gandhi, was the former Prime Minister of India. His younger brother, Sanjay Gandhi, was a politician. Sanjay Gandhi was married to Maneka Gandhi, who is an Indian politician.
Rajiv Gandhi got married to Sonia Gandhi on 25 February 1968. They got married following a Hindu ceremony; even though Sonia was Italian. They have two children, a son, Rahul Gandhi, and a daughter, Priyanka Gandhi. Rahul is a bachelor while Priyanka is married to Robert Vadra.
Political Career
Rajiv Gandhi had no interest in joining politics but after his younger brother, Sanjay Gandhi, died unexpectedly in a plane crash, Rajiv started his political career on 16 February 1981. His mother, Indira Gandhi persuaded him to join politics. He contested his first election from the Amethi Lok Sabha constituency of Uttar Pradesh and won. On 17 August 1981, he took the oath as a Member of Parliament.
In December 1981, he was appointed as the President of the Indian Youth Congress. When his mother, Indira Gandhi, died on 31 October 1984, he was asked to be the Prime Minister. In November 1984, Rajiv assumed the office of the Prime Minister, and he asked the President to dissolve the Parliament and hold fresh elections; as the Lok Sabha had completed its five-year term. He was then elected as the National President of the Congress. The Congress won with a landslide victory and Rajiv took oath as the Prime Minister on 31 December 1984; becoming the youngest PM at the age of 40. He was the Prime Minister until 2 December 1989 when V.P. Singh Government came to power.
Controversies
In November 1984, after her mother's assassination, Anti-Sikh Riots took place in Delhi. During a speech, he stated- "When a giant tree falls, the earth below shakes". The statement was seen as a justification for the Anti-Sikh Riots; which were orchestrated by the Congress leaders. He was widely criticized for this statement.
After he was sworn in, he appointed a fourteen-member cabinet. He stated that he would monitor everyone and remove anyone who did not perform well. During his term as the PM, Rajiv reshuffled his cabinet several times; this led to criticism and confusion that whether Rajiv was able to handle the post of the PM or not. Media houses termed this as a Wheel of Confusion. Many political leaders stated-
The Cabinet change reflects the instability of the Congress Government at the Centre"
In 1985, the Supreme Court of India had ruled in the favour of Shah Bano and stated that her husband had to pay alimony. Several Indian Muslim men protested, under the Muslim Personal Law, against the ruling of the Supreme Court. Rajiv Gandhi accepted their demands and passed "The Muslim Women (Protection of Rights on Divorce) Act 1986"; which reversed the decision of the Supreme Court. The new Act stated that alimony should only be paid for 90 days after the divorce; as per Islamic Law. This enraged many people in India. Newspapers & magazines called this act as- Minority Appeasement by Gandhi. Former Law Minister Ram Jethmalani stated the whole situation as-
Retrogressive Obscurantism for short-term minority populism"
In April 1987, V.P. Singh revealed details about corruption in the Rajiv Gandhi Government. He revealed that millions of dollars were paid by the Swedish arms company Bofors. These payments were received by the Italian businessmen and Gandhi family associate, Ottavio Quattrocchi, in exchange for the Indian military and arms contracts. An enquiry was set up regarding the Bofors Scam. Rajiv Gandhi lost the General Elections of 1989; as his image of an honest politician was tarnished.
In November 1991, a Swiss magazine, Schweizer Illustrierte, claimed that Rajiv held 2.5 billion Swiss Francs in various secret accounts in Switzerland. The opposition raised this issue and demanded an inquiry in the matter. Many people called it shameful and embarrassing that a former PM was being accused of such issues by a Swiss magazine.
The Bhopal Gas Tragedy of 1984 caused thousands of people to die and left millions with diseases. The owner of the Union Carbide Corporation (UCC), Warren Anderson, came to India 4 days after the tragedy and was immediately put under house arrest by the government. Although, Anderson was let go within 24 hours of being arrested. Reportedly, Anderson contacted many US officials and the American Embassy put pressure on the Rajiv Gandhi Government to let him go. Anderson fled the country and never returned to India to face trial; as the incident was categorised as Corporate Negligence. Many police officials claimed that orders to arrest Anderson came in writing, but, oral orders were issued to let him go by someone in the higher ranks.

Assassination
On 21 May 1991, Rajiv addressed his last public meeting in Sriperumbudur, Tamil Nadu. He was there to campaign for the Sriperumbudur Lok Sabha candidate. While Rajiv was meeting and greeting people in the crowd, a woman named Thenmozhi Rajaratnam, approached Rajiv and greeted him. While bending down to touch Rajiv's feet, she detonated a belt bomb loaded with 700 gm of RDX under her dress. The explosion killed Rajiv Gandhi and 25 other people.
Rajiv Gandhi's mutilated body was airlifted and taken to New Delhi. His body was taken to the All Indian Institue of Medical Sciences for post-mortem, reconstruction, and embalming. A state funeral was held for Rajiv Gandhi on 24 May 1991. It was telecast live and it was attended by dignitaries of more than 60 countries. Rajiv Gandhi was cremated at Veer Bhumi; on the banks of Yamuna River and near the tombs (Samadhis) of his mother, Indira Gandhi, his brother Sanjay Gandhi, and his grandfather, Jawaharlal Nehru.
Facts
The meaning of his name is Kamal (Lotus flower). He was named after his grandmother Kamala (Jawaharlal Nehru's wife).
Rajiv Gandhi was a very shy child and had an interest in painting and drawing.
In 1987, he was visiting Sri Lanka to sign the Indo-Sri Lanka accord. While he was heading towards a meeting, an honour guard tried to hit him on the head with his rifle; to kill him. Rajiv noticed the guard swinging his rifle and quickly ducked; which caused the rifle to hit his shoulders.
Rajiv Gandhi pushed the formation of BSNL and MTNL; to help people communicate easily. He started the concept of Public Calling Offices (PCO's); which gave easy access to communication in rural areas where everyone could not afford the services of BSNL.
He introduced the system of computerized railway tickets, which started the modernization of the Indian Railways. 
Rajiv Gandhi helped change the face of communications in India. He wanted people to use computers, and he reduced tariffs and import duties on computers. He encouraged companies to manufacture computers in India. His efforts to bring modern technology to the communication sector led to him being called the "Father of Information Technology and Telecom Revolution in India"
Rajiv Gandhi had reduced the age of voting from 21 years to 18 years. He believed that the youth of the nation should also have a say in the choosing of their lawmakers. In 1989, the 61st Amendment of the Constitution was passed, which enabled people above 18 years of age to vote.
Rajiv Gandhi is credited with the creation of Panchayati Raj. He believed that Panchayati Raj was the only way to take democracy to the grassroots level. Panchayati Raj was created by the 73rd and the 74th Amendment of the Constitution in 1992; a year after Rajiv's assassination.
In May 1988, he launched Operation Black Thunder. The objective of the operation was to clear the extremists inside the Golden Temple. Two teams were sent to eliminate the terrorists. The operation went on for 10 days, after which the operation was declared successful. The terrorists were eliminated and the arms and ammunition were recovered.
In 1991, he was honoured with the Bharat Ratna posthumously.
Since Rajiv Gandhi's death, 21 May has been declared as the Anti-Terrorism Day in India.
The Central Government built the Rajiv Gandhi Memorial in Sriperumbudur, Tamil Nadu at the spot where he was assassinated. It was opened in 2003 by Rajiv Gandhi's wife Sonia Gandhi and the former President of India APJ Abdul Kalam. The blast site in the memorial is surrounded by seven pillars.