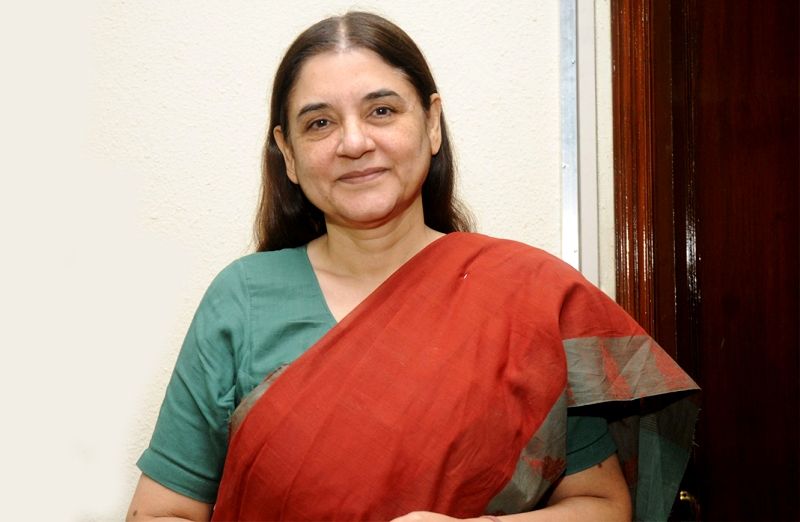 Maneka Gandhi is an Indian Politician and Animal-Rights Activist. She is from the BJP and a Member of Parliament from Pilibhit, UP. Maneka is the founder of an organization, People For Animals; which is the largest organization in India for animal welfare and animal rights.
Wiki/Biography
Maneka Gandhi was born on Sunday, 26 August 1956 (age 67 years; as of 2023) in New Delhi. Her zodiac sign is Virgo. She did her schooling from The Lawrence School, Sanwar, Himachal Pradesh; which is one of the best boarding schools of India.
She did her graduation from the Lady Sri Ram College for Women, New Delhi. She has studied German from the Jawaharlal Nehru University, New Delhi. She participated in many beauty pageants and fashion shows when she was in college. This got her interested in modelling, and she used to take up several modelling assignments while she was in college.
She got her first major modelling assignment when she got selected as a model for an advertisement for Bombay Dyeing. She was widely appreciated for this ad. Sanjay Gandhi fell in love with her after seeing her in the advertisement.
Physical Appearance
Height (approx.): 5′ 5″
Weight (approx.): 65 kg
Eye Colour: Black
Hair Colour: Black
Family, Caste & Husband
Maneka Gandhi belongs to a Sikh Family. She was born to Lt. Col. Tarlochan Singh Anand and Amteshwar Anand. Her father was in the Army, and her mother was the publisher of her magazine, Surya. She has a sister, Ambika Shukla, who is an animal rights activist. Maneka was married to Sanjay Gandhi, son of the former Prime Minister of India, Indira Gandhi.
Career
Maneka Gandhi was involved in politics right after her marriage to Sanjay Gandhi. She used to campaigns and attend rallies with Sanjay, but, she never contested or was into active politics. After her husband's death, she was sure that she would get Sanjay's position in the party, and she would take part in politics with Indira Gandhi, but, Rajiv Gandhi was brought into politics to replace Sanjay, which was quite a shock to Maneka; as she felt cheated. After a falling out with Indira Gandhi, she along with the supporters of Sanjay Gandhi, formed a party named the "Rashtriya Sanjay Manch" in 1983.
Her party fought the assembly elections of Andhra Pradesh and won 4 of the 5 seats. This was a big achievement for her; as her party was considerably new. In 1984, she contested the Lok Sabha elections from Amethi against Rajiv Gandhi, but, she lost; due to the public sympathy he had gained after Indira Gandhi's assassination.
In 1988, she merged her party with The Janata Dal, and she was also appointed its General Secretary. In 1999, she was elected to the Lok Sabha for the first time on a Janata Dal ticket. She was also appointed as the Minister of State for the Ministry of Environment in the VP Singh Government. She contested the 1996 and the 1998 Lok Sabha Elections as an independent candidate from Pilibhit and won. In 1999 she supported BJP as an independent candidate and was appointed as the Union Minister for Social Justice and Empowerment in Atal Bihari Vajpayee's Cabinet.
In 2004, she and her son Varun Gandhi joined the BJP. She contested the Lok Sabha Elections from Pilibhit Constituency, and she has been winning since then. In 2014, she was inducted into the Narendra Modi Government as the Union Minister for Women and Child Development.
Controversies
In 1982, Indira Gandhi forced Maneka to leave her house and live a separate life. After Sanjay's death in 1980, Maneka wanted to be in Sanjay place as she believed she should replace her husband, but, Indira Gandhi brought Rajiv Gandhi into politics, which was a shock for Maneka. Maneka, along with Sanjay's supporters, started a group named "Sanjay Vichar Manch". They used to hold conventions and used to speak against the Gandhi Family. Indira Gandhi was furious about it. She confronted Maneka, and she accused her of bad-mouthing her. This led to an argument following which, Maneka was asked to leave Indira's house stating that she did not deserve to stay there.
In 2014, before the assembly elections of Uttar Pradesh, Maneka Gandhi approached the BJP leadership and appealed them to name her son, Varun Gandhi, as the Chief Ministerial Candidate of Uttar Pradesh. She discussed this publically, and she was criticized by many people as being desperate.
In 2019, she was served a show-cause notice by the Election Commission for a hate speech that she gave during a rally in Sultanpur. She stated that if Muslims of her constituency did not vote her to power, she will not help them get jobs. This statement was condemned by many people, including her party, which distanced themselves from the statement saying that these were not the views of the party.
Awards and Honours
 Lord Erskine Award from the Royal Society for the Prevention of Cruelty to Animals (RSPCA) in 1992
Environmentalist and Vegetarian of the year 1994
Prani Mitra Award in 1996
Dewaliben Charitable Trust Award, 1999
Lifetime Achievement Award by the Venu Menon Animal Allies Foundation, 1999
Dinanath Mangeshkar Aadishakti Puraskar in the field of Environment and Animal Welfare, 2001
Woman of the Year Award by the International Women's Association, 2001
Rukmini Devi Arundale Animal Welfare Award, 2011
Human Achiever Award in the field of Women Empowerment and Children Welfare by the Human Achiever Foundation, India
Facts
She was famously known as the "Towel Girl" in the 1970's' because of her advertisement for towels, with the Bombay Dyeing.
She had started her magazine, Surya, in 1977. It was a political magazine which published articles and interviews of Indira Gandhi. This helped the Congress and Indira Gandhi a lot; as it swayed the public opinion in their favour and eventually helped the Congress be re-elected in 1980.
In 1989, she became the youngest MP to be appointed as a Union Minister, at the age of 33.
When her son, Varun Gandhi, was born, he was named after Sanjay's father, Feroze. Later Indira Gandhi named him Varun. Varun's official name is still Feroze Varun Gandhi.
She is an avid animal lover. She has started her organization named "People For Animals" in 1992. It is the largest organization for animal rights and welfare in India, and she is the chairperson of the organization as well. Her organization works with international organizations of the same field such as Humane Society International (HSI) and the People for the Ethical Treatment of Animals (PETA).

In September 2023, Maneka Gandhi accused ISKCON of selling cows to butchers. While making these accusations, in an interview, Maneka mentioned that she had visited the ISKCON Goshala in Anantapur, Andhra Pradesh, and noted that the absence of calves there. ISKCON representatives, however, denied these claims. Yudhistir Govinda Das, a spokesperson for ISKCON, later took to social media and shared a CCTV footage from the day of Maneka Gandhi's visit and a letter from a goshala veterinary doctor, along with pictures of cows and calves, as evidence to counter her allegations. [2]Mint
Letter from the Veterinary doctor regarding the Anantapur Govt Goshala that is maintained by ISKCON about which Smt Gandhi made the remarks.

The Goshalas serves 76 bulls and 246 non-milking cows along side milking cows with love and devotion. pic.twitter.com/ThAbglRcpp

— Yudhistir Govinda Das (@yudhistirGD) September 26, 2023