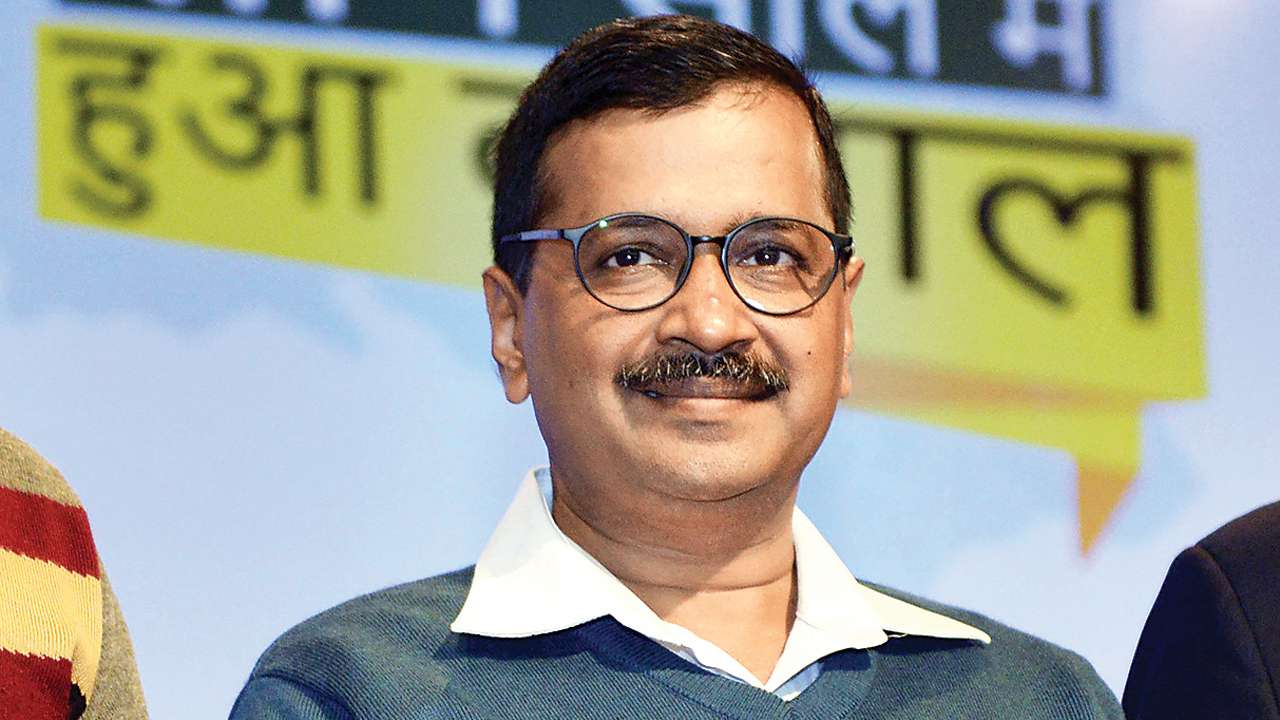 Arvind Kejriwal is a well known Indian politician and a former civil servant. Currently, Kejriwal is serving as the 7th Chief Minister of Delhi since the year 2015. Also, the chairman of the Aam Aadmi Party (AAP), Kejriwal's AAP won the maximum number of seats in the Delhi Assembly elections of the year 2015. Let's dig ourselves into some interesting facts about Arvind Kejriwal's life, career, and controversies. 
Biography/ Wiki
Arvind Kejriwal was born on 16 August 1968 (55 years) at Siwani, Bhiwani district, Haryana, India. Kejriwal came into the spotlight back in 2011 when he, along with Anna Hazare, staged India Against Corruption (IAC) movement in Ramlila Maidan, Delhi to pass the Jan Lokpal Bill. Due to the failure of the IAC Movement, along with his colleagues from IAC, Arvind entered politics and lay down the foundation of Aam Aadmi Party in November 2012. Arvind Kejriwal became a household name in 2013 Delhi Assembly Elections when he defeated Sheila Dikshit from the New Delhi constituency by a huge margin of 25,864 votes, and on 28 December 2013, he became the Chief Minister of Delhi. However, he resigned after 49 days on 14 February 2014, because according to him he was not rendered any support from other political parties in order to pass the proposed anti-corruption legislation bill. In 2015 again, Arvind started his second term as the Chief Minister of Delhi.
Family
Arvind Kejriwal is the eldest son of Gobind Ram Kejriwal, an electrical engineer, and Geeta Devi. Kejriwal belongs to a Hindu Vaishya (Baniya) family.
Arvind has one younger brother, Manoj who is employed as a Software Engineer in IBM, Pune and a younger sister, Ranjana, working as a doctor in Bharat Heavy Electricals Limited (BHEL), Haridwar. In 1995, Arvind Kejriwal married Sunita Kejriwal and the couple has a son, Pulkit and a daughter Harshita.
Career
Arvind completed his schooling from Campus School, Hisar, Haryana and Christian Missionary Holy Child School, Sonipat, Haryana. After completing his schooling, he enrolled at the Indian Institute of Technology, Kharagpur, West Bengal and graduated as a Mechanical Engineer. Arvind started working at the TATA Steel Company after graduating from IIT Kharagpur. Kejriwal began preparing for Civil Services, cleared the exam in a single attempt and became an IRS officer. When he was an IRS officer, Kejriwal refused to have a peon and cleaned his table himself. He has a habit of checking each and every document file, each and every line of documents, marking main lines with the marker and making sure that everything is correct. His colleagues say that he cross-checked the Jan Lokpal Bill about 100 times.
In 2006, Arvind Kejriwal resigned from the revenue services and completely devoted his time towards social services. During his time in the social services, in 2011, Arvind Kejriwal joined Anna Hazare, a social activist staged India Against Corruption (IAC) movement in Ramlila Maidan, Delhi to pass Jan Lokpal Bill, which was failed due to political tactics of Congress, BJP, and other political parties.
Arvind was the main member of the team who made Jan Lokpal Bill. After the movement, Kejriwal and many other IAC team members decided to make a political party for fighting against corruption in India, even though Anna Hazare, Kiran Bedi, and many other IAC team members were against his decision of entering the politics. In 2012, Arvind Kejriwal laid the foundation of the Aam Aadmi Party and contested in 2013 Delhi Assembly Elections in which he defeated Sheila Dikshit from the New Delhi constituency by a maximum of around 25,000 votes and, henceforth, started his term as the Chief Minister of Delhi on 28 December 2013.
After his great win in Delhi Assembly Election, Arvind announced on 25 March 2014 to contest the Lok Sabha election against Narendra Modi from the Varanasi constituency but lost by a large margin of nearly 3,70,000 votes. But even after his defeat, Kejriwal didn't stop and contested in Delhi Assembly Election again, and on 14 February 2015, he became the Chief Minister of Delhi for the second time with a huge majority of 67 out of 70 seats. He was sworn in as the Chief Minister of Delhi for the third time at the Ramlila Maidan in Delhi.
On 12 September 2021, he was re-elected as the national convener of the Aam Aadmi Party for the third time.
Controversies
Kejriwal, despite having an impeccable political career, is framed in 4 charges related to voluntarily causing hurt to discourage public servant from his duty (IPC Section-332) and 5 charges related to disobedience to order duly promulgated by public servant (IPC Section-188). In addition to this, he is framed in 4 charges related to obstructing public servant in discharge of public functions (IPC Section-186), 4 charges related to assault or criminal force to deter public servant from discharge of his duty (IPC Section-353) and 4 charges related to Acts done by several persons in furtherance of common intention (IPC Section-34). 
Arvind Kejriwal's name is also brought into

the limelight for other cases as well. He has 4 charges related to defamation (IPC Section-499), 4 charges related to punishment for defamation (IPC Section-500), 4 charges related to punishment for rioting (IPC Section-147) and 4 charges related to every member of unlawful assembly guilty of an offence committed in prosecution of common object (IPC Section-149). Besides, he is also acknowledged in 3 charges related to rioting, armed with deadly weapon (IPC Section-148), 2 charges related to assaulting or obstructing public servant when suppressing riot, etc. (IPC Section-152) and 2 charges related to knowingly joining or continuing in assembly of five or more persons after it has been commanded to disperse (IPC Section-151).
Moreover, Arvind is convicted in 3 cases, 1 of which is the charge related to wantonly giving provocation with intent to cause riot-if rioting to be committed-if not committed (IPC Section-153). The second charge related to joining or continuing in unlawful assembly, knowing it has been commanded to disperse (IPC Section-145) and the third charge is related to wrongful restraint (IPC Section-341).
On 13 August 2018, Kejriwal, Sisodia among 15 others were named accused in Delhi Chief Secretary 'assault' case.
On 31 March 2023, he was fined Rs 25,000 by the Gujarat High Court for asking for the details of Prime Minister Narendra Modi's degree. [1]

NDTV
He was questioned by the Central Bureau of Investigation (CBI) for nearly nine hours in the liquor policy case on 16 April 2023. After the questioning, while talking to reporters, Mr. Kejriwal said,


The CBI asked me a total of 56 questions. Everything is fake. The case is fake. I am convinced they don't have anything on us, not a single piece of evidence."

C Arvind, the then secretary to Mr. Sisodia, told the CBI during the investigation that Manish Sisodia handed him the draft liquor policy in March 2021 at Mr. Kejriwal's house. The Delhi government cleared the excise policy after Lieutenant Governor Anil Baijal ordered an inquiry. According to reports, the clearance came after it had been deferred twice, and the CBI is investigating why. [2]NDTV

In June 2023, the Union Home Ministry directed a Comptroller and Auditor General (CAG) investigation into the expenses related to the renovation of the Chief Minister's official residence. This decision came after a letter was received from Delhi's Lieutenant Governor, Vinai Kumar Saxena, who raised concerns about significant irregularities in the project. According to the letter, the initial estimated cost of the reconstruction was between Rs. 15-20 crore, but it had escalated to Rs. 53 crore. [3]

NDTV In September 2023, the CBI registered a preliminary enquiry into the matter on the orders of the Union Home Ministry. [4]

India Today
Awards & Recognition
In the year 2004, Arvind was bestowed with the Ashok Fellow, Civic Engagement.
In 2005, he was awarded the Satyendra K Dubey Memorial Award, IIT Kanpur.
In 2006, Arvind Kejriwal was awarded the Ramon Magsaysay Award for playing a very useful hand to enact the RTI Act.
In the same year, 2006, he got the CNN-IBN Indian Of The Year award.
In 2009, he was decorated with the Distinguished Alumnus Award, IIT Kharagpur for Eminent Leadership and a fellowship plus a grant by the Association For India's Development.
In 2010, Kejriwal received the Policy Change Agent of the Year, Economic Times Award along with Aruna Roy.
In 2011, he was given the NDTV Indian of the Year with Anna Hazare.
In 2013, he was awarded the CNN-IBN Indian of the Year 2013- Politics.
In 2013 itself again, he was positioned among the Top 100 Global Thinkers in the November Issue of the magazine Foreign Policy.
In 2014, he also featured in the Time magazine's Top 100 list of the most influential people in the world.
In 2016, Kejriwal was placed at the rank 42 on the list of the business magazine Fortune's 50 great leaders of the world.
A documentary 'An Insignificant Man' was released in 2017 highlighting his political career from scratch.
Favourites
Arvind Kejriwal's favourite cuisine is Chinese and when it comes to street foods and sweet dishes, he likes Golgappe and Jalebi, respectively. His favourite food joint is 'Taste of Chine' in Connaught Place, Delhi. [5]

Kitchen Tak YouTube
Aamir Khan is his favourite

actor.
In his free time, he likes to watch the comedian Kapil Sharma.
Kejriwal admires the social activist Anna Hazare.
Net Worth & Salary
As the Chief Minister of Delhi, he receives a monthly salary of Rs 1.7 lakh + other allowances (as of 2023). Kejriwal's net worth is nearly Rs 7 crore (as of 2018).
Facts
He does not smoke or drink alcohol.
Arvind has black eyes and black hair.
Kejriwal's hobbies include reading, doing yoga, vipasana, watching movies, and listening to music.
A Blue WagonR, which had become an iconic association with Kejriwal during his campaign in the 2015 Delhi Assembly Elections, was, in fact, gifted to him by a Software Engineer, Kundan Sharma. Reportedly, the car was stolen from outside the Delhi Secretariat in October 2017. 
Arvind Kejriwal's classmate said in an interview that during college days in Kharagpur, Arvind used to go to slums to teach kids who could not afford education.
He donated his Magsaysay award money to an NGO.
Moreover, he was the person because of whom RTI (Right to Information) Delhi came into action in 2005.
Neither does he celebrates his birthday nor his children, the exact reason for which is unknown. 
He has also worked with social activist Mother Teresa.
He had to postpone the day to file his nomination in the Delhi Assembly Elections twice; first time during the 2015 Delhi Assembly Elections, and the second time during the 2020 Delhi Assembly Elections. Both the time, the reason was the same; a huge crowd of his supporters creating a traffic jam like situation.