Sukh Ram (1927-2022) was an Indian politician and agriculturist. He is known for serving as the Minister of Communication and Information Technology from 1993 to 1996. He was lovingly known as Pandit Sukh Ram. [1]India Today He was also known as 'King of Mandi' and 'Kingmaker of Himachal.' [2]Hindustan Times
Wiki/Biography
Sukhram [3]ABP Live aka Sukh Ram Sharma [4]Aaj Tak was born on Wednesday, 27 July 1927 (age 94 years; at the time of death) in Arnyana, Tungal (Kotli), Mandi, British Punjab Province (British India; now Himachal Pradesh, India). His zodiac sign is Leo. He pursued BA from Panjab University, Chandigarh. Later, he did LLB from the Faculty of Law, Delhi University, Delhi. [5]Hindustan Times
Physical Appearance
Height (approx.): 5′ 5″
Hair Colour: Salt & Pepper
Eye Colour: Brown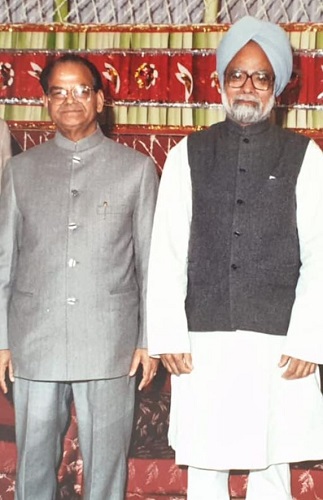 Family
Parents & Siblings
His father's name is Bhav Dev. Sukh Ram had nine siblings.
Wife & Children
On 6 August 1953, he got married to Ram Devi. Sukh Ram had two sons and three daughters, and one of his sons Anil Sharma is a politician (member of the BJP), and agriculturist. [6]Hindustan Times
Other Relative(s)
His grandson Aashray Sharma is a politician. His other grandson Aayush Sharma is an actor, who is married to Arpita Khan.
Caste
He was born in a Brahmin Hindu family. [7]The Indian Express
Address
Samkhetar Street, Mandi Town-175001, Himachal Pradesh
Career
After completing his graduation in law, he started practising at the Mandi District law courts. In 1962, he became a member of the Territorial Council, Himachal Pradesh. From 1963 to 1984, he was a member of the Himachal Pradesh Legislative Assembly. During this tenure, he represented the Mandi Assembly Seat. During this tenure, he also served as General Secretary, PCC(I), Himachal Pradesh. Thereafter, he won the eighth Lok Sabha elections and served as the junior minister in the Rajiv Gandhi government.
From September 1985 to October 1986, he served as the Union Minister of State, Defense Production and Supplies, and from October 1986 to February 1988, he served as the Union Minister of State, Planning. He then served as the Minister of State Food and Civil Supplies (Independent) from February 1988 to December 1989. In 1991, he was re-elected to the 10th Lok Sabha. From July 1992 to January 1993, Sukh Ram served as the Minister of State Planning and Programme Implementation (Independent Charge) and Minister of State Non-conventional Energy Sources. He took the independent charge as the Union Minister of State Communications from January 1993 to May 1996. He was re-elected to the 11th Lok Sabha in 1996. He was the one who introduced mobile phones in India. The first-ever mobile phone call in India was made between Sukh Ram and Rajiv Gandhi. During an interview he talked about it, he said,
Once I had gone to Japan as Telecom Minister. I saw that the driver had kept the mobile phone in his pocket. Seeing this I felt that if Japan can have this technology, then why not in India."
After a tiff with a Congress leader, he left Congress and formed his independent political party Himachal Vikas Congress on 6 July 1997.
In 1998, he formed a post-poll alliance with the BJP and contested the assembly elections from Mandi Sadar. He won the elections by a huge margin of 22000+ votes. In 2004, his independent party was merged with Congress. He announced his retirement from electoral politics in 2007. He joined the BJP in 2017, and within two years, he left the party and rejoined Congress.
Controversy
Imprisonment for Inappropriate Activities
In 2002, he passed a contract to supply communication equipment to a Hyderabad-based firm which caused a loss of Rs 1.66 crore to the government. He was then sentenced to jail for three years. In 2011, he agreed to a contract of Rs 30 crore with a private firm Haryana Telecom Ltd (HTL) to supply 3.5 lakh conductor kilometres (LCKM) of Polythene Insulated Jelly Filled (PIJF) cables to the Telecom Department. He took a bribe of Rs 3 lakh for it, and he was sentenced to jail for five years. During the hearing of his case in a Delhi Court, he pleaded before the judges to consider his old age before giving the verdict. He said,
I (Sukhram) am an 86-year-old person and attending the trial for the past 12 to 13 years. I suffer from old age-related ailments and have lost my wife. Therefore, a lenient view may be taken. As such it is not a case where the government has lost any money. The CBI allegation was that he (Sukhram) took bribe but no financial loss has been caused to the Government exchequer."
The CBI prosecutor said,
He is a "habitual offender" and sought maximum punishment for him."
While talking to the reporters, Sukh Ram said,
Despite the fact that age is not on my side, I have not lost hope for justice. I am the victim of a political conspiracy. My fight will continue till I come out clean from the court of law."
After he was sentenced to jail in a Delhi Court, he was slapped and kicked by a man named Harvinder Singh. The incident happened on the premises of a Delhi court. [8]Firstpost
Assets & Properties
Cash: Rs 3.61 crore
Jewellery: Rs 10.29 lakh
Bank Balance: Rs 4.29 lakh
Household Articles: Rs 10.30 lakh [9]

The Economic Times
Death
On 11 May 2022, he took his last breath at AIIMS, New Delhi. Earlier, on 4 May 2022, he had a brain stroke and was immediately rushed to a hospital in Mandi, Himachal Pradesh. Considering his worsened condition, he was airlifted to AIIMS, Delhi, where he was kept on a ventilator. On 11 May 2022, he had a cardiac arrest which he could not survive. [10]The Tribune The news of his demise was shared by his grandsons. His grandson Aashray Sharma shared the news through his Twitter account. He tweeted,
End of an era. Alvida Dada ji abi nhi bjegi phone ki ghanti (good by Dada ji, now the bell of your phone will not ring."
Sukh Ram's other grandson Aayush Sharma took to Instagram to share the news.