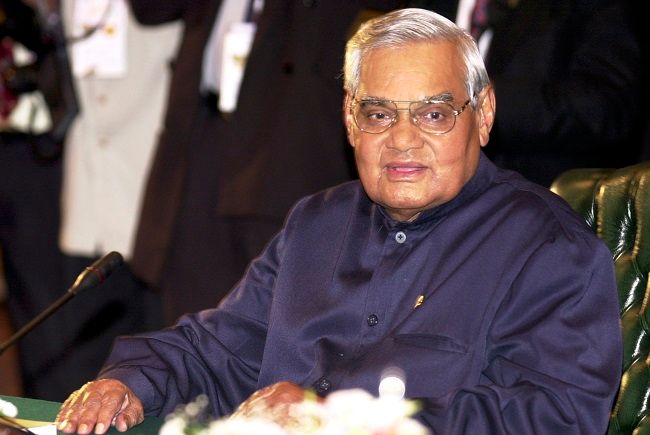 Atal Bihari Vajpayee was one of the forerunners of the Bhartiya Janata Party and highly respected veteran politician. Having started his politics with Rashtriya Swayamsevak Sangh, Vajpayee paved his way to being the Prime Minister of India thrice. Vajpayee was best known for his remarkable stature in the Indian and World Politics. Having been arrested in the 1975's National Emergency, Vajpayee came among the premiers of the Jana Sangh, shouldered the responsibility of it and led the party to the prominence in the 1977 General Elections. He is the first Indian statesman to deliver the speech in the Hindi language in the United Nations. Whether it is Pokhran II in 1998 or Lahore Bus Yatra in 1999, Vajpayee was the perfect embodiment of wrath and non-violence. Apart from being a politician, he was also a great poet and author. When he spoke in the Parliament, the whole chamber used to be enchanted. His poems, speeches, writings inspire hundreds of politicians in the country and will remain be inspiring for the budding politicians. Check out Atal Bihari Vajpayee Wiki, Wife, Girlfriend, Family, Ethnicity, Biography, Profession, Facts, Salary, Net Worth & More.
Biography/Wiki
Atal Bihari Vajpayee was born in a Brahmin family on 25 December 1924 in Gwalior, Gwalior State, British India (Now, Gwalior, Madhya Pradesh). His grandfather, Pandit Shyam Lal Vajpayee lived at Bateshwar in the United Province (Now, Uttar Pradesh), who later migrated to Morena, Gwalior. His father was a poet and school teacher in Morena. His first exposure to the politics came in the 1942 Quit India Movement when he was arrested and kept in prison for 23 days by the British government.
He became a volunteer in Arya Kumar Sabha of Gwalior (Youth wing of Arya Samaj). In 1939, he became the member of the Rashtriya Swayamsevak Sangh. and got influenced by Babasaheb Apte.
In the early 1940s, he joined the officer's training camp in RSS and in 1947, he became the full-time worker of RSS. When RSS was banned in 1948 on the charges of Mahatma Gandhi's Assassination, he was supported by RSS to work for the newly formed Bharatiya Jana Sangh (BJS). He soon became the National Secretary of the BJS for the Northern region of the country. He came close to party leader Shyama Prashad Mukherjee and became his aide and follower. In 1951, Vajpayee went on to a Fast unto death in Kashmir against the inferior treatment shown towards non-Kashmiri visitors. During the strike, Mukherjee died in prison. During the 1957 general elections campaign, then Prime Minister, Pt. Jawahar Lal Nehru got impressed by Atal's oratorical skills and Nehru predicted that Vajpayee would become India's Prime Minister someday. After the demise of Pt. Deendayal Upadhyaya in 1968, the duty of Jana Sangh fell on his shoulders and and was made the National President of the party.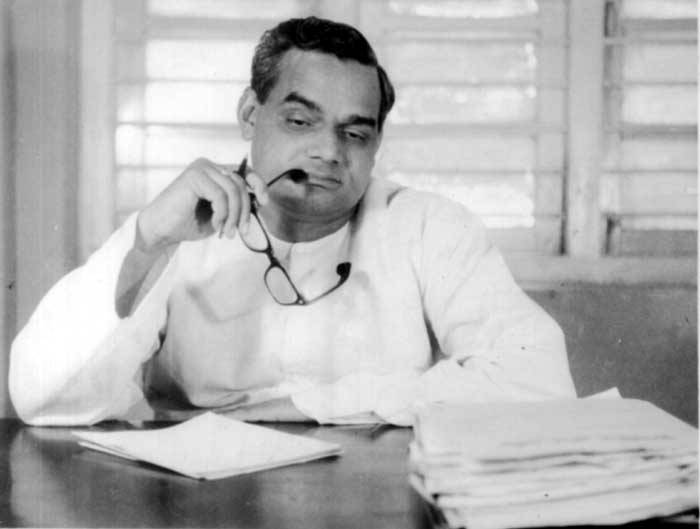 Family
Vajpayee was born to Krishna Bihari Vajpayee and Urmila Mishra. He has six siblings; three brothers and three sisters. His brothers are Prem Bihari Vajpayee, Avadh Bihari Vajpayee, Suda Bihari Vajpayee, and his sisters are Urmila Mishra, Kamala Devi, and Vimala Mishra.
Atal Bihari Vajpayee remained unmarried throughout his life. However, media has always called his relationship with Rajkumari Kaul (Died in May 2014) into question. He adopted Namita Bhattacharya as his daughter. He used to live with his daughter, son-in-law Ranjan and a granddaughter Niharika. Generally, he was called Baap Ji by his family members.
Career
Vajpayee was brilliant at the study. He received his primary education from Saraswati Shishu Mandir, Gorkhi, Bara, Gwalior. Vajpayee was admitted to Gwalior's Victoria College (now Laxmi Bai College) for his further education and graduated with distinction in English, Hindi, and Sanskrit. He completed his M.A. in Political Science from DAV College, Kanpur with first division.
His political career started in the early 1950s when he joined the Bharatiya Jana Sangh. In 1957, he competed in the Indian General Elections for the first time from Mathura and Balrampur Lok Sabha constituency. However, he lost that election from Mathura to Raja Mahendra Pratap Singh but, got the victory from Balrampur.
During the Emergency from 1975 to 1977, Vajpayee was one of the main opponents of the Indian National Congress and was arrested along with several other opposition leaders. In the 1977 General Elections, Janata Party received a huge victory, and Vajpayee handled the portfolio of Ministry of External Affairs in Morarji Desai's government. When Bharatiya Janata Party came into existence in 1980, Vajpayee was its first president. In 1995, in BJP conference, then party president L.K. Advani declared that Vajpayee would become the Prime Minister of India.
In the 1996 general elections, National Democratic Alliance (NDA) formed the government and Vajpayee became the Prime Minister of India for the first time but his government lasted only for 13 days.
In the 1998 general elections, Vajpayee contested from the Lucknow constituency and won the election. On 19 March 1998, Vajpayee was sworn in as a Prime Minister of India again but government dissolved on 12 October 1999 when Jayalalithaa led AIADMK withdrew its support to the government.
After the Kargil War victory, BJP led NDA received 303 seats in the 1999 general elections and Atal Bihari Vajpayee became the Prime Minister for the third time.
After the defeat in the 2004 general elections, Vajpayee announced his retirement from active politics.
Controversies
He along with his several colleagues was arrested during the 1975 Emergency imposed by the then Prime Minister Indira Gandhi.
In 1992, he was criticised by many for his role in the Babri mosque demolition case. He and his party members strongly favoured the temple to be built.
Personal Life and Interests
Vajpayee was the avid dog lover. He was fond of Indian folk dances and music. He was the nature lover too. His favourite destination was Manali (Himachal Pradesh). He liked to watch movies and listening to music. He was the fan of Indian Actress Hema Malini.
Health Issues/Death
In 2001, Vajpayee went through a knee replacement surgery at Breach Candy Hospital in Mumbai. He suffered a stroke during a speech in 2009. Vajpayee passed away at the age of 93 due to age-related illness on 16 August 2018.
He was cremated at the Rashtriya Smriti Sthal, near Rajghat in New Delhi, which is also his resting place.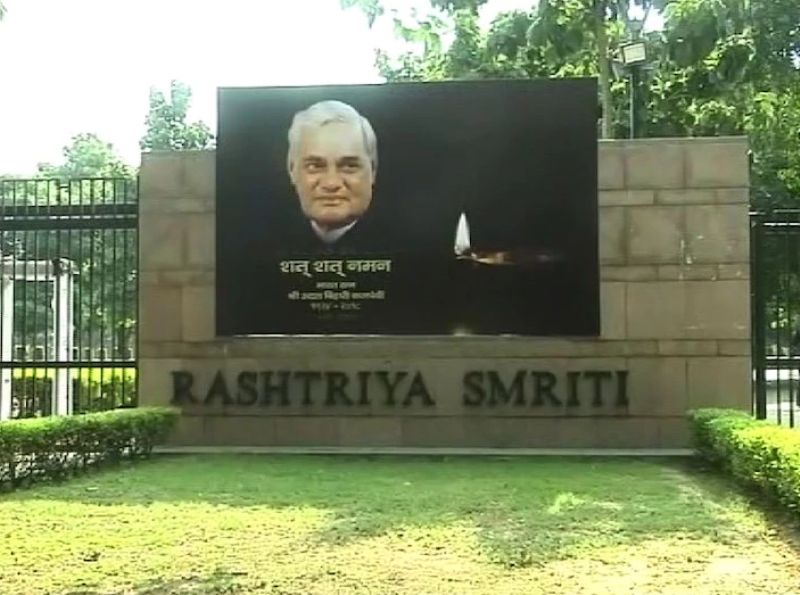 Awards/Honour
In 1992, he was bestowed upon the Padma Vibhushan. In 1993, Kanpur University awarded him D. Lit. In 2015, he was given the country's highest civilian honour The Bharat Ratna by the Government of India. The same year, he was given Bangladesh Liberation War honour by the Bangladesh government.
Facts
Vajpayee was born on the day of Chrismas.
He was a Vistarak (Probationary Pracharak) and began working for Deendayal Upadhyaya's newspapers Panchjanya (a Hindi weekly), Rashtradharma (a Hindi monthly), and the dailies Veer Arjun & Swadesh.
He and his father studied at the same Law College (DAV College in Kanpur) together for their Law studies and they even shared the same room in the hostel.
He had to give up his Law studies due to the partition riots in 1947.
When he entered the office Ministry of External Affairs in  1977, he found the portrait of Jawaharlal Nehru was missing and then he said to the staff- I want it back.
On 19 February 1999, he made a bus trip to Lahore to build a strong relationship with Pakistan. The bus journey was called Sada-e-Sarhad.