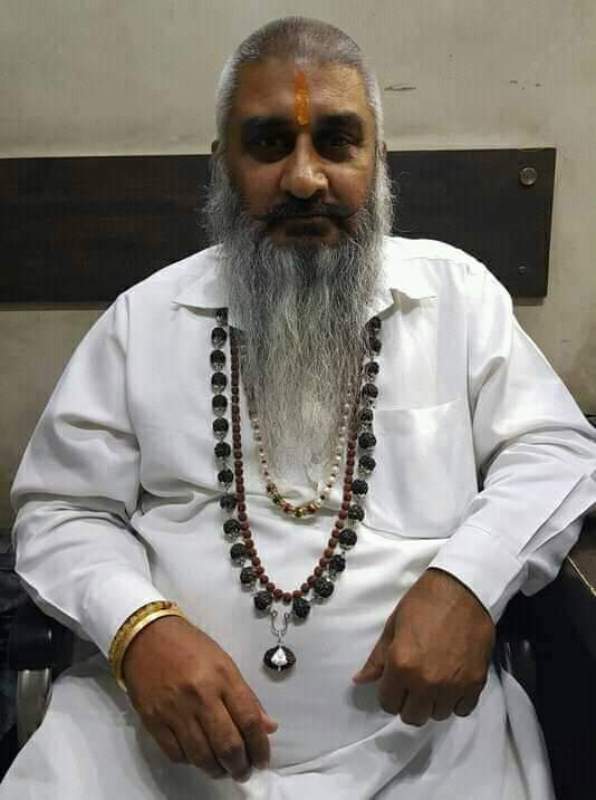 Sudhir Suri (1964-2022) was a Hindutva right-wing leader. He was shot dead at point black range during a sit-in protest in Amritsar, Punjab on 4 November 2022.
Wiki/Biography
Sudhir Kumar Suri was born on Thursday, 12 March 1964 (age 58 years; at the time of death) [1]BBC News in Amritsar, Punjab. His zodiac sign is Pisces.
Physical Appearance
Hair Colour: Salt & Pepper
Eye Colour: Black

Family
Sudhir Suri belonged to a Hindu family in Amritsar, Punjab.
Parents & Siblings
His father's name is Harbans Lal Suri (deceased), and his mother's name is Bimla Suri.
Sudhir Suri had two brothers – T. N. Suri (retd. SDO at Punjab Mandi Board) and Brij Mohan Suri.
Wife & Children
Sudhir Suri and his wife, Madhu Suri, were blessed with three sons – Manik Suri, Eklavya Suri, and Paras Suri. [2]Hindustan Times
Other Relatives
His grandfather's name is Lala Gyan Chand Suri.
Religion
Sudhir Suri followed Hinduism.
Career
Leader at Hindu Shiv Sena
Sudhir Kumar Suri joined the Hindu Shiv Sena (Punjab) and serves as the leader of the fundamentalist group.
Controversy
Booked Multiple Times
Reportedly, in April 2020, Sudhir Suri was booked by the Amristar rural police for his objectionable comments against the Tablighi Jamaat community. After nearly three months, the Punjab Police arrested Sudhir Suri from Indore, Madhya Pradesh, over an offensive video clip which was denigrating women and instigating animosity between two groups. Suri, however, denied the allegations. In July 2021, Suri was booked for the third time for allegedly sharing a video on social media, speaking against a particular community. [3]India Today
Death
Shot By a Shopkeeper During a Protest on Majitha Road, Amritsar, Punjab
Reportedly, Shiv Sena leader Sudhir Suri, in the presence of local police and Punjab Police personnel, was shot dead in Amritsar, Punjab, on 4 November 2022 (Friday) while he was taking part in a protest against the management of Gopal Mandir, a temple in the area, after some posters and idols were found broken and thrown on the roadside near the temple.
According to the police officials, more than five shots were fired at Sudhir. The accused identified as Sandeep Singh alias Sunny, 31, who owns a garment shop near the site, was arrested by the officials.
Reportedly, the murder case was registered under section 302 [4]PTC News at Sadar police station in Amritsar. [5]The Economic Times According to some media outlets, a doctor named Ajay Sharma, present at the crime spot, mentioned that while Suri was protesting outside the temple, two men in a car, which had a sticker of "Waris Panjab De," arrived and started firing at him; although the police officials were successful in arresting one of them, the other man escaped. While explaining the crime scene to the media, Ajay Sharma said,
Shiv Sena's Sudhir Suri was demonstrating outside the temple against garbage being dumped outside the premises. Two men came in a car and started firing at Sudhir Suri. One person has been arrested. The way they fired at him was clear that they wanted to kill him."
Lakhbir Singh Landa (alias Landa Harike), a Canada-based gangster, claimed responsibility for the attack on Sudhir Suri by sharing a post on social media. 
Facts/Trivia
Sudhir Suri's other name was SK Suri.
Reportedly, Sudhir Suri, along with others, put the dummy of the then Prime Minister of Pakistan on fire while protesting against the killing of two Hindus and a Sikh teacher.
According to police officials, Sudhir Suri was on the hit list of many gangsters for a very long time for which the government deployed eight Punjab police officers for security. [6]

Mint He was on the hit list of Khalistani, a group that is a part of the Khalistan movement that aims to create a Sikh homeland called "Khalistan" via armed struggle, since 2016. [7]

India Today
Reportedly, he was provided with the Y-category security.
Reportedly, Sudhir Suri's son, Paras, demanded that his father should be given the status of a martyr until which he would not let his father's last rites happen. Breaking his silence on the death of his father, Sudhir Suri, Paras Suri said,


We will not do the antimsanskar until the government declares my father as shaheed (Martyr). My father is alive inside every Hindu of this country." [9]Times Now