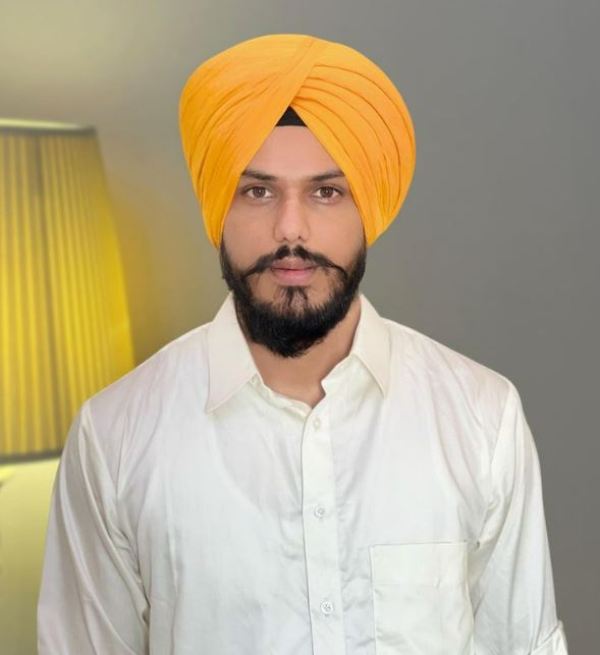 Amritpal Singh, known as the "Bhindranwale 2.0" in Punjab's religio-political circles, is the head of 'Waris Punjab De,' an organisation formed with the aim to fight for social justice and preserve the rights and culture of Punjab. Amritpal Singh joined the organisation in 2022.
Wiki/Biography
Amritpal Singh Sandhu [1]ThePrint was born on Sunday, 17 January 1993 (age 30 years; as of 2023) in Jallupur Khera village in Baba Bakala tehsil of Amritsar district in Punjab, India. Reportedly, after studying till class 10, he enrolled himself in a Polytechnic course at Lord Krishna Polytechnic College, Kapurthala, Punjab, but he didn't complete the course and moved to Dubai to join the family transport business. [2]ThePrint Some sources, including his LinkedIn account, claim that he holds a Bachelor of Engineering degree; however, some reports have found it dubious and mentioned him as a dropout of an engineering course. [3]The Free Press Journal
Physical Appearance
Height (approx.): 5′ 11″
Hair Colour: Black
Eye Colour: Dark Brown
Family
Amritpal Singh's family hails from Amritsar's Jallupur Khera village. [4]ThePrint
Parents & Siblings
His father's name is Tarsem Singh, while his mother's name is Balwinder Kaur. Amritpal Singh has twin sisters and an elder brother. [5]ThePrint
Wife
On 10 February 2023, he got married to a UK-based NRI named Kirandeep Kaur at his ancestral village, Jallupur Khera in Amritsar, Punjab. Kirandeep Kaur is a physiotherapist.
Religion/Religious Views
Amritpal Singh Sandhu follows Sikhism. [6]ThePrint
"Punjab is for Punjabis"
While addressing the crowd at Tibbi Saheb Gurdwara in Faridkot on the seventh anniversary of the Behbal Kalan killings, Amritpal Singh Sandhu revealed that he believed Sikhs as the "slaves" to Hindus and according to him, the 'Sikh rule' would be the only solution to put a stop to slavery. On the seventh anniversary of the Behbal Kalan killings, where the police officials opened fire at the people protesting against the sacrilege of Guru Granth Sahib in Behbal Kalan village, Amritpal Singh said,
Sikhs have been slaves for 150 years. We have developed a slave mentality. First, we were slaves to the British, now we are slaves to the Hindus. The only way we can be totally free is when we have Sikh rule." [7]ThePrint
Transport Business in Dubai
In 2012, Amritpal moved to Dubai, where he managed his family's transport business by working at Sandhu Cargo Transport company. [8]The Quint [9]ThePrint On 20 August 2022, Amritpal Singh, leaving behind his family business in Dubai, returned to India to take over the leadership of Waris Punjab De. [10]ThePrint
Chief of Waris Punjab De
Amritpal Singh is the chief of 'Waris Punjab De,' an organisation formed by Punjabi actor-turned-activist Deep Sidhu to fight for social justice and preserve the rights and culture of Punjab. He took over the leadership of the organisation after Deep Sidhu's death in a road accident near Sonepat on the Kundli-Manesar-Palwal highway on 15 February 2022. He, however, never met Deep Sidhu but was connected with him on social media. [11]The Quint On 29 September 2022, he was declared the chief of the 'Waris Punjab De' group at the 'Dastarbandi' (turban-tying ceremony), the one-year anniversary of the founding of the organisation. [12]ThePrint
The Speech at Rode village in Moga, Punjab
Amritpal Singh, in the native village of slain Khalistani militant Jarnail Singh Bhindranwale, addressed the public on the occasion of the 29th anniversary of the installation of 'Waris Punjab De' and said that they should not consider themselves as independent and assured the revenge of Bhindranwale's killing. Amritpal Singh, in his speech, said,
We all (Punjabis) are still slaves. Those who think we are 'azad' (free), should consult a doctor. We have to fight for freedom. Our waters are being looted. Our Guru is being disrespected. Those who indulge in sacrilege, will not be handed over to police or sent to courts. Ohda sodha laguga (we will punish them)." [13]The Indian Express
An Illegal Appointment as the Head of the 'Waris Punjab De'
Reportedly, Deep Sidhu's brother Mandeep Sidhu claimed that Amritpal illegally entered the leadership of the group 'Waris Punjab De.' In an interview, Mandeep Singh mentioned that Deep Sidhu never talked about him and somewhere disliked him. He claimed that Deep had Amritpal's number blocked in his phone. While talking about Amritpal's designation as the head of the 'Waris Punjab De' group, Mandeep Sidhu said,
An impression is being given that Deep Sidhu had groomed Amritpal and our family is a party to the decision to appoint Amritpal as the head. However, this is not true. In fact, Deep never talked about Amritpal and seemed he disliked him. He had blocked Amritpal's phone for 15 days in January and February." [14]The Tribune
Controversies
House Arrest Under Sudhir Suri's Murder Case
Reportedly, following the murder case of the leader of state-based Shiv Sena (Taksali) Sudhir Suri, who was shot dead on 4 November 2022 during a protest outside the Gopal Mandir in Amritsar, the Punjab government was told by the ministry of home affairs to monitor the activities of Amritpal Singh following which he was kept house arrested at Singha village in Moga, Punjab. [15]Republic TV According to sources, Sudhir Suri's family held Amritpal responsible for his death. Amritpal, however, was kept under house arrest for security purposes. [16]The Indian Express Reportedly, around nine CCTV cameras were placed on the lanes connecting his two houses in the village to keep an eye on him. [17]ThePrint
Protest Erupts as Religious Sentiments are Hurt
In 2022, a group of Christian community members gathered for a four-hour protest against Amritpal Singh at PAP Chowk in Jalandhar, Punjab. The protest was in response to Singh's derogatory remarks about Jesus Christ, which were deemed offensive to religious sentiments. During a public speaking event, Singh made an objectionable statement by saying,
Jesus, who couldn't save himself, how will he save anyone else?"
The protestors demanded that an FIR be filed against Singh under section 295A of the Indian Penal Code, which pertains to the intentional and malicious act of hurting religious sentiments and attempting to incite communal disharmony.
Call for Arrest over Seditious Activities and Pro-Khalistani Tweets
On 2 October 2022, Honey Mahajan, the President of Shiv Sena, called for the arrest of Amritpal Singh on charges of promoting seditious activities and advocating for the formation of a separate Sikh state, similar to the infamous militant leader of the Sikh organization, Damdami Taksal, Jarnail Singh Bhindranwale. On 7 October 2022, Amritpal Singh's Twitter account was banned due to his pro-Khalistani tweets. Following this, the Ministry of Home Affairs directed the state government to closely monitor Amritpal's actions, indicating a heightened level of scrutiny and concern for his activities.
Removed from Instagram 
Amritpal Singh's Instagram account was globally erased in December 2022 for undisclosed reasons, following his ban from Twitter.
Waris Punjab De's Destructive Protest
In December of 2022, members of the Waris Punjab De group, led by Amritpal Singh, reportedly set fire to the furniture of a gurdwara in Biharipur village in a protest against the seating arrangement of the gurdwara. The incident occurred during their visit to various gurudwaras in Punjab. Singh had questioned the practice of keeping chairs in a room where the holy book was kept, stating that it went against the Sikh Rehat Maryada, which outlines the code of conduct and conventions for Sikhism. An argument ensued between Singh and the members of the gurdwara management committee, leading to the destructive act.
At Large
On 18 March 2023, Amritpal Singh was reported to be on the run after Punjab police launched a crackdown against him and his supporters. Later, while reporting to the media, the police said that they arrested many persons associated with Waris Punjab De (WPD) and recovered nine weapons, including one .315 bore rifle, seven rifles of 12 bore, one revolver, and 373 live cartridges of different calibers, during the statewide operation. [18]The Tribune
National Security Act invoked against him
On 21 March 2023, during the hearing of the habeas corpus plea filed by Iman Singh Khara, the legal adviser to Waris Punjab De, at the Punjab and Haryana High Court, the Punjab government informed the court that the government has invoked the National Security Act against the absconding Amritpal Singh. [19]Hindustan Times
Arrest at a Gurudwara in Punjab
Amritpal Singh was arrested by Punjab Police on 23 April 2023 outside a gurudwara located in Rode village of Moga district in Punjab. Reportedly, prior to his arrest, Amritpal had addressed his followers at the gurudwara, claiming that all cases filed against him were fabricated and he was determined to fight against each one of them. [20]The Hindu He said,
I might be guilty in the court of the world, but I'm not guilty in the court of God. After one month, I have decided that I will continue the fight here, I will face all the fake cases against me here…I have decided to surrender today. My arrest is not the end, it is just the beginning. If God helps, all the false cases against me will be quashed."
Facts/Trivia
He also goes by the names Amritpal Singh Bakalawale, Amritpal Singh Khalsa, and Bhai Amritpal Singh.
In an interview, Amritpal Singh mentioned Bhindranwale, a militant and leader of the Sikh organization 'Damdami Taksal' and the protagonist of the Khalistan movement, as his "inspiration". He said that he wanted to be like him. Amritpal Singh said,


Bhindranwale is my inspiration. I will walk the path shown by him. I want to be like him because that's what every Sikh wants, but I am not copying him. I am not even equal to dust of his feet." [23]Financial Express

Reportedly, Amritpal's uncle Harjit Singh told the media that when Amritpal, along with one of his classmates, decided to cut their hair, the family was disappointed; however, on his return to Punjab from Dubai and taking Amrit (holy water), his uncle expressed his happiness. While talking about changes in Amritpal, in an interview, Harjit Singh said,


Our family is very religious. When Amritpal drifted away from it, we didn't like it. He told us that he and another boy, his classmate, had planned to cut their hair. While Amritpal cut his hair, that boy ran away. We are very happy that he has taken Amrit (holy water) now." [24]ThePrint

According to Amritpal, he used to be aggressive but returning to Punjab and adapting to the culture of Sikhism turned him into a calm person. Amritpal Singh talked about this in an interview and said,


I used to be aggressive. Now I don't hold grudges. If someone criticises me, that doesn't depress me anymore. I have a very large vision." [25]ThePrint