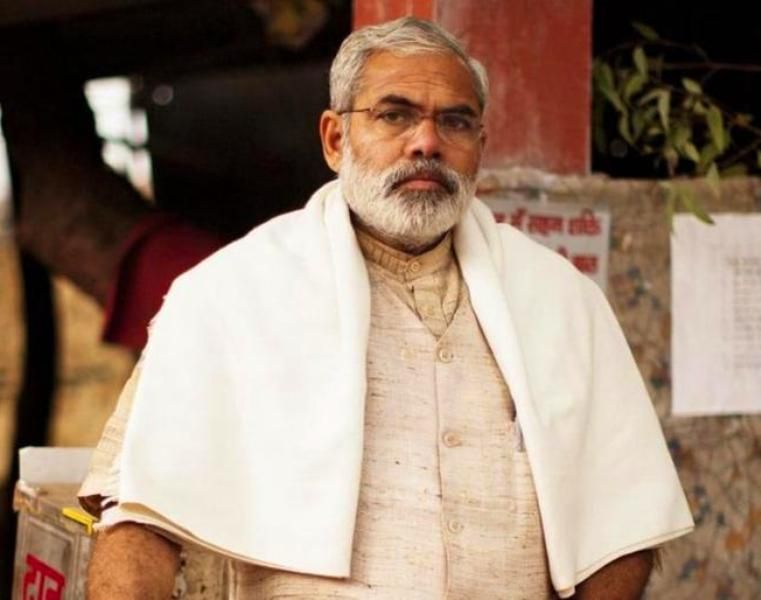 Abhinandan Pathak is a lookalike of Narendra Modi, who is famous for mimicking Modi. He is known for dressing and speaking like Modi and is sometimes referred to as 'Junior Narendra Modi' or 'Nandan Modi.'
Wiki/Biography
Abhinandan Pathak was born in the year 1963 (age 56 years; as in 2019) in Saharanpur, Uttar Pradesh. He studied in Shishu Niketan School, Saharanpur until class 5 and then went to S M Inter College, Saharanpur. Abhinandan did his post graduation (Master of Arts) from Jain Degree College, Saharanpur.
Physical Appearance
Eye Colour: Black
Hair Colour: White
Family, Caste & Wife
Abhinandan Pathak belongs to a Brahmin family. His father's name is Ram Surat who used to be an employee at a small central store of Gandhi Ashram. His mother is a retired headmaster from Junior High School. He got married to Meerben Abhinandan Pathak and has three daughters and a son named Chiku Pathak.
Career
He contested the 1999 Lok Sabha Elections from Chaurasi, Saharanpur but lost. He contested the 2012 Councillor Elections but eventually, lost again. He was associated with the BJP-led NDA constituent, Republican Party (Athawale) of India. He came into focus after he started campaigning for Narendra Modi from Varanasi. He reportedly visited every corner of Varanasi on foot in 90 days. Because of his resemblance with Narendra Modi, Abhinandan became a target of the people who were upset by Modi's governance. People would often throw words at him asking, "Acche Din Kab Aayenge" or when will "Rs. 15 lakh" be transferred to their accounts. He became the centre of public rage. He tried to contact the Chief Minister of Uttar Pradesh, Yogi Adityanath and Mahendra Nath Pandey, president of BJP's state unit, for security, but there was no response. Due to the indifferences with the state government and the fear of the risk to his life, Abhinandan joined Congress. He joined Congress in 2019 and decided to campaign for Congress in the 2019 Lok Sabha Elections; however, he filed his nomination as an Independent candidate from Lucknow and Varanasi.
Controversy
In April 2019, after filing his nomination in the 2019 Lok Sabha Elections from Lucknow, he announced his slogan, " Ek Vote, Ek Note." He received a notice from the Election Commission of India for violating the Model Code of Conduct (MCC).
Facts
Abhinandan's father belonged to Faizabad who later moved to Saharanpur.
Abhinandan was born into a very poor family. His father even polished shoes and washed dishes at people's house to earn a living for his family.
Abhinandan used to sell 'Kheer (an Indian sweet dish)' in trains to earn money.
 He was fond of acting in his school days. He used to play the role of 'Ravana' in Ramleela, which was organised in their locality.
He is a retired Physical Education teacher.
He once served as a home guard commander.
Abhinandan runs a small school.
Abhinandan got the opportunity to meet Narendra Modi for the first time in 2014. Describing the incident, Abhinadan says that it was around 8 in the night. He was waiting for Modi's arrival. The car arrived, and he was standing at the gate to welcome Modi. After a while, Modi stepped out of his car, and the moment he put his steps on the ground, Abhinandan fell on his knees before Modi. Narendra Modi picked him up and hugged him.
Just like Modi, he also starts his speeches using the word, 'Mitron'- a word Narendra Modi often uses while addressing his audience.
He is an ardent follower of B. R. Ambedkar.