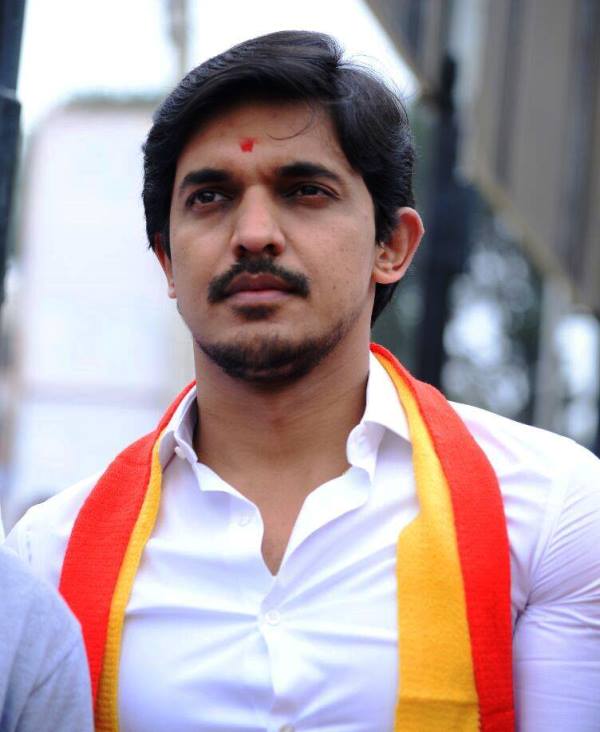 Priya Krishna is an Indian politician and realtor. He is a member of the Indian National Congress (INC). At the age of 25, he was elected as the MLA from Govindraj Nagar, Bangalore in 2009, becoming the youngest member of the Karnataka Legislative Assembly. He is the son of the INC politician M. Krishnappa.
Wiki/Biography
Priya Krishna was born on Friday, 27 April 1984 (age 39 years; as of 2023) in Bengaluru, Karnataka. His zodiac sign is Taurus. He did his schooling at The New Cambridge English School in Bangalore. Born to a politician father, he was inclined towards politics during his formative years. After his BA Hons and LLB from Bangalore University, he obtained an MA in political science from Karnataka State Open University, Mysuru. [1]MyNeta Thereafter, he returned to Bangalore and started assisting his father in his philanthropic and political pursuits.
Physical Appearance
Height (approx.): 5′ 10″
Hair Colour: Black
Eye Colour: Black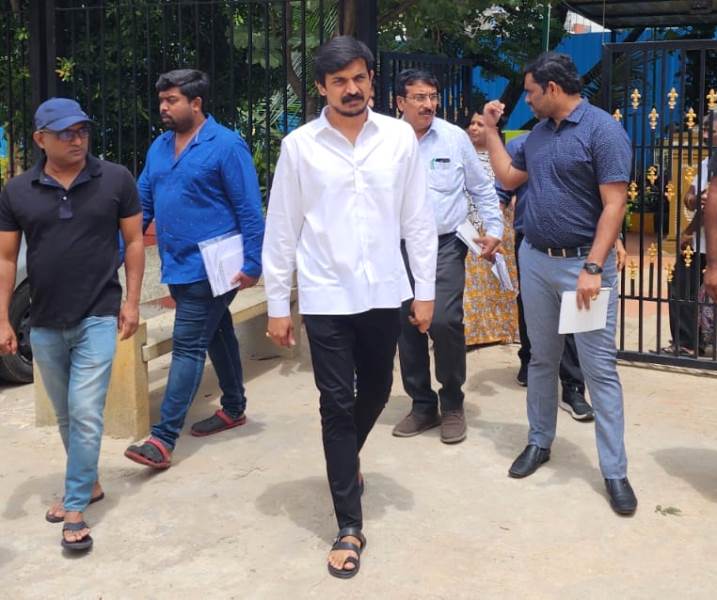 Family
Parents & Siblings
His father, Muniswamappa Krishnappa, is a politician and member of the INC, who was elected as MLA from Vijay Nagar four times, in 2008, 2013, 2018, and 2023. He is also a real estate tycoon who owns Sri Lakshmi Narasimha (SLN) Enterprises. His mother's name is Priyadarshini. His younger brother, Pradeep Krishnappa, is a director at SLN Enterprises.
Wife & Children
He is unmarried.
Religion/Religious Views
He follows Hinduism.
Caste
Priya Krishna belongs to the Vokkaliga community, a group of closely-related castes, from the Indian state of Karnataka. [2]The Hindu Vokkaliga is categorised in the Other Backward Classes in Karnataka. However, it is an influential caste like the Lingayats in the state, which form 16 percent of its population.
Address
His permanent address is Govardhana Priya #2937/38/E, Service Road, Vijayanagar, Bangalore 560040.
Signature/Autograph
Career
As a Politician
Following the footsteps of his father, Priya Krishna ventured into politics as a member of the Indian National Congress (INC). In 2003, he became a member of the Karnataka Pradesh Congress Committee (KPCC). Krishna actively campaigned during the 2004 Parliamentary Elections, 2008 Assembly elections, and 2009 Parliamentary elections. In the 2009 Karnataka by-polls, he contested and won the Govindraj Nagar Assembly seat, defeating Karnataka housing and Muzrai minister V. Somanna.
In 2013, he was re-elected as MLA from Govindraj Nagar, defeating BJP candidate H. Ravindra by 42,460 votes, 55.36% of the total. In 2018, he contested and lost the Govindraj Nagar seat to BJP candidate V. Somanna. In 2023, he won the Govindraj Nagar seat, defeating BJP candidate Umesh Shetty by 12,516 votes.
As a Realtor
Priya Krishna, his father, M. Krishnappa, and his brother, Pradeep Krishnappa run the Sri Lakshmi Narasimha (SLN) Enterprises. The family business was established in 1984. He is a director in private limited companies SLN Constructions, SLN Holdings, SLN Shelters, SLN Cement, SLN Infratech, SLN Mines, and SLN Eco Ventures. He is also a designated partner at IS And DS Global LLP.
Controversies
Allegation of Disproportionate Assets 
Activist HC Prakash lodged a private complaint in December 2012 with the Lokayukta against Vijayanagar MLA M Krishnappa and Priya Krishna. He alleged that they had amassed wealth amounting to an astonishing 10,000 per cent of their known sources of income. The complaint targeted not only Krishnappa and Priya Krishna but also Krishnappa's wife Priyadarshini and another son, Pradeep. Acting on the court's orders, the Lokayukta police took up the case and conducted raids on the properties owned by Krishnappa and his family based on Prakash's complaint. In 2014, it was concluded that the charges lacked credibility. An extensive investigation carried out by the Lokayukta police after the raids revealed that the assets of Krishnappa and his family were, in fact, 31 per cent lower compared to their known sources of income. The police further found that the family had acquired these properties through their real estate business, which they had been involved in for over three decades. Consequently, the Lokayukta special court on 15 November 2014 accepted the police report as a "B-report," effectively closing the case due to insufficient evidence to build a valid case against them. An interesting aspect of this whole situation was that the complainant, Prakash, did not attend ten consecutive hearings. The Lokayukta special court, in its order on 15 November 2014, concluded that the total transactions, including procurements and sales, made by Krishnappa's family from 2001 to 2011 were approximately Rs 5747 crore, whereas their movable and immovable properties were valued at around Rs 68.53 crore. [3]Banglore Mirror
Land-Grab Accusations
In 2016, a complaint was filed before the special court by Hemanth Raju accusing Priya Krishna, Sarva Mangala Builders and Developers, and 51 others of grabbing 279 acres of land belonging to the Muzrai department which belonged to the Ranganathaswamy temple, Srirangapatna. [4]Deccan Herald
A Mysterious Woman Claiming to Be His Mother
In 2017, it was reported that a woman, aged around 35-40 years, often visited West zone DCP's office and claimed that M Krishnappa was her husband and Priya Krishna was her son. She used to say that she married Krishnappa a long time ago. According to the police, the woman was a resident of Rajarajeshwari Nagar. For the previous two years, she had been coming to the DCP's office regularly, and asking them to send Krishnappa and Priya Krishna to her. In the past two years, she managed to extract the numbers of various police officials, including M N Anucheth's, DCP (west). The police used to get calls late at night from the woman. Officials who spoke to her had suspected that she was drunk most of the time and was suffering from some mental illness. [5]The New Indian Express
Charged for Being a Member of an Unlawful Assembly
According to his election affidavit in 2023, an FIR was filed against Priya Krishna for being a part of an Unlawful assembly. He was charged under IPC sections 141, 143, 290, 336, and 149 at Sathanur Police Station, Kanakapura in Karnataka. [6]MyNeta
Car Collection
Note: In 2013, it was reported that although he had a passion for cars, he cannot drive. [7]MyNeta [8]Rediff
Assets & Properties
Moveable Assets
Deposits in Banks: Rs 8,35,65,160
Bonds, Debentures and Shares: Rs 6,22,73,731
LIC or other insurance Policies: Rs 57,00,000
Personal loans: Rs 52,68,21,278
Motor Vehicles: Rs 6,91,17,409
Other Assets: Rs 8,58,01,25,296
Immovable Assets
Non-Agricultural Land: Rs 2,21,83,00,000
Note: The given estimates of moveable and immovable assets are according to the year 2023. With total assets of Rs 1156 crore, Priya Krishna stood at number three in India's richest MLAs list in 2023. [9]MyNeta [10]DNA
Net Worth
His net worth was Rs 2,09,68,84,002 in 2023. [11]MyNeta
Facts/Trivia
His first name "Priya" is an unusual name for a boy, but he is named after his mother.
He is a professional golf player and represented Karnataka in the 2001 National Games held in Punjab.
At 25, when Priya Krishna first became a member of the Karnataka Legislative Assembly, his declared wealth was Rs 770 crore. In 2013 and 2018, he retained his status as the richest candidate with assets of over Rs 910 crore and Rs 1,020 crore respectively. Most of Krishna's immovable assets were"gifted."
Priya Krishna's father, Krishnappa, is a close friend of former prime minister H D Deve Gowda. In the 2009 by-polls, Krishnappa persuaded Gowda not to field a candidate from the JD(S). Once it was rumoured that H. D. Deve Gowda, leader of a rival party Janata Dal (Secular), was trying to give his granddaughter's hand in marriage to Priya Krishna.
In February 2015, Priya Krishna made headlines for paying a court fee of Rs 52 lakh as a part of the legal action he took against a Kannada channel after they broadcasted accusations of forest land encroachment against him. Allegedly, the channel telecasted news that Priya Krishna was involved in encroaching upon forest land and a burial ground in Mysuru to build a layout and that a forest officer had filed a complaint in the Kuvempunagar police station. The channel also alleged that encroachment was tried by henchmen of Priya Krishna. The news was telecast on 9 and 10 December 2014. The MLA denied the allegations and filed a defamation case and requested Rs 100 crore in compensation for damages. [13]

Banglore Mirror
In 2017, Priya Krishna and Jayanagar MLA Vijay Kumar joined hands with Project Vruksha Foundation in its tree mapping project initiative.
In 2018, a survey released by B.PAC revealed that Priya Krishna stood out as one of the most generous legislators. Unlike other MLAs who typically spent around 85 to 90 percent of the MLA's Local Area Development (LAD) scheme, Priya Krishna utilized 107 percent of the allocation.