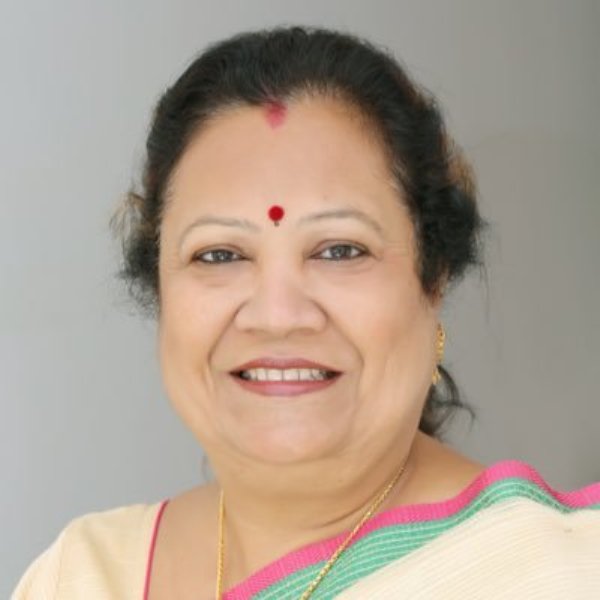 Darshana Jardosh is a senior Indian politician. She was elected as a member of the Lok Sabha to represent the Surat constituency in Gujarat in 2014. In July 2021, she was elected to serve as the Union State Minister of Railways and Union State Minister of Textiles under the shuffle of the second Modi cabinet.
Wiki/Biography
Darshana Jardosh was born on Saturday, 21 January 1961 (age 60 years; as of 2021) in Surat, Gujarat, India. Her zodiac sign is Aquarius. She pursued a Bachelor in Economics & Banking degree from Sir K.P. College of Commerce, Surat in 1981. After completing her graduation, she earned a Certificate Course in Computers from NIIT. [1]Lok Sabha
Physical Appearance
Hair Colour: Black
Eye Colour: Black
Family
Parents & Siblings
Her father's name is Kanti Naik.
Her mother's name is Amita Naik.
Husband & Children
She got married to Vikram Chandrakant Jardosh on 8 October 1981.
The couple has two sons.
Her both sons are married.
Address
1101, Saraswati Apartment, MP Flats, Dr B.D. Marg, New Delhi – 110001
Signature
Career
Politics
During her graduation, Darshana was elected as the general secretary of Jeevan Bharti Educational School, Vadodara, Gujarat in 1976. In 1980, she was selected as her class representative in her college, Sir K.P. College of Commerce, Surat. After completing her graduation, she held the position of director in Surat Mahila Nagrik Sahkari Bank, Surat, Gujarat in 1987. In 1995, she served as the Convener of the Cultural Committee at Surat Municipal School Board. She was selected as the board member of the Gujarat Social Welfare Board in 2001. In 2003, she served at the Surat Mahila Nagrik Sahkari Bank as a Managing Director. She held the position of Vice-Chairman at the Health Committee of Surat Municipal Corporation in 2004. Darshana contested the 15th Lok Sabha in 2009 and was elected as a member of the Bharatiya Janata Party from the Surat constituency in Gujarat. In the same year, Darshana Jardosh endorsed the diamond trade in the Surat district and for this, she requested the government of India to launch an International airport in Surat. In 2014, she again contested the 16th Lok Sabha elections and won with a margin of 5,33,190 votes, which was regarded as the highest lead won by a woman member parliament in Indian Electoral history after Smt. Indira Gandhi. In 2019, she again contested the 17th Lok Sabha elections and won with 7,95,651 votes.
Social and Cultural Activities
Darshana Jardosh was chosen as the president of the Ladies Lioness Club of Sannari, Surat in 1999. Darshana was chosen as the Director of Sanskruti, an Art & Cultural Organisation in 1999. This organisation specifically dealt with encouraging girl education, political and social awareness for women and youth and women enablement in India
Assets/Properties
Moveable Assets
Her movable assets are worth Rs. 5,85,647 crores.
Deposits in Banks- Rs. 28,66,970
Bonds, Debentures and Shares- Rs. 1,23,000
NSS, Postal Savings- Rs. 15,78,020
LIC or other insurance Policies- Rs. 1,19,200
Personal loans/advance- Rs. 10,74,554
Motor Vehicles- Rs. 24,23,553
Immovable Assets
Her movable assets are worth Rs. 78,67,500 crores.
Liabilities
Her liabilities are worth Rs. 20,20,458.
The valuation of assets is based on the documents from the year 2019. [2]My Neta
Net Worth
As in 2019, Ranjan Singh's net worth was around Rs. 10,76,17,986 crores. [3]My Neta
Facts/Trivia
In 2012, Darshana Jardosh blamed a Congress Member Parliament, Tushar Chaudhary, for taking the credit for the flight connectivity in Surat that Darshana and Navasari Member Parliament CR Patil appealed for. Darshana said in an interview,


We have been telling the Centre that Surat has a potential for domestic and international connectivity, but it was the UPA government that saw no viability or traffic. Now, that SpiceJet has started operations, they (Congress) are running to take the credit."
Darshana Jardosh earned Visharad in Music and Arangetram. Arangetram is an Indian classical dance and music form presented on stage.
Darshana favourite recreational activities are Bharat Natyam dance, photography and videography.
Her hobbies include listening to music and cooking.
Darshana loves to travel. China, Hong Kong, Indonesia, New Zealand, Switzerland and the U.A.E. are some of the countries that are adored by her.
'Matters of Urgent Public Importance' was raised in Lok Sabha by Darshana Jardosh in 2019.
Darshana Jardosh developed an interest in politics while growing up in Surat. She would often meet distinguished Indian politicians to enhance her political skills.
Darshana Jardosh often campaigns tree plantations in India, as she is a devoted environmentalist.
Various official video conferences are often attended by Darshana, which are basically related to the augmentation of Surat, Gujarat.
In 2021, Darshana Jardosh was spotted distributing fruits at the Postnatal Ward of the SMIMER (Surat Municipal Institute of Medical Education and Research) Hospital in Surat, Gujarat, India.