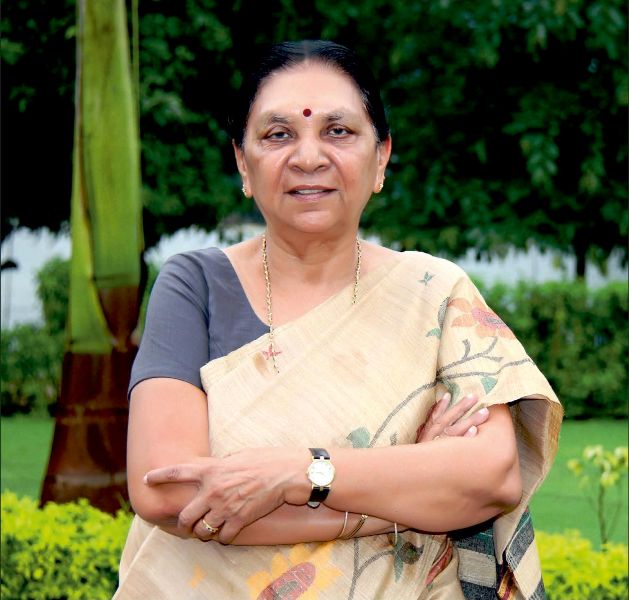 Anandiben Patel is an Indian teacher-turned-politician, who is the incumbent Governor of Uttar Pradesh, the former Governor of Madhya Pradesh, and the first female Chief Minister of Gujarat. A recipient of the President's bravery award, Anandiben wears the hats of an educationalist, social worker, and cabinet minister of the Gujarat Government, holding up to five portfolios. She is also the longest-serving woman legislator in Gujarat and an active member of the Bharatiya Janata Party (BJP) since 1987.
Wiki/Biography
Anandiben Mafatbhai Patel was born on Friday, 21 November 1941 (age 80 years; as of 2021) in present-day Kharod village of Vijapur taluka, Mehsana district in Gujarat, under the zodiac sign of Scorpio. [1]Raj Bhavan UP Her parents enrolled her in boys' school from classes 5 to 7, and she was the only girl child there. Ms Patel completed her high school studies at Nagindas Maganlal High School in Ahemdabad, which had only three girl students at the time. In 1960, Patel did her bachelor's in Science from M. G. Panchal Science College at Pilvai, Gujarat. [2]India.com She went on to pursue MSc, B.Ed, and then M.Ed from Gujarat Vidyapith, and in both her postgraduate degrees, she was a gold medalist. [3]Raj Bhavan UP
Physical Appearance
Height (approx.): 5′ 3″
Hair Colour: White and Black
Eye Colour: Black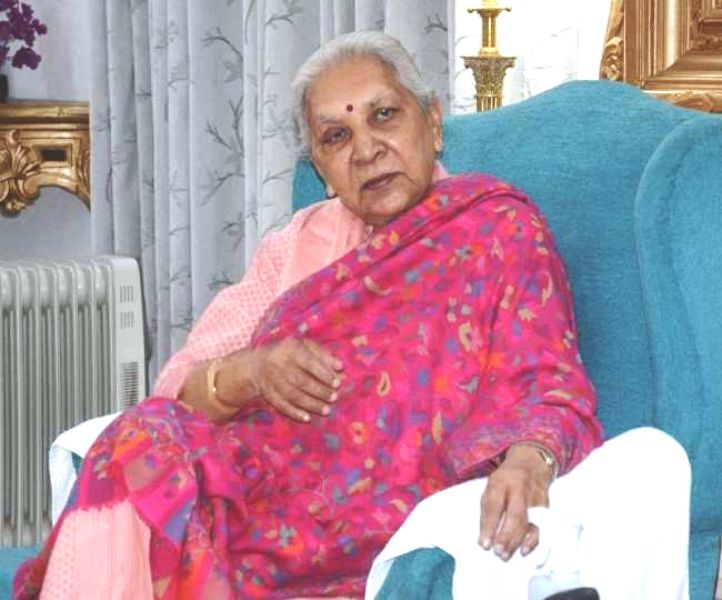 Family & Caste
Anandiben comes from a farming family. She belongs to the Leuva Patidar community and got married in the Kadva Patidar community. [4]The Indian Express
Parents & Siblings
Her father, Jethabhai Patel, was a teacher. Her mother's name was Menaben Patel. Anandiben has nine siblings. The eldest of all, Sarita Patel, died in 2014, while Anandiben's younger sister named Manjulaben Patel, passed away in 2016, after suffering from a brain stroke. [5]Ahmedabad Mirror [6]NDTV
Husband & Children
She married her now-estranged husband, Mafatlal Patel, on 29 May 1962. At the time of their marriage, the couple lived in the Mehsana district of Gujarat for four years, but they eventually moved to Ahmedabad to take up teaching jobs. Mafatlal worked as a Psychology professor at the Saraspur Art and Commerce College in Ahemdabad, while Anandiben taught mathematics and science, and later became principal, at Mohiniba Kanya Vidyalaya in Ahmedabad. In 1985, they began living apart, however, they did not legally separate. Mafatlal shared things about Anandiben when they were together and said in an interview,
A good homemaker, she was a gracious host and a brilliant cook. Even if a guest was to come home at 11 pm, she would cook and feed the guests."
The couple has a son named Shwetank (Sanjay) Patel and a daughter named Anar Jayesh Patel. Sanjay is a businessman who owns a Bombay stock exchange (BSE) listed company Anar Industries Ltd, while Anar is a social entrepreneur and businessperson, who runs several trusts that work for the slum children and promotes handicrafts and artisans. She also owns a real estate company called Anar Projects Ltd.
Address
Anandiben's permanent address is "Dharam', near Shan Bungalows, Shilaj, Ahmedabad in Gujarat, while her current address is Raj Bhavan, Lucknow, Uttar Pradesh. [7]Raj Bhavan UP
Signature/Autograph
Career
Teacher
Anandiben Patel initially started working in the Mehsana Development House in Visnagar after she got married. Patel's work was to listen to the queries of the women and take them to the late Shantaben Patel, an MLA from Mehsana who built the House. She worked there for nearly a year. Following Anandiben and Mafatlal's move to Ahemadabad, she started working as a maths and science teacher in Mohiniba Vidyalaya in 1967. A year later, she was appointed as the principal of the same school. [8]Divya Bhaskar
Politics
Anandiben joined politics in 1987 with BJP and rose steadily through the ranks. She began as the President of BJP's women wing. Throughout her political career, Patel held important designations in the BJP including the President of State Women's Front, Vice President for BJP's State Unit, and Member of National Executive Council of BJP.  [9]Mint
Member of Parliament
The teacher-turned-politician got her Rajya Sabha nomination in 1994 but she quit the Upper House seat in 1998 to contest elections in Gujarat. [10]Mint
Mandal Seat (1998)
In 1998, Anandiben won her first Assembly election from Mandal assembly constituency Ahmedabad and was inducted into the cabinet of Keshubhai Patel, the then CM of Gujarat. [11]NDTV From 1998 to 2002, Anandiben remained the Minister of Education (primary, secondary, and adult) and Minister of Women and Child Welfare in Gujarat. During her tenure, Patel made some noteworthy contributions to the education sector of the state. [12]Raj Bhavan UP
Patan Seat (2002–2012)
Anandiben contested in the assembly elections twice from the Patan constituency, once in 2002 and again in 2007. She won both times easily, apparently, due to the guidance of Narendra Modi. Patel retained her education portfolio between 2002 to 2007, while in the next term she was assigned two portfolios of Revenue and Road and Building. [13]NDTV During her stint as a cabinet minister in the BJP-led government, she spearheaded some major projects such as boosting female literacy. As a revenue minister, Anandiben initiated several reforms including the establishment of 'Janseva Kendras,' creating a single-window clearance system, making records of rights available online, e-governance, and e-gram. [14]The Free Press Journal Also, under her ministership, the girl child dropout rate fell to two per cent in 2013 from 37 per cent in 2001. [15]India Today
Ghatlodia Seat (2012)
In her fourth term, Ms Patel contested from the Ghatlodia constituency of Ahemadabad in 2012 and won consecutively the fourth time. Under the Modi-led government, Anandiben retained her portfolios of Road and Building, Revenue, Disaster Management, Urban Development and Urban Housing, and Capital Projects. [16]NDTV
Gujarat Chief Minister (2014–2016)
On 24 May 2014, Anandiben Patel was sworn in as the 15th and the first female Chief Minister of Gujarat. Ms Patel emerged as the natural heir after the former Gujarat CM and incumbent Narendra Modi was elected as the Prime Minister of India.
As the state's head, Anandiben was known for being a socially concerned leader who restructured primary education and initiated better sanitation programmes. During her brief tenure as CM, Patel also emphasised social welfare programmes such as women's health, malnutrition in children, and building toilets under Modi's flagship 'Swacch Bharat Abhiyan;' however, her leadership was not completely smooth. [17]The Indian Express BJP in Gujarat, under her leadership, had to face loss in the Gandhinagar Municipal Corporation (GMC) elections of April 2016. [18]News18 In her short stint as the CM, Anandiben also endured several challenges, including the Patel quota protests and the flogging of Dalits in Una in 2016. In August 2016, Patel was forced to step down from her post of CM, allegedly, due to the Patidar quota agitation and Dalit protests. She continued to hold the office until Vijay Rupani took the reins from her on 7 August 2016. [19]The Outlook
Patel posted her resignation letter on Facebook which read, [20]The Indian Express
For some time, the party has introduced a tradition of senior leaders voluntarily stepping down from responsibilities when they complete 75 years of age. Which is exemplary and imitable, which is why the younger generation gets an opportunity to work… however, at the end of 2017 is the Gujarat assembly election, and in January 2017 is the biennial Vibrant Gujarat summit which is critical for Gujarat. So, in order to give enough time to the newly appointed Chief Minister, I had requested senior leaders of the party to relieve me of this responsibility two months ago. Today, once again through this letter, I humbly request the party's senior leadership to relieve me from the Chief Minister's responsibility."
Governorships
The former Gujarat CM took over as the Governor of Madhya Pradesh on 23 January 2018, succeeding Om Prakash Kohli, and served at the position for a year till 28 July 2019. On 15 August 2018, she was additionally appointed as the Governor of Chhattisgarh too, due to the sudden demise of then-governor Balram Das Tandon. On 20 July 2019, she took charge of Uttar Pradesh as its Governor after her predecessor Ram Naik's term ended. [21]Raj Bhavan UP
Published Books
In October 2015, Anandiben's first book titled "Ae Mane Hamesha Yaad Raheshe" (Gujarati Edition) came out. The 35-episode long book is published by Ahmedabad-based Rannade Publication. In the book, Patel recounts her experiences as a teacher before she turned politician, which mainly focused on various social issues related to women and children. [22]The Indian Express She said in an interview,
All this was written four to five years ago…It was all in the computer. Anar and Sanjay (her children) sent it for printing and presented me a book. I then asked friends to read it. Following a positive response from them, a book has come now."
In July 2019, the politician released her two other books titled "Prayas" and "Pratibimb."
Controversies
Patel and Her Children Accused in Land Scam 
Anandiben faced flak over allegations that her children wielded influence in the government since Patel had become the CM. In 2015, NRI Roshan Shah lodged a complaint against Anar Retails Pvt Ltd owned by Anandiben's son Sanjay, alleging that Patel marketed from his mother's Ahmedabad house, which was closed for years. A year later, the Patel government faced severe accusations of favouring Anandiben's daughter's business partners by allotting them 422 acres of land in 2010 at a huge discount of 91.6% on the government's stamp duty rate. The deal was cleared under then Chief Minister Narendra Modi and Anandiben Patel as the revenue minister. The controversy arose in 2015 after public interest litigation filed by RTI activists in Gujarat high court demanded action against the officials. [23]The Times of India The controversy was soon politicised with the opposition leaders demanding Anandiben's resignation. [24]The Economic Times
Patidar Agitation and Dalit Uprising
Anandiben came under fire a year after assuming office as the CM. Her tenure saw the Patidar agitation in which the Patel community asked for reservations and blamed the former education minister, Anandiben, of privatising and making education unaffordable for them. The controversy was followed by the Dalit protests in 2016 after the public flogging of Dalits in Una. Criticised for being unable to handle the uprising, Anandiben was forced to resign. [25]Mint [26]Hindustan Times
Criticised For Insensitive Comments
In 2018, when Patel was Madhya Pradesh's governor, she was strongly criticised by the opposition for saying that BJP leaders "need to adopt needy and malnourished children" to get votes. In a video that was widely shared on social media, Patel was heard saying:
Go to every village. Sit with the poor children, take them in your lap, show them affection. You have to adopt them and fulfil their needs if you want to get votes. You will not get votes just like that."
The Congress' state spokesperson alleged that the comments were "unethical and unconstitutional as no governor should become an election manager of any political party." They demanded suitable action against her. [27]FirstPost
Awards, Honours, Achievements
In 1958, Anandiben was presented with the 'Veer Bala' award for ranking first at the Mehsana District School Sports Festival when she was studying in school.
She was honoured with the Gujarat Government's 'Gallantry Award' in 1987 for rescuing two girls of Mohinaba Kanya Vidyalaya from drowning at Navagam reservoir in the Narmada river.
In 1988, she was felicitated with Governor's Award for Best Teacher in Gujarat.
Patel again won the 'Best Teacher' award at the national level in 1990. The then President of India felicitated her with the honour.
Anandiben was felicitated with the 'Sardar Patel Award' by Patel Awakash Mandal, Mumbai in 1999.
In 2000, Shri Taptodhan Brahmin Vikas Mandal presented the 'Vidya Gaurav' award to her.
In 2005, the Patel community honoured Anandiben with the 'Patidar Shiromani' award.
She was also honoured with the 'Ambubhai Purani Vyayam Vidyalay Award (Rajpipala)' by the Ambu Bhai Old School of Exercise.
Patel was felicitated with the 'Charumathi Yoddha' Award (Jyotisangh) in Ahmedabad.
Dharti Vikas Mandal bestowed her with a special honour for the Women's Upliftment Campaign.
Anandiben was listed in the top 100 most influential people of India for the year 2014 by The Indian Express.
Salary
Anandiben's total income as shown in 2012-2013 ITR is Rs. 11,80,399. [28]MyNeta
Assets (2012)
Patel's total asset value as of 2012 was Rs. 1,81,94,978. [29]MyNeta
Movable Assets
Deposits in Banks: Rs 55,20,182
Bonds, Debentures and Shares: Rs 5,74,796
Motor Vehicles: Rs 2,50,000
Gross Total Value: Rs 87,63,978 [30]MyNeta

Immovable Assets
Agricultural Land: Rs 13,20,000
Non Agricultural Land: Rs 55,00,000
Residential Buildings: Rs 26,11,000
Total Immovable Assets: Rs 94,31,000 [31]MyNeta
Facts/Trivia
Patel was an athlete as a student, and she had remained a district level champion for three consecutive years while in school. [34]

India.com Her other interests include writing, studying, travelling, and public relations. [35]

Raj Bhavan UP
The politician has also written some articles for magazines like 'Dharti', 'Sadhana,' and 'Sakhi.' [36]

Raj Bhavan UP
Patel shot to fame in 1987 when she was still working as a school teacher and heroically jumped into Sardar Sarovar reservoir in the Narmada river to save two girls of her school from drowning. [37]

Deccan Herald
Reportedly, the differences between Anandiben and Mafatlal Patel began due to the increasing influence of Narendra Modi on Anandiben when she was the school principal. Her husband also wrote several letters to Atal Bihari Vajpayee and L. K. Advani complaining against Modi's interference. He even campaigned against Anandiben in assembly elections. [38]

The Times of India Mafatbhai said in an interview, [39]

DNA India


When she entered politics, she severed all ties with the family for no fault of ours. Her behaviour has become deformed and Narendra Modi is responsible for it."
Anadiben was the only woman political leader from Gujarat who accompanied the then BJP President Murli Manohar Joshi in the Ekta Yatra from Kanyakumari to Srinagar. She was also a part of the tricolour hoisting ceremony at Lal Chowk in Srinagar on 26 January 1992, which took place despite the threats of terrorists. [40]

Raj Bhavan UP
Ms Patel has worked with two chief ministers in Gujarat – Keshubhai Patel and Narendra Modi, and in 1996, Anandiben maintained her association with Modi even when he was banished from the state following a feud with other senior BJP leaders. She is also described as Modi's left arm, with Amit Shah being Modi's right arm. [41]

Mint For years, the former Gujarat Chief Minister has remained the second in command to Narendra Modi. Apparently, when Modi used to go out of the state, she was known to be virtually in charge. [42]

BBC
In January 2014, Mafatbhai, the estranged husband of the staunch Narendra Modi loyalist, was all set to join the Aam Aadmi Party (AAP) to protest Modi's rule in the state; however, he later dropped the idea. According to reports, Mafatlal was talked out of his decision by his children. [43]

The Pioneer
References

↑

1,

↑

3,

↑

7,

↑

12,

↑

21,

↑

35,

↑

36,

↑

40
Raj Bhavan UP

↑

2,

↑

32,

↑

34
India.com

↑

4
The Indian Express

↑

5
Ahmedabad Mirror

↑

6
NDTV

↑

8
Divya Bhaskar

↑

9,

↑

10,

↑

25,

↑

33,

↑

41
Mint

↑

11,

↑

13,

↑

16
NDTV

↑

14
The Free Press Journal

↑

15
India Today

↑

17
The Indian Express

↑

18
News18

↑

19
The Outlook

↑

20
The Indian Express

↑

22
The Indian Express

↑

23
The Times of India

↑

24
The Economic Times

↑

26
Hindustan Times

↑

27
FirstPost

↑

28,

↑

30,

↑

31
MyNeta

↑

29
MyNeta

↑

37
Deccan Herald

↑

38
The Times of India

↑

39
DNA India

↑

42
BBC

↑

43
The Pioneer