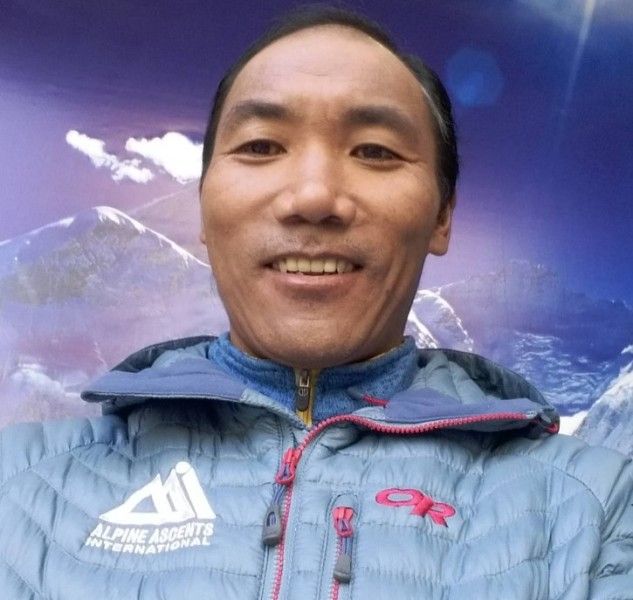 Kami Rita is a renowned Nepali mountaineer known for his exceptional achievements in climbing. He holds the world record for the highest number of successful ascents of Mount Everest, having reached its summit 28 times as of May 2023.
Wiki/Biography
Kami Rita was born on Saturday, 17 January 1970 (age 53 years; as of 2023) in Thame village in Namche VDC in the Solu-Khumbu region of Nepal. His zodiac sign is Capricorn. He started going to the school at the age of eight or nine years and was the first student at the Thame Primary School in Kumjung which was built by Sir Edmund Hillary's Himalayan Trust. He studied up to the third standard and quit school after studying for four years. He later started going to the Thame Dechen Chokhorling monastery in his village at the age of sixteen and even thought about becoming a monk; however, he later quit the Monastery school as well and started working in local tourism.
He developed a love for the mountains at a young age and began his climbing career as a porter, carrying supplies and equipment for climbers on their way up the mountain. He learnt the skills of mountaineering and eventually became a climbing guide himself. As per one source, he started transporting goods to the Everest Base Camp by the age of twelve, and as per his brother Lhakpa Rita, his first work was in 1992 as an assistant to a cook at the Everest Base Camp.
Physical Appearance
Height (approx.): 5′ 6″
Weight (approx.): 65 kg
Hair Colour: Black
Eye Colour: Black
Family & Ethnicity
He belongs to a Nepali family of Tibetan origin.
Parents & Siblings
His father, Mingma Tshering Sherpa, was one of the first professional guides in the 1950s when Nepal allowed professional climbing on Mount Everest. His father's career was cut short in 1992 when he suffered severe frostbite during an expedition. His mother's name was Pasang Diki. He has six sisters and one elder brother Lakpa Rita (also spelt as Lhakpa Rita), who is also a renowned mountain climber. Three of his siblings passed away during infancy.
Wife & Children
His wife's name is Lakpa Jangmu. The couple has a son named Lhakpa Sherpa and a daughter who has studied in Kathmandu and would not become a mountaineer like their father.
Religion
He follows Buddhism.
Career
He reached the summit of Mount Everest for the first time on 13 May 1994 from S Col – SE Ridge.
He later climbed it from N Col – NE Ridge as well. In 2017, he became the third person to climb Mount Everest 21 times, the other two being Apa Sherpa and Phurba Tashi Sherpa. On 16 May 2018, he became the first person to climb Everest 22 times. On 14 May 2023, another guide, Pasang Dawa, equalled Kami Rita's record of 26 Everest summits. On 17 May 2023, Kami Rita summited Everest for a record 27th time. On 23 May 2023, he climbed Everest for a record 28th time, making the maximum number of Everest summits by a climber. He also holds the record for the maximum number of climbs, 41 times, over 8000 metres, Cho-Oyu eight times in 2001, 2004, 2006, 2009, 2011, 2013, 2014 and 2016, Lhotse once in 2011, and K2 once in 2014.
He has also climbed Barungste, Amadablam, Manaslu, Annapurna IV, and Mt. Elburs peaks. After working at Alpine Ascents International, in May 2018, he started working for Seven Summit Treks. In 2018, he became the brand ambassador for the Nepalese cement company and advertised their product Brij Super Premium OPC. In August 2019, he became the Brand Ambassador and the Chief Adventure Consultant of Himalayan Glacier Adventure and Travel Company. He has often criticised the Nepalese government for not supporting Sherpas and said in an interview,
Our government hasn't done much for us. We are famous around the world. Many foreigners know us, but our government doesn't care about us." [1]Gulf Times
Awards, Honours, Achievements
Appreciation Letter by Nepal Mountaineering Association(NMA) in 1994
Token of Appreciation by Rukmangad Katwal Trust in 2017
Incredible Mountaineer Award by Maharashtra Seva Sangh, Mulund in 2018
Tenzing-Hillary Mountaineering Award in 2018
The Brand Personality Award by Asia Pacific Brands Foundation in 2018
Certificate of Felicitation by Tourism Entrepreneurs Association Nepal in 2018
Vibhushan certificate by the Government of Nepal in 2019
Appreciation Letter by Trekking Agencies Association of Nepal (TAAN) in 2019
Appreciation Letter by Kathmandu Environmental Education Project (KEEP) in 2019
Plaque of Honour by Himalayan Rescue Association Nepal in 2019
Appreciation Letter by Province 1 in Nepal by 2019
Vajra World Records for climbing Mount Everest 24 times in 2019
Appreciation Letter by Nepal Mountaineering Association(NMA) in 2019
Goodwill Ambassador for Nepali Mountain Academy in 2020
Brand Ambassador of Visit Nepal 2020
International Sagarmatha (Everest) Award in 2021
Appreciation Letter by New York State Assembly in 2021
Appreciation Letter by Lumbini Bikas Bank Limited in 2021
Appreciation Letter by Khumbu Pasanglhamu Rural Municipality in 2022
Certificate of COAS Commendation Badge in 2022
Appreciation Letter by Expedition Operator's Association Nepal in 2022
Certificate of Rope Fixing in 2022
Guinness World Record for climbing Mount Everest 28th time on 23 May 2023
Guinness World Record for maximum climbs over 8000-metre peaks (39 times) between 13 May 1994 and 7 May 2022
Income
In 2018, he was earning around $10,000 for each Everest climb. [2]Gulf Times
Facts/Trivia
He said in an interview that he wears a small Buddhist locket on his neck, filled with prayers and chants by Lama (Rinpoche).
His name Kami Rita has an interesting story behind it. As per his traditions, children are named on the day they are born; however, he had an elder brother who died, hence he was given the name Kami, meaning Blacksmith, to please the Gods. Rita, meaning his elder brother had passed, was also added to his name.
In an interview, he said that he would never retire from mountain climbing and would continue to climb until his body permits.
He has written a mini biographical ebook titled How to Climb Everest.