Sundar Singh Gurjar is an Indian Para-athlete in the Javelin Throw, Shot Put, and Discus Throw categories. He came into the limelight when he won the Bronze medal at the 2020 Tokyo Paralympics with a throw of 64.1m in his fifth attempt. He is also the world record holder of 68.42m at the 16th Paralympic National Championship held at Tau Devi Lal stadium in Panchkula (Haryana) on 26 March 2016. Unfortunately, this throw was not ratified as this event was not recognised by the World body.
Wiki/Biography
Sundar Singh Gurjar was born on Monday, 1 January 1996 (age 25 years: as of 2021) in Hindaun Village in Karauli District, Rajasthan. His zodiac sign is Capricorn.
In 2012, he went to Jaipur and started living in a sports hostel, where he was trained under the coach Mahavir Prasad Saini.
During the initial days of his training, he chose wrestling as his sport as both his father and elder brother were into this sport. He was even spotted in a wrestling competition. His coach then encouraged him to take up athletics after looking at his lean physique. He soon started playing at the junior-level competitions.
Physical Appearance
Height (approx.): 6′
Hair Colour: Natural Black
Eye Colour: Brown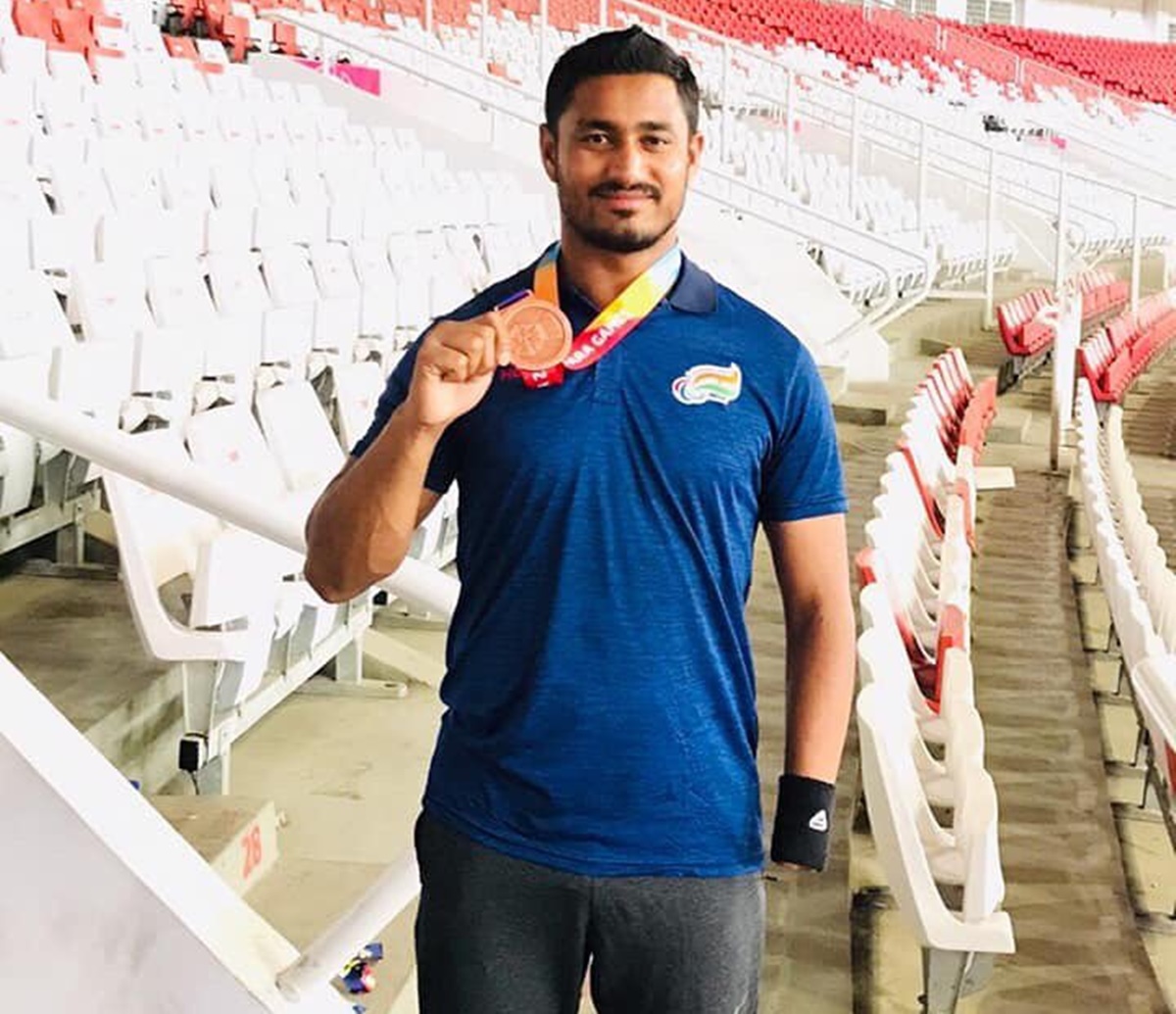 Family
Parents
Sundar Singh belongs to a Hindu Gurjar family. His father is a farmer.
His mother's name is Kalia Devi and she is a homemaker.
Left-Arm Impairment
Till 2015, everything was going smoothly, and suddenly, life took a drastic turn when he was working with a metal sheet in his friend's house. A heavy metal sheet fells on his left arm's wrist, resulting in its permanent loss. Aghast by the happening, he went into depression and had thought that he would never be able to pursue Javelin again. Recalling that time, he said that
I thought it was the end of my career. Then I met RD Singh and within a month I was back training."
Career
Soon, he joined the training centre in Hanumangarh (Rajasthan) a few months after the accident, where he met Mr RD Singh, the director of the institute and the recipient of the Dronacharya Award. After that, he participated in many Junior-level national competitions and became successful. In 2016, he got his first international assignment at the 8th Fazza IPC Athletics Grand Prix in Dubai. He managed a score of 59.36m in the Javelin Throw Competition along with his teammate Rishi Kant Sharma.
Initially, there were 24 Indian contingents for the event, but their entry was refused by the IPC Para Athletics authorities. The reason being the Sports Authority of India (SAI) was unable to forward their entries on time. In the end, there were only 11 contingents who could participate, and the rest were sent home despite frittering away 80,000 INR from their own purse.
Sundar Singh, soon made it to the 2016 Rio Paralympics by securing an 'A' grade score. Virendra Singh (discus throw and shot put) was the other contingent. In order to qualify for direct entry into this event, the candidate should be in the top-5 rank till April 2016. The remaining entries are for 'A' and 'B' qualified athletes. RD Singh, the Dronacharya Awardee and the owner of one of the training centres in Rajasthan, applauded Sundar Singh by saying that
"If all goes well, you will see Sunder winning an Olympic medal. His throw was excellent and he can easily add a couple of metres by the time of Rio. Till November last, Sunder was competing in the general category and won a junior national gold. But he lost his left hand in an accident."
But the 2016 Rio Paralympics (Brazil) was not at all rewarding for the youngster despite being considered one of the prime contenders for the event as he couldn't hear his name when it was called during its registration process. He missed it by only 52 seconds. Later, in an interview, he revealed his emotions by saying that
"A little miscommunication resulted in something so life-changing. I was never told about a fixed time, and I couldn't understand when my name was announced. The world knows that I was the best javelin thrower and had been the best in my category for the last few months. I don't understand English nor can I read or speak the language. That disqualification broke me mentally. A long period of depression followed, I did nothing for a good six months. I didn't want to touch javelin again. But my coach Mahabir Prasad Saini took me for counselling and arranged sessions with motivational speakers. The rest is history."
In the next season of Fazza IPC Athletics Grand Prix in Dubai in March 2017, he justified his talent by scoring 60.33m in the Javelin throw game. He also scored 44.56m in the discus throw and was prolific in the Shotput event. He successfully finished the campaign with three gold medals under his belt. Continuing his winning streak forward, he won the gold medal in the eighth edition of the World Para Athletics Championships held in July 2017 with his personal best score of 60.36m in the Javelin throw category, thus becoming only the second Indian after Devendra Jhajharia to win the gold medal in the World Para-athletic Championships' history. The event was held at London Stadium in Queen Elizabeth Olympic Park. This venue also hosted the London 2012 Olympics and Paralympics. Later during the Para-Asian Games held in Jakarta (Indonesia) in October 2018 saw yet another remarkable day in his life when he won the silver medal by scoring 61.33m in the Javelin throw event along with his counterpart Sundar Singh who won the bronze medal in the Discus throw, scoring 47.10m. In total, 302 Indian contingents took part in this event, in which Mariyappan Thangavelu (flag-bearer) led the march in its inauguration ceremony.
In 2019, he suffered from a massive shoulder injury while training, resulting in his expulsion from the game for a few months, but he didn't let the momentum suffer when in 2019, he bagged the Gold medal with the best score of 61.22m at the World Para Athletics Championships in the Javelin throw category. He overtook Dinesh P Herath Mudiyanselage from Sri Lanka.
But the actual joy of the success came when it was announced that he qualified for the 2020 Tokyo Paralympics along with his teammate Rinku Hooda and Ajeet Singh. He expressed his delight during an interview by saying that
"I am very happy. It was a relief. I came into this Championships with no training for the last one month. I got the injury in my training and so had to tap my shoulder today. When I was training, I felt the pain. But I was lucky at the finals, I didn't feel it. I felt my body was well-rested. It was a blessing in disguise. In my last attempt, I knew that I got it there. But never realized that it will be my season-best. It was a good leap. This will motivate me to go for a medal at the Tokyo 2020 Paralympics."
He also earned a rare distinction by becoming the second Indian to win two World Championship medals in the Para-sport category. Devendra Jhajharia was the first one who won a gold and silver medal in the 2013 Lyon and 2015 Doha Championship events. He was again forced to stay out of the game for around three months when the COVID-19 pandemic spread its feet across more than one million population of the country. He didn't want to lose his momentum so one day, he appeared before Ashok Chandna, the Sports Minister of Rajasthan, and urged him to open the Sawai Mansingh Stadium (Jaipur) for him so that he could continue his practice. The Sports minister approved his request.
Recalling that phase he told that
"I didn't want to sit at home and wait for things to happen. So, I requested our minister and he allowed me to use the hostel. It wasn't easy because the entire country was in lockdown, but Mr Chandna went out of his way to help me out."
He also revealed how his regular practice during the lockdown enhanced his game and prepared him for the 2020 Tokyo Paralympics. He further added that
"I am now throwing beyond 68 metres. This is something that has boosted my confidence for the Tokyo Games, as 63.97 metres is a world record. But I'm not taking anything lightly. "This is the best thing that has happened before Tokyo."
As the Tokyo Paralympics could not take place in 2020 due to the COVID pandemic, so it was played in August 2021. There were other 53 para-athletes besides him so it was a tough competition for him. This event also has Archery, Badminton, Taekwondo, Shooting, Swimming, Para-Canoeing, and Table Tennis game. Badminton and Taekwondo were introduced for the first time in this Paralympics event.
He is one of the prime contenders for the medal in Javelin Throw in this mega event. Initially, it was a slow start for him but in the end, he scored 64.01m in his fifth attempt and bagged the Bronze medal for the country. His counterpart Devendra Jhajharia won the gold medal, taking India's medal tally to 19 which is the highest so far in the Paralympic events.
He received a rousing welcome at the Delhi Airport from his family members and supporters. He credited his success to his coach Mahavir Prasad Saini.
Awards, Honours, Achievements
He has been honoured with multiple awards during his career, which include the prestigious Arjuna Award from the Government of India in 2019. He is also the recipient of the Sportsman of the game award at the 2016 National Championships in Gurgaon, India and the Differently Abled Athlete of the Year in the year 2017 by ESPN India.
Facts/Trivia
He belongs to the F46 class category player. F46 is a specialisation for handicapped players suffering from an arm deficiency or lack of movement of arm ligaments.
Since childhood, he was not good at academics. When he was in the eighth standard, he told his PT teacher that he wanted to opt for sports as his career. He was highly inspired by the sportspersons like wrestler Sushil Kumar and boxer Vijender Singh. His teacher then advised him to go for the sports trials. Following the advice, he gave the trials and got selected.
He was a student who would seldomly bunk his classes to practice the sports and was often caught by his parents.
After his medal at the 2020 Tokyo Paralympics, he thanked all the people who supported him on television. He also said that
"I am extremely elated to have won a medal in Tokyo. In Rio 2016 I was disqualified, now I have won bronze."
He is always regular with his training and never missed even a single session despite suffering from bad days.
Currently, he is working as the Assistant Conservator in the Forest Department.