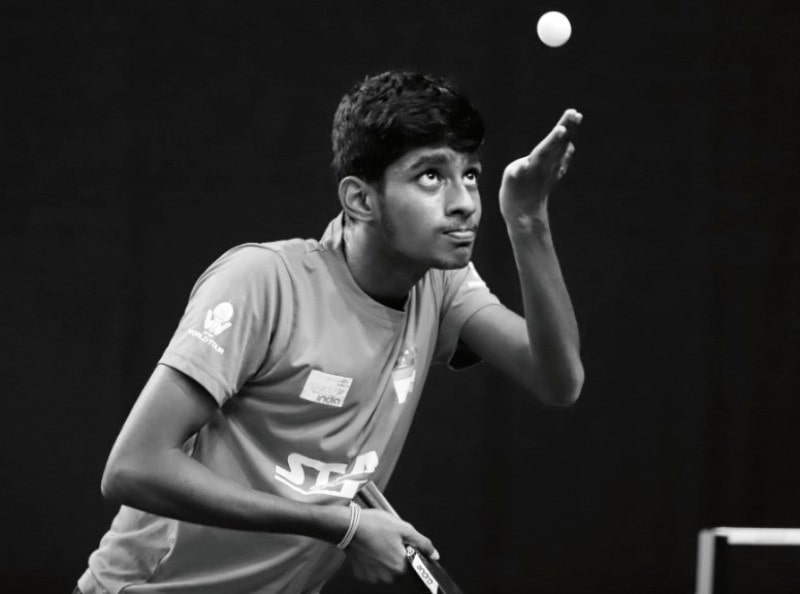 Vishwa Deenadayalan was a talented Indian table tennis player, who made his name known to the nation by winning several national as well as international level competitions. He was a top tier U-19 table tennis player in India. He died on 17 April 2022, when his taxi, in which he was in; along with 3 other players, collided with a 12 wheeler truck in the Ri-Bhoi district of Shillong, Meghalaya.
Wiki/Biography
Vishwa Deenadayalan, according to some sources [1]Table Tennis Federation of India was born 0n Sunday, 4 January 2004 and according to some sources [2]Table Tennis Federation of India, he was born on Thursday, 1 April 2004 (age 18 years; at the time of death) in Chennai, Tamil Nadu. After completing his schooling at Jaigopal Garodia Vivekananda Vidyalaya HSS, he took admission at Loyola College, Chennai. There, he was a first-year of his graduation, pursuing B.Com.
Physical Appearance
Height (approx.): 5′ 6″
Weight (approx.): 60 kg
Hair Colour: Black
Eye Colour: Black
Family
Parents & Siblings
His father's name is Deena Dayalan.
His mother's name is Anuradha Deena Dayalan. It is believed that he has an elder sister, Raveenaa Deenadayalan, who is also a table tennis player by profession.
Career
As a young boy, Vishwa Deenadayalan had shown a deep interest in the field of table tennis, as a result of which, his father admitted him to Krishnaswamy Table Tennis Club in Chennai. During his initial phase of training, Vishwa was trained intensively by two well-known faces in the world of table tennis, Ramnath Prasad and Jai Prabhu Ram. As Vishwa's skills in table tennis increased, he went on to become a member of the famed Tamizhaga Table Tennis Association (TTTA) State Men's team. Vishwa in 2019, had reached pre-quarters in the Hyderabad National, with his mixed doubles partner, Selena Deepthi. Vishwa, as a part of the Tamizhaga Table Tennis Association (TTTA) State Men's team, was selected for the 83rd Senior National and Inter-state Table Tennis Competition at Shillong. Selection for the Shillong squad was not that easy for Vishwa, as he had to defeat another ace player, Malesh Kumar, in the selection matches.
Vishwa was an excellent player, due to his skills, he was chosen to be a part of the Indian squad, which would be representing the nation in the U-19 World Table Tennis Youth Contender at Linz, Austria. The international tournament was to begin on 27 April 2022.
Awards, Honours, Achievements
In 2013, Vishwa Deenadayalan defeated Sankketh in the finals to win the Republic Day Cup.
In 2018, Vishwa Deenadayalan became the U-15 Junior National Champion.
In 2018, Vishwa Deenadayalan represented India at the Cadet boys' team event at the Serbia Open and won a Gold medal in the tournament.
In 2022, Vishwa Deenadayalan became the U-19 Boys Title at National Ranking Tournament champion. the tournament was held in Dehradun.
Death
On 17 April 2022, Vishwa Deenadayalan was on his way from Guwahati airport to Shillong, to participate in the 83rd Senior National and Inter-state Table Tennis Competition. He was travelling in a taxi, along with three other players; when the taxi collided with a 12 wheeler truck at National Highway – 6. With the help of the locals, the budding player was immediately rushed to a local civil hospital at Nongpoh, where he was declared dead upon arrival.
M. Nithyashree, who is a TTTA women paddler stated in an interview,
The entire TTTA (men & women) team left Guwahati airport on Sunday at around 12.30-1245 p.m. in three different cars. When our car reached the spot we saw our coach Jai Prabhu Ram and a few locals rescuing our paddlers from the accident spot. There were no  signs of injury on Vishwa. We shouted and screamed his name and were hoping that he would open his eyes, but there was absolutely no response from him. Then a medical student or a doctor even tried doing the CPR. Then he was taken in an ambulance to a nearby hospital soon." [3]Sports Star
Facts/Trivia
Vishwa Deenadayalan was influenced to take up the sport of table tennis by his elder sister, During an interview, he said,


My sister (Raveenaa) used to play the sport and I just liked it straight away." [4]The New Indian Express
Vishwa Deenadayalan has won a lot of Cadet and Sub-junior level table tennis championships at both, national and international levels.
Vishwa Deenadayalan had a very loving personality. His coaches, R. Ramnath Prasad and Jai Prabhu Ram stated in an interview that,


On the table, he was a very aggressive player and off it, he was very humble. He was loved equally by everyone."
Vishwa Deenadayalan always wanted to make it to the top 100 world table tennis players' list.
Vishwa's performance on the table earned him an appreciation from the ace table tennis player, Sharath Kumar. Sharath Kumar also happens to be Vishwa Deenadayalan's idol.
After the tragic demise of Vishwa Deenadayalan, the Meghalaya Table Tennis Association in a statement said,


The Meghalaya Table Tennis Association is grieved by the sudden death of D Vishwa, a Tamil Nadu ace paddler who was on his way to Shillong to take part in the 83rd Senior National Table Tennis Championship."
Several well-known personalities have expressed their heartfelt grief over the sudden demise of the budding table tennis player, Vishwa Deenadayalan.
As a student, Vishwa Deenadayalan always took his studies very seriously.