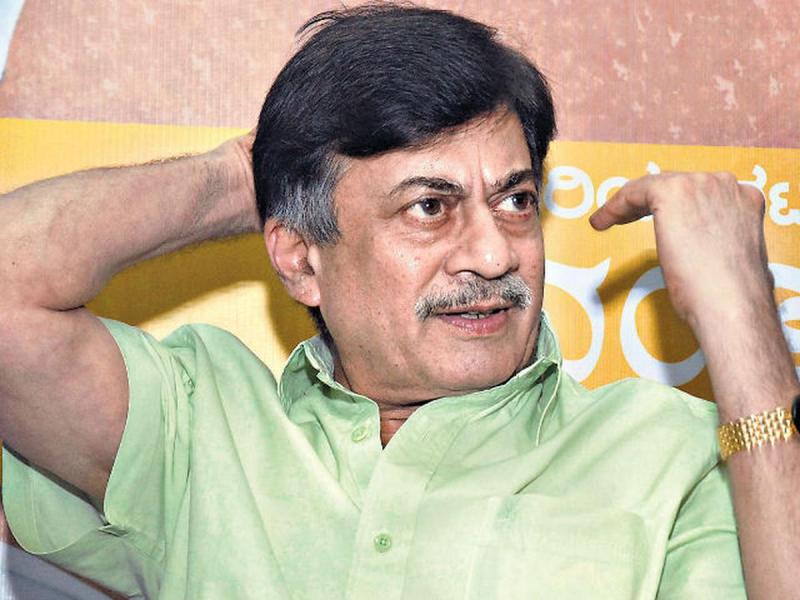 Anant Nag, also known as Ananth Nag or Anant Nagarkatte, is a prolific Indian actor, who has worked predominantly in the Kannada film industry. He is also a politician.
Wiki/Biography
Anant Nag was born on Saturday, 4 September 1948 (age 75 years; as of 2023). He spent most of his childhood in Shirali, Bhatkal taluk, Karnataka. He did his primary and middle schooling in a catholic school in Ajjarkad, Udupi, Ananda Ashrama in Dakshina Kannada, and Chitrapur Math in Uttara Kannada districts of the erstwhile Mysore State (now Karnataka). He studied at New English School, Honnavar till 8th standard. He was sent to Mumbai for further studies when he was in 9th standard. In an interview, he gave a detailed description of his inability to cope with the change in culture and lifestyle from Karnataka to Mumbai. He said,
I did short skits in school after which there was a gap. I felt lost in Bombay. I was hardly 11 when I was sent there. It was a culture shock having grown up in a mutt . I went into a shell because of the shift from Kannada to English medium. I failed in my 10th exams. I was miserable food and culture-wise. I wondered why my father had sent me to this ' naraka '. I would sink into the shadows if I spotted someone familiar lest they ask me about my exam results. I strayed into acting. It was while distributing wedding cards for my sister's wedding that someone suggested acting in a play because I was good looking. I gave it a shot."
Later, he joined a commerce college in Bandra and worked in the Union Bank for three years, after getting a job under the theatre quota. Approximately 14 years later, in 1976, he returned to Banglore after becoming a full-fledged actor in Mumbai. [1]The Times of India
Physical Appearance
Height (approx.): 5′ 11″
Hair Colour: Salt & Pepper
Eye Colour: Brown
Family
Anant Nag belongs to a Konkani family.
Parents & Siblings
His father was Sadananda Nagarakatti, and his mother was Anandi. He has two siblings. His elder sister's name is Shyamala, and his younger brother was Shankar Nag, who died tragically in a car accident at the peak of his career.
Wife & Children
Anant got married to Gayatri on 9 April 1987. The couple has a daughter named Aditi.
Maternal Grandfather
His maternal grandfather was Bantwal Sadashiva Bhat.
Relationships/Affairs
Reportedly, he was engaged to Priya Tendulkar, who was the aunt of Sachin Tendulkar.
Religion
Hinduism [2]The Times of India
Caste/Ethnicity
He is a Saraswat Brahmin. [3]The Times of India
Address
Aditi, 4th Cross, RMV Extension, Sanjaynagar, Bengaluru, Karnataka
Career
As a Theatre Artist
In an interview, Anant Nag revealed that while he was distributing his sister's wedding cards, someone offered him work in theatre because of his good looks. He was noticed by prominent theatre personalities Prabhakar Mudur and Venkatrao Talageri to participate in plays. He played the part of a Hindu monk in the play Chaitanya Mahaprabhu in his first play, which was widely appreciated by the audience. He was selected for Konkani, Kannada, and Marathi-language plays which he did until he turned 22. Anant was highly drawn to the theatre movement of Mumbai. He also collaborated with popular playwrights like K.K. Suvarna and Girish Karnad. He also got opportunities to play major roles in Amol Palekar and Satyadev Dubey's socially and politically relevant plays.
As an Actor
Films
After working profusely in theatre, in the early 1970s, he received two film offers to act in P. V. Nanjaraja Urs' Kannada film, 'Sankalpa' and in Shyam Benegal's Hindi film, 'Ankur.' His Kannada debut film, Sankalpa, was released in 1973. He was introduced to filmmaker Shyam Benegal by theatre director Satyadev Dubey. In an interview, he revealed that he was offered a handsome amount of money to star in a Tamil film, which he declined. He said,
Satyadev Dubey sent me to meet Shyam Benegal. Shyam just asked me to turn this way and that before signing me. I was riding two boats: one in Bombay and the other in Bangalore. Meanwhile, I was called for a Tamil film much before Rajinikant went there. Tamil was an alien language for me being from coastal Karnataka. They offered me a princely sum for two films. Krishnan Panju was the director. I just couldn't handle the language. After a few days, they wanted to shoot for the second film. For two successive days, it rained in Madras. I thought it was divine intervention. I wrote a note excusing myself and left."
He starred in various films directed by Shyam Benegal, which include Ankur (1974), Nishant (1975), Manthan (1976), Bhumika (1978), Kondura (1978), and Kalyug (1981). He established himself as a versatile actor for which he was critically acclaimed with laurels. He has displayed his terrific talent to the audience through films like Godhi Banna Sadharana Mykattu, Udbhava, Hosa Neeru, etc. He has acted in more than 270 films in his career. Despite his recognized career, in an interview, he expressed that he is an untrained actor as he always shied away from doing a dance number or an action sequence. He added that he preferred to deliver natural and spontaneous scenes as per the demand of the script, rather than being outlandish. He rose to newfound fame from his fans for his supporting role in K.G.F: Chapter 1.
Television
Anant Nag's television journey began in 1987 with the television series Malgudi Days, based upon the stories written by R.K. Narayan. Malgudi days was directed by Anant's brother Shankar Nag. Malgudi Days commands a special mention in Anant's television journey as it was from this series that he rose to popularity on the small screen. Following this, Anant Nag was roped in for parallel roles in television shows including SwarjNama (1996), Garva (2002), and Preeti Illada Mele (2006-2008).
As a Politician
Anant Nag was inclined towards politics ever since he began his acting career. He was inspired by Jayaprakash Narayan. To quote Anant Nag,
I was influenced by socialist leader Jayaprakash Narayan who had urged the youth to join politics and said if we'd stayed away, it will only get murkier,"
Being a politically conscious person, Anant Nag was deeply affected by the wars of 1962, 1965, and 1972. As a result, he actively took part in the Jayaprakash Narayan movement of 1974-75. He marked his entry into politics by associating himself with the Janatha Party in the early 1980s. He was a strong supporter of the reformist movement and became the star campaigner for the party in the successive elections of 1983, 1985, and 1989. From 1988 to 1994, he was nominated as a member of the Karnataka Legislative Council (MLC). In 1994, he won the assembly elections from Malleshwaram and became an elected Member of the Karnataka Legislative Assembly (1994-1999) representing BDA in the J. H. Patel's cabinet. Further, he was appointed as the Minister of State, attached to the Chief Minister (1996-1999). In 2004, he contested assembly elections, representing Janata Dal (Secular) against big names in Karnataka politics – the then Chief Minister of Karnataka, S. M. Krishna from Indian National Congress, fellow actor Mukhyamantri Chandru from the Bharatiya Janata Party in the Chamrajpet constituency in Bangalore. However, he lost to S.M. Krishna, who went on to be chaired as the governor of Maharashtra. Reportedly, Anant Nag continued his association with the Janatha Dal even after his mentor Ramakrishna Hegde was expelled from the party. This led to the speculations of a rift between them, which were later subdued. In Anant's opinion about his political career, he is slightly disappointed and feels that he could not make an impact equal to his vision. [4]The Hindu He mentioned in an interview,
As a minister in the 1990s, I stopped acting for three-and-a-half years. But I realised that I was an actor and politics was not my cup of tea,"
Speaking of his political stint, he expressed that he was unhappy as he was disillusioned by the system. He added that the system,
does not allow you to do what you want to."
Upon being questioned to summarize his exit from the political frame, he answered,
I quit when I turned 50. There was excessive in-fighting and everything became about people and their egos. But I came away with a wealth of experiences."
Controversies
In August 2021, during the capture of Afghanistan by the Taliban, there arose a situation of social debate among the actors in India on whether they supported or were against the militant group. Stating his opinion in an interview, Nag remarked,


Those actors who don't feel secure should go to heaven(with Taliban)".

Anant's above expression enraged various social activists. Anant faced backlash for his views on Twitter from the netizens as his statement was termed regressive. The scenario sparked such rage from both sides, as a consequence of which Anant was labeled with various nicknames defaming his identity.
During the promotions of Prashanth Neel's K.G.F: Chapter 2, a controversy arose as it was rumored that veteran actor Anant Nag was replaced by Prakash Raj in the film. However, all speculations came to rest when the director Prashanth Neel clarified that Anant Nag walked out of the role by his personal choice. He added that though he was disappointed by the senior actor's decision to not pursue his film, he would not force Anant to act in it against his will.
Awards
Won Best Actor for Naa Ninna Bidalaare in 1979 at Filmfare Awards South
Won Best Actor for Bara in 1982 at Filmfare Awards South
Won Best Actor for Hendthighelbedi in 1989 at Filmfare Awards South
Won Best Actor for Udbhava in 1990 at Filmfare Awards South
Won Best Actor for Gauri Ganesha in 1991 at Filmfare Awards South
Won Best Actor for Godhi Banna Sadharana Mykattu in 2016 at Filmfare Awards South
Won Best Actor for Minchina Ota in 1979-80 at Karnataka State Film Awards
Won Best Actor for Hosa Neeru in 1985-86 at Karnataka State Film Awards
Won Best Actor for Avasthe in 1987-88 at Karnataka State Film Awards
Won Best Actor for Gangavva Ganganayi in 1994-95 at Karnataka State Film Awards
Won Dr. Vishnuvardhan Lifetime Achievement Award at Karnataka State Film Awards in 2011-12
Favourites
Food: Thovve (a dal preparation), basale soppu (a form of green sambar), avalakki bath (poha) and Jalebi
Book: Samagra Kathegalu' by Bagalodi Devaraya. Graham Greene, R K Narayan
Place: Anand Ashrama in Kanchanagada, Kasarago
Facts/Trivia
The actor is multi-lingual with fluency in Kannada, Konkani, Marathi, Hindi, Telugu, Malayalam, and English languages.
Anant Nag's pair with popular South Indian actress Lakshmi is most loved by his fans and is frequently termed as the all-time best couple in Kannada movies.
In an interview, he disclosed that he once attempted to join the armed forces, but faced rejection from the Army due to being underweight and from the Air Force owing to his poor eyesight. [5]

Deccan Chronicle
Anant believes that he is a good athlete but he is not equipped to dance. He also held a strong belief that the art of dancing did not belong to men until he watched Kamal Hassan dancing. Ever since it changed his perception of dancing,
According to Anant Nag, action films are bogus and far from reality. In an interview, he argued


Imagine, I'm a cop with a gun and I'm fending off goons without using it. I argued with the stunt master that if I were in that situation I'd just draw and shoot.
Reportedly, Anant's wife, Gayatri, shot for a film called "Prerna" in 1979 opposite Anil Kapoor for the Barjatyas. However, the film got shelved for unknown reasons.
Anant dislikes cold temperatures. He did not sign up for Vishwaroopam because it would have been shot in the biting cold weather of New York City. In an interview, he said


Probably because I grew up in the coastal belt I cannot handle anything below 18 degrees. Even Bangalore was cold for me in the initial days. I just can't function in cold weather. I've seen that when we went on holidays. My family would go out but I'd remain in the room swathed in thermals and layers of warm clothing. My nose and eyes start watering and I feel disoriented."
Anant Nag idolizes Mahatama Gandhi. In an interview, he recalled that he used to spin the charkha daily for an hour during his days at Anand Ashram.
Anant has faced his share of struggles. During his initial days, his father did not approve of his choice of career as an actor. [6]

Deccan Herald In an interview he disclosed,


I took to acting with a vengeance during my days in Bombay, much against the wishes of my father, who advised me to find my own means, to earn and learn to support my acting. He watched my film 'Hamsgeethe', where I had to shave my head. He wasangry that I had gone against traditions and shaved my head clean, with not even a tuft of hair standing. As the years wore on, he reconciled with my profession as an actor."
Academically, Anant was good at his studies. He would always rank in the top five scorers.
Anant is a strict vegetarian and has never tasted onion or garlic.
Anant prefers a 45-minute nap regularly in the afternoon. He has made it a habit to take his afternoon nap even while he is shooting for films. He casually mentioned in an interview that he can doze off even on a chair.