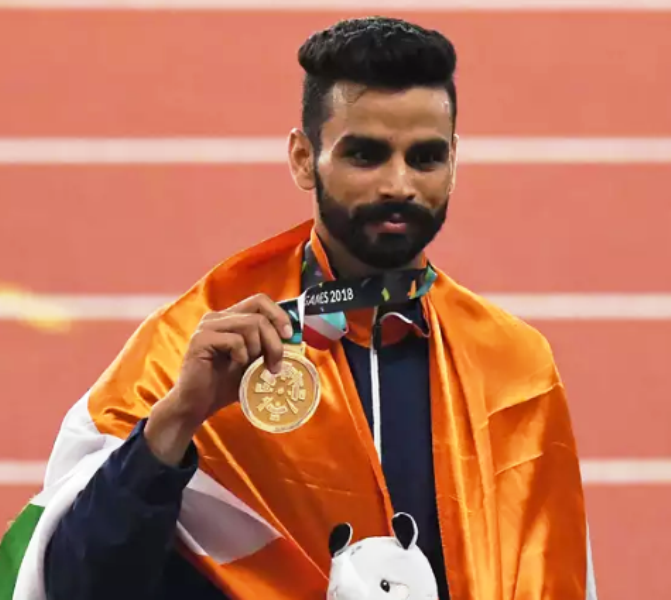 Arpinder Singh is the rising star of Athletics in India. He is a professional Triple Jumper in Track and Field events and has bagged many medals and honours for himself and his country. He likes grabbing the spotlight and is a famous Instagrammer with thousands of followers. Let's dive into more details about his life.
Biography/Wiki
Arpinder Singh or Bobby was born on 30 December 1992 at Harsha Chhina, Amritsar, Punjab, India. He has made his mark in Athletics not just nationally but globally. With sheer hard work and dedication, he has climbed up the ladder with much silverware to brag about. Arpinder who started as a 100m runner shifted to Triple Jump on a recommendation from his coach in school. He then went on to represent India in numerous prestigious World Stages like Commonwealth Games, Asian Games, to name a few.
He gave a beautiful gift to the nation of India on the eve of their National Sports Day (29 August 2018), a Gold Medal in Triple Jump. It was the first goal in the event for India in about 48 years.
Physical Stats
He is blessed with beautiful genes and a will to sweat the fat out in a gym for hours. His physique and fitness do not just comprehend his profession but also escalates his personality overall.
He stands 6 ' 1″ (185 cm) tall and weighs 75 kg (165 lbs). Pumped muscles and shredded body makes him one of the fittest players in the sport. His chest measures around 38 inches, waist 32 inches and biceps 15 inches. He has black hair and black eyes.
Family
Not much is known about his family. In an interview, he revealed that his parents were always very supportive, be it emotionally or financially. His father was in the army and always wanted him to take up sports. He was always very supportive of him and his choices. He himself was a sportsman in the army. He always pushed Arpinder to work hard and achieve laureates in sports.
Education & Athletics
He was very weak in his studies and very active by nature. His father noticed this and wanted his son to pursue sports. In his youth, he used to be a 100m runner and was his coach who asked him to try out Triple Jump. In 2006, he gave a trial in the Sports School, Jalandhar and managed to jump a little above 11m. He wasn't selected but he refused to give up. He worked hard and came back next year with a score of 11.85m and got accepted into the school. In the U-17 School Games, he jumped 13.86m and bagged a silver for himself. He then trialled for the Sports Authority of India (SAI) Ludhiana where he was selected but only as a day scholar. He was not able to get any scholarship and all the financial expenses fell over his head.
Though in an interview, he said that it all worked out for good. In 2009, he won the Youth National Games which was very helpful for improving his financial situation. In 2010, he won in the School National Games which was the start of the ascent in his career. He has always credited his victories to his mentors and coaches. Sukhdev Singh Pannu and J Jayakumar were staunch support for him in his success.
Awards, Honours & Achievements
In 2014, he broke the National Record with a 17.17-metre jump. In the process, he qualified for the 2014 Commonwealth Games where he bagged a bronze medal for his country.
He won Gold Medal in Triple Jump at the 2018 Asian Games on the eve of National Sports Day of India on 29 August 2018. He became the first Indian person in 48 years to get a gold in the event.
In 2021, he was conferred with the Arjuna Award by the Ministry of Youth Affairs & Sports.
Facts
He drives a white Hyundai Verna.
He loves to sweat out in the gym and feed his muscles.
He has a tattoo on his right arm.