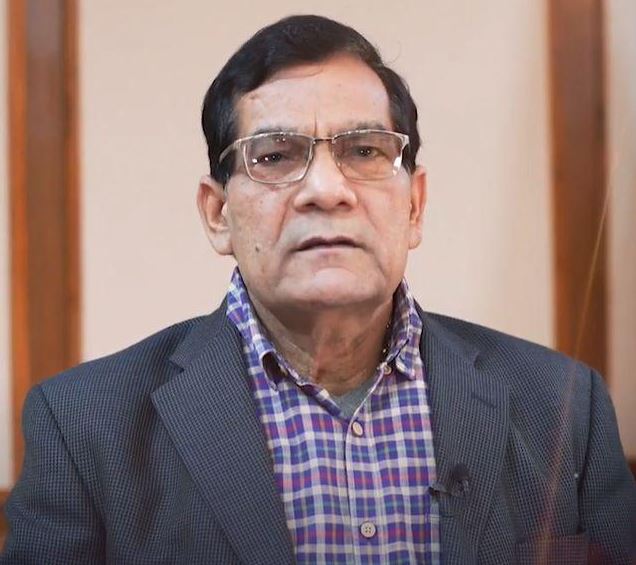 A. K. Sharma is a former Indian Administrative Service (IAS) officer from Gujarat Cadre, who, after his voluntary retirement from civil services in January 2021, became a politician and joined the Bharatiya Janata Party (BJP) in Uttar Pradesh.
Wiki/Biography
Arvind Kumar Sharma [1]The Hindu was born on Wednesday, 11 July 1962 (age 60 years; as of 2022) in Kajha Khurd, District-Mau, Uttar Pradesh. Born in a rural area, he grew up doing chores like, cleaning the house front, clearing out the semi-pucca drainage system, feeding the cattle, and regulating seasonal plantations. He spent his childhood witnessing his father contributing to the development of their village. His father set up the first tube well and played a pivotal role in the establishment of a secondary school in the name of Pundit Alagoo Rai Shashtri in the village. He did his schooling at local schools, one in his village and another in an adjoining village called Khurhat. He received his middle school education in Rasra, Ballia district. Thereafter, he pursued his intermediate studies in the science stream at DAV Inter College, Mau, passing his 10th & 12th from this school of UP Board. Later, he attended the University of Allahabad, where he pursued his BA in Political Science, Philosophy & Economics and MA in Political Science. Throughout his academics, he was a topper and passed with first division grades. During his college days, he used to compose and recite poetry and ghazals, participated in stage dramas, skits, and short plays. Thereafter, he enrolled himself in the UGC fellowship as a Research fellow (D. Phil), meanwhile pursuing his career as a lecturer in the department of Political science. [2]A K Sharma
Physical Appearance
Hair Colour: Black
Eye Colour: Black
Family
Parents & Siblings
His father, Shri Shivmurti Sharma,  retired as a senior incharge of Mau roadways bus station. Earlier Sharma's father was a traffic inspector in UP Roadways, meanwhile, his mother, Shrimati Shanti Sharma, was a homemaker. While talking about his father's job, in an interview, he said,
My father being in the service of UP Road Transport, I spent a lot of my childhood living at two Bus Stations (Rasra & Mau)…So, I owe a lot to that eco-system comprising of the chaiwalas, halwais, drivers, conductors, porters, and staff members who were an integral part of my daily life. This phase of my life lasted from class six to twelfth."
His father passed away in December 1999. A. K. Sharma is the eldest of three brothers
Wife & Children
In March 1987, he got married to Kiran Sharma. His son, Abhinav Sharma, was born on the same day on which his results of UPSC were declared. Later, the couple had a daughter named Chitra Sharma, who got married in a family living in Kashi, Varanasi.
Religion/Religious Views
A. K. Sharma was born into a religious Hindu family which followed various deities like Brahma Baba, Saiyed Baba, Banjaari Mai, Deeh Baba, Kali Maa, Deiya Mai, and Shiva. His father chanted Rudrashtakam, a Sanskrit composition in the devotion of Rudra composed by the Hindu Bhakti poet Tulsidas. His mother used to pray to Lord Surya by undertaking the ceremony of offering water to the sun every morning. He grew up listening to the holy narratives of  Hindu deity Satya Narayan and Ram Charit Manas, another religious narrative by Tulsidas. [3]A K Sharma
Caste
A. K. Sharma was born into a Bhumihar (also called Babhan) Brahmin agrarian family. [4]The Indian Express
Career
After completing his formal education, he started began his career as an assistant professor in the department of political science at the University of Allahabad.
Indian Administrative Service
On his third attempt, Sharma became a civil servant in 1988 and started his career as an IAS officer with the Gujarat cadre. He was posted as Sub-Divisional Magistrate (SDM) in Palitana in Bhavnagar District in 1989.
Positions Held
Assistant Collector (From 1 August 1989 – 1 August 1992)
Additional Registrar – Cooperatives / Agriculture & Cooperation (From 1 August 1989 – 1 February 1993)
District Development Officer, Vadodara (From 1 February 1993 – 1 April 1995)
Commissioner, Mehsana (1 April 1995- 1 May 1997)
Joint M D – Mines / Mines & Minerals (From 1 May 1997 – 1 July 1997)
District Collector, Kheda (From 1 July 1997 – 1 June 1998)
Deputy Secretary, Gandhinagar  (From 1 June 1998- 1 April 1999)
Joint Commissioner, Vadodara – Rehabilitation / Home (From 1 April 1999 – 1 June 2001)
Additional Commissioner- Industries (From 1 June 2001- 1 October 2001)
Secretary to Chief Minister, General Administration, (From 1 October 2001 – 13 February 2004)
Secretary to Chief Minister, Personnel management, (From 14 February 2004 – 2 January 2006)
N.A. Joint Secretary (From 4 January 2006 – 13 November 2006)
Secretary to Chief Minister (From 14 November 2006 – 17 April 2013)
Additional Principal Secretary to Chief Minister (From 17 April 2013 – 30 May 2014)
Joint Secretary in Prime Minister's Office (From 3 June 2014 – 22 July 2017)
Additional Secretary in Prime Minister's Office (From 22 July 2017 – 30 April 2020)
Secretary – Micro, Small & Medium Enterprises, New Delhi (30 April 2020- 11 November 2021)
When Narendra Modi took over as chief minister of Gujarat in 2001, Sharma was among the officers posted to the CM's office. Sharma first served as secretary to the chief minister, and in 2013, he was promoted to additional principal secretary to the chief minister.
He earned the reputation of an infrastructure expert during his years in Gujarat when Sharma held the position of CEO, Gujarat Infrastructure Development Board (GIDB). Other positions at which Sharma worked in the Government of Gujarat include Deputy Secretary Finance Department, incharge of the Bureau of Public Enterprises, and MD of iNDEXTb. Between 2001 and 2006, he was also the in-charge of Investment Promotion & Investor Facilitation in Gujarat. Modi's trusted bureaucrat, Sharma also played a key role in the relocation of the Tata Nano plant from Singur in West Bengal to Sanand in Gujarat in 2008. During Modi's tenure as CM, Sharma regularly interacted with various foreign dignitaries.
He also played a key role in bringing then-US ambassador Nancy Powell to Gandhinagar in 2014. Prior to the meeting, the US government had given cold shoulder to Modi for over 10 years. Thereafter, he joined the Prime Minister's Office (PMO) as a joint secretary after Modi became the prime minister in 2014.
Amid the Covid-19 pandemic in 2020, Sharma was appointed as secretary of the Ministry of Micro, Small and Medium Enterprises (MSME). He played a pivotal role in organising Vibrant Gujarat summits, a biennial event that was conceptualized in 2003 under the visionary leadership of Narendra Modi, which played a significant role in bringing in foreign investment.
Training
From 4 June 2018 to 22 June 2018, he attended the 12th Round of Mid Career Training Programme Phase V 2018 for IAS officers.
In 1995-1996, he attended Assam Administrative Staff College, Guwahati, for three weeks.
In 1999-2000, he received Management of Information Technology training at the Indian Institute of Management, Bangalore, for one week.
He completed his Master of Public Policy (MPP) Course with merit from Australian National University (ANU) Canberra, Australia in 2006.
Politics
After his voluntary retirement from civil services in January 2021, 18 months before his due retirement, he joined the Bharatiya Janata Party (BJP) in Uttar Pradesh as a member of the legislative council (MLC).
In April 2021, when Varanasi, Uttar Pradesh, was struggling under the second Covid surge, Sharma was named 'Covid Prabhari' for the district. As Covid Prabhari, Sharma took meetings of district and police officials, supervised the setting up of a DRDO hospital and a tele-consultancy app, and ensured the functioning of the Command and Control Centre. Appreciating Sharma's Covid-19 relief work, the PM urged states to follow the Varanasi Model of Covid Management. In June 2021, he was appointed the vice president of the UP BJP.
Controversy
In September 2018, Indian politician and president of the Indian National Congress Rahul Gandhi accused A. K. Sharma of weakening Vijay Mallya's lookout notice in 2015, allowing the fugitive tycoon to escape arrest in India. A wanted criminal in India on fraud and money laundering charges amounting to an estimated Rs. 9,000 crore, Vijay Mallya fled the country on 2 March 2016. Rahul tweeted,
CBI Jt. Director, A K Sharma, weakened Mallya's "Look Out" notice, allowing Mallya to escape.

Mr Sharma, a Gujarat cadre officer, is the PM's blue-eyed-boy in the CBI.

The same officer was in charge of Nirav Modi & Mehul Choksi's escape plans. Ooops…
investigation!

— Rahul Gandhi (@RahulGandhi) September 15, 2018
Apparently, Rahul Gandhi was taking a dig at Sharma, who was then heading the CBI investigation of Rs, 11,400 crores Punjab National Bank fraud case, involving businessmen Nirav Modi and Mehul Choksi. [5]Hindustan Times
Awards, Honours, Achievements
Awarded the title of BEST DDO in 1993-94 by the Government of Gujarat
He was awarded a certificate of honour for his contribution to the cause of Human Resettlement and Rehabilitation associated with Sardar Sarovar (Narmada) Water Resources Project by the Ministry of Social Justice and Empowerment, Government of India
Favourites
Facts/Trivia
After becoming an IAS officer, A. K. Sharma collaborated with local officers to ensure basic connectivity through road networks in his village, which was previously absent.
The appointment of Sharma as the vice president of the UP BJP came with the backdrop of babbles that he could be appointed as deputy chief minister in the state government in the event of a cabinet reshuffle ahead of the 2022 Uttar Pradesh Legislative Assembly elections. [6]

Hindustan Times The rumours about Sharma's induction in the cabinet as deputy chief minister led to a cold war between Yogi Adityanath, Chief Minister of Uttar Pradesh, and PM Narendra Modi.
A K Sharma has adopted two public health care facilities of his home district. He also supplied necessary medicines, oxygen concentrators and other equipment to both the health care facilities. In one of his initiatives called  "Mau Ki Muskaan" two female disease experts and one pediatric expert were appointed in Mau District Women Hospital as a response to Sharma's request to the Health Minister and Health Secretary.
After venturing into politics, he developed an application called 'TEJ,' an interactive web portal for addressing the problems of the common man.