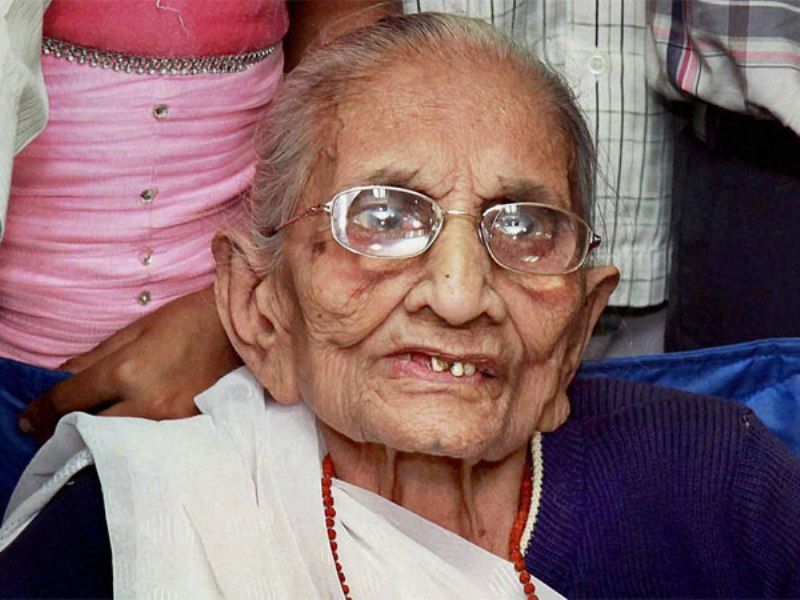 Heeraben Modi (1923-2022) was the mother of the Prime Minister of India, Narendra Modi. On 30 December 2022, she passed away at UN Mehta Hospital, Ahmedabad, after suffering from breathing issues.
Wiki/Biography
Heeraben Modi was born on 18 June 1923 (age 99 years; as of 2022). Her hometown was Vadnagar in Mehsana, Gujarat.
Family, Caste & Husband
Heeraben Modi belonged to the Modh-Ghanchi community of Gujarat, which is categorized as the Other Backward Class (OBC) by the Indian Government. Her husband, Damodardas Mulchand Modi was a tea seller.
She had five sons – Soma Modi (a retired officer from Health Department), Pankaj Modi (a clerk in Information Department of the Gujarat Government), Amrit Modi (retired lathe machine operator), Prahlad Modi (a shop owner), and Narendra Modi (14th Prime Minister of India).
She had a daughter, Vasantiben Hasmukhlal Modi.
Political Inclination
Bharatiya Janata Party (BJP)
Death
In December 2022, she faced breathing issues after which she was admitted to UN Mehta Hospital, Ahmedabad. On 30 December 2022, she took her last breath. [1]India TV
Facts
She got married to Damodardas Mulchand Modi at a very young age.
Heeraben was the mother of one of the world's most powerful leaders, Narendra Modi.
Her third eldest son, Narendra Modi became the Prime Minister of India in 2014. Before that, he had served as the chief minister of Gujarat for four consecutive terms. When Narendra became the Chief Minister of Gujarat for the first time, she advised him not to take bribes, she told him,


Beta, kadi lanch na leis."
In an interview, Narendra Modi said that her mother was the pillar of his life and has played a crucial role in his success.
Before the results of 2014, Narendra Modi visited her mother to take her blessings.
She used to live in the family's ancestral home in Vadnagar prior to her husband's death. After her husband's demise, she shifted to her youngest son, Pankaj's home.
During Narendra Modi's US visit in 2015, he got emotional while talking about his mother in a sit-down with Facebook's Mark Zuckerberg at a town hall session.
In May 2016, she visited her son, Narendra Modi's official residence at Race Course Road for the first time. Narendra shared the picture of him showing his official residence to his mother, Heeraben.
In November 2016, she was seen standing in the ATM queue, supporting her son's decision on banning old currency notes.
Narendra Modi paid a visit to her mother again before casting his vote during the 2019 Lok Sabha elections to seek her blessings.
She casted her vote in the 2019 Lok Sabha elections, even at the fragile age of 99.
After the Narendra Modi-led BJP's massive win in the 2019 Lok Sabha Elections, Heeraben greeted media outside her home.
In 2014, former Prime Minister of Pakistan, Nawaz Sharif, sent Heeraben a 'saree' as a gift. The saree was a return gift for the 'shawl' that Narendra Modi had given to Nawaz Sharif's mother.
During the 2019 Lok Sabha elections, a photoshopped photo went viral on social media in which Heeraben was seen holding a placard that read, "Kya ap mere bete Narendra ko 2019 me vote denge? (would you give the vote to my son, Narendra, in 2019?)." The picture had been photoshopped from the photograph in which she was holding the gifted saree sent by the former Prime Minister of Pakistan, Nawaz Sharif.