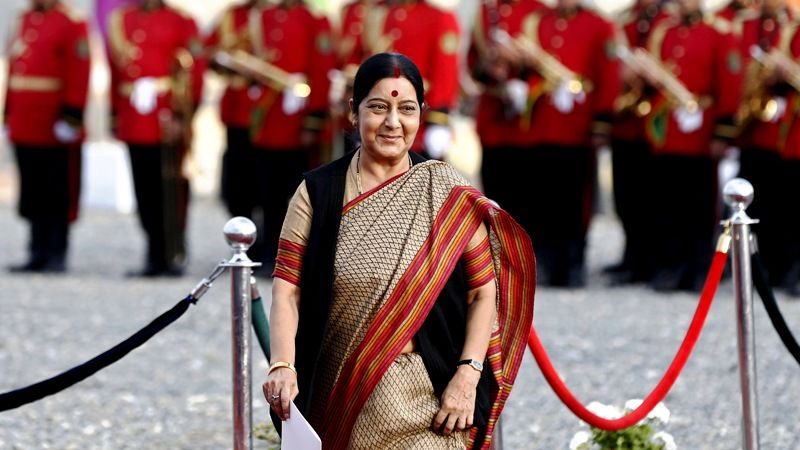 Sushma Swaraj was a prominent Indian politician and a Supreme Court Lawyer. She had served many important positions in her political career and was the former Minister of External Affairs in the Narendra Modi Government.
Wiki/Biography
Sushma Swaraj was born on Thursday, 14 February 1952 (age 67; at the time of death) in Ambala Cantonment, Haryana.
Her zodiac sign is Aquarius. She received her primary education from a local school in Ambala Cantt, Haryana. In 1966, she pursued B.A. with majors in Political Science and Sanskrit from the Sanatan Dharma (S.D.) College in Ambala Cantonment, Haryana. She had received the "Best Student" Award from S.D. College in 1970. After that, she pursued a Bachelor of Laws from Punjab University, Chandigarh.
She started practicing law in the Supreme Court of India in 1973. She was in the legal team of George Fernandes in 1975. Sushma Swaraj was involved in politics since 1970. She was a very good orator and had won the "Best Hindi Speaker" Award in a state-level competition, held by the Haryana Language Department, for 3 consecutive years.
Physical Appearance
Height (approx.): 5′ 2″
Weight (approx.): 60 kg
Eye Colour: Black
Hair Colour: Black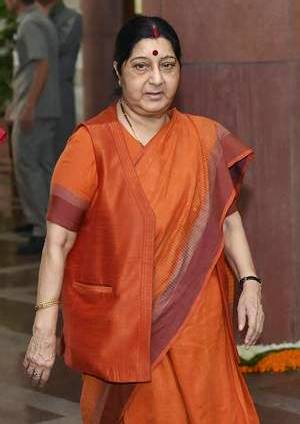 Family, Caste & Husband
Sushma Swaraj belongs to a Brahmin Family. Her father, Hardev Sharma, was an eminent member of the Rashtriya Swayamsevak Sangh (RSS). Her mother, Laxmi Devi, was a homemaker. Her parents were from the Dharampura area of Lahore, Pakistan. Her sister, Vandana Sharma, is a politician and an associate professor in a girls' Government College in Haryana. Her brother, Dr Gulshan Sharma, is an Ayurveda doctor in Ambala.
In 1975, while she was working in George Fernandes' legal team, she met Swaraj Kaushal, a senior advocate of the Supreme Court of India and a politician. They fell in love and got married on 13 July 1975. They have a daughter, Bansuri Swaraj, who is a criminal lawyer, and she practices in the Delhi High Court and the Supreme Court of India.
Career
Sushma Swaraj has been associated with politics since 1970. During her college days, she joined the Akhil Bharatiya Vidyarthi Parishad (ABVP), the student wing of the RSS. During the Emergency period of 1975-1977, Sushma was included in the legal team of George Fernandes. It led her to be actively involved in politics. She became a part of Jayaprakash Narayan's Total Revolution Movement. She organized many protests against the Indira Gandhi Government.
After the Emergency ended, Swaraj joined the Bharatiya Janata Party (BJP). In 1977, she was elected as an MLA in the Haryana Legislative Assembly from the Ambala Cantt Assembly seat. In July 1977, she was appointed as a Cabinet Minister in the Janata Party Government, headed by CM Devi Lal. Swaraj became the youngest Cabinet Minister of an Indian state, at the age of 25. In 1979, she was appointed as the state president of the Janata Party in Haryana.
In 1987, she was appointed as the Education Minister of Haryana in the BJP-Lokdal Coalition Government and served from 1987 to 1990. In April 1990, she was elected as a Rajya Sabha member. In the 1996 Lok Sabha Elections, Swaraj was elected to the Lok Sabha from the South Delhi Constituency. She was appointed as the Union Minister of Information and Broadcasting in the Atal Bihari Vajpayee Government, but, only for 13 days.
In March 1998, she was elected to the 12th Lok Sabha from the South Delhi Constituency. She was appointed as the Union Minister of Information and Broadcasting, with the additional charge of the Ministry of Telecommunications. She served from 19 March 1998 to 12 October 1998. During her tenure, she declared film production as an industry. It was a crucial decision, as, after this, media houses were allowed to take loans from banks; which wasn't possible earlier. Films were originally funded and controlled by the underworld, but, after this decision, the film industry was released from the underworld's grasp. In October 1998, she resigned from her seat and was appointed as the first female Chief Minister of Delhi.
The BJP lost the 1999 Delhi Assembly Elections, and her tenure as the CM ended. In September 1999, the BJP announced her name as the Lok Sabha candidate to contest against Sonia Gandhi from the Bellary Constituency of Karnataka. She only campaigned for 12 days, but, she secured 3,58,000 votes and lost only by a 7% margin. After her loss, she returned to the parliament in April 2000 as a Rajya Sabha member from Uttar Pradesh. Later, in November 2000, she was reallocated as an MP from Uttarakhand; after the new state was formed.
In September 2000, she was inducted in the Cabinet as the Minister of Information and Broadcasting; a position which she held till January 2003. In January 2003, she was appointed as the Minister of Health, Family Welfare, and Parliamentary Affairs. As the Minister of Health, she set up 6 new All India Institutes of Medical Sciences (AIIMS) in Bhopal, Jodhpur, Rishikesh, Patna, Bhubaneshwar, and Raipur. She served till May 2004, after which the BJP was out of power. In 2006, she was elected to the Rajya Sabha from Madhya Pradesh. She was appointed as the Deputy Leader of Opposition in Rajya Sabha. In 2009, she contested the General Elections and won from the Vidisha Constituency of Madhya Pradesh. It was a big win; as she had the highest winning margin of over 4 Lac votes. She was appointed as the Leader of Opposition in the Lok Sabha.
In May 2014, the BJP came to power and Sushma Swaraj was appointed as the Minister of External Affairs in the Narendra Modi Cabinet. She is the first woman to be a full-time Minister of External Affairs and the second woman to be appointed as the Minister of External Affairs after Indira Gandhi. She was responsible for implementing Narendra Modi's foreign policy. Reportedly, she is considered as one of the most successful MEA. She is remembered for her quick responses on Twitter to help stranded Indians in foreign countries, her foreign policy, and the way she represented India as a strong and powerful nation. She served as the MEA till May 2019, but, she did not contest the 2019 General Elections; as she was recovering from a kidney transplant.
Controversies
In June 2015, Sushma Swaraj was criticized when she admitted to helping Lalit Modi by giving him approval for a visa on humanitarian grounds. Lalit was staying in London, and he had applied to go to Portugal; for the treatment of his wife, Minal Modi. Britain sent an application to India, enquiring whether they should clear his visa. Sushma Swaraj, being the MEA, approved his documents on humanitarian grounds.
She was criticized for losing her cool on Twitter in May 2015. She replied angrily to a tweet from a user, who claimed that she did favours to get her daughter admitted to a medical college. She replied that her daughter was a lawyer and not in the medical profession.
In October 2014, she was criticized by the TMC and the Congress, when she expressed her request to announce Bhagwad Gita as the national scripture of India.
In 2011, she was heavily criticized, when videos of her dancing at the Mahatma Gandhi memorial during a protest at Rajghat came to light. Swaraj defended herself by saying that she was dancing to patriotic songs; to boost the morale of the protestors.
Awards & Honours
She was presented with the Best Speaker Award in the Haryana State Assembly.
In 2004, she became the first and the only female MP to receive the Outstanding Parliamentarian Award.
On 24 July 2017, The Wall Street Journal (US-based daily newspaper) termed Sushma Swaraj as India's best-loved politician.
On 19 February 2019, she received the "Grand Cross of Order of Civil Merit" honour by the Spanish Government in recognition of India's support in the evacuation of 71 Spanish citizens after the Nepal earthquake of 2015.
On 8 November 2021, she was conferred the Padma Vibhushan award- 2020 posthumously by President Ram Nath Kovind at Rashtrapati Bhawan; the award was received by her daughter Bansuri Swaraj.
President Kovind presents Padma Vibhushan to Smt Sushma Swaraj (Posthumous) for Public Affairs. A visionary leader, deeply rooted in Indian traditions, Smt Swaraj embodied the empowerment of women and was a woman of many firsts. pic.twitter.com/hP8aRpBSGu

— President of India (@rashtrapatibhvn) November 8, 2021
Death
On 6 August 2019, Sushma Swaraj suffered a cardiac arrest when she was at her residence in New Delhi. She was rushed to the AIIMS at 09:30 PM to the emergency ward. Doctors attended to her, but, they could not revive her. A senior doctor of AIIMS said- she took her last breath at 10:50 PM. Several political leaders rushed to AIIMS New Delhi after hearing the news. Her mortal remains were brought to her residence in New Delhi on 7 August 2019 in the morning.
Several ministers including the President of India Ram Nath Kovind, Narendra Modi, Smriti Irani, and many more visited her home to pay their last respects to her. Her body will be kept at her house till noon, and then, it will be shifted to the BJP headquarters for BJP members and other politicians to pay their last respects. Her body was draped with the BJP flag and the Indian flag. Her funeral and last rites took place in the Lodhi Crematorium at 3 PM on 7 August 2019 with full state honours.
Major Achievements
In 1977, at the age of 25, she became the youngest person ever to become a Cabinet Minister in India.
In 1979, at the age of 27, she became the youngest person ever to become the state president of a national political party.
She was the first-ever woman spokesperson of a national-level political party (BJP).
She was the first woman Chief Minister of Delhi.
She was the first woman Leader of Opposition.
Address
C-7, Civil Lines, Professor's Colony, Bhopal
Assets & Properties
Cash: 33,285 INR
Bank Deposits: 1.01 Crores INR
Jewellery: 987 gm gold & 5500 gm silver worth 24.45 Lacs INR
Agricultural Land: worth 93 Lacs INR in Palwal, Haryana
Residential Building: Flat worth 1.80 Crores INR in New Delhi
Net Worth
17.55 Crores INR (as in 2014)
Facts
During her tenure as the Minister of External Affairs, she was known for her Twitter presence. She was also very witty and humourous with her replies. In 2017, a user tweeted- "@SushmaSwaraj😎 I am stuck on mars, food sent via 🇮🇳Mangalyaan (987 days ago), is running out, when is 🇮🇳Mangalyaan-II being sent? @isro". She replied to him saying-
Even if you are stuck on the Mars, Indian Embassy there will help you. https://t.co/Smg1oXKZXD

— Sushma Swaraj (@SushmaSwaraj) June 8, 2017
Her hobbies included performing fine arts, writing poetry, and singing cultural music.
She was an excellent student. Her family and teachers often praise her for her excellent memory.
She was the best National Cadet Corps (NCC) cadet during her school days for 3 years in a row.
Her speech at the 2018 UN General Assembly was widely praised.
Her husband, Swaraj Kaushal, has served as the Governor of Mizoram from 1990 to 1993. He has also been the youngest ever Advocate General of India, at the age of 34.
She was the most followed woman politician in the world with 13.2 million followers.