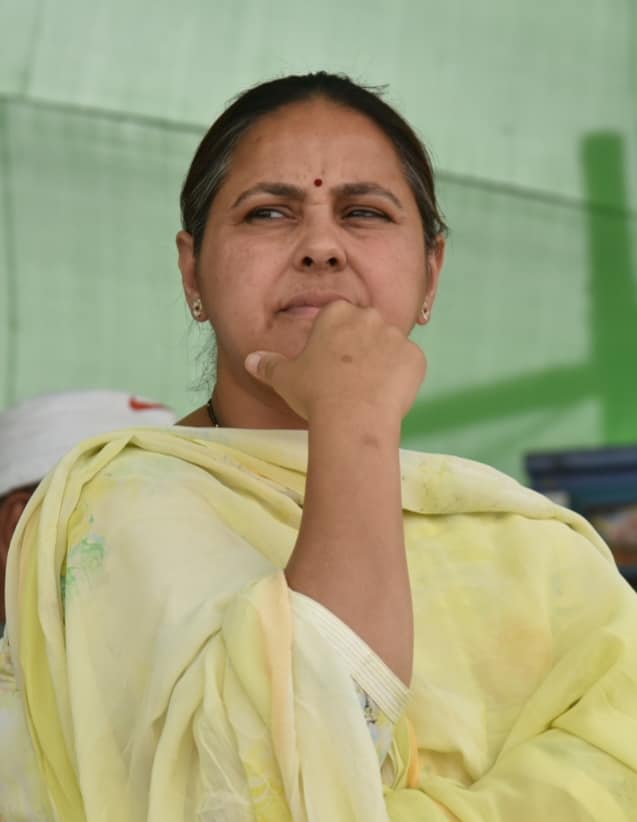 Misa Bharti is an Indian Politician and the eldest child of Indian politicians, Lalu Prasad Yadav and Rabri Devi. She is a member of Rajya Sabha since 2016.
Wiki/Biography
Misa Bharti was born in 1976 (age 47 years; as of 2023) in Patna, Bihar. She did an MBBS degree from Patna Medical College Hospital (PMCH) in 2000 and emerged as a topper in her MBBS exams with distinction marks gynaecology and ENT. Even after topping the MBBS exams, Misa did not pursue the medical profession, rather she chose to step into her father's shoes and enter politics in 2014.
Physical Appearance
Height: 5′ 5″
Hair Colour: Black
Eye Colour: Black
Family & Caste
Misa Bharti was born into a Shudra family. [1]KanchaIlaiah.com
Parents & Siblings
Misa Bharti is the eldest child of Lalu Yadav and Rabri Yadav. Both of her parents have served as the CM of Bihar for almost 15 years. She has eight siblings: two brothers; Tejashwi Yadav (politician) and Tej Pratap Yadav (politician), and six sisters; Rohini Acharya, Chanda Singh, Ragini Yadav, Hema Yadav, Anushka Rao, and Raj Laxmi.
Husband & Children
Misa's father, Lalu Yadav, arranged Misa's marriage with Shailesh Kumar, a computer engineer of the same caste as the Lalu Yadav family. She tied the nuptial knot with Shailesh Kumar on 10 December 1999.
The couple together has three children – Durga (daughter), Gauri (daughter), and a son (born in 2016) whose name has not been made public.
Political Career
Although a medical graduate, Misa was always interested in politics due to the obvious reasons of having been born into an influential political family. Eventually, she embarked on her political career in 2014 by unsuccessfully contesting the 2014 Lok Sabha Election from Pataliputra Lok Sabha constituency.
She lost the electorate to a former RJD's loyalist Ram Kripal Yadav, who had joined the BJP after the RJD had fielded Misa as their contestant from Pataliputra instead of Kripal. Misa cited lack of preparation as the reason for her thumping defeat. In July 2016, Misa Bharti was elected as a member of Rajya Sabha and also as the leader of RJD in the Rajya Sabha. In 2016, she appointed as a member of the Committee on Food, Consumer Affairs and Public Distribution. In 2017, she was appointed as the Member of the Consultative Committee for the Ministry of External Affairs. After her unsuccessful attempt in 2014 general elections from Patliputra, she made another attempt in 2019 general elections from the same seat.
Her opponent was still the same, the RJD rebel, Ram Kripal Yadav. This time again, she lost the electorate, with a margin of 38,000 votes.
Controversies
On 7 March 2015, Misa Bharti posted a picture on her Facebook page which showed her standing at a podium, apparently addressing an audience, with a fictitious caption, "Harvard Vishwavidyalaya mein yuvaaon ki bhagidari ko lekar vyakhyaan dete hue" (Giving a speech on the role of youth at Harvard University)." A number of newspapers in Bihar also published the news. As the story broke out, an official of Harvard University rubbished her claims by stating that "Misa Bharti was invited as part of the audience and not as a speaker of any panel at the India Conference at Harvard." Seeing this, Misa also retracted from her claim and said that she never affirmed that she was invited to the conference as a speaker; however, she had personally shared her views with the delegates after the conference ended.
In September 2018, Enforcement Directorate (ED) attached a farmhouse owned by Misa Bharti and husband Shailesh Kumar in Delhi's Bijwasan area with a money laundering case. Later, in 2019, the Prevention of Money Laundering Act (PMLA) appellate tribunal quashed the attachment of the farmhouse. [2]

The Times of India
In January 2019, Misa Bharti, while addressing a political gathering, made a controversial remark against RJD loyalist-turned-rival, Ram Kripal Yadav, when she said "


We had a huge regard for him (Ram Kripal Yadav). However, that stopped when he went and joined hands with BJP's Sushil Kumar Modi… He used to cut the chaff. At that time I felt like cutting his hands with the same chaff-cutting machine."
In 2019, her brother Tej Pratap's ex-wife, Aishwarya Rai, accused her of being the reason behind the failure of her marriage.
On 27 February 2023, a Delhi court summoned Misa Bharti, her parents Rabri Devi and Lalu Yadav, and others in connection with a case related to the alleged land-for-job scam to appear before the court. The CBI, in its charge sheet, alleged that during Prasad's tenure as railways minister between 2004 and 2009, his family was allegedly compensated with land parcels. On 15 March 2023, Lalu Yadav, Rabri Devi, and Misa Bharti were granted bail by the court on a personal bond of ₹50,000 and one surety of like amount each. [3]

The Hindu
Net Worth
As per the affidavit filed by Misa Bharti to the election commission of Indian in 2019, she has a net worth of INR 7.56 crores. [4]My Neta
Facts/Trivia
Misa was named after the controversial Maintenance of Internal Security Act (MISA) under which her father, Lalu Yadav, was imprisoned during the emergency. Lalu Yadav himself chose this name for her first daughter after he came out of prison.
In 1993, Misa failed at the entrance exam for MGM Medical College, Jamshedpur; however, her Chief Minister father helped her to get the admission under TISCO quota. [5]

Rediff.com
Misa's wedding was so lavish that it attracted an Income Tax inquiry against her parents pertaining to the extravagant expenses on the wedding functions. [6]

The Times of India
Misa willingly married Shailesh Kumar without even meeting him once. Talking about it in an interview, she said,


I blindly trusted my parents' choice, I only saw Shailesh's photograph before marrying him. The first time I met him was at my wedding day on stage. Shailesh and his family have been very supportive, I never had to choose between bringing up my kids and politics."
Despite having topped in her MBBS exams, Misa did not pursue a career in the medical profession. Talking about the conditions which refrained her from taking up the medical profession, she said,


I could not practise because immediately after clearing my MBBS exam, I got married. It was not possible for me to continue with my medical profession with all the family responsibilities on my shoulder."

Along with being the eldest child of Lalu Yadav, Misa was also his first heir to enter politics as she contested the 2014 general elections.
According to Misa, she is an avid reader, a film buff, and also a great cook.