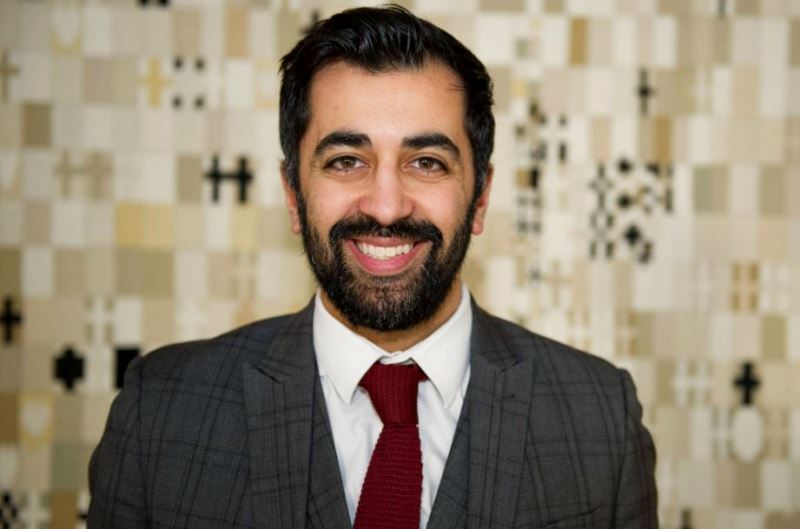 Humza Yousaf is a Scottish politician and a member of the Scottish National Party who became the First Minister of Scotland on 29 March 2023. Yousaf became the first Muslim to be appointed as a minister to the Scottish Government in 2012. He was appointed as the Leader of the Scottish National Party on 27 March 2023. He served as justice secretary under his predecessor Nicola Sturgeon from 2018 to 2021 and as health secretary from 2021 to 2023. He was elected as a Member of the Scottish Parliament (MSP) from the Glasgow Pollok constituency in 2016 and 2021. Previously, he served as the regional MSP for Glasgow (2011-2016).
Wiki/Biography
Humza Haroon Yousaf was born on Sunday, 7 April 1985 (age 38 years; as of 2023) in Glasgow, Scotland. His zodiac sign is Aries. He attended Mearns Primary School in East Renfrewshire, a white Scottish-dominated school, where he was one of the only two ethnic-minority pupils in the class. While talking about the same in an interview, he said,
I'm Scottish born, bred, raised. My primary school was 95 per cent white Scottish, there was only me and one other brown face, and so I don't know what it is or why it is but I remember almost just literally waking up one day and wanting to ask my mum and dad why we were here, what was the background like, what was life in Pakistan like, what was life like as an immigrant?"
Yousaf has shown interest in public service since his formative years. He would raise funds for various charities including the non-governmental organisation Islamic Relief UK, where he served as a media spokesperson. He also volunteered for community radio for 12 years and on a project providing food packages to homeless people and asylum seekers in Glasgow. He was 16 when the 9/11 attack happened. Yousaf precisely remembers the event as the "day that changed the world and for him." In the aftermath of the event, his classmates would approach him and ask "Why do Muslims hate America?" Born to first-generation immigrants, Yousaf studied politics at the University of Glasgow. At the university, Yousaf was well known in the student politics circle and also served as the President of the Glasgow University Muslim Students Association. He graduated with a Master of Arts in 2007. [1]The Indian Express
Physical Appearance
Height (approx.): 6′ 1″
Hair Colour: Black
Eye Colour: Dark Brown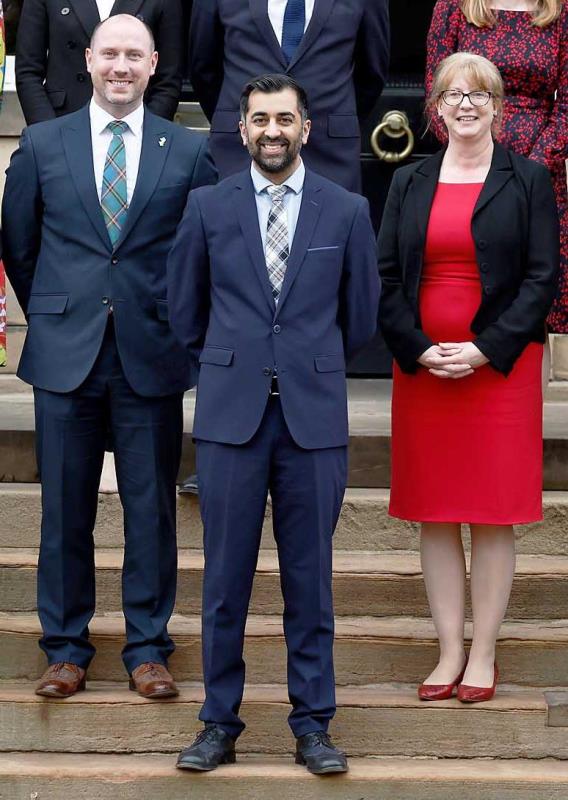 Family & Caste
Parents & Siblings
Yousaf belongs to a Muslim Pakistani Rajput family. [2]Humza Yousaf – Twitter [3]The Indian Express His father, Mian Muzaffar Yousaf, was born in Mian Channu, Punjab, Pakistan and emigrated to Scotland with his family in the 1960s. He worked as an accountant. His mother, Shaaista Bhutta, is of South Asian descent, and she emigrated to Scotland from Kenya. [4]The Indian Express Some media houses report that Shaaista Bhutta has a Punjabi descent. [5]The Nation He has two sisters, Faiza Yousaf and Safa Yousaf.
Wife & Children
In July 2010, he got married to Gail Lythgoe, a former SNP worker; they separated in 2016.
In 2019, he got married to Nadia El-Nakla, a Scottish psychotherapist and political activist. A member of the SNP, she took up the role of Councillor of Dundee City Council for West End Ward 3 on 5 May 2022. Humza Yousaf and Nadia El-Nakla have a daughter named Amal together. El-Nakla was previously married to an IT expert named Fariad Umar, and they had one daughter together.
Others
His paternal grandfather, Muhammad Yousaf, worked in the Singer sewing machine factory in Clydebank after he brought his family to the UK from Pakistan in the 1960s.
Religion
He follows Islam. [6]The Indian Express
Signature/Autograph
Career
Joining SNP and Early Career
Humza's father was the first non-white member of the Scottish National Party (SNP) joining in 1979. Humza followed his father's footsteps and joined SNP in 2005 while studying at Glasgow University. A strong proponent of Scottish independence, Yousaf joined the SNP inspired by the speeches of then-party leader Alex Salmond and anti-war activist Rose Gentle. Alex and Rose spoke out against the Iraq War, convincing the masses that independence was the only way for Scotland to avoid going to war. In 2006, Yousaf was employed at an O2 call centre. After that, Yousaf started campaigning for the SNP extensively, including the third general election (2007) in which the SNP government was elected for the first time in Scotland. Consequently, Yousaf secured his first job at the Scottish Parliament in 2007 as a parliamentary assistant to MSP Bashir Ahmad. He served as an aide to Ahmad until his death two years later. Then, Yousaf worked as a parliamentary assistant for a few other MSPs including Anne McLaughlin, Nicola Sturgeon and Alex Salmond, who was then First Minister. He worked in the SNP's headquarters as a communications officer before his election to the Scottish Parliament. In 2011, Yousaf was elected to the Scottish Parliament as an additional member for the Glasgow electoral region.
Thereafter, he served on the SNP's backbenches and was also a member of the parliament's justice and public audit committees. Yousaf was appointed as a Parliamentary Liaison Officer to the Office of the First Minister on 25 May 2011, and he held this position until 4 September 2012.
Junior Ministerial Career
In 2012, Yousaf became the first Scottish Asian and Muslim to be appointed as a minister to the Scottish Government. The then-First Minister, Alex Salmond, picked him to be the Minister for External Affairs and International Development. In this role, he looked after matters related to foreign affairs, fair trade policy, and the diaspora. Yousaf continued to serve as a junior minister when Nicola Sturgeon became the First Minister. In 2014, Yousaf supported Nicola Sturgeon's successful leadership bid, following the resignation of Alex Salmond as the first minister and leader of the SNP. While Sturgeon was sworn in as the first minister, Yousaf was appointed as the Minister for Europe and International Development. He was elected MSP from Glasgow Pollok in the 2016 Scottish Parliament elections.
He was appointed as Minister for Transport and the Islands on 18 May 2016 in Sturgeon's second ministry.
Cabinet Secretary for Justice
In 2018, Yousaf was promoted to the cabinet as justice secretary after the cabinet reshuffle of Sturgeon's second ministry. One of the most significant controversies surrounding Humza Yousaf during his tenure as Cabinet Secretary for Justice was his proposed hate crime legislation. The Hate Crime and Public Order (Scotland) Bill aimed to modernize and expand hate crime laws in Scotland. Critics argued that the bill's provisions on "stirring up hatred" were overly broad and could stifle free speech. Yousaf faced criticism from some quarters for not adequately addressing these concerns.
Cabinet Secretary for Health and Social Care
After the 2021 Scottish Parliament election, Yousaf was re-elected as the MSP for the Glasgow Pollok constituency. While Sturgeon formed a third administration, Yousaf was appointed as the Cabinet Secretary for Health and Social Care during the later phase of the COVID-19 pandemic. He was responsible for the NHS's recovery and overseeing the mass roll-out of the vaccination programme.
He came under public scrutiny when WHO concluded that six out of Europe's ten virus hotspots were in Scotland. SNP was accused of being 'missing in action' amid the Covid surge and Yousaf was criticised for going on a holiday trip. He defended his holiday by saying that he had promised to take his stepdaughter on a trip to Harry Potter studios. He tweeted,
Most important job I have is being a good father, step-father & husband to my wife and kids. In the last seven months they've had virtually no time from me."
National Health Service
In September 2021, the time people had to wait for an ambulance in Scotland went up a lot. It took about six hours on average. Yousaf told the public to be careful before calling 999 for an ambulance. He asked the citizens to really think if they needed it. The remark produced a wave of outrage from opposition politicians with Scottish Conservative health spokesman Dr Sandesh Gulhane criticising the remark as "reckless messaging [that] could put lives at risk." Because of reports that elderly people were dying while waiting for an ambulance, Yousaf asked the Ministry of Defence for help. Soldiers from the British Army were sent to drive ambulances. An official review by Audit Scotland in 2021 found that 500 people in Scotland died because they couldn't get emergency treatment.
2023 SNP Leadership Election and First Minister of Scotland
On 15 February 2023, Nicola Sturgeon stepped down as the leader of the Scottish National Party and as the First Minister of Scotland. Consequently, Yousaf declared his candidacy for leader on 18 February during an interview with the Sunday Mail. In his campaign, Yousaf actively supported the Gender Recognition Reform (Scotland) Bill, while his opponents Kate Forbes and Ash Regan opposed it. Yousaf emerged as the winner in the 2023 SNP leadership election on 27 March 2023. In the final stage, he secured 52% of the vote, defeating Kate Forbes, who received 48%. On 29 March 2023, Yousaf was sworn in as the First Minister of Scotland, becoming the youngest person and the first Scottish Asian and Muslim to hold the office since it was created in 1999.
Facts/Trivia
During an interview, he shared that his mother's family faced racially motivated attacks because they were seen as taking jobs that "belonged" to Africans. As a result, they later moved to Scotland. Talking about the same he said,


My grandfather was a train conductor, so he was seen as taking that job away from a black African, a black Kenyan, so life became very difficult…My family was attacked a few times and there was one in particular when my maternal grandmother was attacked with an axe in the back. She survived and so on but that was the last straw for my grandfather, it was time to get away and again, it made sense because there was a British call for people from the Commonwealth to come and take on industrial jobs."

In 2008, while serving as an aide, Yousaf participated in the International Visitor Leadership Program, a professional exchange program administered by the United States Department of State. He received the "Future Force of Politics" accolade at the 2009 Young Scottish Minority Ethnic Awards, which was bestowed upon him at Glasgow City Chambers.
In 2011, when being sworn in as MSP, he took his oath in English and then in Urdu, highlighting his Scottish-Pakistani identity. He modelled a traditional sherwani which was decorated with a Partick Thistle tartan touch with plaid draped over his shoulder. In 2016, after winning his second term as an MSP, Yousef delivered his oath of allegiance in Urdu while wearing a kilt.
.@HumzaYousaf just gave his swearing in oath in Urdu. Look how great it sounds: pic.twitter.com/mvPqRucslx

— Siraj Datoo (@dats) May 12, 2016
He has progressive views on gender and was a strong proponent of the Marriage and Civil Partnership (Scotland) Act 2014 which legalised same-sex marriage. He is a strong supporter of Sturgeon's Gender Recognition (Reform) Bill, which will allow trans persons to self-identify.
In November 2016, Yousaf got in trouble with the law. He had to pay £300 as a fine and had six points added to his driving license because he was caught driving a friend's car without insurance. This happened when he was on his way to a St. Andrew's Night dinner in Ullapool. The police stopped him for a regular check on the A835 road near Dingwall. Yousaf took responsibility of the error, and said,


I totally accept the decision. I paid the fine and told my insurers about the points. This was an honest mistake, and the result of my personal circumstances during my separation."

He became a member of His Majesty's Most Honourable Privy Council on 17 May 2023, at Buckingham Palace. This granted him the lifelong honorific prefix of "The Right Honourable."
During an interview in 2020, Yousaf and Nadia shared their experience of multiple miscarriages in three years.
He and his second wife filed a discrimination complaint against a children's nursery in Dundee in 2021 because they didn't accept their daughter. The Care Inspectorate looked into the complaint and said that the nursery didn't treat everyone fairly, equally, and respectfully when it came to admitting kids. However, the legal action was subsequently terminated by Yousaf and Nadia.