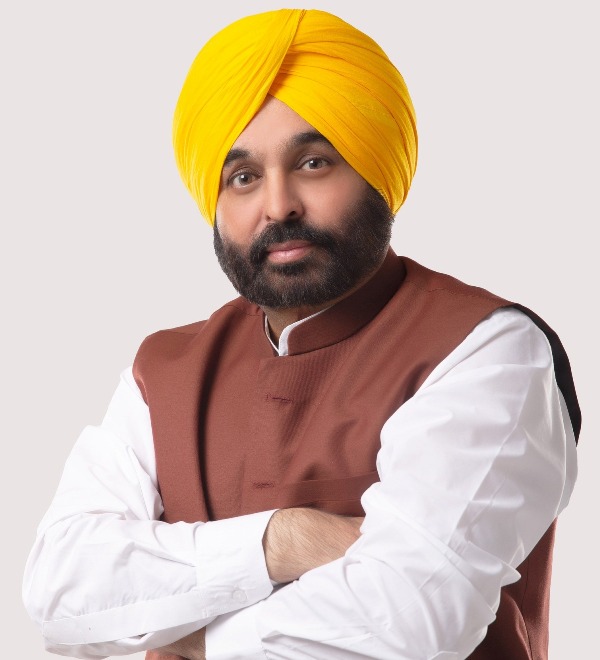 Bhagwant Mann is an Indian comedian, actor, and politician. As a comedian, he rose to prominence with the Punjabi satire comedy audio and video albums like Kulfi Garma Garam (1993) and Sawdhan! Agge Bhagwant Mann (2003). After ceasing his alliance with the People's Party of Punjab (PPP), in March 2014, Mann joined the Aam Aadmi Party (AAP) and became a member of parliament from the Sangrur Lok Sabha constituency of Punjab. As the chief ministerial candidate of AAP, he won the 2022 Punjab Legislative Assembly elections. On 16 March 2022, Mann took the oath as the 17th Chief Minister of Punjab.
Wiki/Biography
Bhagwant Mann was born on Wednesday, 17 October 1973 (age 48 years; as of 2021) in Satoj, Sangrur, Punjab. His zodiac sign is Libra. He completed his schooling at three schools. Until the sixth standard, he studied in a school in Satoj. In seventh class, he joined a school in the village of Tolawal, Sangrur, where his father worked as a teacher. From 9 to 12 standard, he attended a school in the village of Cheema, Sangrur. A notorious kid since childhood, Mann grew up mimicking his friends, teachers, RJs, and the sounds of a tractor for amusement. Growing up, he loved listening to the radio, especially the RJs Hari Sandhu, Devki Nandan Pandey, Indu Bahi, Tirath Singh Dhillon, and Raman Kumar. During Mann's childhood, his political junkie father used to assign Mann the task of keeping him updated with the elections, whether national or international, by listening to the radio. The radio shows developed his interest in both music and politics, meanwhile providing him with abundant content, which he later performed in his standups. In 1991, he pursued a Bachelor of Commerce at Shaheed Udham Singh Government College, Sunam, Sangrur. [1]Lok Sabha Member Profile Mann spent his college days participating in youth festivals and playing volleyball. Punjabi actor, comedian, and singer Karamjit Anmol was Mann's batchmate during his college days. Mann garnered immense appreciation participating in inter-college and inter-zonal competitions in poetry, mono acting, and histrionics. During one of these festivals, he was discovered by an audio cassette record label, which kickstarted his journey as a comedian. He left his graduation in the second year as his career took off. [2]The Wire
Physical Appearance
Height (approx.): 5′ 8″
Hair Colour: Black
Eye Colour: Black
Family
Parents & Siblings
His father, Mohinder Singh, worked as a political science teacher in a government school; he died in 2011 due to alcoholism. [3]The Print His mother's name is Harpal Kaur.
His sister, Manpreet Kaur, works as a Punjabi teacher in Budha Dal Public School, Patiala, Punjab. When Mann was seven, his younger brother, who was five years old at that time, died due to stomach cancer.
Wife & Children
Bhagwant Mann was married to Inderpreet Kaur. Together, they have a son named Dilshan Mann and a daughter named Seerat Kaur Mann.
In March 2015, Bhagwant Mann and Inderpreet Kaur filed an application for divorce in a SAS Nagar court. People were awestruck as they seemed like a happily married couple in public. Inderpreet had active participation in Mann's political journey. She used to accompany Mann to political rallies during his People's Party of Punjab (PPP) days. Later, during the 2014 Lok Sabha elections, Inderpreet delivered speeches in APP's favour in the villages of Sangrur to help Mann win.
Later, the AAP MP from Sangrur publicly claimed that his divorce case wasn't a personal matter and that he chose Punjab over his family. Known for using poetry in his political campaigns, Mann posted a poem on his Facebook Account to express his sentiments about the divorce, which read,
Jo latkeya si chiran ton o hal ho geya,
Court ch eh faisla kal ho geya,
Ek passay parivar, dujje passay si parivar,
Main tan yarro Punjab de wal ho geya."

(A long-pending issue has been resolved. The court decided yesterday. I had to choose between one family and the other. I decided to go with Punjab.)
Many believed that Mann was trying to get political mileage out of his divorce case. However, the divorce application was filed under Section 13-B of the Hindu Marriage Act, the decree of divorce by mutual consent, as Inderpreet wasn't in favour of Mann pursuing a political career. Thereafter, the children relocated to Auburn, Washington, with their mother, meanwhile, Mann juggled his time between Delhi and Mohali in India. On 7 July 2022, he got married to Indian doctor Dr Gurpreet Kaur in a private ceremony in Chandigarh.
Caste
Bhagwant Mann was born into a Jatt Sikh family. [4]The Indian Express
Address
Permanent Address
34, Dream Land Colony, Patiala Road,
Sangrur-148001, Punjab
Present Address
33, Duplex MP's Flats, North Avenue,
New Delhi-110001
Career
Audio & Video Cassette Albums
Before the release of his cassette, music producer Jarnail Ghuman of DMC Records took Mann to Ludhiana and instructed him to accompany Punjabi folk singers Muhammad Sadiq and Ranjit Kaur to their stage shows. After attending college during the weekdays, Mann accompanied the singers to their shows during the weekends. Mann gained valuable experience watching the folk singers perform and interact with the audience. He ventured into the comedy business during his second year of college in 1992. His first album titled 'Gobhi Diye Kachiye Vaparne,' a spoof on inflation and political corruption, was released on 16 May 1992.
In an interview, Mann shared that while travelling to college via buses, on numerous occasions he came across his audio albums being played by the bus drivers, but as people were familiar only with his voice and not his face, nobody recognized him. He came into the limelight with his album 'Kulfi Garma Garam' (1993), which introduced the Punjabi audience to a new comedy genre called parody.
Besides being amusing, Mann's albums were also educational. In his albums, Mann satirically presented the ongoing political and social scenarios by focusing on Indian and regional issues by imitating politicians, policemen, businessmen, sportspersons, etc. Thereafter, Mann released numerous satirical albums like Mithian Mirchan (1996), Dhakka Start (1996), Sadi Billi Sanu Miaun (1998), and Lallu Kare Kawaliyan (1999).
Later, Mann started releasing video cassettes featuring comedy skits like Bhagwant Mann Non-Stop (2001), Sawdhan! Agge Bhagwant Mann (2003), and Just Laugh Baki Maaf (2009).
In 2003, Mann extensively toured Canada and England with his comedy play, No Life With Wife, along with Punjabi comedians Tejinder Thind, Binnu Dhillon, Rana Ranbir, Simranpreet, and Anita.
Television
At the beginning of his career, Mann released abundant comedy content in collaboration with the Punjabi comedian Jagtar Jaggi. Together, they appeared on popular comedy skit TV shows 'Jugnu Kehnda Hai' for Alpha ETC Punjabi and 'Jugnu Haazir Hai' for MH One Music, which made them a household name.
Besides Jagtar Jaggi, Mann also shared the screen with the Punjabi actors Binnu Dhillon and Karamjit Anmol for 'Jugnu Haazir Hai.'
In addition to Jagtar Jaggi, Mann collaborated with Punjabi actor Rana Ranbir for the weekly TV show 'Jugnu Mast Mast,' telecast on Alpha ETC Punjabi. In 2008, he appeared as a contestant in the Indian reality stand-up comedy series 'The Great Indian Laughter Challenge,' which aired on StarPlus. On the show, the contestants were judged by the former cricketer, politician, and television personality Navjot Singh Sidhu.
Later, he also appeared as a contestant of Sony SAB's 'Comedy Ka King Kaun,' featuring Punjabi comedian Jaspal Bhatti and Indian actress Divya Dutta.
Music
Mann is also a proficient singer-songwriter who voiced the album Jattan Da Munda Gaoun Lagiya (2000). Initially, Mann wanted to pursue a career in singing only, but singing remained a part of his creative journey, and he gained popularity through his satirical comedy. Other music albums released by him include Dam Lai Lo (2001) and Aawaaz – The Voice (2010).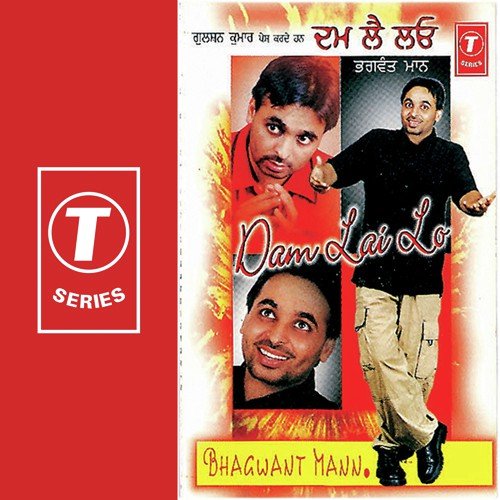 Film
In 1993, he made his acting debut with the Punjabi drama film 'Tabahi' in which he played the comic role of Ludna.
Thereafter, he appeared in numerous Punjabi films like Kachehari (1994), Nain Preeto De (1995), and Main Maa Punjab Dee (1998). He appeared as a protagonist in the 2015 Punjabi political comedy film '22g Tussi Ghaint Ho' in which he played the role of a politician named Boota.
Politics
Bhagwant Mann's satirical presentation on social issues led him to become a people person. The fan mails which he received read various issues that people were facing in different regions of Punjab. Apparently, people wanted to bring the government's attention to those issues via Mann's comedy. Soon, he became a medium for people to approach the government. Until 2011, when Mann wasn't even associated with any party, he was still aware of politics and took part in numerous protests alongside Balbir Singh Rajewal, a farmer activist who gained popularity after his active participation in the 2020 Indian farmers' protest.
People's Party of Punjab (PPP)
After his 18-year-long career in the Punjabi entertainment industry, Bhagwant Mann ventured into politics in 2011. He joined the People's Party of Punjab (PPP), founded by Indian politician Manpreet Singh Badal in March 2011; Manpreet Singh Badal is the nephew of former CM of Punjab Parkash Singh Badal from Shiromani Akali Dal (SAD). Mann contested and lost the 2012 Punjab Legislative Assembly election from the Lehra Assembly Constituency on PPP's ticket. Thereafter, he parted ways with the party. In 2016, PPP merged with the Indian National Congress (INC).
Aam Aadmi Party (AAP)
2014 Indian General Elections in Punjab
After resigning from PPP, Mann joined AAP in 2014. During the 2014 Indian general elections in Punjab, Mann contested from the Sangrur Lok Sabha constituency of Punjab on AAP's ticket and won by a margin of 211,721 votes.
As a Member of Parliament from Sangrur, from 1 September 2014 to 25 May 2019, he was assigned to the Standing Committee on Personnel, Public Grievances, Law and Justice. He was also a member of the Consultative Committee on Ministry of Rural Development, Panchayati Raj, and Drinking Water and Sanitation. From 11 December 2014 to 25 May 2019, he was on the Joint Committee on Offices of Profit.
2017 Punjab Legislative Assembly Elections
In 2017, Mann was appointed as the convener of AAP Punjab. During the 2017 Punjab Legislative Assembly elections, Bhagwant Mann contested from the Jalalabad Assembly Constituency but lost the polls to Punjab Deputy CM and SAD president Sukhbir Singh Badal by 18,500 votes.
2019 Indian General Elections in Punjab
In 2018, Bhagwant Mann quit AAP in protest against the party convenor Arvind Kejriwal's apology to SAD minister Bikramjit Singh Majithia in reference to a defamation case filed by Majithia against Kejriwal; Kejriwal had made allegations about Majithia's involvement in the drug trade. The party did not accept Mann's resignation and reappointed him as the party president of Punjab in January 2019 to strengthen its prospects ahead of the Lok Sabha elections. During the 2019 Indian general elections, he was re-elected as MP from Sangrur. Thereafter, he was assigned to the Standing Committee on Food, Consumer Affairs and Public Distribution. He was also a member of the Consultative Committee on the Ministry of External Affairs. Mann resigned from his post of an MP on 14 March 2022 to swear in as CM of Punjab.
2022 Punjab Legislative Assembly Elections
On 18 January 2022, he was chosen as the chief ministerial candidate of AAP for the 2022 Punjab Legislative Assembly elections. Reportedly, the decision was based on a public poll in which AAP claims 93% wanted Bhagwant Mann as a CM candidate. On 10 March 2022, AAP, under the leadership of Bhagwant Mann won 92 out of 117 seats in the Punjab Legislative Assembly elections and formed its first state government gaining a full majority.
In the Dhuri Assembly Constituency, from where Mann had contested the elections, he won the polls with a big margin of 58,206 votes. On 11 March 2022, Bhagwant Mann was elected as the leader of the AAP legislative party.
Chief Minister of Punjab
On 16 March 2022, Mann was sworn in as the 17th Chief Minister of Punjab. The oath-taking ceremony was held at Khatkar Kalan village, the birthplace of the Indian revolutionary Bhagat Singh.
On 19 March 2022, in his first cabinet meeting as the CM of Punjab, Mann passed a proposal to provide a total of 25,000 government jobs in various departments of the Punjab government, including 10,000 vacancies in the Police Department.
Alcoholism
Bhagwant Mann has stirred numerous controversies in the past for attending formal events under the influence of alcohol. In 2015, a video featuring Bhagwant Mann attending a condolence meeting in Faridkot in which he was allegedly drunk went viral on social media. His drinking habit has earned him the name "Pegwant Mann." [5]The Print In 2019, another video of Mann delivering a speech at Lok Sabha went viral, which reportedly, depicted him drunk. Following, the incident BJP demanded a narco test of the MP. During a public rally in 2019, Bhagwant Mann publically took an oath in his mother's name to give up the consumption of alcohol. Kejriwal, who was present at the stage, praised Mann for his decision and dedication to AAP. However, both Congress and BJP have repeatedly accused Mann of not keeping his oath of giving up alcohol. [6]The Tribune
Controversies
Booked for rioting & assaulting police during a protest
In 2020, during a protest near the MLA hostel in Sector 4, Chandigarh, against the power tariff hike, Bhagwant Mann, along with other AAP leaders, was booked on charges of rioting, assault, and obstructing police from performing their duties. A woman constable alleged that Mann had pelted stones and assaulted her and other cops during the protest. An FIR was registered against Mann for the same in 2020. The charge sheet of the case was filed against Mann in 2021 in which he was charged under various sections of the IPC including rioting, voluntarily causing hurt to deter public servant in discharge of his duty, disobedience to order promulgated by public servant, and every member of unlawful assembly guilty of offence committed in prosecution of common object. [7]The Indian Express
Charged for flouting COVID-19 safety norms during a protest
In 2021, a protest was led by Mann against the Congress government over the power shortage issue for which he was booked under Section 188 (disobedience to order duly promulgated by public servant) and Section 51A of the Disaster Management Act of IPC at the Mullanpur police station in Mohali. Mann and other AAP workers had gathered around the farmhouse of Captain Amarinder Singh, who was then the chief minister of Punjab, in Siswan near Chandigarh. [8]MyNeta.info Apparently, the AAP workers carrying party flags forced their way through the multi-layered barricades, following which the police resorted to cane-charge. Mann was charged with flouting Covid-19 safety norms as the protestors had gathered in large numbers without wearing masks or observing social distancing.
Net Worth
Bhagwant Mann's net worth is Rs. 1,66,74,366 (as of 2021) [9]MyNeta.info
Favourites
Sport(s): Hockey, Tennis, Basketball
Tennis Player(s): Stefan Edberg, John McEnroe, Boris Becker, Martina Navratilova, Monica Seles, Steffi Graf, Rafael Nadal, Maria Sharapova
NBA Team: Los Angeles Lakers
Holiday Destination: Kelowna (Canada)
Car Collection
Asset and properties
Movable Assets [10]MyNeta.info
Deposits in Banks, Financial Institutions and Non-Banking Financial Companies– Rs. 6,76,513
Motor Vehicles– Rs. 30,00,000
Other assets– Rs. 5,70,000
Immovable Assets [11]MyNeta.info
Agricultural Land– Rs. 1,12,00,000
Commercial Buildings– Rs. 37,00,000
Facts
Bhagwant Mann has a scar on his neck. In an interview, he revealed that his chin was attached to his chest during his birth, which automatically broke itself after an hour. The doctors didn't take any action as Mann was a weak little infant and his detached chin seemed fine, but, with age, he developed a cyst in his throat. At the age of five, he underwent surgery at Rajindra Hospital, Patiala, to remove the cyst. In the first attempt, doctors failed to remove it, but they succeeded in the second attempt.
An avid sports lover, Mann used to watch tennis championships like Grand Slam, The US Open, The French Open, Wimbledon, and The Australian Open on the Doordarshan channel during his teenage years. In an interview, he said,


There are no such sports that I don't like…If I get a chance, I also go to watch these matches live."

He also said that he competed in sports like volleyball and shooting at university levels during his college days.
In an interview, Mann revealed that his father banned him from participating in extracurricular activities during his college days as he was worried that it would affect Mann's education. Thereafter, Mann tried to keep his participation under wraps to avoid conflicts with his father. So, when the talented comedian won prizes and mementoes in competitions, he used to give them away to fellow passengers while travelling from college to home on a bus.
A Bhagat Singh fanatic, Mann visited his memorial in Khatkar Kalan the next day after winning the seat in the Sangrur Lok Sabha constituency in the 2014 Lok Sabha polls to take the blessings of the Indian revolutionary. In an interview, he also revealed that, unlike other religious people who visit a temple after buying a new car, Mann visits Bhagat Singh's memorial. After winning the 2022 Punjab Legislative Assembly election Mann announced that he would be taking the oath as the CM of Punjab at Khatkar Kalan.
Bhagwant Mann's wife, Inderpreet Kaur, caught the attention of the media when Mann became the chief ministerial candidate of AAP on 18 January 2022 for the Punjab Legislative Assembly elections. In February 2022, a complaint was lodged with the Punjab chief electoral officer against Bhagwant Mann by a resident of Nabha, Patiala, named Harkirat Singh Sakrali, who alleged that Mann had concealed his marital status in his election affidavit. Apparently, Sakrali accused Mann of putting 'not applicable' in the spouse column, citing that Mann was not legally divorced. [12]

The Times of India Sakrali also disclosed that he had discovered that Inderpreet and Mann did not appear for the second motion statement after their divorce petition in 2015. As per the information disclosed by Sakrali, no judgment for the divorce petition was passed. While addressing the media, the Dhuri returning officer Ishmit Vijay Singh claimed that she had not received any complaint against Mann. She also said,


It is not the prerogative of the returning officer to check the marriage status of a candidate unless the candidate has a serious criminal background."

Contrary to Sakrali's allegation, the 17th Lok Sabha Members Bioprofile of Bhagwant Mann, states Mann's marital status as 'divorcee.' [13]Lok Sabha Members Bioprofile