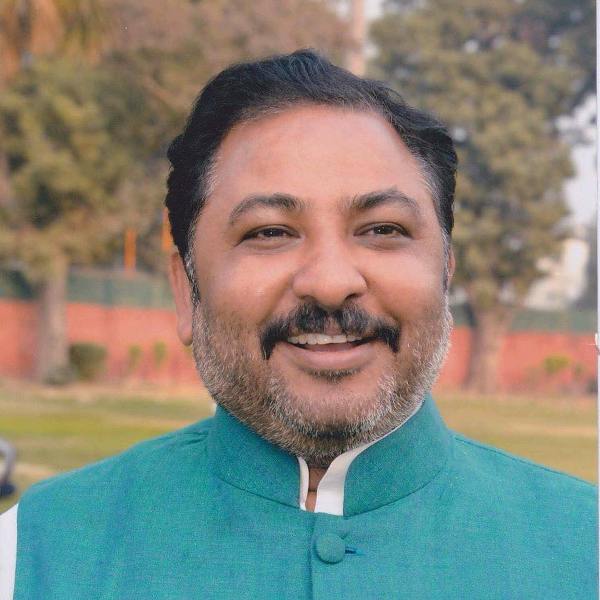 Daya Shankar Singh is an Indian Politician and a member of the Bharatiya Janata Party. He is a member of the 18th Legislative Assembly of Uttar Pradesh and the state vice-president of the BJP party.
Wiki/Biography
Daya Shankar Singh was born in 1971 (age 52 years; as of 2023) in Rajpur Village located in the Buxar district of Bihar. He obtained a master's degree in Medieval History from Lucknow University in 1998.
Physical Appearance
Height (approx.): 5′ 7″
Hair Colour: Salt and pepper (dyed black)
Eye Colour: Black
Family
Parents & Siblings
The name of Daya Shankar Singh's father is Vindyachal Singh who died in July 2022. His mother's name is Tetra Devi. He has a brother named Jitendra.
Wife & Children
Daya Shankar married Swati Singh, a politician and a former member of the Uttar Pradesh Legislative Assembly on 18 May 2001. Both officially parted ways in April 2023 after 22 years of marriage. They have a son, Aksht Singh, and a daughter, Akshtia Singh, together.
Religion
Daya Shankar Singh follows Hinduism.
Signature/Autograph
Career
Politics
In 2007, Daya Shankar Singh contested the Uttar Pradesh Legislative Assembly election from the Ballia constituency on a ticket from the Bharatiya Janata Party but he lost. He again contested the Uttar Pradesh Legislative Assembly election from the Ballia Nagar constituency on a ticket from the Bharatiya Janata Party in March 2022. He defeated Narad Rai from Samajwadi Party by a margin of 26,239 votes and became a Uttar Pradesh Legislative Assembly member. He was appointed as the Minister of Transport, and he assumed office on 25 March 2022.
Controversies
Cases Pending
3 charges related to Punishment for criminal intimidation (IPC Section-506)
1 charge related to the Forgery of valuable security, will, etc. (IPC Section-467)
1 charge related to Forgery for the purpose of cheating (IPC Section-468)
1 charge related to Cheating and dishonestly inducing delivery of property (IPC Section-420)
1 charge related to Voluntarily causing hurt to extort property, or to constrain to an illegal act (IPC Section-327)
1 charge related to Voyeurism (IPC Section-354C)
1 charge related to Promoting enmity between different groups on grounds of religion, race, place of birth, residence, language, etc., and doing acts prejudicial to the maintenance of harmony (IPC Section-153A)
4 charges related to Intentional insult with intent to provoke breach of the peace (IPC Section-504)
2 charges related to Assault or criminal force to deter a public servant from discharge of his duty (IPC Section-353)
2 charges related to Punishment for voluntarily causing hurt (IPC Section-323)
1 charge related to Punishment for Rioting (IPC Section-147)
1 charge related to Mischief causing damage to the amount of fifty rupees (IPC Section-427)
Defamatory Case
On 20 July 2016, Daya Shankar Singh made a controversial statement against BSP's national president and former chief minister Mayawati stating that she is worst than a prostitute as she sells party tickets to the candidates for the 2017 assembly elections. He got suspended for six years by the BJP from the position of state vice-president of Uttar Pradesh and was expelled from the party. Later, an FIR was lodged against him for making derogatory remarks against Mayawati. Soon after the FIR, he ran away to avoid getting caught; however, he was taken into custody in Buxar district, Bihar, on 29 July 2016. He was kept in judicial custody in Mau, Uttar Pradesh. In August 2016, his wife, Swati Singh, filed a complaint against the leader of the BSP for threatening her 12-year-old daughter and her mother-in-law under sections 120B (punishment for criminal conspiracy), 153 A (promoting enmity between different groups), 504 (intentional insult with intent to breach peace), 506 (punishment for criminal intimidation) and 509 (word, gesture or act to insult the modesty of a woman) of the IPC. On 06 August 2016, Daya Shankar got bail on the defamatory case in Mau. [2]Hindustan TimesIn March 2017, Swati Singh won the assembly election in Uttar Pradesh, and the suspension on her husband Daya Shankar was revoked. He again joined the BJP as its state vice president in Uttar Pradesh. [3]The Tribune
Fraud Case
Subodh Kumar Singh, the deputy manager of Mahindra and Mahindra filed a fraud case against Daya Shankar Singh and his brother for providing a fake bank guarantee of Rs 60 lakhs for acquiring a dealership to the agency in Haibatpur, Uttar Pradesh, in 2014. The company provided tractors and parts worth more than Rs 72 lakhs till December 2015; on investigating with the state bank of India, the company found out that no bank guarantee existed with the bank thereby, the deputy manager filed the case. [4]The Economic Times
Income
His income for the financial year 2020-2021 was Rs 9,71,775. [5]MyNeta
Assets & Properties
Movable Assets
Bank Deposits: Rs. 11,740
Other Assets (Revolver Gun): Rs. 85,000
Immovable Assets
Agricultural Land: Rs. 99,00,000
Residential Buildings: Rs. 1,15,00,000
Note: The given estimates of movable and immovable assets are according to the year 2022. It excludes the assets owned by his wife and dependents. [6]MyNeta
Net Worth
Daya Shankar's net worth for the financial year 2020-2021 was estimated to be Rs.2,17,86,740. [7]MyNeta It excludes the net worth of his wife and dependents.
Facts/Trivia
He is a businessman and a lawyer as well.
While studying at Lucknow University, Daya Shankar contested student union elections as an Akhil Bharatiya Vidyarthi Parishad candidate in 1991.
Swati Singh and Daya Shankar both were members of Akhil Bharatiya Vidyarthi Parishad. They met at several ABVP events and their friendship grew into a relationship.
In the 2022 assembly election, both Daya Shankar and his wife, Swati Singh, fought to have a ticket from the Sarojini Nagar constituency but Daya Shankar Singh got a ticket from Ballia Nagar and BJP denied a ticket to his wife.
In 2012, Swati Singh filed for divorce however, the court rejected the petition as both husband and wife were absent. They were living separately since then. In 2022, she filed again for divorce.