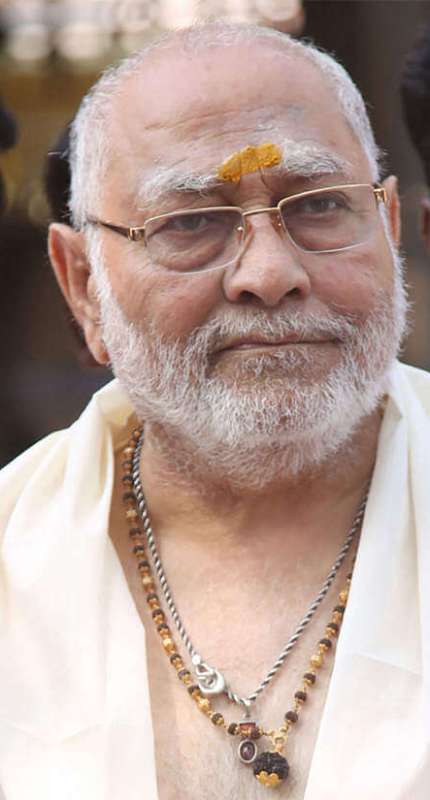 Prahlad Modi is an Indian shopkeeper who is one of the brothers of the 14th Prime Minister of India, Narendra Modi. He is the President of the 'Gujarat Fair Price Shops Association' and the Vice President of 'All India Fair Price Shop Dealers' Federation.'
Wiki/Biography
Prahlad Modi [1]Outlook was born in 1953 (age 69 years; as of 2022) in Vadnagar, Bombay State (now Gujarat, India).  
Physical Appearance
Height (approx.): 5′ 7″
Hair Colour: White
Eye Colour: Dark Brown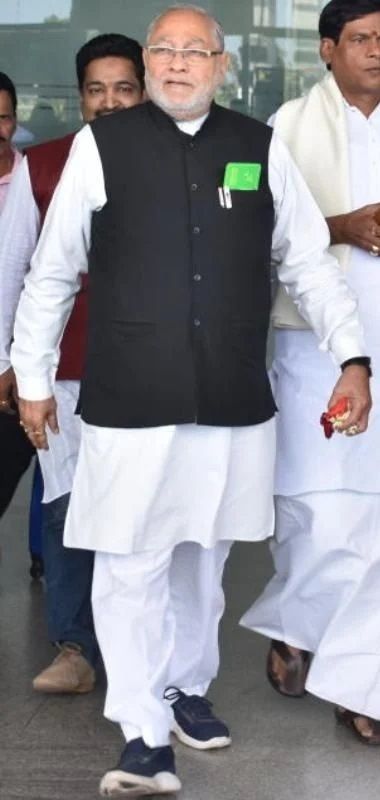 Family
He was born into a family of grocers in Vadnagar, Bombay State (now Gujarat), India. He belongs to the Modh-Ghanchi-Teli (oil-pressing) community, which is categorized as OBC.
Parents & Siblings
His father, late Damodardas Mulchand Modi, was a tea seller who died of Bone cancer in 1989. His mother, Heeraben Modi, is a homemaker. In 2022, Heeraben Modi celebrated her centenary.
He has four brothers among which the eldest brother is Somabhai Modi followed by Amrit Modi. At number three is Narendra Modi and after him, Prahlad Modi himself followed by Pankaj Modi. [2]Aaj Tak Somabhai Modi (eldest) is a retired officer from the Health Department who now runs an old age home.
Amrit Modi is a retired lathe machine operator. His wife's name is Chandrakanta Ben. They have a son named Sanjay Modi.
Narendra Modi is the 14th Prime Minister of India.
Pankaj Modi is a clerk in the Information Department of the Gujarat Government.
The brothers also have a sister named Vasantiben Hasmukhlal Modi. She is a homemaker and wife to Hasmukhlal, who is a retired LIC employee.
Wife & Children
Prahlad Modi's wife's name was Bhagwatiben Modi. On 1 May 2019, she died due to cardiac arrest at the age of 55. Before her death, she was in an undergoing treatment at the Civil Hospital in Ahmedabad for some time. Bhagwati Ben had problems related to Blood Pressure, kidney, and diabetes due to which she suffered from paralysis.
Prahlad and Bhagwati Ben had two daughters named Nikunj Modi and Sonal Modi. In 2016, Nikunj Modi died after a drop in her blood pressure, at the age of 41. She was a heart patient for 8-9 years prior to her demise and was being treated at the U. N. Mehta Hospital in Ahmedabad. She was a Bhopal resident and was married to Jagdish Kumar Modi.
His other daughter, Sonal Modi, is the Sr. Manager at Bharti AXA Life Insurance in Ahemdabad. [3]Facebook- Sonal Modi Sonal submitted a ticket to the BJP to contest the local body elections in Gujarat. [4]India Today However, state BJP president CR Patil declared that no relative of the party leader would get a ticket in the local body elections. During an interview, while talking about the rejection of his daughter Sonal's ticket, Prahlad said,
This is not a case of nepotism. My family never used Narendra Modi's name for our benefit. We all earn our own bread and butter. I have not visited Narendra Modi's bungalow after he became the PM, let alone my children."
Caste
Prahlad belongs to the OBC caste.
Career
Prahlad owned a ration shop in Ahmedabad before his retirement due to old age. [5]Outlook He is the president of the Gujarat Fair Price Shops Association and the Vice President of All India Fair Price Shop Dealers' Federation (AIFPSDF), which was founded in 2001. All India Fair Price Shop Dealers' Federation has been demanding compensation for loss on rice, wheat and sugar, and also for edible oil and pulses to be supplied through fair price shops. [6]The Indian Express In August 2022, Prahlad along with the other members of AIFPSDF staged a dharna (protest) at Jantar Mantar in New Delhi. The organization held slogans and raised banners after submitting a memorandum listening to their nine-point demands. On this, Prahlad commented,
A delegation of AIFPSDF will submit a memorandum to Prime Minister Narendra Modi, listing our long-standing demands for the sake of our survival. With the current situation of hike in the cost of living and overhead expenditures for running shops, a raise of mere 20 paise per kg in our margin is a cruel joke. We request the Union government to grant us relief and end our financial miseries."
Apart from this, the organisation has also demanded the implementation of the West Bengal Ration Model of free distribution across the country. The members said all due margins for all the states, including Jammu and Kashmir, should be reimbursed immediately. [7]NDTV
मोदी vs मोदी 

All India Fair Price Shop Dealer's Federation ने जंतर-मंतर पर प्रदर्शन किया। प्रधानमंत्री के छोटे भाई प्रह्लाद मोदी भी शामिल हुए। प्रह्लाद देश के राशन डीलर्स एसोसिएशन के उपाध्यक्ष हैं। उनका कहना है कि वह भाई से नाराज नहीं हैं, डीलर के कमीशन के खिलाफ हैं। pic.twitter.com/x1xIlTvnWB

— Sanjay Kishore (@saintkishore) August 2, 2022
Other works
In March 2015, Prahlad made the most sensitive comments on Bharatiya Janata Party (BJP), saying that it has failed to live up to people's expectations and lacks the will to resolve their problems. In February 2021, Prahlad Modi held a hunger strike at Lucknow's Chaudhury Charan Singh airport after his supporters were allegedly arrested in Uttar Pradesh by the BJP. [8]Dainik Jagran Later in 2021, Indian traders were asked by Prahlad Modi not to pay Good and Services Tax (GST) until various demands made by the traders' association at the time were realised. [9]Outlook Prahlad Modi has been in several other protests as well that goes against the Indian government.
Facts/Trivia
The Prime Minister of India, Narendra Modi, and his family live in two different worlds. The Modi family leads a middle-class life where Narendra Modi resides at the official residence and principal workplace of the Prime Minister of India in Delhi. During an interview, Narendra Modi shared that his mother, Heeraben Modi, lives in an 8×8 room in Gujarat. [10]

Outlook [11]

YouTube- Bharatiya Janata Party
During an interview, Prahlad revealed that he has only met PM Modi thrice between 2006-14 and has not met him since he became prime minister. During an interview in 2019, while talking about his brother, Prahlad said,


We do not meet or talk on phone frequently, but we are on good terms…He has dedicated his life to the welfare of the nation. We did not meet even when he came to Gandhinagar to seek the blessings of our mother after his swearing in last year. I am a shopkeeper. I do not enjoy any special rights or privileges being the prime minister's sibling. Yes, as a protocol I have been provided security." [12]Outlook
Prahlad Modi asked his community members to prefix "Modi" to their names. During an all-India meet of young men and women of the 'Sahu' held in Bhopal, Prahlad further added,


After coming here I am only hearing one thing, Narendra Modi is pride of India and of his community. But why we, the members of Teli Samaj (oil-makers' community) are not ready to prefix Modi to our names." [13]The Indian Express
In 2015, while talking about his brothers' government (BJP), Prahlad said,


What I am doing is not revolt of a brother against a brother. For me my brother is worth worshiping. I respect him. But I am in a profession and had to come to this platform to raise my voice before my brother."
During an interview, Prahlad shared that he used to go with his elder brother, Narendra Modi, to pluck mangoes by pelting stones. ((YouTube- ABP News)
In 2022, while talking about Prime Minster Narendra Modi, Prahlad asked people not to call his brother (Narendra Modi) a tea seller but a tea seller's son.
BREAKING the LIES!

PM Modi Ji's brother Prahlad Modi's Statement-

"Don't call Prime Minister Narendra Modi a tea seller, rather call him a tea seller's son." pic.twitter.com/NlyyXV2aY0

— Dr. Ajoy Kumar (@drajoykumar) August 6, 2022