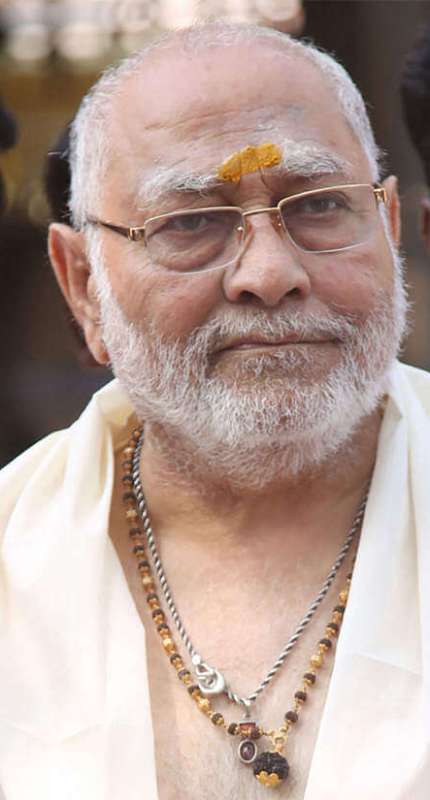 Prahlad Modi is the brother of the fourteenth Prime Minister of India Narendra Modi. He is the President of the 'Gujarat Fair Price Shops Association' and the Vice President of the 'All India Fair Price Shop Dealers' Federation.'
Wiki/Biography
Prahlad Modi was born on Thursday, 12 November 1953 (age 69 years; as of 2022) in Vadnagar, Bombay State (now Gujarat, India). His zodiac sign is Scorpio.   
Physical Appearance
Height (approx.): 5′ 7″
Hair Colour: Grey
Eye Colour: Dark Brown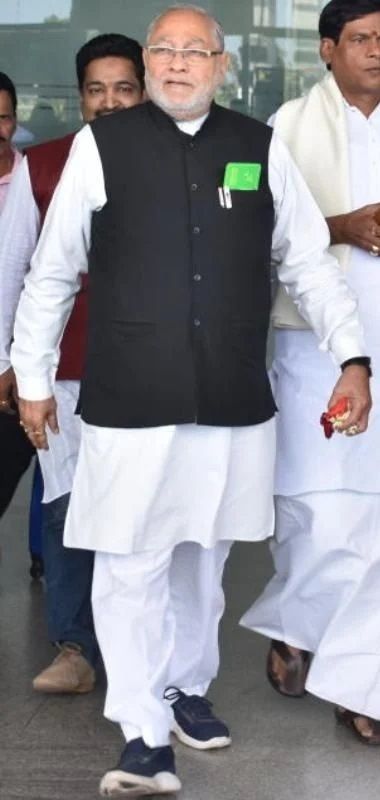 Family & Caste
He belongs to the Modh-Ghanchi-Teli (oil-pressing) community, which is categorized as OBC.
Parents & Siblings
His father, Damodardas Mulchand Modi, was a tea seller who died after battling bone cancer in 1989. His mother, Heeraben Modi, is a homemaker. She was born in Palanpur, Gujarat, and lost her mother to Spanish flu at a tender age. When she was around 15-16 years old, she got married to Damodardas Mulchand Modi and moved to Vadnagar. On 30 December 2022, Heeraben Modi passed away two days after she was admitted to Ahmedabad's UN Mehta Hospital. [1]Times Now [2]Hindustan Times
Prahlad Modi has four brothers and one sister. The eldest brother, Somabhai Modi, is a retired officer from the Health Department, who runs an old age home.
His brother, Amrit Modi, is a retired lathe machine operator and is married to Chandrakanta Ben; the couple has a son named Sanjay Modi.
His elder brother Narendra Modi is the 14th Prime Minister of India.
His younger brother, Pankaj Modi, is a clerk in the Information Department of the Gujarat Government.
His sister, Vasantiben Hasmukhlal Modi, is a homemaker who is married to Hasmukhlal, a retired LIC employee.
Wife & Children
Prahlad Modi's wife, Bhagwatiben Modi, died on 1 May 2019 due to a cardiac arrest at the age of 55. Before her death, she underwent treatment at the Civil Hospital in Ahmedabad for some time. Bhagwati Ben had problems related to blood pressure, kidney, and diabetes due to which she suffered from paralysis.
Prahlad and Bhagwati Ben have two daughters named Nikunj Modi and Sonal Modi, and a son named Mehul Modi. In 2016, Nikunj Modi died after a drop in her blood pressure at the age of 41. She was a heart patient who had been undergoing treatment at the U. N. Mehta Hospital in Ahmedabad for 8-9 years.
His daughter Sonal Modi is the Sr. Manager at Bharti AXA Life Insurance in Ahemdabad. [3]Facebook – Sonal Modi Sonal wanted to contest the civic body elections in Gujarat in 2021. [4]India Today However, she was denied the ticket by the state BJP president CR Patil, who said that no relative of a party leader would get a ticket in the local body elections. In an interview, while talking about the same, Prahlad said,
This is not a case of nepotism. My family never used Narendra Modi's name for our benefit. We all earn our own bread and butter. I have not visited Narendra Modi's bungalow after he became the PM, let alone my children."
Other relatives
His son, Mehul Modi, is married to Jinal Modi; the couple has a son named Meharth Mehul Modi.
Protests
He is the president of the Gujarat Fair Price Shops Association and the senior vice president of the All India Fair Price Shop Dealers' Federation (AIFPSDF), which was founded in 2001. In August 2022, Prahlad, along with the other members of AIFPSDF, staged a dharna (protest) at Jantar Mantar in New Delhi.
मोदी vs मोदी 

All India Fair Price Shop Dealer's Federation ने जंतर-मंतर पर प्रदर्शन किया। प्रधानमंत्री के छोटे भाई प्रह्लाद मोदी भी शामिल हुए। प्रह्लाद देश के राशन डीलर्स एसोसिएशन के उपाध्यक्ष हैं। उनका कहना है कि वह भाई से नाराज नहीं हैं, डीलर के कमीशन के खिलाफ हैं। pic.twitter.com/x1xIlTvnWB

— Sanjay Kishore (@saintkishore) August 2, 2022
In February 2021, Prahlad Modi held a hunger strike at Chaudhury Charan Singh International Airport after his supporters were allegedly arrested in Uttar Pradesh by the BJP. [5]Dainik Jagran
Facts/Trivia
In an interview, Prahlad revealed that he met PM Modi only thrice between 2006 and 2014, and he never met him since he became the Prime Minister. In an interview in 2019, while talking about his brother Narendra Modi, Prahlad said,


We do not meet or talk on phone frequently, but we are on good terms…He has dedicated his life to the welfare of the nation. We did not meet even when he came to Gandhinagar to seek the blessings of our mother after his swearing in last year. I am a shopkeeper. I do not enjoy any special rights or privileges being the prime minister's sibling. Yes, as a protocol I have been provided security."
In 2015, while talking about BJP, Prahlad said,


What I am doing is not revolt of a brother against a brother. For me my brother is worth worshiping. I respect him. But I am in a profession and had to come to this platform to raise my voice before my brother."
In 2022, while talking about Prime Minster Narendra Modi, Prahlad asked people not to call his brother (Narendra Modi) a tea seller but a tea seller's son.
BREAKING the LIES!

PM Modi Ji's brother Prahlad Modi's Statement-

"Don't call Prime Minister Narendra Modi a tea seller, rather call him a tea seller's son." pic.twitter.com/NlyyXV2aY0

— Dr. Ajoy Kumar (@drajoykumar) August 6, 2022
On 27 December 2022, Prahlad Modi's car met with an accident at 2 pm when he was travelling to Bandipura, Karnataka. Reportedly, he was accompanied by his wife, son, daughter-in-law, and grandson when the car hit a divider following which Prahlad Modi's grandson suffered a fracture in his leg. The other members were then rushed to Mysuru's JS Hospital and suffered minor injuries. [7]NDTV