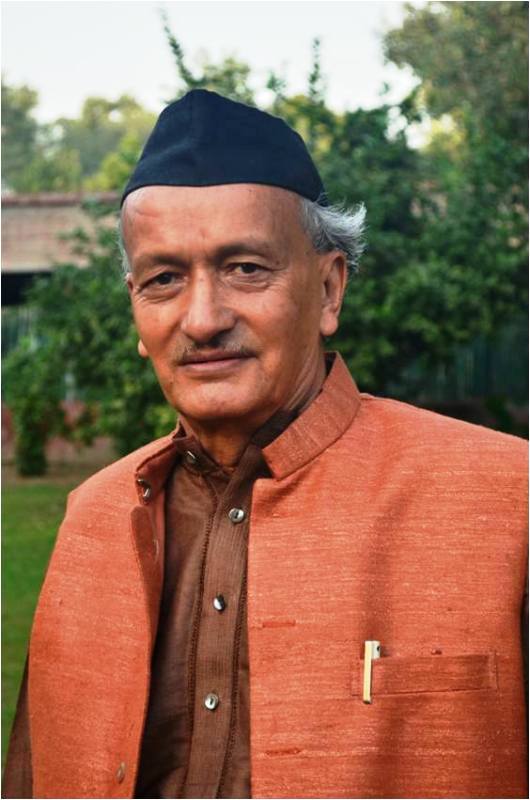 Bhagat Singh Koshyari is an Indian politician, teacher, journalist, and social activist. He served as the 22nd Governor of Maharashtra. He made headlines in 2022 after he made a controversial remark about Chhatrapati Shivaji Maharaj following which he resigned from the post of Governor of Maharashtra..
Wiki/Biography
Bhagat Singh Koshyari was born as Hayat Singh Koshyari on Wednesday, 17 June 1942 (age 80 years; as of 2022) in Palanadhura Chetabgarh, Bageshwar District, United Provinces, British India (now Uttarakhand, India). [1]Amarujala His zodiac sign is Gemini. Bhagat completed his junior high school at a school in Shama, Uttarakhand. Thereafter, he enrolled in a school in Kapkot, Uttarakhand. He completed high school in Pithoragarh. Later, he enrolled at Almora College and pursued a bachelor's degree in arts in English. Later, he earned a master's degree in arts from the same college. [2]MyNeta From 1961 to 1962, he worked as the general secretary of the student union at Almora College.
Physical Appearance
Height (approx.): 5′ 6″
Hair Colour: Salt and Pepper
Eye Colour: Dark Brown
Family
Bhagat Singh Koshyari was born into a poor farmer's family belonging to the Rajput community in Uttarakhand. [3]Hindustan Times
Parents & Siblings
His father Gopal Singh Koshyari (deceased) was a farmer. His mother Motima Devi (deceased) was a homemaker. He had ten siblings, eight elder sisters and two younger brothers. His sister's name is Parvati Koshyari (deceased). His brother Nandan Singh Koshyari is a journalist. His other brother's name is Jagat Singh Namti.
Wife
Bhagat Singh Koshyari is unmarried.
Religion
Bhagat Singh Koshyari follows Hinduism. [4]Amarujala
Address
He resides at B-187, Sector- 4, Defence Colony, Dehradun, Uttarakhand Pin 248001.
Signature/Autograph
Career
Teacher
In 1964, after completing his formal education, Bhagat Singh Koshyari started teaching English at R. Inter College in Raja Ka Rampur, Etah, Uttar Pradesh. Thereafter, he left his job and moved to back to Pithoragarh, where he started a school named Saraswati Shishu Mandir and taught English there. Later, he established Vivekanand Vidya Mandir Inter College in Pithoragarh and Saraswati Vihar Higher Secondary School in Nainital.
Member of the Rashtriya Swayamsevak Sangh (RSS)
Bhagat Singh Koshyari began working with the RSS as a volunteer in 1966. On 3 July 1975, Bhagat Singh Koshyari was placed under arrest and jailed at Fatehgarh Central jail under the Maintenance of Internal Security Act (MISA) for protesting against the declaration of emergency by Indira Gandhi. He remained imprisoned till 23 March 1977.
Journalist
In 1975, he founded a weekly newspaper titled Parvat Piyush. Through his newspaper, he used to raise issues related to problems faced by the locals in the backward areas of Uttarakhand. His younger brother Nandan Singh Koshyari used to help him in editing the newspaper. He has also written several articles for several renowned newspapers.
Politician
Bhagat Singh Koshyari joined the Bharatiya Janata Party in the early 1980s. He contested the 1989 Lok Sabha elections on BJP's ticket from the Almora constituency. He, however, was defeated in the elections by Harish Chandra Rawat, an Indian National Congress candidate. In 1997, he became a member of the Uttar Pradesh Legislative Council. In the same year, he was appointed as a member of the Petition Committee. He served on the committee till 1999. In 1997, he was appointed as a member of the Committee on Delegated Legislation. He held the post till 1998. He served as a member of the Committee on Government Assurances from 1998 to 1999. He became a member of the Committee on Petitions in 1999 and served on the committee till 2000. After that, he served on the Advisory Committee, Development, and Planning as its member. In November 2000, after Uttarakhand was formed, Bhagat Singh Koshyari assumed the charge of the Ministry of Energy, Irrigation, Parliamentary and Legislative Affairs and served till October 2001. He played an instrumental role in rehabilitating the displaced residents of Tehri Garhwal due to the construction of the Tehri Dam. Bhagat Singh Koshyari replaced Nityanand Swami on 30 October 2001 to become the second Chief Minister of Uttarakhand. He remained in the capacity till 1 March 2002. In 2002, he contested the state assembly elections of Uttarakhand on the BJP's ticket from the Kapkot constituency and won. In the elections, he defeated Chamu Singh Ghasyal, an Indian National Congress (INC) candidate, by a margin of 8,514 votes. Despite securing a victory, he had to resign as Chief Minister of Uttarakhand because the BJP lost the elections. Thereafter, he was appointed as the leader of the opposition by the BJP.
In 2003, he was appointed as the state president of the Bharatiya Janata Party (BJP) in Uttarakhand. Later, he was appointed as the national vice president of the BJP. On BJP's ticket, Bhagat Singh Koshyari contested the 2007 Uttarakhand assembly elections from the Kapkot constituency. In the elections, he defeated the INC candidate Pratap Singh and secured 21,255 votes. On 26 November 2008, he was elected to the Rajya Sabha as a BJP candidate from Uttarakhand; he served as a parliamentarian till 2014. In 2009, he was appointed the chairman of the Committee on Petition. He held the post till 2014. From 2009 to 2014, Bhagat served as a member of the Standing Committee on Energy. In 2014, he contested the Lok Sabha elections from the Nainital-Udhamsingh Nagar constituency on BJP's ticket and emerged victorious.
On 1 September 2014, he was appointed chairperson to the Committee on Petitions. Thereafter, he was appointed to the Consultative Committee of the Ministry of Environment, Forest and Climate Change and National Platform for Disaster Risk Reduction (NPDRR) as a member. On 15 September 2014, he became a member of the Committee on Ethics and the Standing Committee on Energy. He was appointed to the General Purposes Committee as its member on 29 January 2015. He served as an MP till 2019.
Governorship
On 5 September 2019, he replaced Chennamaneni Vidyasagar Rao and became the 22nd Governor of Maharashtra.
He assumed the additional charge as the Governor of Goa on 18 August 2020. He served as the Governor of Goa till 6 July 2021.
On 12 February 2023, Bhagat Singh Koshyari stepped down from the governorship of Maharashtra after he expressed his desire to seek early retirement to Prime Minister Narendra Modi. Talking about his resignation, Bhagat Singh, in an interview, said,
As Governor, I never got happiness. Only unhappiness came my way. [Yet] when I meet spiritual leaders, it elevates my mind and brings joy and peace. It was an absolute honour and privilege for me to serve as the Rajya Sevak or Rajyapal of a great state like Maharashtra – the land of saints, social reformers and valiant fighters."
Controversial Tenure as the Governor of Maharashtra
Bhagat Singh Koshyari's tenure as the Governor of Maharashtra has been riddled with controversies. He has often been accused of being politically biased. In 2019, Bhagat Singh Koshyari made the headlines after he hurriedly administered the oath of Chief Minister to Devendra Fadnavis at a time when there was a tussle going on between the BJP and Shiv Sena over the selection of a CM candidate. However, Devendra resigned from his post a few days later and Uddhav Thackeray assumed the post of the CM in Maharashtra. In 2020, when the country was in lockdown due to the COVID-19 pandemic, Bhagat Singh attracted controversy by writing a letter to Uddhav, asking him to re-open temples in Maharashtra. He further questioned Uddhav's faith and asked him whether he had turned secular. Thereafter, Sharad Pawar, an NCP politician, wrote a letter to Prime Minister Narendra Modi, asking him to take disciplinary action against Koshyari. In November 2020, he once again made a controversy after Bhagat, despite the Bombay High Court's orders and several reminders from the state government did not clear the names of twelve candidates recommended by the Uddhav-led Maharashtra government for the legislative council for more than one and a half years. As per the constitution, the Governor of a state has to clear the names recommended by the state government for the legislative council within a given time. In February 2021, Bhagat Singh Koshyari was forced to leave his official aircraft on the instructions of the Chief Minister's Office (CMO). According to reports, Bhagat was on the plane to go to Mussoorie to attend an event without asking for clearance from the state government to use the plane. In February 2022, during a function in Aurangabad, he gave a controversial remark about Chhatrapati Shivaji Maharaj and said,
Many maharajas and chakravartis (emperors) were born on this land. But, who would have asked about Chandragupta had there not been Chanakya? Who would have asked about Chhatrapati Shivaji Maharaj had there not been Samarth (Ramdas)."
Many Maratha organisations later criticised his statement and said that Bhagat's statement was factually incorrect as Shivaji was trained and educated by his mother Rajmata Jijau. In the same year, while inaugurating the statue of Savitribai Phule in Pune, Koshyari once again made a controversial remark by making fun of Savitri Phule's child marriage. In his statement, he said,
Savitribai was married off when she was ten years old…and her husband (Jyotiba) was 13 years old. Now imagine, what would the boy and girls have been doing after marriage. What would they have been thinking?"
Later, during a press conference, Bhagat Singh Koshyari gave another controversial statement in which he said that the economic structure of Maharashtra would collapse if people from Gujarat and Rajasthan left Mumbai. His statement was criticised by NCP and Shiv Sena. Talking about it, in an interview, he said,
I tell people here that if Gujaratis and Rajasthanis are removed from Maharashtra, especially Mumbai and Thane, you will have no money and Mumbai will not be a financial capital."
He, however, issued an apology for his remarks later. In November 2022, Bhagat Singh Koshyari attracted controversy by calling Chhatrapati Shivaji Maharaj "an icon of the past," while conferring a D.Litt degree on Nitin Gadkari. In his statement, Koshyari said that while Shivaji is an old icon, politicians like Nitin Gadkari and Dr. B. R. Ambedkar are present-day icons. Talking about it, he said,
Earlier, when you would be asked who is your icon — Jawaharlal Nehru, Subhas Chandra Bose, and Mahatma Gandhi used to be the answers. Whereas in Maharashtra, you need not look elsewhere (as) there are so many icons here… while Chhatrapati Shivaji Maharaj is of olden times, there are icons such as Ambedkar and Nitin Gadkari in modern times."
His remark was not only criticised by opposition parties and several Maratha organisations but also by many BJP leaders. Many politicians began demanding either he be transferred from Maharashtra or resign from the Governorship of the state. [5]The Indian Express In an interview, Praveen Darekar, a senior BJP leader, said,
Chhatrapati Shivaji Maharaj cannot be compared with anybody. We worship him and he is our idol. He remains a great inspiration and guide to all leaders and individuals in Maharashtra, across the country, and abroad. Comparing Shivaji with Gadkari would be totally wrong…"
Assets/Properties
Movable Assets
Bank Deposits: Rs. 18,12,703
Immovable Assets
Agricultural Land: Rs. 3,00,000
Commercial Buildings: Rs. 30,00,000
Residential Buildings: Rs. 4,00,000
Note: The given estimates are according to the year 2019. [6]MyNeta
Salary
In 2022, Bhagat Singh Koshyari's salary as the Governor of Maharashtra was approximately Rs. 3.50 lakhs + other allowances. [7]The Hindu
Net Worth
Bhagat Singh Koshyari's net worth in 2014 was estimated to be Rs. 55,62,703. [8]MyNeta
Facts/Trivia
He has published two books titled Uttaranchal Pradesh Kyun? and Uttaranchal: Sangharsh Evam Samadhan. The books are based on the struggle of the people of Uttarakhand to create a separate state.
He has hosted talk shows on All India Radio (AIR).
Bhagat Singh Koshyari likes to travel and explore. He has visited several countries including Nepal, Mauritius, and the United States of America.
Bhagat served on the Executive Council of Kumaun University thrice.
He served in the Senate of Kumaun University from 1999 to 2000.
Bhagat Singh Koshyari follows a vegetarian diet, and his favourite food is Khichdi.
He passionately follows his hobbies of trekking and reading historical and philosophical books.
His parents changed his name from Hayat Singh to Bhagat Singh to avoid confusion as one of his cousins was named Hayat.
In 2019, he addressed the United Nations General Assembly (UNGA) in New York, USA.