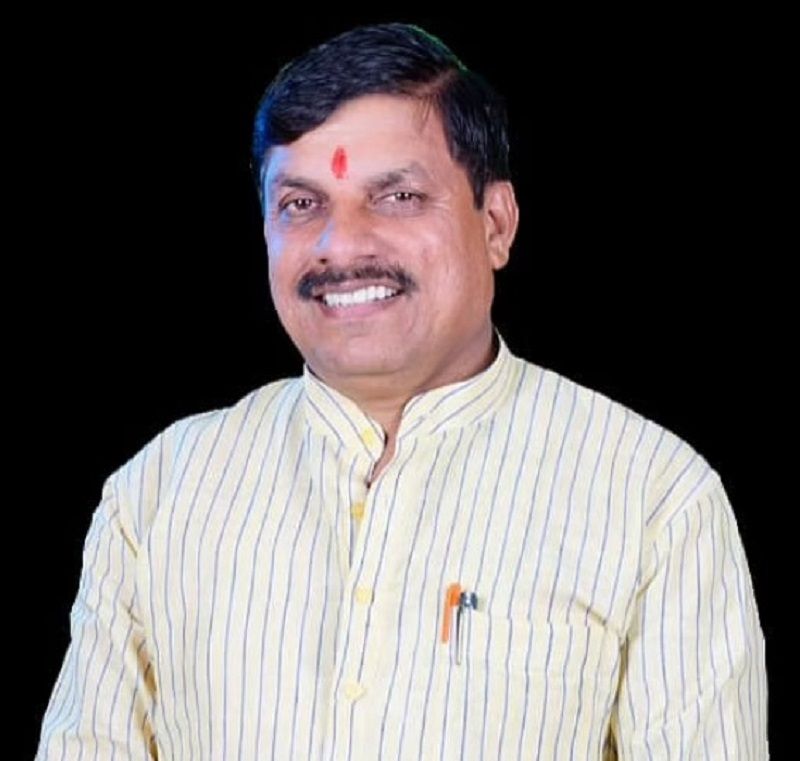 Mohan Yadav is an Indian politician and a member of the Bhartiya Janata Party. He is also the Cabinet Minister (education) of the Madhya Pradesh government, and state president of the wrestling association and the Olympic association in Madhya Pradesh.
Wiki/Biography
Mohan Yadav was born on Thursday, 25 March 1965 (age 57 years; as of 2022) in Ujjain, Madhya Pradesh. His zodiac sign is Aries. He pursued a bachelor's degree in science, a bachelor's degree in laws, a master's degree in arts, a master's degree in business administration and a doctor of philosophy (PhD) at Vikram University, Ujjain. [1]MP Vidhan Sabha
Physical Appearance
Height (approx.): 5′ 7″
Hair Colour: Black
Eye Colour: Black
Family
Parents & Siblings
Mohan's father's name is Poonamchand Yadav.
Wife & Children
Mohan got married to Seema Yadav on 14 January 1993.
They have two sons and a daughter.
Address
Mohan resides at 180, Rabindranath Tagore Marg, Abdalpura, Ujjain.
Political Career
Mohan started his career when he was in college. In 1982, he was the co-secretary of the Madhav Science College Students' Union In 1984, he became the president of Madhav Science College Students' Union and city minister of Akhil Bharatiya Vidyarthi Parishad, Ujjain. In 1988, he was the department head and co-minister of Akhil Bharatiya Vidyarthi Parishad, Ujjain. From 1989 to 1990, he was the Minister of the Council. In 1991, he became the National Council Minister. From 1993 to 1995, he served as the minister of National Swayam Sevak Sangh, Ujjain Nagar's Sah Khand Karyavah, and Sayam Bhag Nagar Karyavah. In 1996, he was elected as the minister of Block Proceedings and City Proceedings. In 1998, he became a member of the Consultative Committee of the Western Railway Board. From 2002 to 2003, he was a member of the Executive Council of Vikram University, Ujjain and Municipal District General Secretary. In 2004, he became a member of the state executive committee of the BJP and a member of the Central Committee of Simhastha, Madhya Pradesh. From 2004 to 2010, he served as the head of the development authority in Madhya Pradesh. In 2008, he was elected as the head of Bharat Scouts and Guides. From 2011 to 2013, he served as the Cabinet Minister of Madhya Pradesh. In 2013, he was elected as the MLA from the Ujjain Dakshin constituency. From 2013 to 2016, he served as the co-convenor of the All India Cultural Cell. In 2018, he was re-elected as the MLA from the Ujjain Dakshin constituency. On 2 July 2020, he took oath as the cabinet minister of the Madhya Pradesh Government.
Controversies
Stooped to campaign for one day during by-poll elections
In 2020, Mohan was sent a notice by the Election Commission that he would not be allowed to campaign for one day on 31 October 2020 during the state polls for using offensive language. [2]The Times of India
Mohan's stand against the Department of Higher Education
In 2021, when the Department of Higher Education proposed a law that students having any criminal record against them will not be allowed admission to college, Mohan came forward in support of the students and said that if there is no law to stop ministers from contesting elections in the Lok Sabha and Vidhansabha even if they have a criminal background, then why should students be stopped. [3]Hindustan Times
Derogatory comments about Mother Sita
On 18 December 2022, while Mohan was attending the Karsevak Samman ceremony in Nagda, he talked about Mother Sita and said,
Ramji had to leave Sita Mata because of the dignity of the state even though she was pregnant. Sita Mata's children had to be born in the jungle, despite so much suffering, that mother has so much respect for her husband that she forgets the hardships and prays for Lord Rama's life. In today's era, this life is like life after divorce."
The video from the event went viral on social media and many Congress leaders said that it was not correct for him to make such comments. In an interview, he gave a clarification about the comment and said,
The program was to honor the sacrifice of Kar Sevaks. That's why I said something about Ram Rajya. At its root was the sacrifice and love of Rama and Sita. I was telling what sacrifices Lord Rama had to make for the kingdom, what hardships had to be suffered. My point is being misrepresented." [4]Zee News
Despicable comments of Republic Day parade
In January 2022, Mohan made disgraceful remarks about the Republic Day parade on his social media account and said,
Netaji Subhash Chandra Bose was there, Sardar Vallabhbhai Patel was there in the Republic Day parade. There was neither the fake father of the country, nor the fake uncle of the country, nor the iron lady, nor the inventor of the computer in the parade. There was a tableau of Kashi Vishwanath in the parade, there was a tableau of Goddess Vaishnodevi, there was a scene of eternal culture. My country is really changing, my country is coming out from the jaws of English slaves, my country is really getting free."
After his comments, Congress leaders lashed out at him and Congress Working President Ravi Rai talked about Mohan's comment and said,
What message the Higher Education Minister wants to give to the society by making such a statement. We condemn such posts on the occasion of Republic Day. This is the mindset of RSS and BJP and Godse. He said that the Godse ideology of the minister has shown that he is saying wrong things about Mahatma Gandhi, Jawaharlal Nehru, Indira Gandhi and Rajiv Gandhi." [5]India Today
Awards, Honours
Honoured by Mahatma Gandhi Award by NRI organization Chicago (USA) and SKCON International Foundation for the overall development of Ujjain
Awarded by the President for the continuous development of tourism in the year 2011-2012 and 2012-2013
Assets/Properties
Movable Assets
Bank Deposits: Rs. 6,34,607
Motor Vehicles: Rs. 7,82,370
Other Assets (Revolver Gun): Rs. 4,55,000
Immovable Assets
Non-Agricultural Land: Rs. 1,73,75,140
Commercial Buildings: Rs. 1,41,16,330
Residential Buildings: Rs. 1,37,43,150
Note: The given estimates of movable and immovable assets are according to the year 2013. It excludes the assets owned by his wife and dependents (minor). [6]My Neta
Net Worth
Mohan's net worth as of 2013 was approximately Rs. 4 Crore 20 Lakh. [7]My Neta
Facts/Trivia
In 2021, he proposed an offer in a meeting in Bhopal and said that engineering students would be taught Ramayana, Mahabharata and Ramcharitmanas in the syllabus to remember the history of India. He further added that the syllabus was prepared under the NEP 2020.
In 2022, in a two-day PhD seminar organized at the Academy of Administration, Bhopal, he said that a PhD was just copying someone else's work and submitting it. He also said that political leaders often copy the work and pursue PhD. After Congress leaders opposed his comments, he clarified it and said that he was talking about the old ways of pursuing a PhD, but now no one can copy anything. Congress spokesperson Narendra Saluja talked about his comment and said,


State Higher Education Minister Mohan Yadav himself is telling the reality of PhD of his department. They are telling how PhD is done, why it is done. How politicians copy and submit. This is the reality. Now those who have the responsibility, they are telling the truth..Such an education minister should be removed."
In 2022, Mohan came forward to support the Madhya Pradesh Ulema Board for a ban on the Bollywood film 'Pathaan,' and said,


Time is changing and all Bollywood actors will have to understand if they attack our culture or do something against Hindu religion. So this will not be tolerated in the country and Madhya Pradesh."