VP Sathyan (1965–2006) was a former Indian professional footballer-turned-coach. He was an indispensable player for all the teams he played. Sathyan, an ardent football lover, gave everything on the pitch. He was known for his precise tackling in the game, and this was the main attraction of his game. He committed suicide on 18 July 2006.
Wiki/Biography
Vatta Parambath Sathyan [1]The Times of India was born on Thursday, 29 April 1965 (age 41 years; at the time of death) in Mekkunnu near Chokli in Kannur, Kerala. Sathyan is regarded as one of the best players in the history of Indian football. He was known for his defensive prowess, discipline, and leadership qualities. He captained the Indian national football team between 1991 and 1995. Sathyan, who played as a centre-back, scored some goals too. The most noteworthy is the goal that he scored against South Korea in the 1986 Merdeka tournament, a 35-yard footer that helped India to win the match.
Physical Appearance
Hair Colour: Black
Eye Colour: Black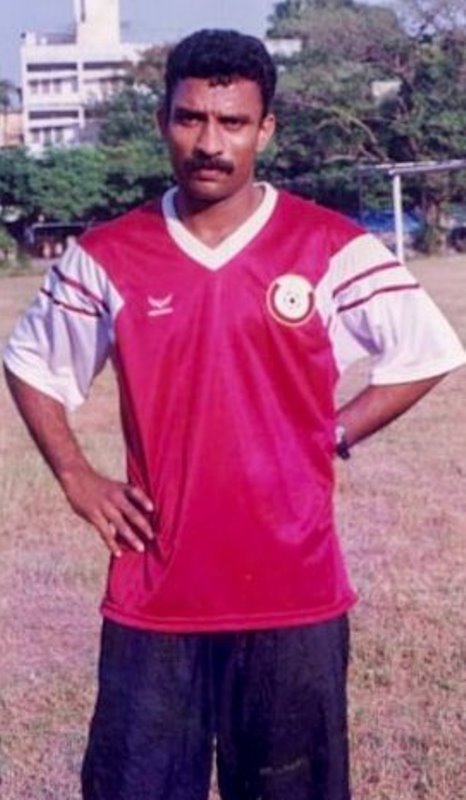 Family
VP Sathyan belonged to a Malayali family in Kannur, Kerala.
Parents & Siblings
His father, Vatta Parambath Gopalan Nair, was a policeman, and His mother's name was Narayanni Amma.
Wife & Children
He was married to Anitha, a clerk at the Sports Council Office in Kozhikode. His daughter, Athira, got married in 2017.
Career
Football
Domestic Club
He started his career in 1979, playing for the Lucky Star Club in Kannur, Kerala. His consistent performance and technical qualities earned him a place in the Kannur district team, and shortly after that, he was selected for the Kerala state team. He played for some of the top clubs in India and represented the country in different tournaments. Complications from an injury he sustained earlier in his career cost him dearly, and he had to bid farewell to football too early.
Lucky Star Club
VP Sathyan's football career and the Kannur district have a strong bond. Sathyan started his career with Lucky Star Club in Kannur. He joined them in 1979, and by 1983, he had become an integral part of the club.
Kerala Police football club
The Kerala Police football club was founded in 1984. VP Sathyan was the centre of defence, and with teammates like IM Vijayan, the Police club made history. They won the Federation Cup in 1990 and 1991. During this period, the Kerala Police football club rose to its legendary status in the domestic league. Sathyan won over the fans with his defensive prowess and leadership qualities, and he was the focal point of the team and inspired his teammates to perform better and play united as a team. His impressive performances with the Kerala police club earned him his first international call-up. Sathyan was a Kerala Police football club player for eight-successive seasons between 1984 and 1992. He bid farewell to the Kerala Police club in 1992 after receiving an offer from Mohun Bagan. He returned to the Police club in the 1994-1995 season and left at the end of the season.
Mohun Bagan
VP Sathyan's iconic performances at the Kerala Police club did not go unnoticed in the football world. Different clubs tried to sign him, but it was not easy to persuade him to leave the Kerala Police club. In 1992, however, Mohun Bagan was successful in securing his signature, and Sathyan was ready to try his luck outside Kerala. He just played a season with Mohun Bagan and returned to the Kerala police club at the end of the season.
Indian Bank
He joined the Indian Bank from the Kerala Police club in 1995. This was his final club, and he announced his retirement in 2001. He was part of the team for six years and enjoyed a successful run with the club.
International Career
Sathyan's performances for the Kerala state team and the Kerala Police club were pivotal for his chances with the Indian national football team. He made his international debut with the Indian football team during the 1985 Nehru Cup held in Thiruvananthapuram. In an international career lasting over ten years, he made 81 appearances for India and scored four goals. An important achievement under his captaincy was India improved their global ranking to 99 from their previous ranking of 119 in the FIFA global rankings list. In 1993, India won the first-ever South Asian Football Federation (SAFF) Championship under Sathyan's captaincy, and in 1995, they ended up as the runner-up. He won the Gold medal in 1985 and the Silver medal in 1993 at the South Asian Games, as part of the Indian national football team. He announced his retirement from international football in 1995.
Managerial Career
VP Sathyan joined the Indian Bank football club in 1995, he took over the coaching duties of the club in April 2000, and he continued playing as a player-cum-coach for the National Bank football club, even when injuries were limiting his chances. He tried so hard to save his career that he continued playing even after he had a steel rod in his injured leg. Sathyan turned into a full-time coach after he hung up his boots. He also served as an assistant coach under Stephen Constantine (then Indian coach) when India toured South Korea in 2002.
Awards
All India Football Federation (AIFF) Player of the Year Award – 1992
Death
VP Sathyan committed suicide on 18 July 2006. According to some sources, he jumped in front of a train. [2]Hindustan Times It was reported that he suffered depression after moving away from football, and he became addicted to alcohol and was never the cheerful VP Sathyan again. Reports also suggest that he had heavy debts and committed suicide after failing to find a way to repay them. The police discovered suicide notes addressed to different people from his body. One was for his wife in which he expressed how sorry he was to leave them alone and that he had lost everything to addiction, and suicide was his only option. In an interview, his wife, Anitha, denied the suicide rumours and said,
"Sathyan cannot commit suicide. It was an accident, not suicide. I had insisted on seeing his body after I was told about his death. Save for a small injury behind his head, there were no other wounds anywhere on his body. His body didn't look like that of person who had thrown himself in front of a train. His shoes were still intact. I had seen this for myself…" [3]Onmanorama
Facts/Trivia
The 2018 Malayalam movie Captain is based on Sathyan's life. Malayalam actor Jayasurya played the role of VP Sathyan and won the Kerala State Film Award for Best Actor in 2019 for his brilliant portrayal of VP Sathyan. Anu Sithara played the role of Anitha, Sathyan's wife.
Anitha, Sathyan's wife, launched the V P Sathyan Soccer School in Kozhikode, Kerala on November 2013 in memory of her late husband.