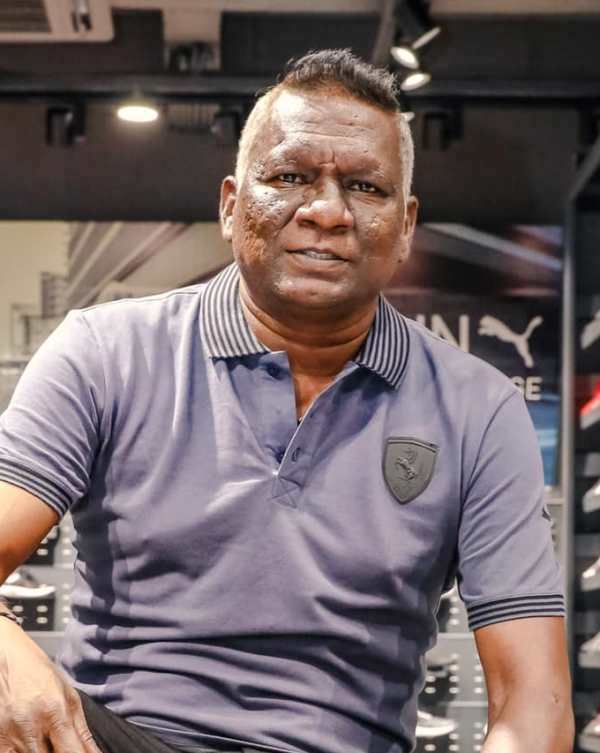 I. M. Vijayan is a former Indian footballer-turned-actor who also serves as a member of the technical committee of the AIFF. He was widely regarded for his aggressive style of play, and he won numerous awards during his illustrious career. Playing as a striker, he captained the Indian national football team and formed one of the most formidable partnerships with Bhaichung Bhutia. Vijayan instantly became a fan favourite in the domestic league after joining the Kerala Police football club. It did not take long for him to earn his first international cap. Popularly known for his athletic nature and skills, he was a complete forward who scored some brilliant goals in his career. He also made headlines by scoring one of the fastest goals in international football when he scored a goal against Bhutan in the 1999 SAF Games just after 12 seconds from kickoff. He was also capable of netting acrobatic goals and is widely regarded for some of them. After retiring from professional football, he became an actor and appeared in many Malayalam and Tamil films.
Wiki/Biography
Inivalappil Mani Vijayan [1]I M Vijayan – Official Website was born on Friday, 25 April 1969 (age 54 years, as of 2023) in Thrissur, Kerala, India. He had to work from a very early age as the family had no other income. He started his life from humble beginnings and became a soda seller to support his family. He attended the Church Mission Society High School, Thrissur, in class five, but he was never academically inclined. Though he attended class, Vijayan promptly failed five times in class five. [2]Outlook However, he showed a strong passion for football from an early age [3]Interview with I M Vijayan – Manorama News. This passion for the game he developed got recognized when Mr Jose Paramban, a soccer enthusiast in Kerala, noticed him. He credits Jose as the monumental figure behind him becoming a professional footballer. In an emotional social media post, he recalled Jose taking him to the football selections and how Paramban helped him by arranging travel facilities and accompanying him to fulfil his dream of watching the Nehru Cup.
His journey from being a soda seller at the Thrissur Municipal Corporation Stadium, who earned 10 paise per bottle, to becoming the highest-paid player in Indian club football was the result of his hard work and dedication. [4]Bleacher Report It was the then DGP of Kerala, M. K. Joseph, who noticed Vijayan and helped him to get on the Kerala Police football team at the age of just 17. He took this chance and gave it everything he had and made history. In an interview, he recalled joining and staying at the Kerala Police camp and described this as the moment that became the turning point for his career [5]The Week – YouTube.
Physical Appearance
Height (approx.): 5′ 11″
Weight (approx.): 70 kg
Hair Colour: Black
Eye Colour: Black
Family
I. M. Vijayan belongs to a modest Dalit Hindu Malayali family in Thrissur. [6]Outlook
Parents & Siblings
His father, Ayinivalappil Mani, who used to work at a small hotel called Sree Krishna Bhavan, passed away when I. M. Vijayan was twelve years old. His mother, Kochammu Vijayan, used to collect scrap and waste papers from nearby homes and helped out her husband at the hotel.
Both his parents were Dalit daily wage earners, and he lacked financial security; his father was an ardent football lover and used to take Vijayan to football matches at the Thrissur Municipal Corporation Stad­ium. [7]Outlook Kochammu raised Vijayan and his elder brother Biju since her husband passed away. Kochammu Vijayan passed away in 2015. [8]The Times of India In 2018, I. M. Vijayan's brother Biju Vijayan, met with an accident in Thrissur, Kerala. Biju's scooter collided with a car, and he had grievous injuries on his chest and head and was rushed to a nearby hospital, where he passed away. Biju Vijayan was 52 years old when he died. [9]Malayala Manorama
Wife & Children
He got married to Raji Vijayan on 18 August 1994. Raji understands her husband's love for the game and unconditionally supports him. On January 27, 1992, Raji along with her father went to attend the Sree Murugan festival at the Koorkencherry Temple at Thrissur. IM Vijayan was also there, along with his friend Jayan. Raji's father went to greet Vijayan, and when he saw Raji, Vijayan was immediately smitten. At that time, Raji was only 16, while Vijayan was 23. Through Jayan, Vijayan expressed his desire to marry Raji and married her two years later.
He has a son and two daughters. His daughters' names are Abhirami (Ally) Vijayan and Archana Vijayan.
His son, Aromal, works as a performance analyst at Gokulam Kerala FC. [10]Aromal Imv – Facebook
Career
Football
During his professional career, he received offers to play for clubs from the countries like Malaysia and Thailand, but he preferred playing for various clubs in India, though he also played for a club in Bangladesh. He represented the Kerala state between 1987 and 1992 in the Santosh Trophy and during 1993-1994, he represented the Bengal state team. He scored 14 goals in the Santosh Trophy tournament.
Domestic Career
Kerala Police
At the age of 17, he got selected for the Kerala Police football club. Having shown a remarkable passion for football from a young age, he wasted no time showing his worth. He became a fan favourite quickly, and many clubs wanted to sign him. The 1989 Quilon Nationals, turned out to be an important event for him. His outstanding performances did not go in vain as he was able to impress the national football selection committee. From there, it did not take long for him to be a part of the national football team. He spent four years at the Kerala Police club till 1991 following which he joined Mohun Bagan. The fans in Kerala became upset with his decision to leave the Kerala police club. However, he was welcomed with open arms when he rejoined them in 1992. [11]Interview with I M Vijayan – The Week It was his final season for the Kerala Police club; he left them the next year after spending a total of 5 seasons with the club. His time with the Police club was successful and he still remains a fan-favourite for many who grew up idolizing him. Vijayan scored 33 goals for Kerala Police. In 2021, he was appointed as the director of the Kerala Police Football Academy under the Malabar Special Police to attract more youngsters to the game and nurture them properly. [12]Malayala Manorama
Mohun Bagan
He joined Mohun Bagan from the Kerala Police club in 1991, and the transfer made headlines in Kerala. The fans were furious with him for leaving them for another club, as he was one of the most popular players in the domestic league. In an interview, I. M. Vijayan recalled his decision of joining the Kolkata-based team and said that it was a good decision as it gave him the financial security that he always lacked. He was also able to emulate his brilliant performances for Mohun Bagan too. However, his first stint at the Kolkata-based club lasted only one season as he left them to rejoin his former team in 1992. However, he returned to Mohun Bagan in 1993 and played for them till 1994; his third stint for the club was in 1998 when he signed for them after leaving FC Kochin. He played only for one season at Mohun Bagan and left them in 1999. I. M. Vijayan scored 51 goals for Mohun Bagan.
JCT Mills Phagwara
Vijayan first joined JCT in 1994 after completing his transfer from Mohun Bagan. He stayed with the club for three seasons till 1997 and left them to join FC Kochin. He returned to the club in 2002 and was part of the squad for the next two seasons before leaving them in 2004 after signing a contract with Churchill Brothers S.C. During his stint with the club, he scored 29 goals.
FC Kochin
He joined the Kerala-based club in 1997 after leaving JCT and played for one season with them during his first stint. During his time with the team in his first season, he won the Durand Cup and had a memorable campaign. After the first season, he left them in 1998 and returned back to the club in 1999. He played for them until 2001, which marked his final season for the club, and left them in 2002. [13]I. M. Vijayan – Official Website
Churchill Brothers S.C
He signed with the Goa-based club in 2004 and was part of their squad for the following season. His time at Churchill Brothers S.C. was brief as he left them to join East Bengal in 2005.
East Bengal
He joined East Bengal in 2005, and this was his final club as he bid farewell to professional football in 2006. He thus played for both the Kolkata-based clubs, which share almost a 100-year-old rivalry between them. [14]The Week Vijayan scored seven goals for East Bengal.
International Career
In 1989, I. M. Vijayan made his debut for the Indian national football team and went on to represent the nation in 88 matches and score 39 goals over a career that lasted more than a decade. [15]The Times of India
According to FIFA statistics, he played 71 matches and scored 32 goals in his international career. He represented India in the FIFA World Qualifiers, Nehru Cup, Pre – Olympics, SAFF Championship, and SAF Games. He also captained the Indian national team. The majestic duo of Vijayan and Bhaichung Bhutia were always a threat to the opposition as they struggled to stop these two. He is a three-time SAFF Champion with the Indian national football team and also was a part of the national team when they won the Gold, Silver, and Bronze medals in the South Asian Games in the years 1995, 1993, and 1999 respectively. He announced that the Afro-Asian Games of 2003 will be his last ever international tournament after consulting with the then-Indian coach Stephen Constantine, he firmly believed that it was time for him to make way for the youngsters even though his compatriots discouraged his decision. He ended the tournament as the top scorer and put an end to his international career in the most fitting way. [16]I M Vijayan Interview – The Week
Post-retirement
Although he hung up his boots in 2006, he was part of the Gokulam Kerala's futsal team for the 2020-2021 season as a crowd-puller. Post-retirement, he shifted his focus to the football school he started in Thrissur. In 2010, he joined the Calcutta premier division side Southern Samity as their coach. [17]Mathrubhumi In 2017, he was appointed as the national observer for football by the Ministry of Youth Affairs and Sports, Government of India. On September 2022, he was appointed as a member of the technical committee of the All India Football Federation (AIFF). [18]All India Football Federation – Official Website
Film
After announcing his retirement from professional football, he turned to the film industry. Since then, he has appeared in many Malayalam and Tamil films. He became more popular after appearing in the 2021 Malayalam film 'Mmmmm,' which was widely appreciated by critics and was also listed among 366 films that were eligible for the Academy Awards. In 2018, he announced that he was planning to launch his own production company titled 'Big Daddy Entertainment' along with his friends.
Malayalam
In 2001, he made his debut with the film 'Shantham' directed by Jayaraj, which won the Swarna Kamal Award for Best Feature Film at the 48th National Film Awards in 2001. Vijayan was also part of 'Mmmmm,' which won the Best film award at the 2021 Paris Film Festival. Later, he appeared in many more films including Quotation(2004), Asuravithu (2012), Abrahaminte Santhathikal (2018), and Muddy (2021); Muddy was India's first off-road mud race-based movie. In an interview, he recalled his experience of working with Mammootty and Mohanlal, two of the famous actors in the South Indian film industry. [19]I M Vijayan Interview – The Week
Tamil
He made his Tamil debut with the film Thimiru(2006). Later, he appeared in many more Tamil films like Komban (2015), Gethu (2016), Ganesha Meendum Santhipom (2019), and Bigil (2019). During his time in the Tamil industry, he worked with superstars like Vijay, Karthi, and Vishal.
Controversy
In August 2001, I. M. Vijayan played for Muktijoddha Sangsad KC in the Dhaka Premier Division League in Bangladesh; he played five matches for them. Later, when he returned to India to play in domestic clubs, the allegations were made against him that he lacked the ITC (International Transfer Certificate), which led to the inquiry of AIFF, and he was fined a sum of 50,000 rupees. He later accepted the disciplinary action against him and agreed to pay the sum.
Awards, Honours, Achievements
He received the Arjuna Award in 2003, the second-highest honour in India given in the field of sports and games for outstanding performance.
He became the first person to win the AIFF Player of the Year Award three times, in 1993, 1997, and 1999.
He was named the best player in the Nehru Cup tournament in 1993.
He was promoted to the Assistant Commandant of Kerala Police in 2021.
I am glad to inform you all that I have been promoted as Assistant Commandant of Kerala Police. pic.twitter.com/aRN8ZsrtUB

— I M Vijayan (@IMVijayan1) February 20, 2021
Favourites
Footballer: Diego Maradona. An ardent fan of Maradona I. M. Vijayan has tattooed Maradona on his leg.
Salary
In 2013, his salary as an armed police inspector was Rs. 33357 [22]Yumpu
Facts/Trivia
By the time he was selected for the Kerala Police club, he was just 17 years and 6 months old; however, he couldn't play for the team as only players of 18 years and above were eligible to play for the team, and he was asked to wait for six months to play for the team. According to Vijayan, it was the Kerala DGP and Chief Minister who allowed him to play for the team after they noticed his skills. [24]

I M Vijayan Interview – The Week
Gokulam Kerala FC's crest was officially unveiled by I M Vijayan and Pinarayi Vijayan on January 2017. Gokulam is a professional football club in the I-League.
In 2012, I. M. Vijayan shared a stage and played ball with soccer icon Diego Maradona in Kannur, Kerala. He confessed that the few minutes he spent with Maradona were magical. In an interview, he revealed that Maradona is a God to him, and it was a shock for him when he heard about the demise of the Argentinian legend and insisted that he found it hard to accept the news. [25]

The Times of India 
In an interview, Vijayan revealed that he would love to watch Lionel Messi lift the World Cup, and he supported Argentina in the FIFA World Cup 2022. He also revealed that initially he supported Brazil and Pele, but after watching Maradona, he switched teams. [26]

The Indian Express
I. M. Vijayan is fondly called Kalo Harin (Blackbuck) by football fans. In 1998, Cherian Joseph directed a documentary film titled 'Kalo Harin' based on I. M. Vijayan.
I. M. Vijayan has tattoos on his biceps.
In an interview, he revealed that he was never good at studies and failed five times in his fifth standard at the Church Mission Society High School, Thrissur; his new classmates were confused about how to address him as he was older than them. Vijayan told his younger classmates not to address him as Chettan (elder brother). He was always late to class as he regularly went to practise football at the Thrissur Municipal Corporation Stadium, at six in the morning and during his noon breaks. [27]

Outlook Prabhavati, who taught him at school became so close with him that she even sponsored his essentials needed at school. [28]

The Times of India
Vijayan came from humble beginnings and lacked the essentials required for a professional footballer, as a kid he did not even have boots to play in, and he attended a football tournament held in Kashmir during his school days. In an interview, he recalled how his Hindi teacher had taught him some basic lines in Hindi and advised him not to say "chor" (rice in Malayalam and thief in Hindi) and advised him to ask for "chaval" instead when he went to play in Kashmir. [29]

Outlook
In an interview, he said that without football he is nothing, and he could not live without football. Vijayan had witnessed the FIFA World Cup tournaments from 2002 to 2022 in person and saw his favourite team, Argentina lifting the trophy in 2022. [30]

Malayala Manorama [31]

The Times of India
Vijayan was a guest on the Comedy Super Nite on Flowers Channel, hosted by the Malayalam actor Suraj Venjaramoodu. While interacting with the audience, Vijayan said that the only person who had played for the Indian national football team from his old school, Church Mission Society High School, Thrissur, was him. [32]

The Times of India
In an interview, Vijayan said that he never stop followed the routine when he began his career. He kept his body and mind sharp by regularly exercising and playing football, and was an active participant in the sevens football circles and even owns the sevens football club, Usha FC, Thrissur, named after his mother. He mesmerized the crowds even after announcing his retirement as a professional player in the early 2000s and could outclass his opponents even in his early fifties. [33]

The Times of India
In 2019, he was approached by the Indian National Congress to contest in the Indian general elections from the CPM stronghold, Alathur Lok Sabha constituency. However, Vijayan declined the request and responded that he did not like the idea of joining politics, and preferred people saw him as the footballer I. M. Vijayan and not as a politician, also said that he enjoyed his job with the Kerala police and could not predict what he would do post-retirement. He reiterated that both the parties, CPM and Congress, had immensely helped him; the then Congress chief minister K. Karunakaran helped him get into the police service, and after returning from Mohun Bagan, it was the then CPM's Home Minister, Kodiyeri Balakrishnan, who helped him get back into the Kerala Police. [34]

The Telegraph