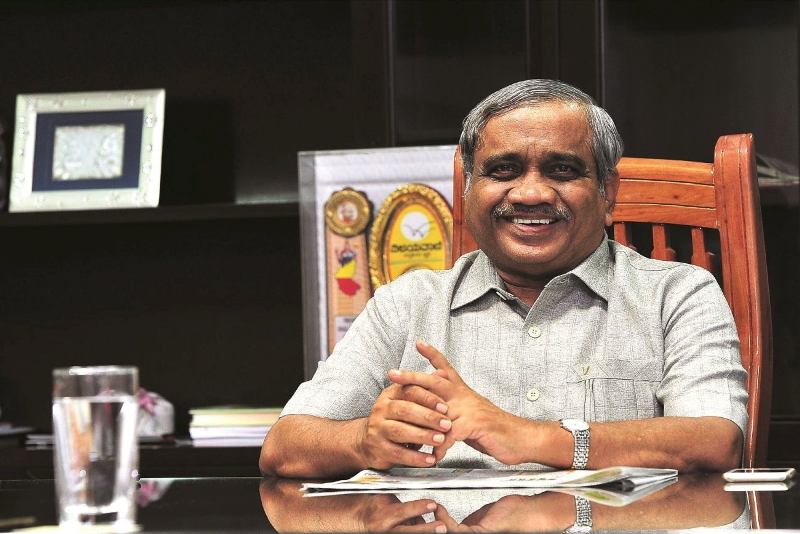 Vijay Basavanneppa Sankeshwar is an Indian businessman and politician. He is also the founder of VRL Logistics Limited (formerly Vijayanand Roadlines Ltd.). [1]TOFLER He made headlines in October 2022, when it was announced that a biopic on him would be released in 2022.
Wiki/Biography
Vijay Sankeshwar was born on Wednesday, 2 August 1950 (age 72 years; as of 2022) in Gadag-Betageri city, Mysore (now Karnataka), India. After completing his school studies, Vijay Sankeshwar enrolled at Adarsha Shikshana Samiti College of Commerce in Karnataka, where he pursued a bachelor's degree in commerce. [2]Vijay Sankeshwar's Lok Sabha profile
Physical Appearance
Height (approx.): 5′ 6″
Hair Colour: Salt and Pepper
Eye Colour: Dark Brown
Family
Parents & Siblings
His father, Basavanneppa Sankeshwar, was a businessman who established the printing press B G Sankeshwar and Co. (now Sankeshwar Printer Private Limited) in Gadag. The press was known for publishing and printing the D K Bhardwaj Kannada Dictionary, books and guides. His mother's name is Chandrawwa Sankeshwar (deceased). Sankeshwar has seven siblings. He was the fourth eldest child among seven siblings. His brother's name is Mrutyunjaya Basavanneppa Sankeshwar. His brother's name is Dayanand Sankeshwar.
Wife & Children
His wife's name is Lalitha Sankeshwar. He got married to her on 14 December 1972. He has a son and three daughters. His son, Anand Sankeshwar, is the managing director of VRL Logistics Limited. His daughter's name is Bharati Holkunde.
Religion
Vijay Sankeshwar follows Hinduism. [3]News Karnataka
Signature/Autograph
Address
He resides at 2742/2, Shide Building, Bhavani Nagar, Hubli, Karnataka- 580023, India.
Career
Business
Vijay Sankeshwar's career as a businessman began in 1966 when his father gifted him his first printing press, Vijay Printing Press, on his 16th birthday. It was a small set-up with just one machine and two employees. At the press, Sankeshwar handled the composing, type-setting, and proofreading work. In 1969, aged 19, Vijay Sankeshwar modernised his printing press by adding modern machinery to it to expand his printing business. According to Vijay Sankeshwar, for installing modern machinery in his printing press, he had to borrow Rs 1 lakh from the bank. Talking about his printing press, he said,
My father was reluctant to send me to college after my schooling. He wanted me to get into the printing business and settle down. So my father gifted me a printing press named 'Vijay Printing Press', it was a very small set up with just one machine and two employees. I took a critical decision to take the company to the next level and added a few modern printing machinery, which then cost one lakh rupees."
While expanding his printing business, Vijay established a business in transport. Initially, he had only one truck that he had bought by taking a loan of Rs 2 lakhs. Talking about it, he said,
With no or little communication access to reach the drivers once they hit the road, I had no clue when the cargo would reach the customer, till the trucks came back safe to the warehouse. I have suffered severe losses and frequent accidents of vehicles that I owned. Not deterred by these setbacks, I worked hard to reach my goal."
In 1978, Vijay Sankeshwar and his family shifted to Hubballi to expand their transport business. In 1983, with eight owned trucks, the business was converted into a private limited company named Vijayanand Roadlines. By the beginning of 1990, his transport company had a fleet of 117 commercial vehicles, and his company's annual turnover was more than Rs 4 Crore. Two years later, Vijay began courier delivery services and procured more trucks in Karnataka. By 1996, he had purchased four passenger buses, which were used to carry passengers from Hubballi to Bangalore and vice versa. In 2006, VRL Logistics Limited established a 42.5 Mw wind power venture at Kappatgudda, Gadag district, Karnataka. Talking about it, Vijay Sankeshwar said,
All of my ventures were completely and undoubtedly based on trial and error method. I took maximum risk as well as pride in whatever I have done so far. We have never copied anyone in any of our business models, ever."
As of 2014, VLR Logistics Limited has more than 5111 vehicles out of which they have 295 passenger transport Vehicles and 4816 goods transport vehicles. Limca Book of Records mentioned VRL as being the largest fleet owner of commercial vehicles in the country's private sector by a single operator. VRL Group conglomerate runs various business operations other than road transportation and publishing like VRL General Cargo, Vijayanand Travels, VRL Logistics Ltd., VRL Media Ltd. etc. On 1 April 2011, VRL Group's established the flagship entity Vijayavani, a Kannada-language newspaper printed by VRL Media Ltd. In April 2017, VRL Media Ltd. started Digvijaya News 24×7, a Kannada television news channel. He has also founded several other Kannada newspapers and magazines like Vijay Karnataka, Nootana, and Bhavana. In 2020, Vijay Sankeshwar founded an online bookstore named Sahitya Prakashana, which sold books in English, Hindi, and Kannada.
Politics
Vijay Sankeshwar's affiliation with politics began at an early age. When he was 12 years old, he used to partake in different types of meetings and gatherings held by Rashtriya Swayamsevak Sangh (RSS). He also used to participate in election campaigning of the Bharatiya Janata Party (BJP) during state and national elections. In 1993, Vijay Sankeshwar joined the BJP following which he held several state-level party appointments. In 1996, he contested and won the 11th Lok Sabha elections from the Dharwad constituency in Karnataka on a ticket of BJP. In 1997, he was appointed as a Member of the Finance Committee and the Consultative Committee. In 1998, he was re-elected as MP from the Dharwad Lok Sabha constituency. In 1999, when the 1998 government collapsed and led to fresh elections, he once again contested general elections from Dharwad and won a seat in the Lok Sabha. From 1999 to 2000, Vijay Lankeshwar served as a member of various parliamentary committees like the Committee on Commerce and the Committee on Transport and Tourism. In 2003, due to a conflict between him and the BJP, Vijay left the BJP and formed his party Kannada Naadu Party (KNDP). KNDP contested in the 2004 Karnataka Legislative Assembly election. KNDP later merged into Janata Dal (Secular). Later, Vijay Sankeshwar entered the Karnataka Legislative Assembly as a Member of the Legislative Council (MLC); however, due to RSS' stand on politics, he resigned. [4]The Hindu Talking about it, he said,
I have been associated with the RSS for 52 years and it is much more than a mother to me. And I am not against the RSS. But the manner in which it has functioned in the last eight to ten years, especially with regard to the lack of transparency on donations received by it and the manner in which it is dictating terms to the BJP, has disappointed me."
In 2014, he rejoined the BJP after Karnataka Janata Paksha (KJP) amalgamated with the Bharatiya Janata Party (BJP). [5]The Weekend Leader
Controversy
The lemon juice row during COVID-19
In 2021, when numerous COVID-19 patients were dealing with oxygen scarcity, Vijay Sankeshwar, Vijay Sankeshwar made a statement in which he claimed that if people put two drops of lemon juice in their nostrils, it would increase the level of oxygen in their body and would help them in preventing contracting coronavirus. Following his statement, a government school teacher, Basavaraj Malipatil, from Raichur, who listened to his advice, injected two drops of lemon juice in his nostrils which led to his death. After the death, Bhimanagouda Paragonda, a lawyer and an RTI activist, sent a complaint against Vijay Sankeshwar to the commissioners of the Dharwad and Raichur districts, urging them to file a case against Sankeshwar for misleading the masses. Bheemagouda Paragonda also accused the state government of taking no action against its leaders for misleading the masses during the pandemic. [6]The Hindu Talking about it, Paragonda said,
Mr. Vijay Sankeshwar is responsible for the death of Basavaraj Malipatil. He died after following the home remedy as told by Mr Vijay. I urge the the jurisdictional officers to file a suo motu case under Section 306 of the Indian Penal Code and some sections of Disaster Management Act. Also, the Karantaka government should pay a compensation of Rs 50 lakh to the family of the deceased teacher in Raichur."
Awards, Honours, Achievements
In 1994, Vijay Sankeshwar received the Udyog Ratna Award, presented to him by the Institute of Economic Studies.
In 2002, Vijay Sankeshwar received the Aaryabhat Award.
In 2007, Vijay Sankeshwar was presented with Sir M. Visvesvaraya Memorial Award by the Federation of Karnataka Chambers of Commerce and Industry (FKCCI).
In 2008, Vijay Sankeshwar received the Transport Samrat Award from the All India Motor Transport Congress.
In 2012, Vijay Sankeshwar was selected as the "Transport Personality of The Year" during the India Road Transportation Awards (IRTA).
In 2014, Karnataka University bestowed an honourary doctorate upon Vijay Sankeshwar.
In 2020, President Ram Nath Kovind presented India's fourth-highest civilian award, Padma Shri, to Vijay Sankeshwar.
Assets/Properties
Movable Assets
Cash: Rs. 1,50,000
Bank Deposits: Rs. 3,25,238
Bond, Debentures, and Shares in Companies: Rs. 5,62,86,625
Values of claims/interests: Rs 17,75,000
Jewellery: Rs. 1,50,000
Net Worth
As of 2004, his net worth is Rs. 58, 686,863.
Facts/Trivia
Vijay Sankeshwar is a member of several national-level committees like the All India Motor Transport Congress, Tobacco Board, and Karnataka Chamber of Commerce and Industry.
In 2022, Anand Sankeshwar, son of Vijay Sankeshwar, announced that he is producing a biopic titled Vijayanand. According to Anand Sankeshwar, the film is based on his father's journey and would be released in Hindi, Tamil, Telugu, Malayalam, and Kannada.