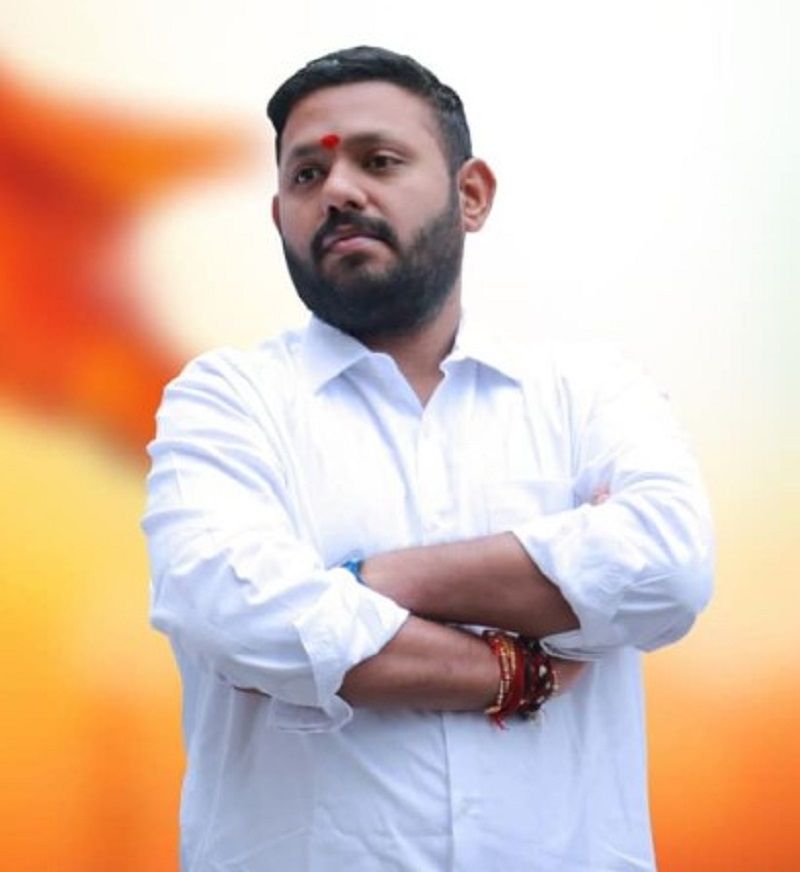 Amey Ghole is an Indian politician who is known for being a close aide of the Cabinet Minister of Higher Education, and Cabinet Minister of Tourism and Environment for the Government of Maharashtra Aditya Uddhav Thackeray.
Wiki/Biography
Amey Arun Ghole [1]BMC Elections was born on Tuesday, 10 June 1986 (age 37 years; as of 2023) in Ratnagiri, Maharashtra. His zodiac sign is Gemini. He did his schooling at Don Bosco High School, Matunga, Mumbai. He pursued a diploma in management at L.N. Welingkar Institute of Management Development and Research, Mumbai. He pursued his graduation at R.A. Podar College of Commerce and Economics, Mumbai. [2]The Hindu
Physical Appearance
Height (approx.): 5′ 5″
Hair Colour: Black
Eye Colour: Black

Family
Parents & Siblings
There is not much information available about his parents and siblings.
Wife & Children
He is unmarried.
Religion/Religious Views
He follows Hinduism.
Signature
Career
He is a part of the Shiv Sena Youth wing Yuva Sena but left the party in 2023. In 2017, he contested the BMC elections from Ward No 178, Kohinoor Mills and won the elections.
Controversy
In January 2021, he was involved in a controversy when an ex-military officer Sujit Apte filed a complaint against Amey accusing him of threatening to kill him. He filed a writ petition in the Bombay High Court after the Mumbai police denied filing an FIR against Amey. In his petition, he said that Mumbai Police did not help him because they were pressurized by politicians. In an interview, Sujit said that the problem started when Municipal authorities demolished an illegal Sai Baba Mandir constructed on the footpath of his property. He claimed that the temple was built near a slum, and many people used to sit inside the illegal premises and freely consume alcohol and smoke drugs. He also said that during the Covid-19 pandemic, these activities were still taken out in the temple and even after filing a complaint, no action was taken against them. On 11 December 2020, the HC gave orders to demolish the temple. On 13 December 2020, after the structure was demolished, Amey came to Sujit's house with local goons. In an interview, Apte remembered what Ambey told him and said,
It is because of you that our temple has been demolished. That temple belonged to our voters. They could have used it to do whatever they wished to. Who are you to interfere. Now my voters would sit on the footpath abutting your property and do charas and ganja or whatever they want."
He also ordered Apte to remove all the security installed on his property by 16 December because they wanted to rebuild the Sai Baba Temple. He even asked the goons to sit in front of Apte's house and drink, smoke or do whatever they wished to do. [3]ANI
Assets
According to a media report, he has assets worth Rs. 41 lakhs. [4]Hindustan Times
Facts/Trivia
Reportedly, he has 8 criminal cases in his name.
In July 2017, RJ Malishka played the song titled 'What do you trust Mumbai BMC?' on Red FM. The song became popular in just a few minutes after which the other radio channels started campaigns about it. Shiv Sena corporator Solanki Sarwankar and Amey told the Municipal Commissioner Ajoy Mehta to take legal action against the Red FM and the Malishka for defaming Municipal Corporation. The song was about the BMC not working properly as there was a lot of traffic in Mumbai and trains were not kept properly. After the song was played, the BMC workers said that they worked a lot and did not have a festival leave. The workers also said that a lot of garbage was lifted every day and water was supplied regularly. Sarvankar demanded the Municipal Commissioner take legal action against Red FM for a false claim against the municipal employees.
In December 2019, he criticized Devendra Fadnavis' wife Amruta Fadnavis in her Tweet about Thackrey. In a Twitter post, she wrote, that one cannot become a 'Thackrey' if they have the surname 'Thackrey'. Replying to her Tweet, he talked about the history and said that Raghunathdada Pethway was intelligent and mighty but power-hungry Anandibai corrupted his intellect. He made the issue of morality and Raghoba became a villain. Amey criticized Amruta by saying that history should not be forgotten at present.
Very true @Dev_Fadnavis ji ! One cannot be a 'Thackeray' also by just putting 'Thackrey' surname after his name ! One needs to be true, principled & should think for betterment of people & party members above his own family & power dynamics ! @ShivSena @OfficeofUT https://t.co/3W0AsvcTeG

— AMRUTA FADNAVIS (@fadnavis_amruta) December 22, 2019
इतिहासात रघुनाथदादा पेशवे हे बुद्धिमान, पराक्रमी असल्याचे सुरुवातीचे उल्लेख आहेत. सत्तालोभी आनंदीबाईंनी त्यांची बुद्धी भ्रष्ट केली. त्यांनी नैतिकतेचाच मुडदा पाडला आणि राघोबा खलनायक ठरले. वर्तमानात इतिहास विसरायचा नसतो! #ठाकरेठाकरेच! #आजच्याआनंदीबाई https://t.co/5GWTWJaCe6

— Amey Ghole (@AmeyGhole) December 22, 2019
In 2020, Amey took demolition action on a complaint against Lalit Restaurant & Bar at Dhobitalao. The Bombay High Court criticized his decision about demolition. The owner of the restaurant Lalit D'Souza in the petition said that the municipal corporation takes action only when a complaint is registered by politicians. Amey in his complaint said that the restaurant building was illegally built in a house gully. After this, Lalit in his petition said that the building was constructed in 1973 and the business was registered by the BMC since then. Amey's advocate said that BMC sent a notice that was pasted on the restaurant wall, but they did not receive it because it was closed due to COVID-19. The judges in the order said, 'We prima facie are satisfied that corporation has acted hastily upon receiving a complaint but it was not given.'
In 2020, he shared a picture of a boat on Twitter and claimed that it was the Maharashtra government's ambulance service from Mandava Jetty to the Gateway of India. After the picture went viral, it was retweeted over 350 times. The Print reported that the boat ambulance in Guernsey was called Flying Christine III and it was previously shown in a BBC article from 2014.
A Very unique and nice initiative by Maharashtra Govt. introducing Boat Ambulance from Mandava Jetty to Gate Way of India, Thank You @CMOMaharashtra !!! pic.twitter.com/NUQrfKeW6z

— Amey Ghole (@AmeyGhole) August 9, 2020
In December 2020, to solve the civil issues, he invited citizens of Wadala to join him as representatives so that people could participate in solving civic issues. He said that the representatives would act as a mediator to raise civic issues and suggest improvements to him. He received more than 150 requests from his ward and there were many people who wanted to be part of his 'Join team corporator' initiative.
In January 2023, after he missed a meeting of the Yuva Sena called by Aditya, Aditya said that Amey was planning to leave Shiva Sena or the Yuva Sena. In an interview, he said that he questioned Aditya Thakeray about the private monopoly in the Yuva Sena. In the interview, he said,


Aadityaji treated me like a family member. They never ill-treated me. I raised these issues, I am waiting for an answer. I will never leave their hand and go somewhere else. I'm waiting for a positive answer … I am going to be with the Thackeray family and will keep working for the party. I am not in talks with anyone, my loyalty is to Aadityaji only."
On 17 April 2023, he left the Shiv Sena and alleged that former Mayor Shraddha Jadhav and Shiv Sena secretary Suraj Chavan were not giving him space in his work. In the letter, he wrote to Aditya, he further said that he wrote to Aditya about the problem but he did not receive any reply from him. In an interview, he talked about this and said,


My friendship with Aaditya is not limited to politics and I expect to continue the friendship in future. I had tried a lot to resolve the internal dispute but couldn't succeed. Eventually, I had to leave the party. Now, I am joining the Eknath Shinde-led Shiv Sena."