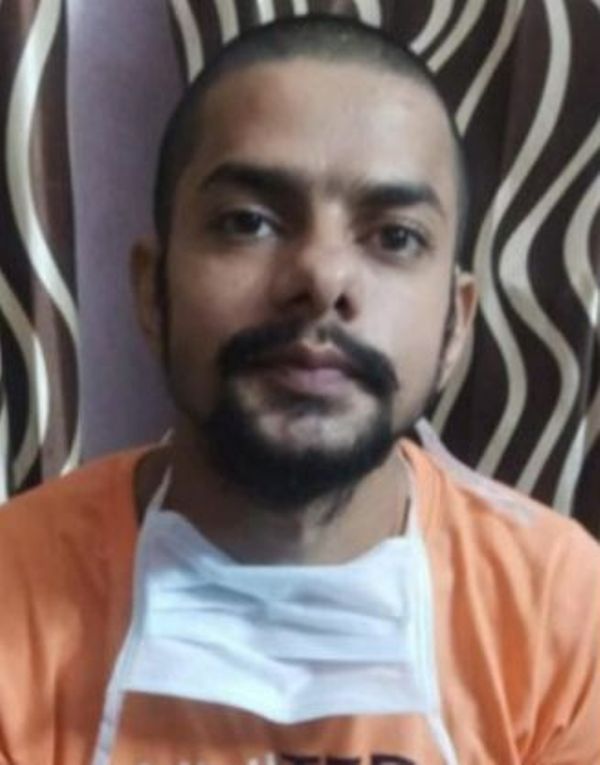 Anmol Bishnoi is an Indian boxer and gangster who is accused in the Punjabi singer Sidhu Moose Wala murder case; he is one of the absconders in the case.
Wiki/Biography
Anmol Bishnoi was born in 1999 (age 24 years; as of 2023) in Duttaranwali village (also spelt as Dotaranwali and Dutaravali) in Abohar tehsil of Firozpur district in Punjab, India. After studying at Sachkhand Convent School in Abohar, he took up admission to a college in Mount Abu, Rajasthan; however, he dropped out after a short period to join his brother's Bishnoi gang. [1]The Hindu
Physical Appearance
Height (approx.): 5′ 7″
Hair Colour: Black
Eye Colour: Black

Family
Parents & Siblings
His father's name is Lavinder Singh (also called Lavinder Bishnoi), and his mother's name is Sunita Bishnoi. His father reportedly joined the Haryana Police Department as a constable, but he left the post after some time; however, some sources claim that he never joined the police department and worked only as a zamindar. [2]The Tribune – YouTube Anmol's mother, on the other hand, is a homemaker. In 2018, she filed nomination papers for the Sarpanch elections; however, she later stepped down after a candidate named Surinder Bhagria also filed nomination papers as she wanted to contest the elections unanimously. [3]The Indian Express Anmol has an elder brother named Lawrence Bishnoi, who is known for being involved in the killing of the popular Punjabi singer Sidhu Moose Wala.
Wife 
Anmol Bishnoi is unmarried.
Other Relatives
Sachin Bishnoi (also known as Sachin Thapan Bishnoi and Sachin Thapan) is the nephew of Anmol Bishnoi.
Caste
Anmol Bishnoi belongs to the Bishnoi community.
Criminal Activities
Forming an Inter-State Gang
Reportedly, following the arrest of Lawrence Bishnoi and his associates on 5 March 2015 near the India-Pakistan border, Anmol allegedly established a gang consisting of young people from Abohar, Punjab. This group was involved in several armed robberies and extortion cases. In July 2015, Anmol and his accomplices including Sachin Thapan, Ankit Bhadoo, Ankit Jakhar, Arzoo Thalour, Praveen Gogi, and Vikram were apprehended by the Fazilka police. Authorities seized Rs. 1.75 lacs, six homemade .12 bore revolvers, two .315 bore pistols, two .32 bore pistols, a .12-bore DBBL gun, and two motorcycles during the arrest. [4]The Tribune
Suspected Involvement in Ransome Case
In July 2020, Anmol was lodged in a Rajasthan jail due to his suspected involvement in a case where a Muktsar-based mobile phone dealer received a ransom call demanding Rs. 10 lakhs on 4 July 2020. According to Muktsar City SHO Mohan Lal, Anmol was facing 12 criminal cases including murder, attempt to murder and ransom in Rajasthan and Punjab in 2020. [5]Hindustan Times
Sidhu Moose Wala Murder Case
On 29 May 2022, Sidhu Moose Wala was shot dead in a gun attack by unidentified assailants when he was driving his Thar in the Jawaharke village of Mansa district in Punjab. The unidentified assailants fired 30 rounds at his car; Sidhu was accompanied by his two personal bodyguards, who also got injured in the firing. Sidhu Moose Wala was rushed to the Mansa Civil Hospital, where he was declared brought dead by the doctors. A few hours after his murder, Goldy Brar and Lawrence Bishnoi took the responsibility for killing him through a post on social media, which read,
Today, Moosewala was killed in Punjab, I, Sachin Bishnoi, Lawrence Bishnoi take the responsibility. It's our work. Moosewala's name surfaced in our brother Vikramjit Singh Middukhera and Gurlal Brar's murder, but the Punjab Police did not take any action against him. We also came to know that Moosewala was also involved in the encounter of our associate Ankit Bhadu. Moosewala was working against us. Delhi Police had taken his name but Moosewala used his political power and saved his skin each time."
According to police officials, Anmol Bishnoi fled from India to Kenya via Nepal and Canada using a fake passport a month before Moose Wala's murder on 29 May following which a Red Corner Notice was issued by Interpol against him. Sachin Thapan alias Sachin Bishnoi, on the other hand, fled along with Anmol from India to Azerbaijan. [6]Hindustan Times Reportedly, Anmol and Sachin fled from India under the fake name of Bhanu Pratap and Tilak Raj respectively. [7]The Times of India
In September 2022, Anmol was detained in Kenya, while Sachin was detained in Azerbaijan; the Ministry of External Affairs (MEA) spokesperson Arindam Bagchi stated this during a weekly media briefing. [8]The Tribune
Facts/Trivia
Anmol belongs to an affluent family, owning a commercial plot and three houses in Abohar; however, these properties remain vacant and unattended as there is no one available to take care of them. According to sources, his forefathers possessed hundreds of acres of land in Duttaranwali village. Additionally, his parents own extensive land holdings in Abohar, Jodhpur, and Bikaner, totalling over a hundred acres, which they have leased out since they are unable to work the land themselves.
His family have a good reputation in the village to the extent that the villagers refuse to disclose their address to visitors who come intending to disturb or interrogate the family.
In April 2023, Anmol was seen at an event (reception) in the United States, where he was spotted alongside Punjabi singers Karan Aujla and Sharry Mann. Karan Aujla and Mann, however, posted a story on their respective social media handle in which they mentioned that they had no clue about Anmol being at the event until they saw videos of him on social media. They explained that they had been booked to perform at the reception through a mutual friend's request. Anmol's carefree attendance at the reception, despite the Interpol Red Corner Notice against him, raised eyebrows and prompted questions about his ability to travel freely. Sidhu Moose Wala's father reacted to the viral video of Anmol, stating his disappointment at seeing Anmol travelling without restrictions and enjoying the festivities. [9]

The Quint Sidhu Moose Wala's father, in an interview, said,


I had read reports that Anmol Bishnoi has been detained. Then how did he reach America? I feel sometimes these updates are given just to fool people."
Is that Anmol Bishnoi, brother of gangster Lawrence Bishnoi, standing next to Punjabi singer Karan Aujla? Anmol is fugitive in Sidhu Moosewala murder case. This video is from Bakersfield, California. pic.twitter.com/TKh81Vr7od

— Sandeep Singh (@Punyaabteam) April 19, 2023