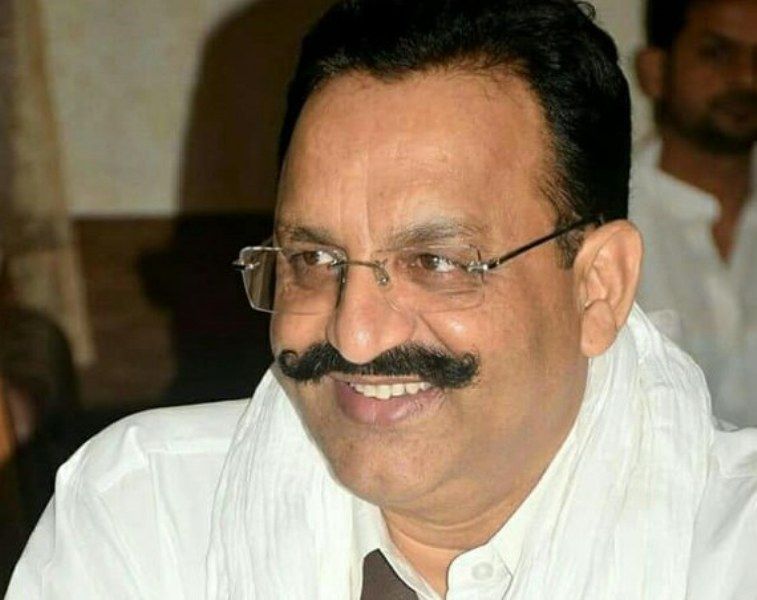 Mukhtar Ansari is an Indian politician and strongman. He is considered one of the influential personalities in Eastern Uttar Pradesh (Purvanchal). There have been numerous criminal cases against him, including the murder of the BJP MLA Krishnanand Rai.
Wiki/Biography
Mukhtar Ansari was born on Sunday, 30 June 1963 [1]UP Vidhan Sabha (age 60 years; as of 2023) in Ghazipur, Uttar Pradesh. He started his political stint in the Student Council elections at the Post Graduate Gazipur College Rambadh where he earned a BA degree in 1984. [2]My Neta After completing his graduation, he went on to become a strongman in Purvanchal.
Physical Appearance
Height (approx.): 6′ 2″
Hair Colour: Black
Eye Colour: Black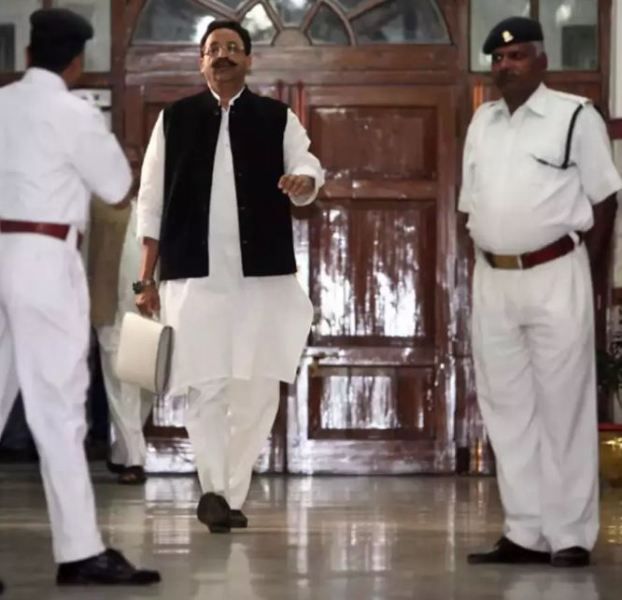 Family & Caste
Mukhtar Ansari belongs to a prominent Sunni Muslim family of Ghazipur. [3]UP Vidhan Sabha
Parents & Siblings
He was born to Subhanullah Ansari (father) and Begum Rabia (mother).
His mother died in December 2018. [4]News 18 His grandfather, Dr. Mukhtar Ahmed Ansari was an Indian freedom fighter and former president of the Indian National Congress and the Muslim League.
He has two elder brothers, Sibakatullah Ansari who was a Bahujan Samaj Party MLA from Mohammadabad constituency, and Afzal Ansari who is a Lok Sabha member from Ghazipur.
Relationships, Wife & Children
He got married to Afsa Ansari on 15 October 1989. [5]UP Vidhan Sabha
He has two sons – Abbas Ansari and Umar Ansari. His elder son, Abbas Ansari is an ace shooter and a gold winner in the national-level shooting. Abbas is a management graduate. In 2017, Abbas contested the 2017 Uttar Pradesh Assembly elections from Ghosi on Bahujan Samaj Party (BSP)'s ticket. Ansari's youngest son, Umar is also involved in active politics.
Address
Tailor Tola, Kasba – Yusufpur, Post – Mohammedabad, District-Ghazipur [6]UP Vidhan Sabha
Early Crimes
Mukhtar Ansari entered the world of crime in 1988 when he killed Sachidanand Rai, a local Mandi Parishad contractor in Ghazipur. Around the same time, his name also appeared in the murder of Rajendra Singh in Varanasi. Rajendra was a police constable and the brother of Tribhuwan Singh, a close aide of Brijesh Singh. [7]Bhaskar
The Mafia Don of Purvanchal
By 1990, Mukhtar Ansari had become the leading criminal mafia in Eastern Uttar Pradesh, and he expanded his criminal activities in Mau, Ghazipur, Varanasi, and Jaunpur. He went on to control Ghazipur's lucrative Thekedari or contract work mafia, which includes coal mining, railway construction, Public Works Department construction, and the liquor business. Ansari has been controlling various government contracts worth hundreds of crores for many years in Eastern Uttar Pradesh. Apart from contract work, Ansari also has his stronghold in extortion, kidnapping, and extraction of protection money called 'Goonda Tax.'
The Biggest Rivalry of Purvanchal
While vying for Ghazipur's lucrative Thekedari or contract work mafia, Ansari confronted Brijesh Singh, another strongman from Eastern Uttar Pradesh. The cause behind the conflict between Ansari and Brijesh Singh was a plot of land near Saidpur in the early 1980s for which two groups, one led by Makhanu Singh and Sandhu Singh and the other by Sahib Singh and Ranjeet Singh, had come face-to-face. Following the killing of Makhanu Singh, brutal reprisals followed. Later, Mukhtar Ansari became an associate of Makhanu Singh's gang, while Brijesh Singh joined Sahib Singh's. Thereafter, the Mukhtar Ansari-Brijesh Singh feud went on to shed heavy bloodshed in the region through multiple gang wars. In 2001, Brijesh Singh ambushed Ansari's convoy on the Mau-Lucknow highway, a shootout followed in which Ansari's three key men were killed. In the shootout, Brijesh Singh was critically injured and was later declared dead in popular media; however, one year later, he appeared in the Mau-Ghazipur area.
The Krishnanand Rai Murder Case
After Krishnanand Rai won the 2002 Uttar Pradesh Assembly elections from the Mohammadabad constituency; defeating Mukhtar Ansari's brother, Afzal Ansari, he reportedly passed on all government contracts to Brijesh Singh who had allegedly financed Rai's election campaigns. On 29 November 2005, Krishnanand Rai was killed in mafia-style. Following Rai's murder, an F.I.R. was filed at the Ghazipur police station, naming Mukhtar Ansari, his elder brother Afzal Ansari, and Munna Bajrangi who were allegedly involved in Krishnanand Rai's murder. [8]Frontline Later, Mukhtar Ansari was arrested and sent to jail; however, on 3 July 2019, after spending 13 years in jail, he was released after witnesses against him turned hostile.
On 29 April 2023, Ansari was convicted of kidnapping and murdering Krishnanand Rai and sentenced to 10 years in prison along with a fine of Rs 5 lakh by Ghazipur's MP-MLA court in Uttar Pradesh. [9]Hindustan Times On 25 September 2023, the Allahabad High Court granted bail to Mukhtar Ansari, who was lodged in Uttar Pradesh's Banda Jail, in the case. The fine of Rs. 5 lakh was stayed by the court. [10]The Siasat Daily
Political Career
In 1996, Mukhtar Ansari contested the Uttar Pradesh Assembly elections for the first time from Mau on a BSP ticket and won. Since then, he has elected as an MLA from the Mau constituency a record five times. He contested the 2002 and 2007 Uttar Pradesh Assembly elections from Mau as an independent and won. He lost the 2009 Lok Sabha election from Varanasi on a BSP ticket. In 2012, he formed a new political outfit, Quami Ekta Dal and contested the Uttar Pradesh Assembly elections as a candidate of Quami Ekta Dal and won. In 2017, he returned to the Bahujan Samaj Party and won the Uttar Pradesh Assembly elections from Mau.
Controversies & Criminal Charges
He has seven charges related to criminal intimidation (IPC Section-506).
He has five charges related to Attempt to murder (IPC Section-307).
There are five charges against him related to Murder (IPC Section-302).
He has two charges related to Dishonest misappropriation of property possessed by deceased person at the time of his death (IPC Section-404).
There are two charges against him related to Cheating and dishonestly inducing delivery of property (IPC Section-420).
He has one charge related to Forgery of valuable security, will, etc. (IPC Section-467).
There is one charge against him related to Forgery for purpose of cheating (IPC Section-468).
He has one charge related to voluntarily causing grievous hurt (IPC Section-325).
There are six charges against him related to Punishment for Rioting (IPC Section-147).
He has six charges related to Punishment of criminal conspiracy (IPC Section-120B).
There are four charges against him related to Rioting, armed with deadly weapon (IPC Section-148).
He has four charges related to Every member of unlawful assembly guilty of offence committed in prosecution of common object (IPC Section-149).
There are three charges against him related to Assault or criminal force to deter public servant from discharge of his duty (IPC Section-353).
He has two charges related to Act endangering life or personal safety of others (IPC Section-336).
There are two charges against him related to Acts done by several persons in furtherance of common intention (IPC Section-34).
There is one charge against him related to cheating by personation (IPC Section-419).
He has one charge related to Punishment of abetment if the act abetted is committed in consequence, and where no express provision is made for its punishment (IPC Section-109).
There is one charge against him related to Intentional insult with intent to provoke breach of the peace (IPC Section-504).
On 23 September 2022, the Allahabad High Court awarded him five years in prison under the Gangsters Act in a 1999 case related to the murder of a jail superintendent in Lucknow. Earlier, in the same month, the High Court sentenced him for criminally intimidating a jailer 19 years ago. [12]

The Economic Times
He was sentenced to life imprisonment by a Varanasi court on 5 June 2023 for the murder of Awadhesh Rai, which took place 32 years ago. Awadhesh Rai, a Congress leader and the brother of former MLA Ajay Rai, was fatally shot outside Ajay Rai's residence in Varanasi on 3 August 1991. [14]

India Today
Salary
Mukhtar Ansari receives Rs. 1.95 lakh monthly salary as an MLA from Uttar Pradesh. [15]Patrika
Net Worth
According to his affidavit filed during the 2017 Uttar Pradesh Assembly elections, his net worth is around Rs. 22 crores. [16]My Neta
Facts/Trivia
His grandfather, Dr. Mukhtar Ahmed Ansari was one of the founders of the Jamia Millia Islamia University, and he served as its chancellor from 1928 to 1936. Dr. Mukhtar Ahmed Ansari was also a renowned surgeon who led the Indian medical mission to treat Turkish soldiers injured during the Balkan war. Dr. Ansari studied at Charing Cross Hospital in London, where, in his honour, a medical ward has been named after him. [17]

The Week
In 2010, he was expelled from the BSP for his involvement in criminal activities.
The MX Player Original crime drama web series, Raktanchal is reportedly inspired by real-life events from the '80s of Purvanchal; especially the confrontations between the Brijesh Singh and Mukhtar Ansari gang.