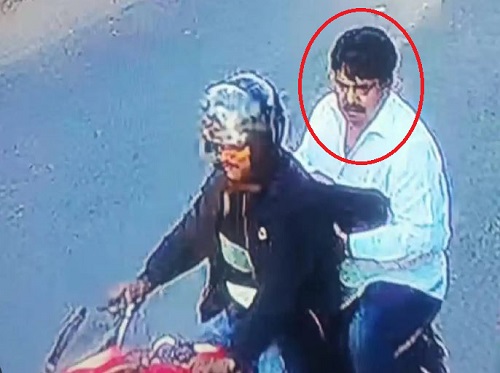 Guddu Muslim is an Indian bomb maker and property dealer, who was an aide of the Indian gangster Atiq Ahmed. He is one of the accused in the murder of the Indian politician Umesh Pal.
Wiki/Biography
Guddu Muslim was born in 1973 (age 50 years; as of 2023) in Prayagraj, Allahabad. He studied at the University of Lucknow, Uttar Pradesh. [1]Amar Ujala
Physical Appearance
Height (approx.): 5′ 7″
Hair Colour: Black
Eye Colour: Black
Family
Guddu belongs to a Muslim family.
Parents & Siblings
He has three elder brothers.
Wife
Guddu is married, and his elder son's name is Md Abid.
Relationships/Affairs
In 2023, during the investigation of Umesh Pal murder case, UP Police found out that Guddu used to talk to a woman on the phone for long hours. According to the UP Police, the woman was his girlfriend. [2]Zee News
Gangster and a Bomb Maker
While he was studying in school, he started getting involved in various criminal activities like robbery and extortion. In his teens, he met a few criminals who taught him how to make bombs. When his parents got to know about his involvement in criminal activities, they decided to shift him to Lucknow to a relative's house. He continued his studies there, and while he was studying at the University of Lucknow, he met two criminals named Abhay Singh and Dhananjay Singh. He then got involved in various criminal activities in Lucknow along with Abhay And Dhananjay. In 1996, Guddu was involved in the murder of the Indian contractor Santosh Singh. Guddu then moved to Bihar as Uttar Pradesh's Special Task Force was behind him in Santosh Singh's murder case. In March 1997, Guddu made the headlines for murdering a physical education teacher named Fredrick J. Gomes, who was teaching at La Martiniere College in Lucknow. Dhananjay Singh was also involved in the murder. The local police then arrested Guddu Muslim in the murder case of Gomes, Guddu even confessed his crime but was released due to the lack of evidence. Later, a few politicians started taking his help to get tender pools for railways and mobile towers in Lucknow. Guddu then met the Indian criminal Sriprakash Shukla, who assisted Guddu in various criminal activities. Guddu started considering Shukla his guru. After the police encounter of Shukla, Guddu met Parvez Tada, a mafia from Gorakhpur. While working with Parvez, Guddu met the Indian politician and gangster Atiq Ahmed and assisted Atiq in various criminal activities. After the police encounter of Parvez Tada, he became a close aide of Atiq. In 2001, Guddu was arrested by Uttar Pradesh's Special Task Force outside Beur jail, Patna in the Santosh Singh murder case. However, Atiq got him bailed.
Some sources claimed that Guddu has a connection with Pakistan's ISI. Once, a few weapons made in Pakistan were also recovered from Guddu. In an interview, retired CO of the Police Department Shivpujan Yadav talked about Guddu Muslim. He said,
I was in Gorakhpur Police Department in 90's to 2000's. At that time Guddu Muslim's name came up in many big incidents. At that time its location was always available on the Nepal border. After executing any incident, Guddu used to run away to Nepal and take shelter there."
In 2005, Guddu was involved in the murder of MLA Raju Pal. Initially, his name was not included in the murder case. His name was attached to the case in 2007 when Mayawati's government came into power and the case was reopened. The name of six shooters including Guddu was included in the murder case of Raju Pal. On 28 February 2006, Atiq Ahmed's goons including Guddu Muslim abducted Umesh (an Indian politician and witness in the Raju Pal murder case) and threatened him not to bear witness in court following which Umesh filed an FIR at Dhoomanganj Police Station in Allahabad (now Prayagraj) against Atiq and Atiq's brother Ashraf Ahmed. A Prayagraj court found Atiq Ahmed, Saulat Hanif, a lawyer, and Dinesh Pasi guilty of kidnapping Umesh Pal in 2006 on 28 March 2023; special MP-MLA court judge Dinesh Chandra Shukla found them guilty under section 364-A of the Indian Penal Code (kidnapping or abduction for murder). The court, however, found seven individuals, including Atiq Ahmed's brother Khalid Azim alias Ashraf, not guilty. On 27 March 2023, the Uttar Pradesh police transported Atiq Ahmed from a Gujarat prison to Prayagraj after a 24-hour road trip. On 24 February 2023, Umesh Pal was shot dead by armed men, identified as the goons of Atiq Ahmed, near his house in Dhoomanganj's Sulem Saray locality. According to reports, assailants including Guddu Muslim hurled crude bombs at Umesh Pal and fired several rounds of ammunition.
The local police announced a reward of ₹5 lakh on Guddu Muslim. He absconded and fled from West Bengal to Bihar, Gujarat, and Delhi. The local police then placed a show-cause notice at his home in Pryagraj.
According to UP Police, after Umesh Pal's murder, Guddu took shelter at Satish Pandey's (a resident of Jhansi) home. However, Satish's wife denied the claims. On 15 April 2023, a few seconds before Atiq Ahmed was shot dead by three men at the premises of MLN Medical College, Prayagraj Atiq was talking to the media persons. Atiq's last words while talking to them were,
Main baat ye hai ki Guddu Muslim."
However, before completing this sentence, Atiq was shot dead.
Facts/Trivia
He owns a chicken shop which is named after his son.
Atiq Ahmed once gave Rs 8 lakh to Guddu for his medical treatment and to return his favour, Guddu used to assist Atiq in various criminal activities.