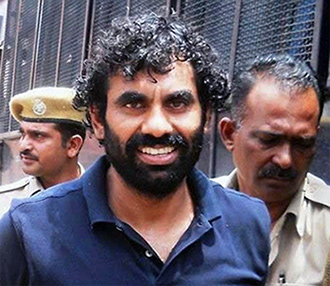 Anandpal Singh Didwana was an Indian gangster who carried out his operations mainly in the cities of Rajasthan. He was one of the most-wanted gangsters with a bounty of Rs. 10 lakh on his head. His alleged encounter in 2017 erupted chaos in various cities of Rajasthan.
Wiki/Biography
Anandpal Singh was born on Saturday, 31 May 1975 (age 42 years; at the time of death) in Sanvrad, Didwana, Nagaur District, Rajasthan. His zodiac sign was Gemini. Anandpal did his schooling from a private school in Rajasthan and went to Rajasthan's Sujla Mahavidyalaya to pursue Bachelor of Education (B.Ed.). Anandpal was good at studies since childhood, and his father wanted him to become a government teacher. After his marriage, Anandpal started a cement business. He also owned a dairy farm with more than 8 cows and buffaloes.
Physical Appearance
Hair Colour: Black
Eye Colour: Black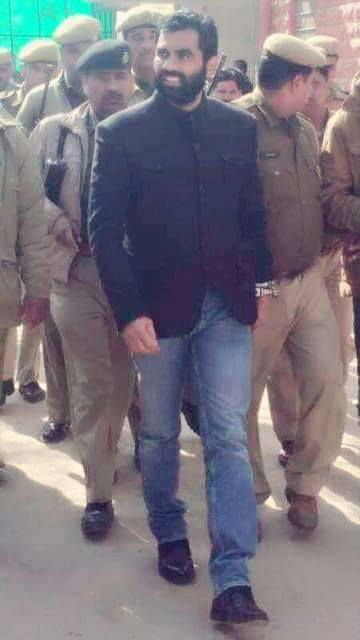 Family & Caste
Anandpal Singh belonged to a Ravana Rajput Family. [1]Wikipedia He was the son of Hukam Singh Chouhan and Nirmal Kanwar. He had a younger brother, Viki. He also had one sister.
In 1992, Anandpal Singh got married to Raj Kanwar. Together they had a son, Charanjit Kanwar Chouhan, and two daughters, Chinu and Yogita Singh.
Anandpal was in a relationship with Anuradha Chaudhary, a software engineer.
Killed His Own Friend
The story began in 1992 when Anandpal, who belonged to a Ravana Rajput family, was about to tie the knot. In most of the areas of Rajasthan, people believe that children born after the marriage between Rajput men and Non-Rajput women don't belong to the Rajput community rather they are kept in a separate category called 'Ravana Rajput Community.' As Anandpal didn't belong to a pure Rajput family, the pure Rajputs of the village warned his family that if the bridegroom follows the tradition of 'Ghodi Chadna,' the results will not be good for their family; as only a pure Rajput could climb the mare at that time. During that period, Anandpal closely bonded with Jeevanram Godara, the student president of Didwana's Bangur College. He shared the incident with Godara who himself remained present at Anandpal's wedding and made him climb the mare in his presence. Their friendship grew manifold after this incident. However, on 27 June 2006, Anandpal recklessly killed Jeevanram Godara. Reportedly, he killed Jeevanram to take the revenge of the murder of Madan Singh (Indian Army Personnel), who was a Rajput. Later, a Rajasthan court held him for killing Jeevanram Godara.
A Common Man-turned-Gangster
Anandpal developed an interest in politics during the year 1999 when he contested and won the Panchayat Samiti elections in Sanvrad village. He later contested the elections for the Pradhan of Ladnu Panchayat Samiti and got defeated by Jagnath Burdak (Harji Ram Burdak's son) by a margin of just 2 votes. Harji Ram was a Cabinet Minister in the Ashok Gehlot's ministry in 2008. In 2000, the election for the Ladnu Panchayat Samiti committees took place. At that time, a Police case was lodged against Anandpal for disrupting government work; as he didn't let a contender file his nomination papers. This was the first police case against Singh. By 2006, Anandpal had stepped into the world of crime and started making enemies out of his competitors. He got involved in the trade of illegal liquor.
Escaped The Police Custody
In 2012, Anandpal got imprisoned for carrying out some illegal operations. On 3 September 2015, he ran away from the police custody while he was being taken to Ajmer's high-security jail after a court hearing. Reportedly, three masked persons fired on the van in Khokhar village, and Singh escaped from the custody of the police along with two other criminals. This incident listed him one of the most wanted criminals in Rajasthan. The Rajasthan Police spent crores of rupees to catch the gangster.
After escaping from the police custody, Singh apparently killed a policeman when he tried to stop his vehicle in Gudha Bhagwandas.
Illegal Property & Wealth
The Rajasthan Police stated that Anandpal and his brothers gained immense wealth after entering the world of crime; however, the family could never cite the source of income. Apparently, one of Singh's daughters spent nearly Rs. 20 lakh on her engineering studies in Dubai. It was also reported that his other daughter and son were also studying in an expensive school in Pune. His family owned two flats in Jaipur's posh colonies worth more than Rs. 60 lakh each. Later, the police seized about 370 bighas of his land that he owned in Kuchaman, Jaipur, Hanumangarh, Sikar, and Churu. The family also owned a mining unit in Makarana and several 'benami' properties in different cities of Rajasthan.
Robin-Hood of the Rajput Community
Anandpal had several criminal charges against him including murder, robbery, extortion, and gang war. Despite having these charges on his head, most of the people in Rajasthan considered him to be the Robin-Hood of the Rajputs. He was known for his acts of redistribution of wealth. He often benefitted the poor by stealing from the rich. Reportedly, Anandpal had a group of loyal partners in his crime who were often ready to sacrifice their own lives for Anandpal. In July 2014, during a gang-war in the Bikaner Jail, his close aide, Balveer Banuda, saved his life by covering him when a shooter (sent by Anandpal's rival to kill him).
An Attempt to Surrender
In May 2017, Anandpal's lawyer met the then Governor of Rajasthan, Kalyan Singh, to discuss that Anandpal Singh was a patriot and that he was ready to surrender if he will be given security. His lawyer also wrote to the Cheif Justice of the Rajasthan High Court, stating that a fair investigation should be carried out; as Anandpal had not committed any crime. He said that the injustice of the leaders had led him to this situation. He added that he had run away from the jail because his friend, Banuda was killed inside the jail by his enemy, and had he not escaped from the jail, he might have been killed as well.
Death
As per the government officials in Rajasthan, Anandpal was shot dead on 24 June 2017 (at midnight) in a raid by the Special Operations Group Anti-Terrorist Squad (ATS) of the Rajasthan Police at Malasar in the Churu District. However, his family and many others denied the official statement of the government and blamed the police for his death. His family and lawyers even said that Anandpal wanted to surrender, but the government wanted him dead.
After Anandpal's death, his family sought a CBI investigation and also demanded access to his wealth. They refused to accept his body until their demands were met. His lawyer even alleged that Anandpal was privy to several dirty secrets of a minister in the then BJP government of Rajasthan, and he believed that this could be one of the reasons behind Anandpal's encounter.
The then home minister of Rajasthan, Gulab Chand Kataria, denied to call for a CBI inquiry on the encounter of Anandpal and said,
How can I order a CBI probe against my own force? I'm the head of the police force. It is morally wrong for me to ask for a CBI probe against my own men, they can move to court if they want it to be probed. We are ready to face any probe but we cannot order it on our own, I was assigned a duty and police force worked on it. If the High Court or the Supreme Court orders a probe then we will face it."
On 30 June 2017, a postmortem was conducted again by the order of the court. His family accepted the body on 1 July 2017. However, his body was not cremated until 20 days after his death.
Protests and Cremation
The government's denial of CBI investigation gave rise to several protests against the government by his family and the Rajput community.
Protests Following his Death on 25 June 2017
Anandpal held a Robin Hood image in Rajasthan, and his death brought huge unrest in the entire state. Since his death on 25 June 2017, many Rajputs protested the encounter. People were upset with the government; as the government had denied his family's request for CBI investigation. People criticised the government and vent their anger through social media platforms, as a result, the government suspended the internet services in Sikar, Churu, and Nagaur for a week to suppress the protest.
A Condolence Meeting Organised by the Rajput Community
On 12 July 2017, a Joint Struggle Committee was formed by the Ravana Rajputs and the Rajput society, which called for a tribute meeting on 12 July 2017. More than 2 lakh people gathered in the meeting. During the meeting, the Rajputs vowed not to vote for the BJP in the 2018 assembly polls. Although the government took several measures to ensure the peaceful conduct of the condolence ceremony, violence erupted during the meeting. A Gunman of the Nagaur SP fired to disperse the crowd, which created more anger amongst the crowd, and the crowd started pelting stones at the police; injuring 19 people, including the Nagaur SP.
Cremation
On 13 July 2017, Rajasthan Jail's Director-General and a Rajput officer, Ajit Singh, tried to persuade Anandpal's family to accept cremation. A notice of the Human Rights Commission was staged at Singh's house, stating that the cremation would occur within 24 hours. The Police and the government handled the funeral and asked Singh's son to walk with them. However, his son refused to go. The police then took Singh's brother and five people from the village to the funeral and carried out the proceedings. However, Anandpal's mother was firm that if her son's encounter would not be investigated by the CBI, and his body was forcibly cremated, she would burn herself with her son. As soon as the police took Anandpal's body for the funeral, his mother, Nirmal Kanwar, tried to burn herself by sprinkling kerosene.
Facts/Trivia
Anandpal was fondly called Pappu by his family and friends.
A web series titled "Rangbaaz Phirse" was released in December 2019 which is based on the life of Anandpal. Jimmy Sheirgill played the lead role of 'Amarpal Singh' in the series.
Anandpal loved reading novels and always carried books with him. Reportedly, the police officials found two books "Super Brain" and "Life of Pi" from his Mahindra Scorpio after his encounter.
He was fond of AK-47 rifles. When Singh was arrested in 2012 at a farmhouse near Jaipur, he was in possession of an AK-47, bullet-proof vests, and bullets.
Anandpal was influenced by Anuradha Chaudhary, a mastermind in his gang. Reportedly, the duo was dating each other.
Anandpal's physical appearance resembled a Bollywood style gangster. Black goggles, black hat, moustache, beard, and a leather jacket are a few aspects, which well describe his physical appearance.