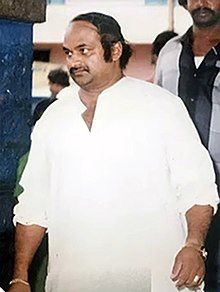 M. P. Jayaraj was an Indian mafia gangster and politician who is known for operating in Banglore in the 1970s and 1980s. He died on 21 November 1989 in an assassination.
Wiki/Biography
Mysore Puttaswamaiah Jayaraj was born in 1944 (age 45 years; at the time of death) in Bangalore. Since childhood, he used to practice wrestling at Annayappa Garadi in Thigalrapete. He followed the path of M. D. Nataraj, the then son-in-law of the Chief Minister of Karnataka Devaraj Urs who brought him to Bangalore underworld.
Physical Appearance
Hair Colour: Black
Eye Colour: Black
Family
Parents & Siblings
There is not much information available about his parents. He has a brother, M. P. Umesh, and a sister, Hemavati.
Wife & Children
Jayaraj got married to Helen on 12 May 1988.
They had a son, Ajit, who is an actor.
In 1989, after Jayaraj's death, his brother M. P. Umesh married Jayaraj's wife and they raised their son together.
Criminal Activities
Jayaraj was brought into the underworld in the 1970s when the chief minister of Karnataka Devaraj Urs was working actively to uplift the backward classes in Karnataka. They used every possible way to deal with the opposition that tried to stop their work towards the vision of uplifting the Dalits. Jayaraj worked as a strong weapon for the chief minister to silence anyone who came in between their vision. In 1979, Jayaraj was ruling the underworld in Bangalore under the guidance of M. D. Nataraj, the son-in-law of CM, but he was sentenced to jail for 10 years for assaulting a person called Thigallarapete Gopi on court premises. While he was in jail, Devaraj Urs died so Jayaraj started losing his grip on the underworld. When he was released from jail in 1984, other dons like Kotwal Ramachandra and Oil Kumar had made their place. After coming out of jail, he started his struggles to make a place again in the business and in 1986, a don named Kotwal Ramachandra was killed by Agni Shridhar, Varadharaja Nayak and Bacchan who were backed by Jayaraj. In this murder case, he was sent to jail in 1986 along with Agni, Bachchan. In 2007, a movie titled ' Aa Dinagalu' depicted the death of Kotwal Ramachandra. Jayaraj claimed his place in the business and started running a newspaper "Ghareebi Hatao" which targeted Janata Dal politicians and the police.
Later, he was sent to jail in a murder case of Kotwal Ramachandra. One day during his parole, he was attacked in front of the Bengaluru Central Jail by a group consisting of Pushparaj alias Cottonpete Pushpa, Chakre, Bekkinakannu Rajendra and others. He was able to escape the assassination by fleeing to jail. After this incident, he was admitted to the K R hospital to treat his injuries, but he was once again attacked by a group of sharpshooters. He once again escaped death by throwing bombs at them. While he was in the hospital, his close associate Station Shekar was killed in a police encounter. He used his newspaper to publish articles to pressurize the police in the matter of his associate's death, but the case was closed. In the 1980s, a gang of dons was made which was titled 'Indira Brigade' to protect the leaders of the ruling party. Jayaraj was the leader of this group. In an interview, retired assistant commissioner of police BB Ashok Kumar said that the gang had their own torture rooms.
Politics
In 1989, Jayaraj decided to contest elections for MLA from Jayanagar as an independent candidate. He was sent on a 15-day parole to campaign for the elections. Jayaraj chose a tiger as his election symbol. During the rally, one day he brought a tiger in a cage in his jeep which attracted a lot of people. He waved at people who had gathered to see the tiger in his jeep.
Death
Jayaraj died on 21 November 1989, while he was returning from the Siddapura police station. He was in his car with his brother M.P. Umesh, his lawyer Vardhamanayya and other associates when Muthappa Rai, Subash Singh Thakur and 10 others started firing on his car. Due to the firing, the driver, M.P. Umesh lost his control and their car crashed. After the crash, his brother was able to escape, but his lawyer and Jayaraj were left in the car. His lawyer tried to protect him by shielding him and one of his associates also threw a bomb for them to escape, but the assassins killed the lawyer and Jayaraj by shooting many bullets at them. [1]Hindustan Times
Facts/Trivia
Before becoming a don, he was an employee at Hindustan Aeronautical Limited (HAL). He was fired from the job because of a fight in the office after which he started extortion.
In an interview, his wife said that she didn't want her son to choose the same path as her father. In the interview, she further added,


I was very young when Jayaraj married me. He died, leaving me in a state of shock. But I wanted Ajith to lead a good life. So I digested everything and went away from it all. We have struggled a lot to build his career. I wanted him to choose any field other than the underworld. Now, he is doing his MBA while acting in a movie. I'm happy he is a good human being."
In 2022, a film titled 'Head Bush' was made based on the book by former gangster Agni Sridhar, about his time in the underworld. After the release of the film, Ajit, Jayaraj's son complained to the Film Chamber of Commerce and said that he would fight a legal battle because his father's image was portrayed badly in the film and he also claimed that his father never smoked. In an interview, Jayaraj's sister came forward to support the film and said,


Some people say they know my brother, are related and make me laugh by speaking for publicity. His name controversies are old now, they are now comedies. My brothers are the ones who tell the world about my brother's personality as a part of Headbush movie. Good luck to Headbush movie team."