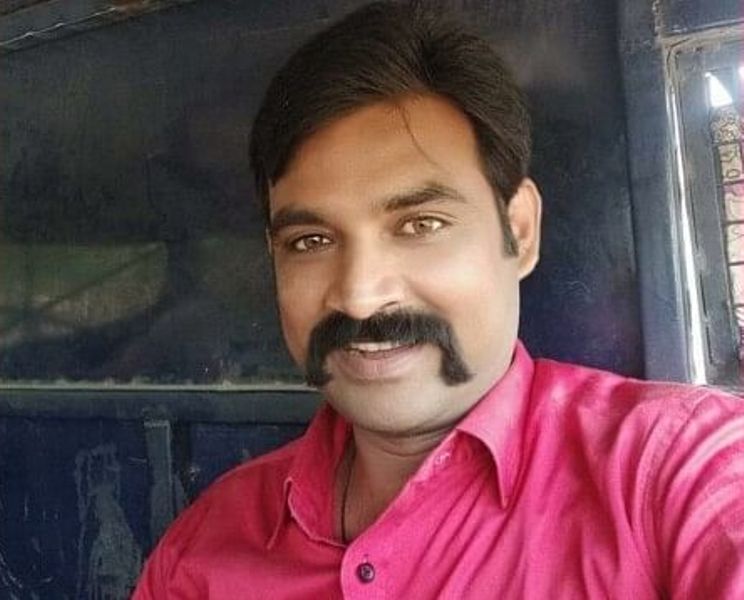 Khan Mubarak (1978-2023) was an Indian gangster and close aide of underworld kingpin Chhota Rajan. His sphere of influence extended across several regions including Uttar Pradesh's Allahabad (now Prayagraj), Ambedkar Nagar, and Faizabad. Khan died of dehydration during his treatment at the Hardoi district hospital in 2023; his demise resulted from complications arising from a lung infection and pneumonia. [1]Hindustan Times [2]The Times of India
Wiki/Biography
Khan Mubarak was born in 1978 (age 45 years; at the time of death) in Harsamhar village in Ambedkar Nagar District of Uttar Pradesh. He held a master's degree in English Literature from the University of Allahabad, Uttar Pradesh.
Physical Appearance
Height (approx.): 5′ 8″
Hair Colour: Black
Eye Colour: Black
Family
Parents & Siblings
There is not much information about Khan Mubarak's parents; however, he is survived by two siblings. He has an elder brother named Zafar Supari (also known as Khan Zafar), who is a gangster, and a sister named Sabna alias Sabbo.
Wife
Khan Mubarak was married to Mumtaz.
Criminal Activities
Khan Mubarak's Dark Descents 
Khan Mubarak stepped into the world of crime during his tenure at the University of Allahabad in Uttar Pradesh. His first major act was during a cricket match where, after being declared out, he shot the umpire. His elder brother, Zafar Supari, played a significant role in leading Mubarak down this path. At the age of 15, Zafar entered the realm of crime and later built a relationship with the notorious underworld figure Chhota Rajan. Encouraged by his brother, Mubarak began working under Rajan's auspices. Chhota Rajan's chief adversary was Munna Bajrangi, an Indian politician and a known contract killer and a gang leader from Eastern Uttar Pradesh. In 2006, under Rajan's directive, Mubarak planned a heist on a post office in Allahabad (now Prayagraj), Uttar Pradesh. His plot was disrupted by a vigilant security guard who retaliated with gunfire. Despite this, Mubarak managed to return fire and make his getaway. Tensions flared between Mubarak and Bajrangi when Mubarak demanded an extortion payment of Rs. 25 lacs from a physician close to Bajrangi. This sparked a violent gang war between the two. Following this, police increased their scrutiny, compelling Mubarak to relocate to Mumbai, where he found shelter with his brother Zafar Supari. [3]The Lallantop – YouTube
2006 Kala Ghoda Shootout
Khan Mubarak was later named in the sensational 2006 Kala Ghoda shootout in Mumbai. The incident revolved around drug dealers Amjad Khan and Himanshu Chaudhary, who were involved with Chhota Rajan, a prominent underworld figure. Initially, they borrowed Rs. 50 lacs from Ahjaz Pathan, a close associate of Chhota Rajan, but later returned the money and joined forces with Dawood Ibrahim, a rival of Rajan. Subsequently, Amjad Khan and Himanshu Chaudhary were apprehended by the police in connection with a case. Seeking revenge, Pathan implored Chhota Rajan to eliminate them. Rajan, in turn, entrusted this task to his close associates Zafar Supari and Rajesh Yadav, who were joined by Khan Mubarak. On 16 October 2006, Khan Mubarak and other shooters launched an attack on the van carrying Amjad Khan and Himanshu Chaudhary to a court hearing in the Kala Ghoda area. According to sources, this incident, known as the 'Kala Ghoda shootout,' involved individuals such as Bachcha Paasi, Osama Khan, Nikaal Kumar, Neeraj Valmiki, Zafar Supari, and Khan Mubarak. [4]The Lallantop – YouTube
Arrests and Other Cases
The first FIR registered against Khan Mubarak was of murder in Andheri Police Station, Mumbai. He was first arrested by the Special Task Force (STF) in 2007 following his involvement in a cash van robbery in Allahabad (now known as Prayagraj), Uttar Pradesh. This incident was held on 15 May 2007, and it led to the death of two guards and two assailants, Saurav Sinha, and Vinayranjan Gupta. During the investigation regarding the cash van robbery, Khan confessed to his involvement in the Kala Ghoda shootout case. In 2011, Chhota Rajan's accomplice Osama Khan, whose head had a bounty of Rs. 5 lacs, was ruthlessly eliminated. According to sources, Osama had shifted his allegiance to Dawood Ibrahim's gang, prompting Rajan to order Zafar Supari to plan Osama's downfall. Supari, however, delegated the task to Khan Mubarak, who was lodged in the Naini Central Jail in Uttar Pradesh. From behind bars, Khan Mubarak masterminded Osama's demise, entrusting Rajesh Yadav with the lethal act. After spending five years in Naini Jail, Khan was released in 2012. Mubarak wasted no time returning to his illicit activities. He established an extortion and ransom racket in Uttar Pradesh's Ambedkar Nagar. In the same year, he killed Ainuddin, a brick merchant who defied his demands. In 2014, Mubarak seized a piece of land by murdering its owner, a property dealer named Mohan Yadav. In 2016, he got his own shooter Sheru Alam killed. Despite several run-ins with the law, Mubarak always seemed to slip through the cracks. It is reported that in 2016, Mubarak plotted to assassinate the Bahujan Samaj Party (BSP) leader Jugram Mehndi, although Mehndi survived the attempt. This incident, however, led to the arrest of Khan Mubarak by Uttar Pradesh's Special Task Force (STF) from Lucknow in 2017. Yet, according to sources, Mubarak managed to execute a successful plan to kill Jugram from his prison cell the following year, i.e., 2018. [5]The Lallantop – YouTube On 2 June 2022, he was brought to Hardoi Jail from Maharajganj Central Jail. [6]Hindustan Times Mubarak was figured in the list of 31 mafiosi and gangsters of Uttar Pradesh. His influence was widespread, encompassing various regions including Uttar Pradesh's Ambedkar Nagar, with 31 cases, and Allahabad (now Prayagraj), with 6 cases; he was also facing three cases in Mumbai.
Death
Khan Mubarak died at the Hardoi district hospital on 13 June 2023. According to officials, he was suffering from a lung infection and pneumonia while he was lodged in Hardoi Jail, Uttar Pradesh. Despite receiving initial treatment in the jail hospital, his condition necessitated a transfer to the district hospital for more comprehensive care. [7]Hindustan Times
Facts/Trivia
Khan Mubarak was tech-savvy and anglophile. He had a profound love for firearms. According to officials, Khan had 15 types of pistols and could fire with both hands at a time. [8]

The Times of India
Reportedly, he was one of the first criminals who used virtual numbers, primarily sourced from West Asia, to carry out extortion calls targeting businessmen and doctors. [9]

The Times of India
In 2017, Khan's video went viral in which he could be seen shooting an empty bottle placed on the head of a trader named Baju Khan, who had been vocal about opposing Khan's criminal pursuits and had urged fellow traders to refrain from paying him extortion money.
In 2018, a video featuring Khan Mubarak from the Faizabad jail caught nationwide attention. In the footage, Mubarak claimed he was being singled out and antagonized by the police force. He further said that any harm befalling him would lead to severe repercussions for the country's military and law enforcement officials.
In addition to Khan's involvement in various crimes, his family members were also caught engaging in criminal activities. In 2022, his sister and niece were apprehended by the Tanda Kotwali police. Authorities revealed that Khan's niece and sister were responsible for overseeing the financial operations of Khan Mubarak's gang. They facilitated transactions and aided Khan's associates through digital payment systems. [10]

ETV Bharat
On 13 July 2022, the property of Khan's brother-in-law was destroyed by the Uttar Pradesh government.