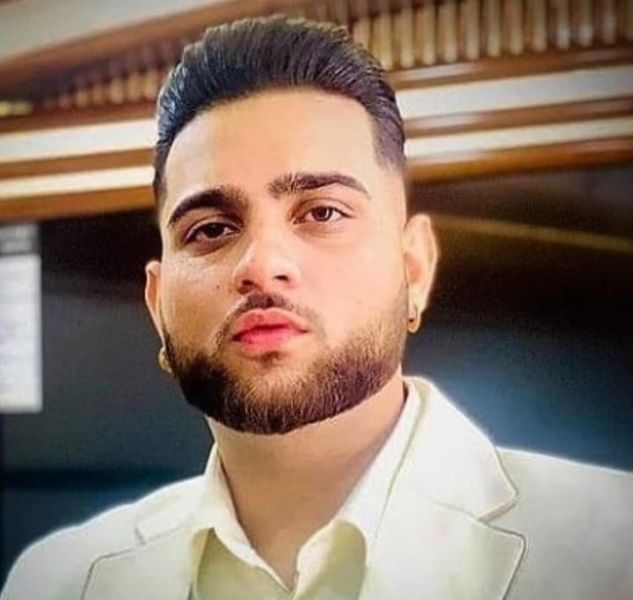 Karan Aujla is an Indo-Canadian singer, rapper, and songwriter who is popular for voicing several Punjabi hit songs such as Chitta Kurta, Kya Baat Aa, Chithiyaan, Mexico, Adhiya, and many more.
Wiki/Biography
Jaskaran Singh Aujla [1]Pendu-Series – YouTube, or Jaskaran Singh [2]True Scoop News, was born on Saturday, 18 January 1997 (age 26 years; as of 2023) in Ghurala village, Ludhiana district, Punjab, India. His zodiac sign is Capricorn. When Karan was nine years old, his father passed away in a car accident. In 2011, his mother breathed her last after fighting cancer. Thereafter, he was raised by his sisters and paternal uncle and aunt. He studied at Manji Sahib Gurdwara and Nankana Sahib Public School in Ludhiana. In 2017, Karan shifted to Canada from Ludhiana and completed his high school (Classes 11 and 12) at Burnaby South Secondary School in Burnaby, Canada.
Physical Appearance
Height (approx.): 5′ 9″
Weight (approx.): 80 kg
Hair Colour: Black
Eye Colour: Dark Brown
Body Measurements (approx.): Chest 42″, Waist 32″, Biceps 14″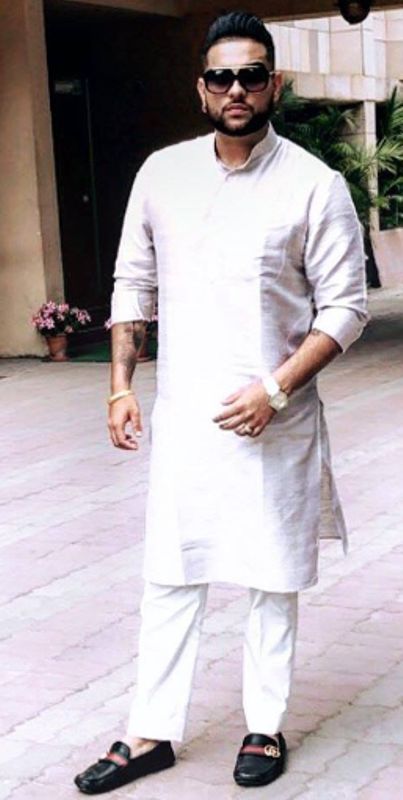 Tattoos
A tattoo of his father's face on the right arm.
A tattoo of his mother's face on the right arm.
Tattoos of the Indian freedom fighters Bhagat Singh and Udham Singh on his left arm.
A wolf tattoo on his right arm.
A tattoo inked on his left arm, which quotes-


Khayaal rakhi tu kaka, Jaanda baapu keh gaya, Maa meri nu photo de vich, Deakh'n joga reh gaya." (which translates to "Take care of yourself," said my father before leaving. I am left to see my mother only in her picture.)
A tattoo of Karan's mother's name on his chest in the Punjabi language.
A tattoo on his right arm that quotes "I miss you mom & dad."
Karan has a few tattoos inked on his chest.
Family & Caste
Karan Aujla is a Jatt [3]My Rise Up – YouTube, who belongs to a Punjabi Sikh family.
Parents & Siblings
Karan's father, Balwinder Singh Aujla, worked at a cooperative society. His mother, Rajinder Kaur Aujla, was a homemaker. Karan has two elder sisters.
Wife
On 2 March 2023, Karan got married to Palak Aujla, a make-up artist from Canada.
On 26 January 2019, he got engaged to Palak in Canada. Palak and Karan's bridal shower was held on 7 August 2022 in Canada, which his close friends and family members attended.
Relationships/Affairs
Before getting engaged to Palak, Karan dated her for a long period.
Religion/Religious Views
Karan is often spotted visiting the Gurdwara for seeking blessings. [4]Karan Aujla – Facebook
Career
As a singer
On 13 November 2014, Karan made his debut as a singer with the Punjabi song Cell Phone. In 2018, Karan came into the limelight with his song "Don't Worry," which was his first song to enter the UK Asian Music Chart Top 40 at rank 36; the video amassed views of more than 16 crores on YouTube. Following the success of the song, Karan realised several hit Punjabi songs like Rim vs Jhanjhar (2018), Na Na Na (2018), No Need (2019), Don't Look (2019), 2 AM (2019), Chitta Kurta (2019), and Hint(2019).
In 2019, Karan made his playback debut with the titular song of the Punjabi film Sikander 2. His other famous collaborations include Red Light (2019) with Deep Jandu, Baby Gall Suno (2019) with Dilpreet Dhillon, Aukaat (2019) with Jassi Gill, Ask Them (2020) with Gippy Grewal, and Ek Din (2020) with Bohemia. In 2020, he voiced the song "Jhanjar," which was released under the music label Rehaan Records. The song ranked 9 on the UK Asian Chart Top 40 and 5 on the Official Punjabi Music Chart Top 20. In the same year, he earned huge popularity for lending his voice to the songs Red Eyes, Kya Baat Aa, Sheikh, Adhiya, Hukam, Mexico, and Chithiyaan. The song Adhiya peaked at number 19 on the New Zealand Music Chart Top 40, 2 on the UK Asian Chart Top 40 and on the Official Punjabi Music Chart Top 20.
His song, Mexico, ranked 10 on the UK Asian Chart and 4 on the Official Punjabi Music Chart. In 2021, Karan collaborated with Dilpreet Dhillon for the song Jatt Te Jawani; the video amassed views of more than 12 crores on YouTube and became a major commercial success.
On 8 July 2021, Karan released the first song "Chu Gon Do?" from his debut music album, titled Bacthafucup (B.T.F.U) under the music label Times Music and Speed Records.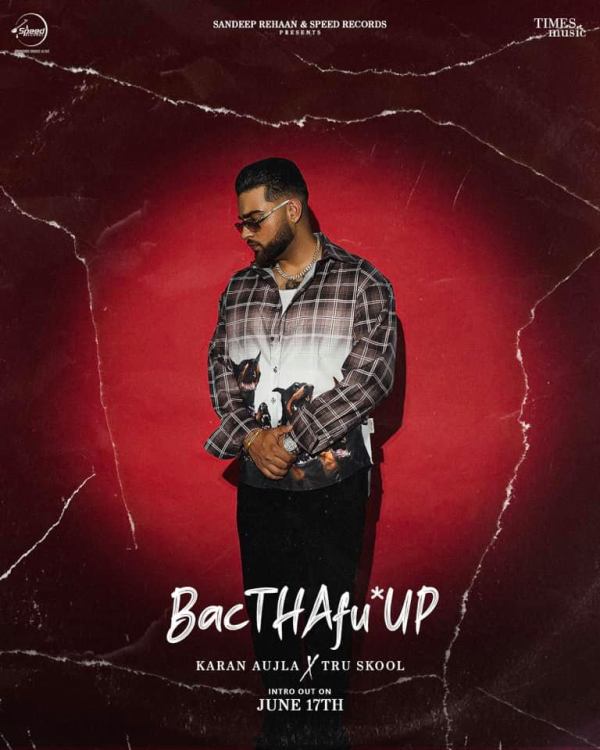 On 15 September 2021, he released the entire album, which consisted of thirteen songs. The album gained massive recognition and consequently, ranked 19 on the Billboard Top Canadian Album and 34 on the New Zealand Album Chart Top 40. In 2022, Karan released the song Gangsta and Game Over under the music label Rehaan Records. The same year, Karan collaborated for the first time with the popular rapper and singer Badshah for the song Players. [5]The Times of India
As a songwriter
After shifting to Canada, Karan initially started writing songs for various artists in return for a few dollars. Apart from writing songs, Karan worked as a part-time docker in Surrey, British Columbia, to manage his expenses. Later, Deep Jandu, a Canadian producer, rapper, and singer, advised him to shift to Toronto from Surrey. After shifting to Toronto, Deep prompted Karan to start lending his voice to the songs along with writing them. In 2014, Karan made his debut as a lyricist with the song Range, which was sung by Jassi Gill. Karan wrote various songs in collaboration with Deep Jandu such as Trendster (2016), Kabza (2017), Underestimate (2018), Blonde Baal (2018), Khulla Sher (2019), Bombay To Punjab (2019), etc. In 2o2o, Karan wrote the titular song of the music album G.O.A.T., which was released by the popular singer Diljit Dosanjh on 30 July 2020; the song became a blockbuster hit and garnered more than 21 crore views on YouTube.
Controversies
Conflict with Punjabi singer Sidhu Moose Wala
Sidhu Moose Wala was good friends with the Punjabi singer Karan Aujla, but a feud arose between the two, and Karan allegedly leaked various songs of Moosewala before their release. In 2018, Aujla released the song 'Up & Down' with Deep Jandu in which he defamed Sidhu. This didn't go well with Sidhu, and he released a diss track 'Warning Shots' targetting Karan Aujla. In response to Moosewala's Warning Shots song, Karan released the counter song Lafaafe in 2018. Thereafter, a cold war started between them. Subsequently, they were often spotted targeting each other on social media through songs and during live music concerts. [6]The Tribune Elly Mangat, the then-colleague of Sidhu and Aujla, revealed in an interview with a media house that a music video by Sidhu, which was intended to defame Karan, was leaked to the management of Karan. Consequently, the incident initiated a rivalry between the two after Karan's management threatened to attack Sidhu. However, later, in an interview with a media house, Karan Aujla was spotted praising the work of Sidhu Moose Wala, and in the same conversation, he revealed that the song 'Lafaafe' was not written by him.
Attacked by gangster Sukhpreet Singh Budda's gang
On 8 June 2019, Karan was attacked by the gangster gang of Sukhpreet Singh Budda, in Surrey, British Columbia. When Karan was attacked by gunshots, he was accompanied by singer Deep Jandu and producer Sandeep Rehan, the owner of Rehan Records. As per some media sources, Sukhpreet Singh Budda demanded a ransom of Rs 20 lakhs from Sandeep Rehan during his visit to Punjab in March 2019. Sandeep, who denied to pay, approached the Punjab police for help. However, Sandeep continued to receive threats from Sukhpreet Singh Budda that he would be attacked either in India or Canada. On 9 June 2019, Davinder Bambiha's gang, posted on Facebook and revealed that the attack on Karan Aujla was carried out by Sukhpreet Singh Budda's gang. The post read,
I want to tell you that as a dispute is going on between Sandeep Rehaan and Karan Aujla (Rehan Records) with our brother Sukhpreet Budda, due to that they got z+ security to put pressure. That security has not accompanied them to Canada. Our brother Sukhpreet Budda, to teach them a lesson, made two attempts to attack them in a day in Canada."
However, soon after Sukhpreet's gang took responsibility for the attack, a Facebook page titled Sukhpreet Budda, claimed that the attack was not initiated by them. [7]The Times of India On 9 June 2019, Karan posted an Instagram story in which he clarified that the news of the attack on him was a rumour spread by the news channels.
Fined for breaking traffic rules
On 22 November 2019, a TikTok video went viral over the internet in which Karan allegedly violated the traffic rules during his visit to India. Karan along with friends and fans rashly drove their vehicles at the Chandigarh airport road without wearing seat belts. Consequently, he was fined by the Mohali police for breaking the traffic rules, which included not using a seat belt, playing loud music, using a pressure horn, lane jumping, and driving dangerously by hanging out of the window and the sunroof of the moving vehicle to make videos. [8]Hindustan Times
Violated the security rules during his visit to the Central Jail in Ludhiana
On 7 April 2021, Karan stirred controversy for violating the security and Covid protocols during his visit to the Central Jail in Ludhiana. Karan, who was escorted by a police Gypsy, reportedly visited the prison to meet the drug trader Gurdeep Rano of Khanna, Ludhiana, who was arrested by the Special Task Force (STF) for his alleged involvement in trafficking drugs worth crores, 13 luxury cars and drug money. Along with Karan, a few private vehicles of his friends also entered the jail premises, where the entry of any private vehicle was prohibited. It was alleged that Karan and his friends entered the premises without depositing their cell phones, without any security checks, and without wearing any masks. However, jail superintendent Rajiv Arora gave clarifications in favour of Karan's visit to the Central Jail and said,
Karan Aujla is my family friend. He is my son's good friend. He just came on a personal visit with 4-5 other friends. They sat in my office for few minutes only and later we went to my official residence for lunch. He is not a criminal and the matter is being blown out of proportion." [9]The Tribune
Summoned for making derogatory remarks about women in the song "Sharab"
On 15 September 2021, Karan Aujla's song Sharab was released on YouTube, featuring Harjit Harman. Karan, who wrote the song, was accused of making offensive remarks about women in his song. Panditrao Dharanvar, a social activist from Chandigarh, sent a legal notice against Karan to the police commissioner of Jalandhar, citing the inappropriate comparison of women with alcohol, guns, and drugs. On 22 September 2021, Karan and Harjit Harman were asked to attend a personal hearing by Manisha Gulati, chairperson of the Punjab State Women Commission. [10]True Scoop News
Attacked for singing notorious songs
In February 2022, Karan Aujla was attacked in Surrey, British Columbia by the Harry Chatha gangster group. Reportedly, the reason behind the attack was the ongoing tiff between Karan Aujla and Harry Chatha's gangster group. The gang threatened Karan through a virtual message in which the gangster intimidated him for singing violence-laced songs. The message read,
Karan Aujla… How long will you provide damage to your friends? We know where your sister lives, and the one who stays by your side, her boutique. But we don't want to harm them. We've done this to you in Canada. We are waiting for your Europe tour and in India our brother Harry Chatha is waiting for you. How much time will be left to change the address, if not today, then tomorrow will come in handy."
However, gunshots were fired at Karan's friend Sukhi Garcha's house, where Karan was not present at the time of the attack. [11]True Scoop News
Car Collection
Karan Aujla is fond of sports and vintage cars. He owns a Lamborghini Gallardo, Range Rover, and a Lamborghini Urus.
Facts/Trivia
Karan imbibed the passion of writing songs from his father Balwinder Singh Aujla, who was fond of writing.
In 2016, while studying in Class 9, Karan met the popular Indian singer Jassi Gill while performing at a wedding ceremony. During the ceremony, Gill was so stunned by Karan's performance that he asked for the lyrics of his song Range. Later, Jassi voiced the song and eventually, the song became a hit. Talking about the experience of writing his first commercial song, Karan said,


I wrote Range when I was in Chandigarh and cruising in a Range-Rover with my best friend Mac Benipal.  The words just came to me and I put them together.  Then I completed the song sitting in the Park in Canada."
In an interview, Karan revealed his desire of collaborating with the American rapper 50 Cent and the Canadian rapper Drake.
Karan has two pet dogs, Coco and Boss. He created an Instagram page for his pet dogs titled, Bo$$ & Coco Aujla, where he posts several pictures of his pets.
In an interview, Karan stated that his favourite colour is black.
In December 2019, Karan ranked second on YouTube's list of "Most-Listened Artists" in Punjab, India.
In 2019, Karan was nominated at the Gaana User's Choice Icons Awards for the category "Best Singer – Punjabi."
In February 2020, Karan was invited to perform live at the cultural fest "Karvan" at DAV College, Chandigarh. Before his performance, he was strictly advised by the Chandigarh police to avoid songs, which promoted violence, guns, alcohol, or drugs.
Karan is a fitness enthusiast, and he often shares his workout pictures on social media.
In 2020, Karan won the Best New Age Sensation Award at the PTC Punjabi Music Awards for the Punjabi song "Don't Look." He was also nominated for the same song under the Most Popular Song of the Year category. Additionally, Karan was nominated for the Best Duet Vocalists Award for the song Chitta Kurta.
After the launch of Karan's debut music album, B.T.F.U, he got listed on Spotify as the "Most Popular Artist" in the Punjabi music industry, and consequently, he earned the title of "Largest Digital Artist 2021."
On 25 November 2021, Karan launched his clothing brand, Hukam Clothing.
Karan enjoys consuming alcohol occasionally.
As per some media sources, it was reported that Palak and Karan's marriage would take place on 3 February 2023. However, Karan Aujla denied the rumours of his marriage and termed them baseless. Sharing the information through an Instagram story, Karan said,


Guys, I'll be live streaming my wedding for you…earlier I didn't utter a word when these rumours surfaced but now, I think it's time to shut these rumours." [12]True Scoop News