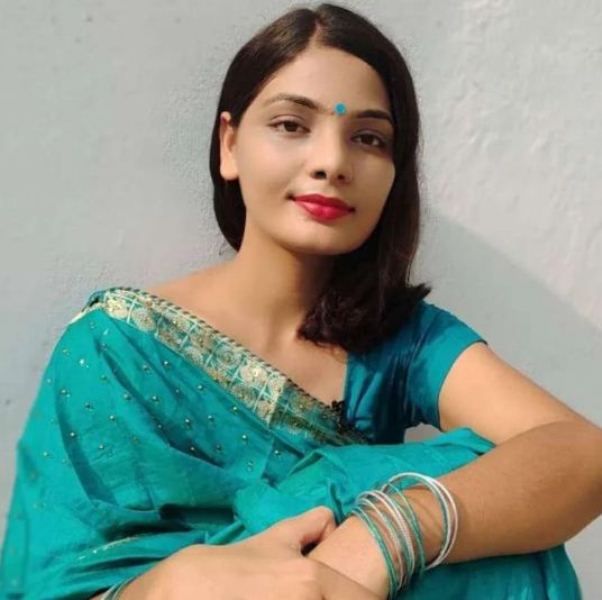 Neha Singh Rathore is a Bhojpuri singer who is known for her self-composed satirical songs which she sings in a traditional rendition. She often touches the issues like unemployment, dowry, poverty, and mismanagement in the country in her songs. She also tries to spread awareness through her songs like 'Kisanwa Parali Na Jarayi' in which she asks the farmers not to burn the stubble left after harvesting. She came to the limelight in 2023 after she received a legal notice for creating disharmony in society through her songs.
Wiki/Biography
Neha Singh Rathore was born in 1997 (age 26 years; as of 2023) in Jaldahan village in the district of Kaimur, Bihar. She pursued B. Sc. at Kanpur University.
Physical Appearance
Height (approx.): 5′ 6″
Weight (approx.): 55 kg
Hair Colour: Black
Eye Colour: Black
Family & Caste
She belongs to a Rajput family in Bihar.
Parents & Siblings
Her father, Ramesh Singh, is an architect at a private firm in Lucknow, and her mother, Champa Devi, is a homemaker. She has a sister who is married and an elder brother named Vijay Singh who is a Central Reserve Police Force (CRPF) personnel.
Husband
She got married to Himanshu Singh, a writer, on 21 June 2022, held at Nilansh Theme Park in Lucknow.
Career
Neha Singh Rathore started her career as a singer by uploading her songs on her YouTube channel under the title 'Dharohar' in 2020. She uploaded her first song 'Karkhana Band Hoi Gaile Hamar Piya' on 13 May 2020 on her YouTube channel. During the pandemic of coronavirus, she made many songs in which she mentioned the situation of lockdown. Some of her songs related to the coronavirus pandemic include 'Corona Mahamari Ho Gaiyl' and 'Corona Ke Daibe Chuni Chuni Gari.' She rose to fame after her song 'Bihar Mein Ka Ba' went viral on the internet which she uploaded ahead of the Bihar elections in 2020. She sang this song in response to the rap song 'Bambai Main Ka Ba' by Manoj Bajpayee. She later uploaded the second part of the song 'Bihar Mein Ka Ba-part 2' in which she talked about the education system and floods in Bihar. She further made songs like 'Gujarat Mein Ka Ba' in which she talked about the Morbi Bridge incident and 'UP Mein Ka Ba' (part 1 & 2) in which she questioned the UP government. She gave her first stage performance in January 2021 at a poet conference on the occasion of Republic Day, held at the Maithili – Bhojpuri Academy in Delhi.
In November 2022, she performed at the event "Sahitya Aajtak" in which he counter Anamika, a poet, through her poetry.
She made her acting debut with the Netflix film "Khakee: The Bihar Chapter" in November 2022. She made a short appearance in the film.
In February 2023, she performed at Democracy Festival held in Delhi where she sang a folk song describing the incident in UP when a female labourer gave birth on road.
Controversies
Trolled over her song "Laike University Mein Admission"
In November 2020, Neha Singh Rathore was heavily trolled on social media after her song "Laike University Mein Admission" came out. In the song, Neha made allegations against Allahabad Central University (IVV) and called it 'Oxford of the East.' She also questioned the student union of the university in her song. Following this, the students of the university got furious and demanded for legal action be taken against her. A memorandum has been submitted to the Chief Proctor by the students demanding to register an FIR against Neha Singh Rathore.
Received a legal notice
In 2023, Neha Singh Rathore received a legal notice from the UP government over her song "UP Mein Ka Ba Season 2" which she released on 16 February 2023. In this song, she talked about the Dixit family, whose house was crushed by the bulldozer during a demolition drive on the government's order and 45 years old woman and her 20 years old daughter burnt alive. She also questioned the UP government in her song. Kanpur police claimed that Neha Singh Rathore was trying to create disharmony and tension in society through her song. They sent her a notice, consisting of seven questions, which she was asked to answer within three days. [1]Hindustan Times
Row over her social media post on the urination incident
On 7 July 2023, Suraj Khare lodged a First Information Report (FIR) against her at the Habibganj police station in Bhopal. The charges were filed under Section 153(A) of the Indian Penal Code (IPC), which pertains to promoting animosity between various groups based on religion, race, etc. The reason for the complaint was her social media post regarding the incident in Madhya Pradesh, where a man named Pravesh Shukla urinated on a tribal individual named Dashmesh Rawat. [2]India Today
Facts/Trivia
She has a YouTube channel titled 'Neha Singh Rathore' on which she uploaded folk, bhakti, and satirical songs. In her satirical songs, she questions the Indian government and highlights crucial issues like the safety of women, dowry, poverty, and unemployment in the country.
She has a huge fan following on social media. As of 2023, she has 67.3 K followers on Instagram, 878 K followers on YouTube, 150.6 K followers on Twitter, and 3.1 M followers on Facebook.
According to Neha Singh Rathore, by singing in traditional rendition, she tries to reinstate the honour to Bhojpuri songs that have been ruined by the sleazy movie songs. Her social media bio says,


Fighting to restore the honour of Bhojpuri that has been ripped off by the sleazy movie songs."
In an interview, Neha said that she got the inspiration to sing folk songs from her mother. She said that she wants to raise her voice against crucial issues like unemployment, woman empowerment, and poverty in the country through her songs so that she could bring awareness to society about these issues. She said that she belongs to a region where people are quite conservative and she believes that her songs will bring a change someday. She said,


I come from a village where girls are not even allowed to put up a display picture on social media accounts. There are restrictions on girls but I believe my songs will someday liberate them, as they worked for me." [3]The Times of India
In the response to her song "UP Mein Ka Ba," Bhojpuri actor Ravi Kishan released a song "UP Mein Sab Ba" in January 2022.
In June 2022, she bought her first car, Tata Nexon.
In December 2022, Neha Singh Rathore was honoured with the "Ayodhya Mati Ratan" award.