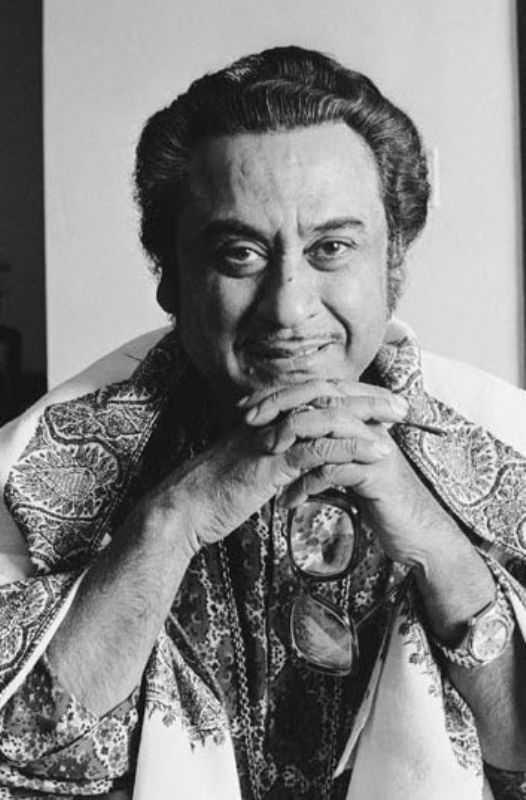 Kishore Kumar is an Indian playback singer, actor, lyricist, composer, director, and screenwriter. Kishore Kumar is regarded as one of the most successful and famous singers of the Indian Music Industry. He is widely attributed to as,'Kishore Da.'
Wiki/Biography
Kishore Kumar was born as 'Abhas Kumar Ganguly' on 4 August 1929 (age 58 years; at the time of death) in the Khandwa city of Central Provinces (now in Madhya Pradesh) in British India.
His zodiac sign is Leo. He did his graduation from Christian College, Indore.
Family, Caste & Wife
Kishore Kumar belonged to a Bengali Family. His father Kunjalal Ganguly (Gangopadhyay) was a lawyer. His mother Gouri Devi was a homemaker. He had three elder brothers named Ashok Kumar (actor) and Anoop Kumar (actor). He has a sister named Sati Devi.
He married four times. His first wife Ruma Guha Thakurta aka Ruma Ghosh was a Bengali Actress and Singer. He was married to her from 1950 to 1958.
He got married to his second wife Madhubala, a Bollywood actress. They got married in 1960, and their marriage lasted until Madhubala's death on 23 February 1969.
He got married for the third time to Yogeeta Bali (Bollywood actress), and their marriage lasted from 1975 to 1978.
He got married to Leena Chandavarkar for the fourth time in 1980, and they were married until Kishore's death in  1987. His sons, Amit Kumar (with Ruma Guha Thakurta) and Sumit Kumar (with Leena Chandavarkar) are singers.
Career
As A Singer
After visiting Bombay (now Mumbai), Abhas Kumar changed his name to 'Kishore Kumar' and began his career as a chorus singer at 'Bombay Talkies,' where his brother Ashok worked. Music director, Khemchand Prakash gave Kishore a chance to sing "Marne Ki Duayen Kyon Mangu" from the film Ziddi (1948).
Kishore as a singer did not get the formal training in music, he was heavily influenced by K. L. Saigal and would often mimic his singing. Kishore later developed his style of singing that featured  'Yodeling,' which he had heard on the records of Tex Morton and Jimmie Rodgers. He has worked with several music directors as a singer from that time such as S. D. Burman, R. D. Burman, Laxmikant-Pyarelal, Kalyanji-Anandji, Anu Malik, and has recorded duets with singers like Asha Bhosle and Lata Mangeshkar, Mohammed Rafi, Anuradha Paudwal, Alka Yagnik, Hariharan, Udit Narayan. He became the voice of several Bollywood actors like Dharmendra, Amitabh Bachchan, Shammi Kapoor, Shashi Kapoor, Vinod Khanna, Mithun Chakraborty, Dilip Kumar, Rishi Kapoor, Anil Kapoor, Sanjay Dutt, Sunny Deol, Rakesh Roshan, Rajnikanth, Govinda and many more.
As An Actor
Kishore Kumar made his acting debut with the film "Shikari (1946)" alongside his brother Ashok, who played the lead role in the movie.
He played the lead role in the film "Andolan (1951)."
He acted in Hrishikesh Mukherjee's directorial debut "Musafir (1957)." As an actor, he appeared in several hit films such as, "Chalti Ka Naam Gadi (1958)," "Half Ticket (1962)," and "Padosan (1968)." There were movies which got released, after his death in 1987. In 1989, Mamta Ki Chhaon Mein was released and in 2013, "Love in Bombay," was released, which was made in 1971. His last appearance as an actor was in the film "Door Waadiyon Mein Kahin (1980)."
As A Producer/Director/Writer/Screenplay/ Music Director
Kishore Kumar has written and produced 14 films, out of which, many were not released. "Jhumroo (1961)" was his debut film as a producer and as a music director.
"Hum Do Daku (1967)" was his directorial debut.
Some of his notable works as a composer includes "Koi Ham Dam Na Raha," "Aa Chal Ke Tujhe," and " and Beqarar Dil Tu Gaye Ja."
Controversies
In the 1980s, Kishore and Amitabh Bachchan's relationship turned sour after Amitabh refused to make a guest appearance in Kishore's production venture "Mamata Ki Chhaon Mein (1989)." Kishore even refused to sing for Amitabh. Eventually, the two reconciled after Kishore sang "Aaya Aaya Toofan" for Amitabh's film "Toofan (1989)."
He even stopped singing for Mithun Chakraborty, when his wife, Yogeeta Bali left Kishore to marry Mithun. However, he could not avoid singing for Mithun for too long and gave his voice to his movies like "Surakksha (1979)," "Disco Dancer (1982)," "Faraib (1983)," and "Waqt Ki Awaz (1988)."
During the Indian Emergency (1975-1977), Sanjay Gandhi approached Kishore to sing for Indian National Congress (INC) rally in Mumbai. When Kishore refused to do so, the Congress Government put an unofficial ban on Kishore's songs to be played on state broadcasters, i.e., Doordarshan and All India Radio (AIR) until the end of the emergency.
In the 1960s, he built up a notorious image of either coming late on the shoots or bunking them. As a result, his films flopped frequently, and he ended with income tax troubles.
Awards
Filmfare Awards
Best Playback Singer for the song "Roop Tera Mastana" from the film "Aradhana" in 1970
Best Playback Singer for the song "Dil Aisa Kisi Ne Mera" from the film "Amanush" in 1976
Best Playback Singer for the song "Khaike Paan Banaras Wala" from the movie "Don" in 1979
Best Playback Singer for the song "Hazaar Raahen Mudke Dekheen" from the film "Thodisi Bewafaii" in 1981
Best Playback Singer for the song "Pag Ghungroo Baandh" from the movie "Namak Halaal" in 1983
Best Playback Singer for the song "Agar Tum Na Hote" from the film "Agar Tum Na Hote" in 1984
Best Playback Singer for the song "Manzilein Apni Jagah Hain" from the movie "Sharaabi" in 1985
Best Playback Singer for the song "Saagar Kinaare" from the film "Saagar" in 1986
Favourite Things
Musician: S. D. Burman, R. D. Burman
Director: Alfred Hitchcock
Salary/Net Worth
Kishore Kumar earned approximately ₹35,000 (as in 1960-70). His net worth was about $1 million ( ₹6.9 crores (as in 1980)).
Death
Kishore Kumar died of a heart attack on 13 October 1987 at 4:45 pm. His body was cremated at his hometown Khandwa in Madhya Pradesh.
Facts
His father, Kunjalal Ganguly was invited by Kamavisadar Gokhale family of Khandwa to be their personal lawyer.
His brother, Ashok Kumar had already become an established actor while Kishore was a child. Later his brother, Anoop too came into acting with the help of his brother Ashok.
Spending time with his brothers, he developed an interest in films and music.
He was a big fan of K. L. Saigal and imitated his singing style. He once in an interview, said that he considered K. L. Saigal as his 'Guru (mentor).'
After his singing debut in the film "Ziddi," Kishore was offered many songs, but he was not serious about his singing career at that time.
Kishore settled in Mumbai in 1949 along with his brothers. The same year he bought a green coloured Morris Minor car, which he buried in the backyard of his house in 1961; after getting divorced with his first wife, Ruma Guha Thakurta.
Ashok Kumar wanted Kishore to be an actor, but Kishore was interested in singing.
The legendary music director S. D. Burman is credited for recognising Kishore's Talent. One day when he visited Ashok Kumar's house, he heard Kishore imitating K. L. Saigal. Burman, not only complimented Kishore for his good voice but even suggested him that Kishore should not copy Saigal but develope his own style of singing.
The music director of the film "Naukri (1954)," Salil Chowdhary, was contemptuous of Kishore Kumar because he had not recieved any formal training in singing. But after hearing Kishore's voice, he gave him to sing the song "Chota Sa Ghar Hoga," which was supposed to be sung by Hemant Kumar.
"Chalti Ka Nam Gaadi" was a Kishore's home production, in which he along with his two brothers Ashok and Anoop and Madhubala were in lead roles.
Salil Chowdhary (music director) had a duet in mind for the song "Aake Seedhi Lagi Dil Pe" from the film "Half-Ticket," with Lata Mangeshkar and Kishore Kumar in mind. However, due to unavailability of Lata Mangeshkar, Kishore Kumar had to sing both male and female parts of the song. The song featured Pran and Kishore Kumar, who was dressed as a woman.
 In 1964 film, "Door Gagan Ki Chhaon Mein," he along with his son Amit Kumar played the role of father and son in the movie.
His songs "Kora Kagaj Tha Ye Man Mera," "Mere Sapno Ki Rani," and "Roop Tera Mastana" established Kishore as a leading Bollywood playback singer.
He is considered as the most versatile singer of Bollywood as he used to mould his voice according to actors on the screen.
Once, in an interview, Kishore Kumar revealed that the song, "Badi Sooni Sooni Hai," from the film "Mili (1975) is his favourite song. It is also the last song composed by S. D. Burman.
R. D. Burman often made Kishore Kumar sing semi-classical songs like, "Mere Naina Sawan Bhadon" from Mehbooba and "Hume Tumse Pyar Kitna" from Kudrat.
When Kishore proposed Madhubala, she was suffering from Ventricular Septal Defect (hole in the heart), and she was preparing to go to London for treatment.
To marry Madhubala, Kishore converted to Islam and reportedly changed his name to Karim Abdul. Kishore Kumar's parents opposed their marriage and never accepted Madhubala as Kishore's wife. Due to the tensions in his household, Madhubala left moved to her bungalow in Bandra after one month of their marriage.
The 1971 film, Anand, was initially offered to Kishore Kumar and Mehmood. The reason was that Hrishikesh Mukherjee was shooed away by his watchman. In reality, Kishore Kumar had told his watchman to shoo away that Bengali organiser, who did not pay Kishore for his stage show. Unfortunately, watchman shooed Hrishikesh away.
Kishore was paranoiac about not being paid. He only used to work after he had been paid fully. At one such event, he came to know that he had not been fully paid. So, he visited the set wearing makeup only on one side of the face. When the director asked him about his behaviour, he replied, "Aadha Paisa To Aadha Makeup (half makeup for half payment)."
Once when R. C. Talwar did not pay him his dues, he arrived at his residence shouting, "Hey Talwar, De De Mere Aath Hazaar (Hey Talwar, give me my eight thousand)" until he gave him his money back.
To pay his tax arrears, he used to do live shows.
Despite his "No Money, No work" principle, sometimes he recorded songs for free even though producers were willing to pay him more. On one such occasion, he helped Bipin Gupta (actor-turned-producer) by giving him ₹20,000 for the film "Dal Mein Kaala (1964)."
He endorsed Brylcreem and also was the user of it. 
In his living room, he had placed skulls and bones in red lights and sounds backing them, to drive away unwanted visitors. He never enjoyed media attention too and had his own way to stay away from the limelight.
Kishore had placed a signboard at the door that said, "Beware Of Kishore." He once bit H S Rawail's hand, when he asked Kishore as to why he did so, Kishor pointed at the sign.
Reportedly, once G. P. Sippy (director-producer) visited Kishore's bungalow and saw him going out on his car. When Sippy asked Kishore to stop his car, he increased his car's speed. Sippy chased him until Kishore stopped his vehicle in Madh Island. When sippy asked him about his behaviour, he told him that he didn't know him and threatened to call the police. The next day Sippy met Kishore, he asked Kishore about his abnormal behaviour, Kishore replied that sippy might have been dreaming as he was in Khandwa (Madhya Pradesh) on the previous day.
Kishore loved to play tennis.
Once a journalist interviewed him and asked him about his friends. He took the journalist to his garden and started introducing the trees to her by the names, Janardhan; Raghunandan; Gangadhar; Jagannath; Buddhuram; Jhatpatajhatpatpat. He said, "they were my closest friends in this cruel world."
He holds the record for winning the maximum Filmfare Award for the Best Playback Singer (8 awards), so far.
He was a habitual reader of Novels.
Ashok Kumar died on his brother Ashok's 76th birthday anniversary.
His last song was "Guru Guru," a duet with Asha Bhosle, from the film "Waqt Ki Awaz (1988)." It was recorded a day before his death.
On 4 August 2014, Search Engine Google showed a special doodle on its Indian homepage, for his 85th birthday.
Amongst the cricketer, Sanjay Manjrekar, Sachin Tendulkar, Shoaib Akhtar, etc. are the big fans of Kishore Kumar's songs. His evergreen numbers are the part of Indian batting legend Sachin Tendulkar's Routine.
In 2017, Khandwa collector, Abhishek Singh, stayed the demolition of Ganguly house in Khandwa (ancestral home of Kishore Kumar and his siblings). Abhishek said, "A lot of sentiments of music lovers and locals are attached with this house, so I have stayed the demolition. Earlier, a notice announcing the demolition had been pasted at the two-storey house by the Khandwa Municipal Commissioner. The notice read-"the house is in dilapidated condition and can fall down anytime, causing harm to people. It is not fit for habitation and should be vacated within 24 hours.""