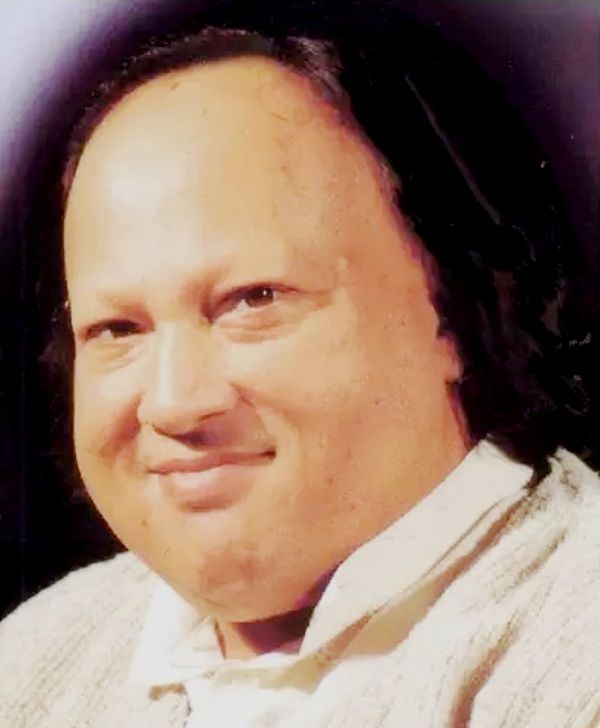 Nusrat Fateh Ali Khan was a Pakistani vocalist and musician, who mainly used to perform Qawwali, a form of Sufi Islamic devotional music. He is popularly known as 'Shahenshah-e-Qawwali (Kings of Kings of Qawwali).'
Wiki/Biography
Nusrat Fateh Ali Khan was born as 'Anjum Pervaiz Ali Khan' on 13 October 1948 (age 49 years; at the time of death) in the Faisalabad city of Punjab, Pakistan.
He learned tabla from his father. After his father's death in 1964, he learned music from his uncles, Mubarak Ali Khan, and Salamat Ali Khan.
Physical Appearance
Height: 5′ 7″
Weight: 136 kg
Eye Colour: Black
Hair Colour: Black (semi-bald)
Family, Caste & Wife
Nusrat Fateh Ali Khan's inherited the 600-year-old family tradition of qawwali. He belongs to the 'Qawwal Bachon ka Gharana ( lit. the house of Qawwal Children),' a primordial qawwali group of 12 children, which is said to have been assembled by Amir Khusro in the 13th century ACE for a musical dialogue with a Hindu religious luminary. His father, Fateh Ali Khan, was a classical singer and qawwali musician. He has four elder sisters and a younger brother named, Farrukh Fateh Ali Khan, who was a player of the harmonium in qawwali.
He has a nephew named Rahat Fateh Ali Khan, a musician primarily of qawwali. He got married to Naheed Nusrat.
He has a daughter named Nida Fateh Ali Khan.
Career
After his uncle Mubarak Ali Khan's death in 1971, Nusrat officially became the leader of the family Qawwali party, which came to be known as Nusrat Fateh Ali Khan, Mujahid Mubarak Ali Khan & Party. He made his first public performance as the leader of the party was at a studio recording broadcast organised by Radio Pakistan as a part of the annual music festival known as "Jashn-e-Baharan." His first major hit in Pakistan was the song 'Haq Ali Ali' from the film "Nakhuda (1981)."
In 1998, he teamed up with Peter Gabriel (English singer, songwriter, record producer, and activist) on a soundtrack for the Canadian-American film "The Last Temptation of Christ (1988)."
The collaboration with Peter led him to get signed to Real World label.
Through the record label, Real World, he released five rock music albums; some of his popular songs from the albums are, "Khawaja Tum Hi Ho," "My Heart, My Life," "Tere Bin Nai Lagda." He also gave music for Bollywood movies, the first one being, "Aur Pyaar Ho Gaya" in 1997.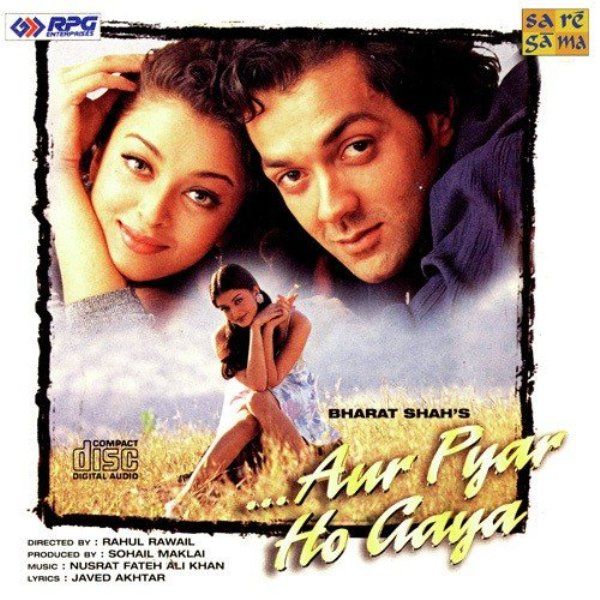 He also gave music to the movies like Dead Man Walking (1996) and Bend It Like Beckham (2002).
Awards, Honours & Titles
President of Pakistan's Award for Pride of Performance by Government of Pakistan in 1987
UNESCO Music Prize in 1995
Grand Prix des Amériques at Montreal World Film Festival in 1996
Arts and Culture Prize of the Fukuoka Asian Culture Prizes in 1996
Legend Awards at UK Asian Music Awards in 2005 posthumously
He holds Guinness World Record for the Most Qawwali Recordings
Time magazine's issue of 6 November 2006 "60 Years of Asian Heroes" listed him as top 12 artists and thinkers in the last 60 years
Listed on 14th position in UGO's list of the best singers of all time in 2008
Appeared on NPR's (National Public Radio) 50 great voices list in 2010
Listed in CNN's list of the twenty most iconic musicians from the past fifty years in 2010
Favourite Things
Food: Karele Gosht, Dhaniya Gosht, Seekh Kebab, Biryani, Butter Chicken
Musicians: Alam Lohar, Noor Jehan, Bade Ghulam Ali Khan, Amir Hussain Khan, Alla Rakha, Shaukat Ali Khan, Parveen Sultana, Farida Khanum, Ghulam Ali
Death
On 16 August 1997, he died due to sudden cardiac arrest at Cromwell Hospital, London. As per the report, the doctors mentioned that one of the reasons for his death was that Pakistani hospitals had used infected dialysis equipment for his treatment. His body was repatriated to Faisalabad and was buried in Kabootran Wala Qabristan also known as Jhang Road Graveyard on Jhang Road, Faisalabad.
Facts
His forefathers used to live in Ghazni in Afganistan. During the era of Mahmud of Ghazni, they migrated to India with the saint, Sheikh Darwesh. In India, his ancestors settled in Basti Sheikh in Jalandhar and learned music and singing there.
Nusrat's father didn't want him to take the family tradition of qawwali as his profession and wanted him to become an engineer or doctor. His father believed that they were given a low status in society.
His father started training him at the age of seven, but he received his formal training in singing at the age of thirteen.
His forefathers have mentored the great masters of classical music including Bade Ghulam Ali Khan, Salamat Ali Khan, Nazakat Ali Khan, Sadiq Ali Khan.
He used to sing in Hindi, Urdu, Punjabi, Parsi, and Purbi.
He performed qawwalis in various shrines of Pakistan including Taunsa Sharif, Chishtian Sharif, Kalyam Sharif, and Data Shahib.
He had his own Silsila (order) named Sabri Silsila and Chishti-Sabri.
Earlier, he was called 'Pervaiz,' until he went to visit Ghulam Ghaus Samdani one day, who not only changed his name to Nusrat Fateh Ali but also told him that he would become a great singer.
He has performed at various international events such as 'World of Music, Arts, and Dance (WOMAD)' in London in 1985, '5th Asian Traditional Performing Art Festival' in Japan, and 'Brooklyn Academy of Music,' New York in 1989.
He collaborated with Eddie Vedder, to compose a song "The Face Of Love" for the film "Dead Man Walking (1996)" and Jonathan Elias to sing two songs, "Faith" and "Benediction" from the album "The Prayer Cycle."
In 1997, his albums, "Intoxicated Spirit (1966)" and "Night Song (1966)" were nominated for the Grammy Award in the category of the Best Traditional Folk Album and Best World Music Album respectively. His album "Intoxicated Spirit (1966)" contains popular songs such as "Ye Jo Halka Halka Suroor Hai," "Ruk Pe Rehmat Ka," "Meri Saqi Saqi Yeh," and "Be Wafa."
His songs were so popular that some of the music hit Bollywood numbers are allegedly copied from his songs. One such song is 'Tu Cheez Badi Hai Mast Mast' from the movie "Mohra (1994)" whose music is almost similar to Nusrat's song 'Dum Mast Kalandar.'
Though his songs were plagiarised from time to time by various composers, he was very tolerant towards it reportedly. In one of his interview, Nusrat mockingly gave "Best Copy" awards to Viju Shah and Anu Malik.
A. R. Rahman once featured a song titled 'Allah Hoo,' in his album "Gurus of Peace" and composed a song 'Tere Bina' from the film "Guru (2007)" as a tribute to Nusrat Fateh Ali Khan.
On 13 September 2013, his wife died in Credit Valley Hospital in Mississauga, Ontario, Canada.
In Japan, he is remembered as Budai or "Singing Buddha."
In 1984, he was given the title of 'Ustad' after he performed classical music at the gathering called Anjuman-e-Mausiqaran (Society of Musicians) along with Mian Shaukat Hussain, a tabla player.
Nusrat Fateh Ali Khan is also credited as one of the progenitors of 'World Music.'
Many artists have cited him as an influence such as Nadia Ali, Zayn Malik, Malay, Peter Gabriel, A. R. Rahman, Sheila Chandra, Alim Qasimov, Eddie Vedder, and Joan Osborn. Jeff Buckley once tagged him as significant influence stating "He's my Elvis."
In 2004, Brook Martinez, a percussionist formed a tribute band called Brooklyn Qawwali Party (formerly Brook's Qawwali Party) in New York City. It is a 13-piece group which performs the Jazz versions of Nusrat's songs.
In 2015, Google celebrated his birthday with his Google Doodle on the homepage for India, Pakistan, Japan, and many other countries. Google said,


Imagine an entire genre of music, rooted in antiquity, that lies hidden to most of the world. Its traditions stretch back 700 years, yet few know it exists. Its beautiful melodies dip and soar. But no one is around to listen. Such was the state of Qawwali in a not-so-distant past. Then came Nusrat Fateh Ali Khan, who opened the world's ears to the rich, hypnotic sounds of the Sufis. Born to a musical family, Khan brought Qawwali from modest origins to international attention. He collaborated with, and influenced, countless musicians. And his endurance was astounding; some performances could last as long as ten hours! Thanks to his legendary voice, Khan helped bring "world music" to the world. To celebrate his 67th birthday, let's just listen."
In 2000, the American composer Paul Williams. Paul included him in his book 'The 20th Century's Greatest Hits: a 'top-40′ list,' in which he devotes a chapter each to what he considers the top 40 artistic achievements of the 20th century in any field (including art, movies, music, fiction, non-fiction, science-fiction).  
Pakistani American poet Faisal Mohyuddin included the poem "Faisalabad," in his book 'The Displaced Children of Displaced Children,' which is a tribute to Nusrat and the city of Nusrat's birth.
Numerous documentaries have been made on him, the first one being, "Nusrat Fateh Ali Khan: le dernier prophète (1996)," directed by Jérôme de Missolz.