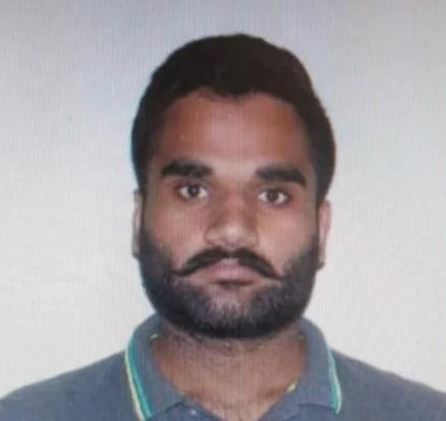 Satinder Singh, better known by his pseudonym Goldy Brar, is a Canada-based gangster. He is a close associate of the infamous Indian gangster Lawrence Bishnoi. Goldy is known for taking the responsibility for killing the Punjabi singer Sidhu Moosewala.
Wiki/Biography
Goldy Brar was born as Satenderjeet Singh [1]The Tribune in 1988 (age 35 years; as of 2023) in Kotkapura, Faridkot, Punjab. As of 2022, he resides in Canada. Reportedly, his hometown is Muktsar. [2]The Tribune
Physical Appearance
Height (approx.): 5′ 8″
Weight (approx.): 80 Kg
Hair Colour: Black
Eye Colour: Black
Body Measurements (approx.): Chest 42″, Waist 34″, Biceps 14″
Family
Parents & Siblings
Goldy's father, Shamsher Singh, was an ASI in the Punjab Police, who was given compulsory retirement after Goldy's alleged involvement in a murder in 2021.
Other Relatives
Goldy Brar had a cousin named Gurlal Brar, who was killed outside City Emporium Mall, Industrial Area, Phase I, Chandigarh, by unknown assailants on 11 October 2020.
Involvement in Sidhu Moosewala's Murder
The popular Punjabi singer Sidhu Moosewala was shot dead by some unidentified assailants in his Mahindra SUV in the Jawaharke village of Mansa district on 29 May 2022. [3]The Tribune
Reportedly, two cars were tailing Sidhu's car moments before he was fatally shot dead. As per the police officials, eight assailants attacked Moosewala and around 30 rounds were fired at him using three AK-94 rifles.
Hours after the gruesome killing of the singer, Goldy Brar took to his Facebook account, claiming the responsibility for Moosewala's murder along with jailed gangster Lawrence Bishnoi. Apparently, Goldy and Lawrence engineered the assassination of Moosewala as his name has surfaced in the killing of the Akali leader Vicky Middukhera and Goldy's cousin Gurlal Brar. While Vicky was shot dead in Mohali in 2021, Goldy's cousin Gurlal Brar was gunned down in Chandigarh, outside a club, in 2020. Goldy also alleged that Moosewala had a hand in the encounter of their close aide Ankit Bhadu. Goldy, in his Facebook post, wrote,
Raam Raam saare bhaiyon noon sat shree akaal… aah jeda siddhoo moosevaale da kamm hoya aihadee jimmevaaree main goldee baraar, sachin bishnoee dhattaaravaalee, lawrence group laine aan. Aih saade bhaee vikkee middookheda te guralaal baraar de katl vich isada naam aan de baavajood pulis ne isate koee kaarravaee naeen keetee te saade bhaee ankit bhaadoo de encounter vich vee isada hatth see… aih saade khilaaph chal raha see… dillee pulis ne meediya agge daayarekt isada naam rakh ditta see, phir ve aih apanee paavar karake bacheya raha isate koee kaarravaee nahin huee… kaushal de saare bande jehade phade gae ohanaan ne isada naam litta ki…"
Following his Facebook Post, Lawrence Bishnoi also claimed to kill Sidhu Moosewala through a Facebook Post. He wrote,
Raam Raam Bhai Sabako…Aaj jo Sidhu Moosewala ka katl hua hai, usakee jimmedaaree main aur mera bhaee Goldy Brar lete hai. Aaj log hamen jo bhee kahen lekin isane hamaare bhaee Vicky Middukheda kee hatya mein madad kee thee. Aaj hamane apane bhaee ka badala le liya hai. Mainne ise Jaipur se call karake kaha tha ki tumane galat kiya hai. isane mujhe kaha tha ki mujhe kisee kee paravaah nahin karata, tum jo kar sakate ho kar lo. main bhee hathiyaar lod karake rakhata hoon. aur aaj hamane apane bhaee vikkee ka insaaph le liya hai. yah to abhee shuruaat hai…jo bhee is katl mein shaamil the, ve taiyaar rahen aur jo meediya kah raha hai ki eke-47 se phaayaring huee hai, vah bilkul galat hai. phek nyooj na chalaen. aaj hamane sabake bhram door kar die hain. jay… balakaaree…"
According to the police, there was a rivalry between Lawrence Bishnoi and Lucky Patial gangs and the attack could be connected to it. In a media conversation, the police said,
We are investigating the matter and we have got some leads."
Other Criminal Activities
Based in Canada, Goldy was involved in running an extortion racket in Punjab at the behest of Lawrence Bishnoi. In 2021, an open-ended non-bailable arrest warrant was issued against Goldy by a court in Punjab's Faridkot district for his involvement in the killing of the Youth Congress leader Gurlal Singh Pehalwan. [4]Hindustan Times Reportedly, Gurlal died on the spot after being shot by two unidentified men in Faridkot. He was also alleged to be involved in a double murder case of slain brothers Paramjit and Surjit (close associates of jailed gangster Kaushal) in Gurugram in February 2022. On 11 March 2022, the Special Cell of the Delhi Police arrested two sharpshooters associated with the Kala Jatheri, Lawrence Bishnoi and Naresh Sethi gang. As per the police, Ajay Jaildar (gangster) with the support of Kala Jatheri, Lawrence Bishnoi, Naresh Sethi, and Goldy Brar had carried out the attack to establish supremacy in the illegal liquor business. On 2 May 2022, three associates of Lawrence Bishnoi and Goldy Brar, identified as Lovepreet Singh alias Sachin of village Charewaan, Himmatveer Singh Gill of village Jhorar, and Balkaran alias Vicky of village Chak Dukhe Wala of Sri Muktsar Sahib, were arrested by Punjab Police's anti-gangster task force (AGTF) from Bathinda. As per the police, they were planning to attack a businessman in the Malwa region to extort money from him. In April 2022, Goldy's another associate named Gurpreet Singh was arrested by the Punjab Police with two pistols and eight live cartridges from Kharar. Apparently, Goldy had provided him with three pistols of .30 bore, .32 bore and .315 bore to expand the criminal activities.
Facts/Trivia
Soon after Goldy took to his Facebook account to claim his involvement in Sidhu's murder, a picture of another man named Goldy Brar with Punjab Chief Minister Bhagwant Mann went viral on social media claiming that he was the same gangster who had taken responsibility for Moosewala's murder.

However, the person whose picture went viral later claimed that his picture was being misused on social media. He made a Facebook post, in which he wrote,

I am Goldie Brar, son of Rajinder Singh from village Jandwala. In today's tragic incident of the murder of Sidhu Musewala, my picture is being misused on social media. I will take appropriate legal action against those people."
Following Goldy Brar's Facebook post, claiming the responsibility for Sidhu Moosewala's murder, gangster Davinder Bambiha's gang openly challenged Goldy and Lawrence Bishnoi through a social media post. The gang wrote that they would avenge Moosewala's murder within two days. The group also wrote that Sidhu was innocent and had no connections with any gangster group.
In an exclusive conversation with India Today in June 2023, Goldy Brar mentioned that Bollywood star Salman Khan was included in his list of targets. Brar's statement came in response to jailed gangster Lawrence Bishnoi's interview, where Bishnoi expressed his lifelong ambition of eliminating Salman Khan. Goldy Brar said,


We will kill him, we will definitely kill him. Bhai saheb (Lawrence) had stated that he wouldn't apologise. Baba will show mercy only when he feels merciful." [5]India Today