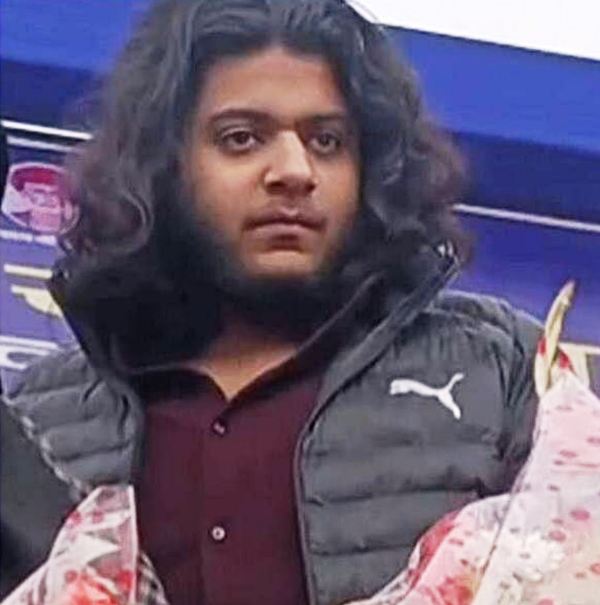 Asad Ahmed was an Indian criminal wanted in the Umesh Pal murder case, who was killed in an encounter by the Uttar Pradesh Special Task Force (STF) in Jhansi on 13 April 2023. He was the son of gangster-turned-politician Atiq Ahmed.
Wiki/Biography
Asad Ahmed hailed from Prayagraj in Uttar Pradesh, India. He was a first-year law student. [1]The Indian Express
Physical Appearance
Height (approx.): 6′
Hair Colour: Black
Eye Colour: Black
Family
He belonged to a Muslim family.
Parents & Siblings
Asad Ahmed's father, Atiq Ahmad (also spelt as Atique Ahmed), is an Indian gangster-turned-politician and a member of the Samajwadi Party. He served as a Member of the Uttar Pradesh Legislative Assembly from 1989 to 2004 and a Member of Parliament, Lok Sabha from 2004 to 2009. His mother, Shaista Praveen, is also an accused in Umesh Pal Murder Case. She is absconding ever since the murder.
In 2022, Asad's eldest brother, Mohammad Umar, surrendered before a local court in connection with the alleged abduction of a businessman in 2018. His second eldest brother, Mohammad Ali Ahmad, is jailed in Naini jail for his alleged involvement in a case of assault on a property dealer in December 2021. Asad Ahmed was Atiq's third son. His younger brothers' names are Ahzaan and Abaan.
Wife & Children
His marital status is not known.
Others
Asad Ahmed's paternal uncle Khalid Azim alias Ashraf Ahmed is a former MLA and a member of the Samajwadi Party.
Umesh Pal Murder Case
In 2004, after Atiq Ahmed was elected to Lok Sabha from the Phulpur constituency, he resigned as an MLA from the Allahabad West Assembly seat following which a by-poll was necessitated on the seat. Atiq's younger brother Khalid Azim, alias Ashraf, contested the seat on Samajwadi Party's ticket, but he lost to the BSP candidate Raju Pal. The electoral tussle turned into a political rivalry on 25 January 2005 when MLA Raju Pal was shot dead by assailants in Prayagraj. The assailants heavily opened fire on his car in the Sulem Sarai area when he was leaving for his home from Swarooprani Nehru Hospital.
Consequently, Raju's wife, Pooja Pal, lodged an FIR at Dhoomanganj police station accusing Atiq, his brother Ashraf, and seven other unidentified people of Raju's murder. Lawyer Umesh Pal, the cousin of Pooja Pal, told police he was a witness to the murder. On 28 February 2006, Atiq Ahmed's goons abducted Umesh at gunpoint and threatened him as he refused to retract and buckle under pressure from Ahmed. Thereafter, Atiq ordered Umesh Pal to write a statement in his favour, stating that he was not at the scene and did not want to testify. Umesh Pal filed a case of kidnapping against Atiq and Ashraf at the Dhumanganj police station in July 2007.
On 24 February 2023, Umesh Pal and his two police security guards were shot dead outside his home in Prayagraj's Dhoomanganj area as he exited the back seat of a Hyundai Creta SUV. Based on a complaint lodged by Umesh Pal's wife, Jaya Pal, a case was registered on 25 February 2023 against Atiq Ahmad, his brother Ashraf, his wife Shaista Parveen, two sons, aides Guddu Muslim and Ghulam, and nine others. A CCTV camera footage revealed Atiq Ahmed's son Asad Ahmed and his accomplices Ghulam, Vijay Chaudhary alias Usman, Arbaaz, and Guddu Muslim had attacked Umesh Pal. Thereafter, Asad and Ghulam were on the run and had a reward of ₹ 5 lahks on their heads. In March 2023, 17 years after the Umesh Pal Kidnapping Case, Atiq was convicted in it following which the MP-MLA court sentenced him to life imprisonment, meanwhile, his brother, Khalid Azim alias Ashraf, was acquitted. On the afternoon of 13 April 2023, Asad and Ghulam were gunned down by Uttar Pradesh police in an encounter in Jhansi.
Death
On 13 April 2023, Asad Ahmed was killed in an encounter by the Uttar Pradesh Special Task Force (STF) near the Pariksha Dam in Jhansi. His ally Ghulam was also killed in the encounter. Both Asad and Ghulam had a Rs 5 lakh bounty on their heads. Following the encounter, police recovered sophisticated foreign-made weapons from the deceased. In the morning that day, Atiq Ahmed along with his brother was produced before a court in Prayagraj amid high-security deployment. While Atiq Ahmed was brought to Prayagraj via road from Sabarmati Jail in Gujarat for his production, his brother Khalid Azim alias Ashraf was brought from a Bareilly jail. After the encounter, the police revealed that Asad Ahmed had fled to Lucknow after the killing of Umesh Pal. He later moved to Kanpur and then Meerut before reaching Delhi, it is learnt. He then decided to flee to Madhya Pradesh. He reached Jhansi and was on his way to the state border on a bike when police intercepted him. [2]India Today