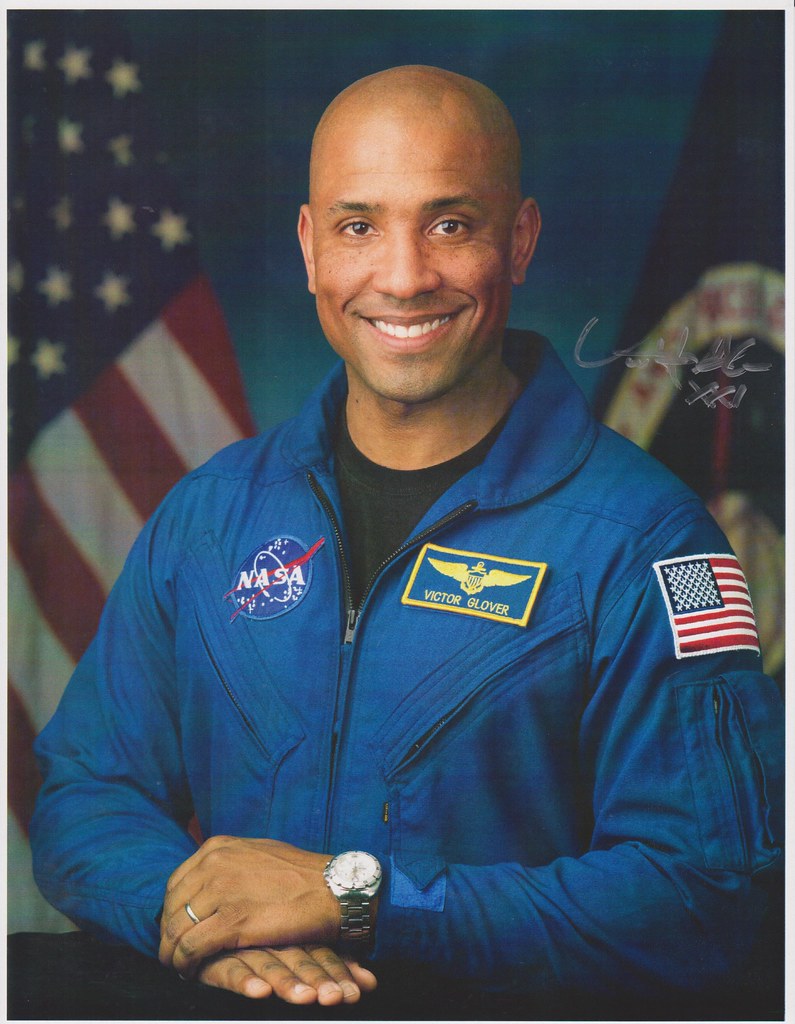 Victor J. Glover Jr. [1]UPI is an American astronaut, who served as the flight engineer on the first operational flight of the SpaceX Crew Dragon to the International Space Station (ISS). He is also a captain in the U.S. Navy. A Naval Aviator, Glover was a test pilot in the F/A-18 Hornet, F/A-18E/F Super Hornet, and EA‐18G Growler. In 2023, he was announced as the pilot of the crew for the Artemis 2 flight, which would circle the Moon in November 2024. He is the first Black astronaut to be selected for a moon mission. [2]INSIDER
Wiki/Biography
Victor Jerome Glover [3]Space Launch Schedule was born on Friday, April 30, 1976 (age 47 years; as of 2023), in Pomona, California. His zodiac sign is Taurus. His family has its roots in Jackson from where the family moved to California in 1968. Growing up, Victor had big dreams and he wanted to fly a space shuttle. While talking about it in an interview, he said,
When I was a kid, you know, I saw the space shuttle go up, and I wanted to fly the space shuttle. But I also wanted to be a stuntman, a policeman like my father, president."
He graduated from Ontario High School, Ontario, California, in 1994. While studying in high school, Victor excelled at mathematics. He attended California Polytechnic State University in San Luis Obispo, California, to pursue a Bachelor of Science in General Engineering (1994-1999). While studying at Cal Poly, Glover became a member of the Phi Beta Sigma fraternity. Good at sports since childhood, he played American football (quarterback and running back) for the Jaguars and received the Athlete of the Year Award in 1994. Meanwhile, he also received the Service to the Community Award and community service notation on his transcripts. Victor was also on his school's wrestling team. He holds a Master of Science degree in Flight Test Engineering (USAF TPS) from Air Force Test Pilot School, Air University (United States Air Force), Edwards Air Force Base, California, (2006-2007). Subsequently, he pursued a Master of Science in Systems Engineering (2007-2009) from the Naval Postgraduate School. Thereafter, he enrolled at Air Command and Staff College, Air University, to pursue a Master's in Military Operational Art and Science (2009-2010). He received the degree with distinction. Glover has also obtained a certificate in space systems from the Naval Postgraduate School and a certificate in legislative studies from Georgetown University. (2013) [4]Victor J. Glover – LinkedIn He is also a distinguished graduate of the U.S. Navy Officer Candidate School, where he served as the Regimental Commander. Victor won Onizuka Prop Wash Award at the school.
Physical Appearance
Height (approx.): 5′ 8″
Hair Colour: Bald
Eye Colour: Brown
Family
Victor J. Glover belongs to an African-American family. [5]BBC
Parents & Siblings
Victor's father, Victor Glover Sr., is a former policeman. He lives with Victor's stepmother in Prosper, Texas. Victor's mother's name is Jennette. His mother resides in southern California.
Wife & Children
Victor J. Glover met Dionna Odom for the first time in the 1990s at California Polytechnic State University, where they both pursued engineering. They dated for a few years before getting married to each other in 2002. Together, they have four daughters, Genesis Glover, Maya Glover, Joia Glover, and Corinne Glover.
Other Relatives
Victor's paternal grandmother, Gloria Glover, was a librarian at Brinkley Junior High School in Jackson, Mississippi.
Religion
Victor J. Glover follows Christianity. [6]Christian Chronicle Glover is a Church of Christ member in Houston. In an interview, while praising Victor and his wife's dedication to their faith, Tim Shoulders, the Southeast church's associate minister, said,
They have an incredible drive to produce faith in their children. They are very invested in family and making sure church and God are at the center of that."
In an interview, when asked about his source of encouragement, Victor replied,
It's important to have different ways of finding encouragement, and for me, my family and my church, and my Bible and praying are going to be a big source of that."
When he went to the International Space Station for Expedition 64 as a flight engineer, Victor carried a Bible along and watched virtual services of his church back home. [7]Church Leaders
Career
Military Service
In 1999, Victor Glover was commissioned in the Navy as an Ensign via Officer's Candidate School, where he served as the Regimental Commander. Following his commission, Victor attended preflight training at Naval Air Station Pensacola in Florida. On December 14, 2001, Victor completed his advanced flight training in Kingsville, Texas, earning his naval aviator wings. A year later, Victor reported to the Marine Fleet Replacement Squadron, VMFAT‐101, in Miramar, San Diego, California, and received his training on the F/A-18C Hornet. Post the completion of his training in 2003, Victor was assigned to the Blue Blasters of Strike Fighter Squadron VFA‐34, based out of Naval Air Station Oceana in Virginia. Thereafter, he embarked on the final deployment of the USS John F. Kennedy (CV‐67) in support of Operation Iraqi Freedom. Later, he attended Naval Postgraduate School (NPS) to pursue a Space Systems Certificate program.
In June 2006, Victor was selected to attend the Air Force Test Pilot School as the United States Navy's exchange pilot. The course extended to a year, and Victor flew around 30 aircraft in the U.S. and Italy during the course. After the completion of the program, on June 9, 2007, Victor was designated a test pilot. Subsequently, he served as the test pilot with the Dust Devils of Air Test and Evaluation Squadron VX‐31, based out of Naval Air Weapons Station China Lake, California, testing various weapons systems on the F/A ‐ 18 Hornet, Super Hornet, and EA‐18G Growler. Meanwhile, he earned a Master of Science degree in Systems Engineering from NPS in Monterey, California. In 2009, he was posted at Air Command and Staff College at Maxwell Air Force Base, Alabama. In 2011, Glover was assigned to the Dambusters of Strike Fighter Squadron VFA‐195, in Atsugi, Japan, where he served as a Department Head. He then embarked on the USS George Washington in support of maritime operations in the Western Pacific Ocean. During his military career, Victor has amassed 3000 flight hours in more than 40 aircraft. He has also completed over 400 carrier arrested landings and 24 combat missions. Victor's call sign is 'Ike,' which was given to him by one of his first commanding officers. The call sign apparently stands for 'I know everything.'
Senator
In November 2012, Victor became a legislative fellow of the United States Senate through the Navy Legislative Fellowship Program. While working on the personal staff of the Honorable John McCain, Victor supported McCain's defense and foreign relations policy and oversight. In July 2013, while he was serving as a fellow in the US Senate, Victor was introduced as a NASA astronaut of the Astronaut Group 21 team.
Astronaut
In 2013, Victor J. Glover was introduced as one of the eight members of the 21st NASA astronaut class. Post his selection, Victor underwent Astronaut Candidate Training which included scientific and technical briefings, intensive instruction in International Space Station systems, spacewalks, robotics, physiological training, T-38 flight training, and water and wilderness survival training.
Expeditions 64 and 65
In August 2018, Victor J. Glover was announced as the crew member (pilot and second in commander) of the commercial astronauts, who were assigned to fly on SpaceX's Crew Dragon's first operational flight, and the second crewed flight overall, SpaceX Crew-1. He was launched into space for the first time on November 15, 2020, through the SpaceX Crew Dragon capsule named Resilience. The capsule also carried two NASA astronauts Michael S. Hopkins and Shannon Walker and one astronaut from Japan Soichi Noguchi. The crew landed on the space station on November 17.
On December 9, 2020, while Glover was serving at the space station, he was assigned to NASA's Artemis program. On January 27, 2021, Glover did his first spacewalk along with Hopkins which lasted for more than 6 hours. During their walk, Victor and Hopkins worked to upgrade the Columbus module.
On February 1, 2021, Victor completed his second spacewalk in pair with Hopkins, installing a European science platform. The pair also finished up a long series of battery replacements outside the International Space Station.
He paired with Kate Rubins for his third spacewalk, which lasted for 6 hours and 56 minutes. During their walk, Victor and Kate worked to upgrade the station power supply with hardware and also prepared for upcoming solar array upgrades by assembling and installing modification kits. On February 24, 2021, Glover recorded a video call with Vice President Kamala Harris in the space station. Their conversation ranged from the legacy of human spaceflight to observing Earth from the vantage of the space station, Glover's history-making stay aboard the orbiting laboratory, and preparing for missions from the Moon to Mars.
Expedition 64 came to an end on 17 April 2021 with the departure of the Soyuz MS-17 spaceflight. However, SpaceX Crew-1 remained at the space station for Expedition 65. Victor served as the flight engineer at the space station during the expedition. Having been served at the space station for more than six months, Victor is the first African American to be a crew member of the international space station to live on the ISS for a longer duration. On April 23, 2021, Crew Dragon endeavor carrying SpaceX Crew-2 launched into the space station to replace Crew Dragon Resilience. Following the arrival of SpaceX Crew-2 on the international space station in April 2021, SpaceX Crew-1 departed for Earth on May 2, 2021.
The New York Times, while celebrating the work of Victor J. Glover, once wrote,
Mr. Glover's achievement is notable for NASA, which has worked to spotlight the "hidden figures" in its history, but has so far sent only 14 Black Americans to space out of a total of more than 300 NASA astronauts. He will not be the first Black astronaut aboard the station. But those who preceded him from NASA were members of Space Shuttle crews during the station's construction and only made brief stays on the outpost."
Artemis II
While Victor Glover was serving as a flight engineer on the International Space Station during Expedition 64, NASA selected Glover and 17 other astronauts for its Artemis program. Led by United States' National Aeronautics and Space Administration (NASA) in partnership with three space agencies, the European Space Agency (ESA), the Japan Aerospace Exploration Agency (JAXA), and the Canadian Space Agency (CSA), the Artemis program is a robotic and human Moon exploration program which intends to reestablish a human presence on the Moon for the first time in more than five decades since the Apollo 17 mission in 1972. On April 3, 2023, NASA announced the crew for its next lunar expedition Artemis II and Victor was named as the pilot of the mission. Set to take off in November 2024, the Artemis II flight would fly by the moon. Besides Victor, NASA astronauts Gregory R. Wiseman, Christina Hammock Koch, and Canadian Space Agency astronaut Jeremy Hansen would also be a part of the mission.
In April 2023, Victor, along with other crew members, appeared on the talk shows The Late Show With Stephen Colbert and The Today Show.
Awards & Honours
Defense Superior Service Medal
Two Navy and Marine Corps Achievement Medals
NASA Distinguished Service Medal
NASA Space Exploration Medal
Named one of Jet Magazine's inaugural 40 under 40 in 2013
Facts/Trivia
Victor is fluent in two languages- English and French.
Victor is an alumnus of Mathematics, Engineering, Science Achievement (MESA). He is a member of the Society of Experimental Test Pilots and a lifetime member of Phi Beta Sigma Fraternity, Incorporated, National Society of Black Engineers, International Council on Systems Engineering (INCOSE), and Tailhook Association.
In an interview, Victor disclosed that he had failed an engineering course. At that time, it was his professor Jim LoCascio, Ph.D., associate professor of mechanical engineering, who motivated him to do better. He said,


He said to me, 'You've got to put in the work. I'll help you, but you've got to put in the work.' That right there changed the way I thought of college,"
Victor is an advocate for youths traditionally underrepresented in higher education.
He serves on the California Polytechnic College of Engineering Dean's Advisory Council.
In an interview, Glover shared that he wanted to master the art of Djembe drumming.
Glover is a mentor for Ever Forward (Siempre Adelante).
Glover has stayed at the international space station for a total of 167 days 6 hours and 29 minutes. While serving at the space station, Victor made 4 spacewalks that lasted for 26 hours and 6 minutes.