David Grusch is a retired United States Air Force (USAF) intelligence officer, who has served in the National Geospatial-Intelligence Agency (NGA), the National Reconnaissance Office (NRO), and the Unidentified Aerial Phenomena Task Force (UAPTF). He gained widespread recognition due to his whistleblowing acts, which involved exposing hidden operations of the US government in hiding extraterrestrial events. In 2023, he once again grabbed the public's attention by appearing before the US Congress and providing testimony against the government's secretive activities concerning the concealment of Unidentified Aerial Phenomena (UAPs), commonly referred to as Unidentified Flying Objects (UFOs), alien technology, and non-human entities.
Wiki/Biography
David Charles Grusch was born in 1987 (age 36 years; as of 2023) in Pittsburgh, Pennsylvania, United States of America. [1]Instagram – David Grusch After completing his schooling in Pittsburgh, he earned a degree in Physics on an Air Force scholarship. After completing his formal education, he joined the United States Air Force (USAF) as a second lieutenant. In an interview, David said that he had always admired service members and wanted to become a member of the armed forces himself. He said,
I came from a blue-collar family in Pittsburgh and had the money for college. I always admired people in uniform, and I have always wanted to be a part of something bigger than myself."
Physical Appearance
Height (approx.): 5′ 9″
Weight (approx.): 65 kg
Hair Colour: Brown
Eye Colour: Grey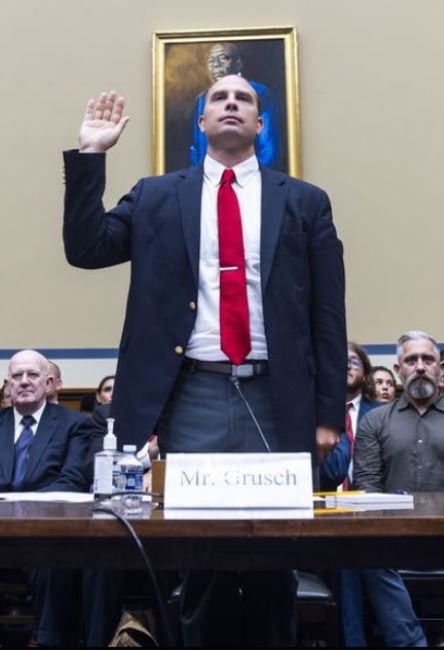 Family
David Grusch belongs to a working-class Christian family in the US.
Parents & Siblings
His father's name is Regis Grusch. His mother's name is Mary Alice Grusch. He has a brother named Michael Grusch.
Wife & Children
His wife's name is Jessica Grusch.
Signature/Autograph
Career
United States Air Force
After David Grusch became an officer in the USAF, he became a part of the intelligence department. He undertook multiple combat deployments to Afghanistan, where he played a crucial role in collecting intelligence on the locations of senior Taliban leaders.
This valuable information proved instrumental in the US and NATO forces' efforts to neutralize these leaders. Throughout his time in Afghanistan, David was recognized with several awards and medals for his exceptional service. After becoming a major, David was posted to Fort Belvoir, Virginia, U.S., where he joined the National Geospatial-Intelligence Agency (NGA).
He later joined the Virginia-based National Reconnaissance Office (NRO), which functions under the aegis of the United States Intelligence Community and the United States Department of Defense. In 2019, David was appointed as the representative of the NRO at the Unidentified Aerial Phenomena Task Force (UAPTF), now known as the All-domain Anomaly Resolution Office (AARO). The main objective of the task force was to investigate and factually report the sightings of the UAP/UFO anomalies in the US. He served as a representative in the task force till 2021. In late 2021, he served as the co-lead for UAP analysis at the NGA, and he also represented the organization in the task force. Additionally, he played a crucial role in drafting the National Defense Authorization Act of 2023. This legislation incorporates measures concerning the reporting of UFOs such as safeguarding whistleblowers and providing exceptions to non-disclosure orders and agreements. David left active service in April 2023; he retired from the rank of major.
Whistleblower
Background
While serving at the UAPTF, David was a part of the team, created under the charter of the US Congress, which had the highest level of security clearance, allowing them to access classified files of the government. The team aimed to conduct a thorough investigation into the claims of encountering UAP/UFOs by US Armed Forces personnel. They meticulously investigated two incidents: the 2004 Tic Tac encounter, where US Navy F/A 18 Super Hornet pilots witnessed a cylindrical UAP during a training mission, and the 2021 USS Russell incident, where several pyramid-shaped objects were encountered. The team compiled a detailed report on these events.
According to David, while researching UAPs, he interviewed many "high-ranking" government officers and scientists who claimed that the US government was involved in a crash retrieval and reverse engineering program of the UFOs. He went on to assert that the government had secretly taken possession of not only UFOs but also alien technology and deceased extraterrestrial beings, all while keeping this information concealed from the public and particularly from the US Congress. When he asked for access to specific files related to the supposed program for further investigation, his request was denied. He talked about it, in an interview, and claimed,'
In 2019, the UAPTF director tasked me to identify all Special Access Programs & Controlled Access Programs (SAPs/CAPs) we needed to satisfy our congressionally mandated mission. At the time, due to my extensive executive-level intelligence support duties, I was cleared to literally all relevant compartments and in a position of extreme trust in both my military and civilian capacities. I was informed, in the course of my official duties, of a multi-decade UAP crash retrieval and reverse engineering program to which I was denied access to those additional read-on's."
Coming Out in Public
In 2021, he filed a complaint regarding the existence of a UFO crash retrieval and reverse engineering program with his superiors in the Department of Defence (DoD); however, his complaint was quashed and left unattended. In 2022, Grusch opted to disclose the information to the US Congress. To facilitate his intention of sharing classified details with the U.S. Senate Select Committee on Intelligence, he lodged a whistleblower complaint with the U.S. Office of the Intelligence Community Inspector General (ICIG). According to Grusch, the Intelligence Community Inspector General determined his complaint to be both "credible" and "urgent" and a summary of the complaint was then provided to the Director of National Intelligence, the Senate Select Committee on Intelligence, and the House Permanent Select Committee on Intelligence. [2]The Independent He later de-classified details concerning the 1947 Roswell UFO crash event. He claimed that the government's explanation of the crash being a weather balloon rather than a UFO was untrue. Additionally, he claimed that the government had indeed recovered "non-human" biological material from the wreckage of the spaceship. He also disclosed an incident where he claimed to have examined a UAP anomaly involving three to four UAPs, each about the size of a football field, interfering with radar stations located along the US coastline. He spoke about a different classified incident where a few unidentified aerial phenomena (UAPs) disrupted the US missile systems and temporarily deactivated them. According to his statement, the purpose behind this interference was an attempt to comprehend the level of technological progress achieved in missile technology by the United States. In an interview, he said,
Officials observed a craft that appeared to be intelligently controlled hovered over the nuclear weapons. The silo and 10 nuclear ICBM missiles were shut down. It certainly looks like they (nonhuman organisms) want to understand how far we've advanced in our nuclear fissile kind of technologies at the very least."
David further claimed that the US government conducts disinformation campaigns, worth millions of dollars, to raise scepticism about the credibility of assertions regarding "non-human" (or alien) encounters.
July 2023 Appearance Before the US Congress
The US Congress took cognizance of his claims after the US Air Force reportedly shot down four UAPs belonging to China. The cognizance was taken by Congress after many experts claimed that no technology on this planet could come to the mainland US without getting detected beforehand. On 26 July 2023, David, along with two other retired US Navy officers, appeared in front of Congress, under the House Committee on Oversight and Accountability, to give their testimony.
When Representative Tim Burchett inquired whether Grusch had information on individuals who had suffered harm or injury while attempting to hide the government's possession of extraterrestrial technology. Grusch responded affirmatively but mentioned that he could not disclose any specifics unless within a Sensitive Compartmented Information Facility (SCIF). David consented to disclose not just the identities of government officials who concealed information related to Unidentified Aerial Phenomena (UAP) but also provide the necessary evidence in a Sensitive Compartmented Information Facility (SCIF). He also claimed the existence of UFOs in military hangars on which scientists are working day and night. He further said that he interviewed forty people involved in various top-secret extra-terrestrial missions. [3]NewsNation – YouTube When a representative inquired David about his motives behind making the claims, he said that his primary aim was to ensure the government's transparency and honesty regarding taxpayer-funded projects. Additionally, he expressed concerns about extraterrestrial phenomena, emphasizing that they not only pose a significant threat to the US but also to Earth at large. According to him, these phenomena are difficult to monitor and surpass our capabilities by a considerable margin. He also claimed that after indulging in whistleblowing activities against the government, he was targeted professionally and personally by the authorities. [4]Outlook In front of the U.S. Representatives, David said,
I became a Whistleblower, through a PPD-19 Urgent Concern filing with the Intelligence Community Inspector General (ICIG), following concerning reports from multiple esteemed and credentialed current and former military and Intelligence Community individuals that the US Government is operating with secrecy – above Congressional oversight – with regards to UAPs. It is my hope that the revelations we unearth through investigations of the Non-Human Reverse Engineering Programs I have reported will act as an ontological (earth-shattering) shock, a catalyst for a global reassessment of our priorities. As we move forward on this path, we might be poised to enable extraordinary technological progress in a future where our civilization surpasses the current state-of-the-art in propulsion, material science, energy production and storage." [5]C-SPAN
Response From The Government
The US government, after the end of the US Congress, addressed David's complaint filed with the Department of Defense (DoD) by asserting that the All-domain Anomaly Resolution Office (AARO) did not discover any credible proof to back up David's claims about programs related to holding or reverse-engineering extraterrestrial materials. NASA also released a statement declaring that they had not encountered any data regarding extraterrestrial life, and therefore, they cannot support David's assertions. [6]Smithsonian Magazine
Criticism
David Grusch has often been criticised by the media and the government for allegedly running a false narrative. Following the conclusion of the US Congress, many quickly pointed out why David did not reveal information in front of the representatives. Some sources also claimed that David told the representatives that he would answer certain questions under SCIF whereas he has talked in detail in interviews when journalists asked him the same question.
Facts/Trivia
While studying in college, David Grusch was a member of the Air Force Reserve Officer Training Corps (AFROTC).
He passionately follows his hobby of reading.