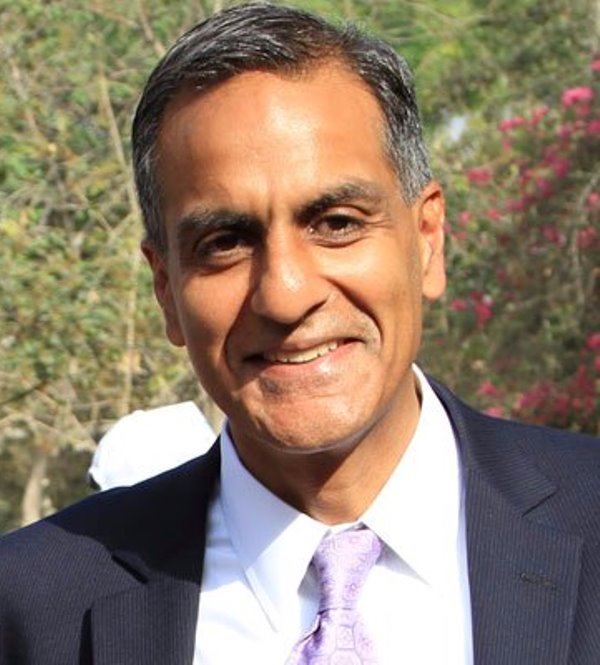 Richard R. Verma is an Indian-American lawyer, diplomat, and executive. From 2009 to 2011, he served as the Assistant Secretary of State for Legislative Affairs. From 2014 to 2017, he served as the U.S. Ambassador to India. In 2023, United States Senate confirmed him for the position of Deputy Secretary of State for Management and Resources.
Wiki/Biography
Richard Rahul Verma [1]Department of State was born on Wednesday, 27 November 1968 (age 54 years; as of 2022) in Edmonton, Canada. His zodiac sign is Sagittarius. He grew up in Johnstown, Pennsylvania, United States. He went to Westmont Hilltop School District in Pennsylvania. From 1986 to 1990, he pursued a bachelor's degree in science at Lehigh University in Bethlehem, Pennsylvania. In 1993, he became a JD, cum laude graduate of the American University Washington College of Law in Washington, United States. From 1996 to 1998, he pursued LLM in international law at Georgetown University Law Center in Washington, D.C. In May 2020, he graduated with a PhD degree in government and international relations from Georgetown University. [2]LinkedIn – Richard Verma
Physical Appearance
Height (approx.): 6′
Weight (approx.): 75 kg
Hair Colour: Salt & Pepper
Eye Colour: Black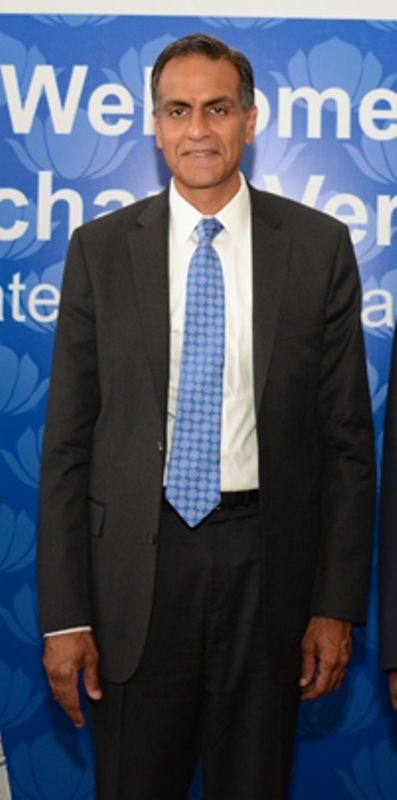 Family
He belongs to a Punjabi family in Pennsylvania, United States.
Parents & Siblings
His father, Kamal D. Verma, worked as a professor of English at the University of Pittsburgh at Johnstown for around forty years.
His mother, Gayatri Devi, was a special education teacher, who died in 2011. [3]The Washington Post His parents belonged to India; his father used to live in Apra village in Jalandhar, Punjab, and his mother used to live in Chayam Mohalla in Jalandhar. In the early 1960s, his parents moved to the United States. In 2015, he visited his ancestral home in Jalandhar after almost forty years. [4]The Indian Express He has four siblings, Rita Orren, Roma Murthy, Rajiv Verma, and Amita Verma; he was the youngest child of his parents.
Wife & Children
He is married to Pinky Verma (also known as Melineh B. Verma), an attorney. The couple has three children; two girls named Lucy Verma and Zoe Verma, and a boy named Dylan Verma.
Career
Early Career
From 1993 to 1994, he served as the Country Director at National Democratic Institute (NDI) in Bucharest, Romania. In 1994, he began to serve as an Air Force judge advocate in the United States Air Force. From 1994 to 1998, he served as a captain in the United States Air Force. In 1998, he began practising law at Steptoe & Johnson LLP in Washington DC. In 2002, he began to serve as the senior national security advisor to Harry Reid, Senate Majority Leader. In 2008, he became a member of the Commission on the Prevention of WMD proliferation and terrorism. In 2009, he was appointed as Assistant Secretary of State for Legislative Affairs in the State Department. In 2011, he began to work as the Senior Counsellor at the Albright Stonebridge Group, a global business strategy firm.
U.S. Ambassador to India
In September 2014, he was nominated for the position of the next U.S. ambassador to India by the then President of the United States Barack Obama. On 9 December 2014, he was selected by the U.S. Senate for the position of U.S. ambassador to India. He was the first person to serve in this position, who was of Indian descent.
On 9 July 2015, he signed FACTA (Foreign Account Tax Compliance Act).
While serving in the position, he, reportedly, made historic progress in strengthening the relations between India and the United States. He supervised many meetings between Barack Obama and Narendra Modi, the Prime Minister of India. To improve the ties between the two countries, he created more than 100 initiatives and over 40 government-to-government dialogues. He was the first U.S. ambassador who visited every state in India. On 20 January 2017, he resigned from his position as the ambassador.
Other Positions
In 2017, he began to serve as the vice-chairman of the Asia Group, where he led South Asia practice and worked towards enhancing the ability of the company to provide innovative solutions and meaningful insights to clients across the Indo-Pacific. He works as a senior fellow of Science and International Affairs at the Belfer Center. In 2017, he joined the Walsh School of Foreign Service as a centennial fellow. In 2017, he was appointed as the co-chairperson of the Center for American Progress U.S.-India Task Force. In April 2018, he was appointed as one of the board members of the T. Rowe Price Group and the National Endowment for Democracy. In May 2019, he gave the 151st commencement address as the trustee of Lehigh University in Pennsylvania. In October 2020, he was appointed as the Chief Legal Officer and Head of Global Public Policy at Mastercard, an international payment-processing corporation. In May 2022, he began to serve as one of the members of the President's Intelligence Advisory Board. He is also a former member of the Weapons of Mass Destruction and Terrorism Commission.
Deputy Secretary of State
In December 2022, he was nominated by U.S. President Joe Biden for the position of Deputy Secretary of State for Management and Resources. In March 2023, he was confirmed for the position by the Senate by a vote of 67-26. [5]The Indian Express
Awards, Honours, Achievements
While serving as the U.S. Air Force judge advocate from 1994 to 1998, he received many honours and accolades including the Meritorious Service Medal and the Air Force Commendation Medal.
He has received the State Department's Distinguished Service Medal, the Council on Foreign Relations International Affairs Fellowship, and the Chief Justice John Marshall Lifetime Service Award.
In 2007, India Abroad named him as one of the 50 most influential Indian Americans.
Salary
As of 2021, he received an annual salary of $387,979 as an Independent Director at T. Rowe Price Group Inc. in Baltimore, Maryland Area, United States. [6]Economic Research Institute
Facts/Trivia
He is a member of the Democratic Party.
In 2008, he co-wrote a book titled 'World At Risk' by Bob Graham and Jim Talent.
He follows a non-vegetarian diet and considers himself a foodie. Some of his favourite Indian dishes are Dal Makhni, Butter Chicken, and Biryani. [8]

YouTube – U.S. Embassy India