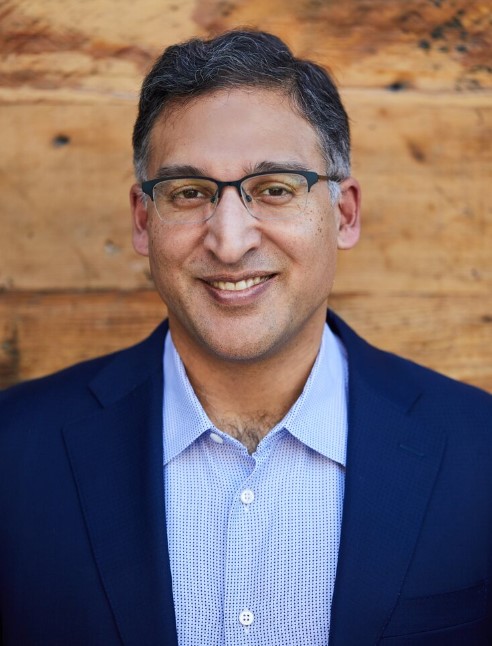 Neal Katyal is a former American acting solicitor general of the United States. He works as a professor at Georgetown University. He focuses on constitutional law, criminal law, and intellectual property. Since September 2011, he has been a lawyer at Hogan Lovells, a law firm based in London and Washington, DC, where he handles cases in the U.S. Supreme Court.
Wiki/Biography
Neal Kumar Katyal was born on Thursday, 12 March 1970 (age 52 Years; as of 2023) in Chicago, Illinois, U.S. [1]Georgetown Law His zodiac sign is Pisces. He completed his school education at Loyola Academy, a Jesuit Catholic high school in Wilmette, Illinois. From September 1987 to June 1991, he attended Dartmouth College in Hanover, New Hampshire and earned a Bachelor of Arts degree. He earned a Doctor of Jurisprudence degree at Yale Law School in June 1995. [2]Dartmouth Alumni Magazine According to Neal Katyal, when he was studying at Dartmouth College, he joined different groups called Sigma Nu, Phi Beta Kappa, and the Dartmouth Forensic Union.
Physical Appearance
Height (approx.): 5′ 10″
Hair Colour: Salt and Pepper
Eye Colour: Black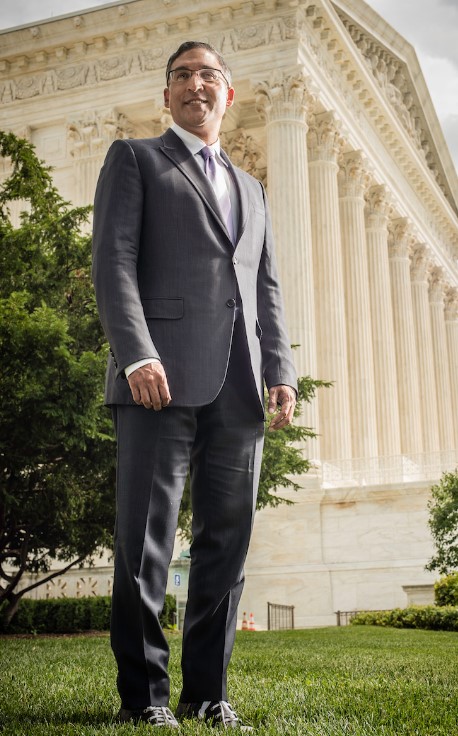 Family
Neal Katyal's father belonged to a Sikh Family in India. [3]Dartmouth Alumni Magazine
Parents & Siblings
Neal Katyal's parents are Indian immigrants living in the U. S. His father was an engineer, who died in 2005. His mother's name is Pratibha Katyal Malhotra. She works as a paediatrician in the U.S.
Neal Katyal has a sister named Sonia Katyal, who works as chancellor's Professor of Law and co-director of the Berkeley Center for Law and Technology at UC Berkeley.
His brother-in-law (Joanna's brother), Jeffrey Rosen, is the president and CEO of the National Constitution Center in Philadelphia.
Wife & Children
Neal Katyal got married to Joanna Rosen in 2001. She is a physician. The couple has three children.
Katyal's wife, Joanna Rosen, follows the Jewish faith, and his brother-in-law, Jeffrey Rosen, is highly regarded in the American legal field.
Relationships/Affairs
He was in a relationship with Joanna Rosen before getting married to her in 2001.
Career
Law
Soon after earning his Juris Doctor (JD) degree in 1995, Katyal started working as a legal clerk for Judge Guido Calabresi at the United States Court of Appeals for the Second Circuit. After that, he served as a law clerk for Justice Stephen Breyer at the US Supreme Court. In 1999, Neal Katyal received an invitation from U.S. President Bill Clinton to write a report about the importance of doing more pro bono legal work. He then created the rules for special counsels during the same year. The Mueller investigation, which looked into Russia's involvement in the 2016 presidential election, followed those guidelines. In addition, in 1999, Neal Katyal represented the deans of several respected private law schools in the Grutter v. Bollinger case. He also served as co-counsel for Vice President Al Gore in the Bush v. Gore case.
In 2006, Katyal strongly opposed the Guantanamo Bay detention camp. He presented arguments against it in a court case called Hamdan v. Rumsfeld. In this case, he represented the prisoners who were held at Guantanamo Bay. The court made a decision that the military commissions established by the George W. Bush administration, which were meant to try the prisoners, violated both the rules of the UCMJ (Uniform Code of Military Justice) and the four Geneva Conventions.
From May 2010 to June 2011, Katyal served as the acting solicitor general for the United States during the Obama administration. Before that, he worked as a lawyer in the U.S. Justice Department's office of the Solicitor General and held the position of Principal Deputy Solicitor General. During his time at the Justice Department, Katyal presented several cases before the Supreme Court. One notable case was Northwest Austin v. Holder in 2009, where he successfully defended the legality of the Voting Rights Act of 1965.
In the same year, President Barack Obama chose Elena Kagan to replace retiring Associate Justice John Paul Stevens on the Supreme Court. As a result, Katyal stepped into the role of Acting Solicitor General, taking over Kagan's position. On May 24, 2011, while serving as Acting Solicitor General, Katyal delivered a speech to mark Asian American and Pacific Islander Heritage Month in the Great Hall of the Department of Justice. In 2015, after leaving the Obama Administration, Katyal went back to Georgetown University Legal Center. Additionally, he became a partner at the international law firm Hogan Lovells.
In 2020, Katyal worked as a lawyer representing Nestle and Cargill in a court case known as Nestlé USA, Inc. v. Doe. The case involved a group of children who were enslaved and made to work on cocoa farms in the Ivory Coast. They collectively filed a lawsuit against Nestle and Cargill. In 2021, Katyal provided legal representation for a large financial company called Citigroup. The company was seeking to recover $900 million that had been mistakenly transferred to creditors of Revlon Inc., another company.
In October 2021, he began working part-time as a member of the Board of Advisors at Galaxy Digital. In 2022, Neal Katyal joined the board of Social Capital Ventures Inc. and became a partner in the Chamath Palihapitiya Social and Capital Partnership. Katyal has served as the Special Prosecutor for the State of Minnesota in the murder case of George Floyd in 2020. In 2022, Katyal represented the respondents in the Moore v. Harper case before the Supreme Court. This case dealt with election law, redistricting, and the independent state legislative theory. Additionally, in the same year, Katyal defended Johnson & Johnson in a legal case where the company faced allegations of marketing baby powder containing cancer-causing talcum powder.
Television
In 2015, Neal Katyal made a guest appearance in the third season of the American drama series House of Cards. He had a small role in the series where he played a defence attorney during a Supreme Court argument.
Political Inclination
In 2017, Katyal wrote an opinion piece for The New York Times supporting President Donald Trump's nomination of Neil Gorsuch to the Supreme Court. In 2019, he also expressed praise for Brett Kavanaugh's appointment to the Supreme Court by President Trump.
Literary Works
Neal Katyal is the author of a bestselling book published by the New York Times titled "Impeach: The Case Against Donald Trump," which he co-wrote with Sam Koppelman in 2019. The book examines allegations that Trump sought foreign involvement in the election to benefit his reelection campaign. It debuted at number two on the New York Times Best Seller list in the same year.
Awards, Honours, Achievements
In 2004, Neal Katyal was honoured with the Pro Bono award.
In 2006, he was the runner-up for "Lawyer of the Year" by the National Law Journal.
In 2007, Neal Katyal was listed as one of the top 50 litigators nationally by American Lawyer Magazine.
In 2011, he was honoured with the Edmund Randolph Award by the US Justice Department. It is the highest honour the department can bestow on a civilian.
In 2015, Neal Katyal was listed as one of the 30 best-living Supreme Court advocates by Washingtonian Magazine.
Later, he was considered one of the "90 Greatest Lawyers over the Last 30 Years" by Legal Times.
Salary
In a media report, Neal Katyal charges approximately $2465 per hour for a legal case. [4]Slate
Facts/Trivia
Neal has wide expertise in various areas of law, including tribal law, criminal law, employment law, corporate law, patent law, technology law, and more.
During a conversation with the media, Neal Katyal shared that he enjoys wearing a Sikh bracelet that his father gave him as a gift. He mentioned,


I am someone who believes in ritual. I wear the exact same thing to the court every time: my dad's Sikh kara bracelet, socks my mom gave me, a tie my aunt gave me and a suit I bought a while ago."
When Neal Katyal was studying law, he was part of the Yale Law Journal's editorial board. During that time, he worked with professors Bruce Ackerman and Akhil Amar. In 1995 and 1996, they worked together and wrote articles for magazines that focused on legal and political opinions.
During his free time, Neal Katyal enjoys listening to music. He frequently goes to live music concerts in the United States and shares his experiences on his Twitter account. He also stays engaged with his followers on Instagram.
In 2017, Katyal received the prestigious Grand Prize Litigator of the Year award for both 2016 and 2017 from American Lawyer Magazine.
Apart from his legal career, Katyal is also a spokesperson. He delivered a speech titled 'How to win an argument (at the US Supreme Court, or anywhere)' at a TEDx Talk on 4 August 2021.
In 2023, at 52, Neal Katyal argued more cases in front of the U.S. Supreme Court than any other minority lawyer in the history of the United States. In the same year, he surpassed Thurgood Marshall's record. As of June 2023, he has presented 48 cases before the U.S. Supreme Court.
Neal Katyal occasionally indulges in alcoholic beverages.
To help educate and address people's concerns, he hosts a daily series called "Courtside" on Instagram and YouTube, where he explains post-election litigation. Neal often shares his insights with the New York Times and MSNBC. Additionally, he was once recognized as one of GQ's Men of the Year.
Once, during a media conversation, Neal Katyal talked about the U.S. Supreme Court lawyers whom he greatly admires. He shared,


Michael Dreeben, who's the Deputy Solicitor General in charge of criminal matters. Maybe the only person who's kind of like him is Paul Clement. There's also a phenomenal lawyer, Peter Keisler, who practices at Sidley and Austin. Cate Stetson has unparalleled rhetorical skills. Pratik Shah is in this camp, too. In the new up-and-coming generation, I think Elizabeth Prelogar, Colleen Sinzdak and Morgan Goodspeed."
Neal Katyal frequently appears as a panellist on many live news shows.